Digital payment technology has evolved a lot of advancements and confidence among people to use digital transactions in recent years. Every one of us started to use digital payment such as Paypal, Apple pay, Venmo, Paytm, etc which are capable of instant money transfer within seconds. These digital wallets have brought a significant change in people's mindset that digital transactions are safe to use. Almost 82% of Americans are using digital payments daily. These transactions might be either in-app purchases, browser online purchases, in-store purchases using mobile wallets, or peer-to-peer payments.
Have you ever got stuck in a situation where you forgot to bring your wallet where you need to pay an amount while you just had your meal with your friend in a restaurant? No worries! Probably you would have got a big relief once you touch your phone. The digital wallet is simple to use and will help you pay the money.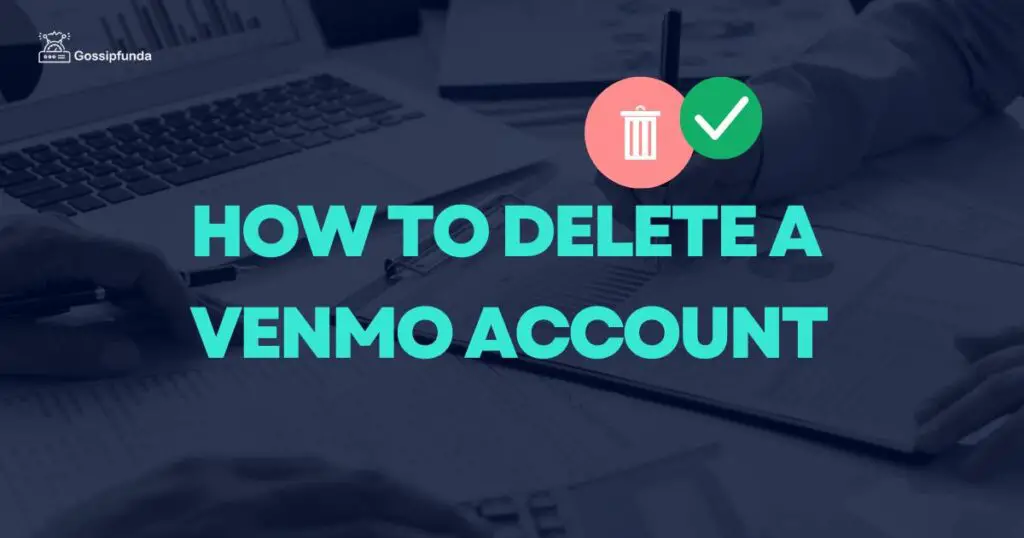 Venmo is an online digital payment platform where you can send and receive money among friends or other known contacts. Venmo which is available only within the US is owned by PayPal and it offers a simple and secure way of transferring money between friends. If you already using a Venmo account and trying to switch to a new payment platform you would have got this question in your mind" How to Delete your Venmo account ".Let's know everything about removing your Venmo account from your smartphone in detail.
What is Venmo?
Venmo allows you to make seamless payments to your friends in a digital way without the need for cash. In simple words, it pays anywhere you want without having cash in your hands. Just this app is enough for you for paying money. Venmo is popular for its mobile payment service and it is up to you to make the transaction personal by sending emojis, stickers, etc. Venmo is mainly used for personal transactions and it acts like social media platform where you will be able to send emojis and share jokes which makes the transaction more personalized. Also, You have the option to set the payment settings to be shown to friends, public, private, and be kept within you. To open an account in Venmo is free of cost on Android, iOS, and also on the website.
What is Venmo used for?
Venmo is an American payment service using your mobile which is primarily targeting friends and family who share their cab bills, room rent, dinner bills, movie tickets, etc. It also allows users to make use of purchases of cryptocurrencies like Bitcoin, Bitcoin cash, Ethereum, and Litecoin in selected International markets. Venmo added a feature that allows New users to be signed up through Facebook. An analysis report shows that Venmo is used by people for both personal and business transactions.
Who can use Venmo?
People who meet these three conditions are eligible to use Venmo
You should reside in the U.S 
Should have an American Mobile number 
Should be at least 18 years of age 
How to use Venmo in Transactions?
If you want to make the transaction through Venmo you need to do some prerequisites steps.
Create a Venmo account in the Mobile app or on the website where you will be asked to enter your basic details followed by your bank account details. Most importantly you should have a valid email address and American mobile phone number to create an account. Once the account is created you can start the transaction with your friends with their Email address, username, or their contact number. Know the ways how Venmo helps you in making cash-free payments that are given below
Make use of the Venmo app that is linked to a bank account, debit card, or credit card, and pay from the app
Pay through Venmo Mastercard wherever it is accepted in the U.S
Pay from your mobile where some stores use Venmo QR codes to accept payment from customers 
Pay through third-party apps and mobile websites that are partnered with Venmo 
Setting up funding resources 
The resources from where you get access to the amount paid are the following
From your Venmo Balance
Either with a credit/Debit card
or A U.S Bank account
How to set up a Venmo account?
Be it an android or iPhone if you want a Venmo account on your smartphone you just need to download it from the google play store.
Once you have installed the application opens it.
You will be given two options .one is personal and the other is business. Choose according to your purpose of the transaction and click on sign up.
The next step will ask you to enter your phone number and tap on send code.
Enter the code sent to your mobile and press submit code 
Enter some basic details such as your name, username, Email id, and password, and click on Next
Agree to the privacy policy
Two options will be given to Sync your phone contacts and Facebook contacts. You can choose both or anyone .you can also choose to skip for now
Set up the payment settings to be made public, friends, or private.Eg.choosing on private will make the transactions shown only to you and the receiver.
It's done. you can tap on the Pay or Request button to start making transactions
Also, you can use the option of scanning the QR code to send money.
How to link your bank account to your Venmo account? 
Yes. Firstly you need to signup for a debit card if you don't have one. The next step is to link your Venmo account either to a U.S Bank account or to a credit card and debit card. Venmo offers a convenient way by linking accounts to your Venmo accounts to send and receive transfer money to your friends. Follow the given steps and link your Venmo account to your bank account.
Go to settings and select payment method
Click on the card option or Add bank and select the bank account which you prefer
Choose the preferred verification method.
Link your Credit/Debit card to your Venmo account:
Follow these steps to link your credit card to your Venmo account. Payment made through credit cards will charge a 3% fee for personal transactions and no fee if the purchase is made online and merchants who accept Venmo payments
Open the Venmo app & Go to the You tab or profile picture
Go to Settings and select Payment Methods
Tap on Add a Bank or Card
Select the Card
Add the card information.
How to send money to Venmo balance?
There are many possible ways to add money to your Venmo balance.
You can also use Venmo balance with no amount as it works with the linked payment method. Since your credit card/debit card is linked to your Venmo account it doesn't have the compulsion to have some balance. Instantly it transfers money from your linked bank accounts. The easiest way to add money to your Venmo balance is by transferring money from a linked bank account. Another way is that your Venmo balance is topped up while you receive payment from the recipients. 
Add money from your Bank Account
Adding money to your Venmo balance from your bank account usually takes 3-5 days to get the money transferred.
Follow the below steps to add money from your bank account to your Venmo Balance.
Open your Venmo app and click on cards.
Go to the  You tab or profile tab
Choose Add or Transfer
Enter the amount you want to send and click Done.
Confirm the linked account you want to transfer from and tap Next
Click on Add Money and enter the amount you want o pay
Venmo vs Paypal
| | |
| --- | --- |
| Venmo | Paypal |
| is operated or works only within the U.S but has more than 80 million users there. | It is operated in more than 190 countries and has more than 300 million users. |
| It supports only dollars  | It supports 25 currencies of different countries |
| It is designed to work fine for personal transactions  | It is designed to work well for business transactions. |
| There is some transaction limit for verified accounts. The weekly transaction limit is $7,000 for verified account holders too | No transaction limit is imposed on verified accounts within the time frame. |
| It is not widely used like other payments options for businesses | It provides the utmost business services related to payment and it is a widely used payment gateway in the world |
| It excels in person-to-person payment | It excels in large business transactions |
| User experience is simple  | User experience is complex because of its robust business tools  |
Is Venmo safe?
To some extent, all payment transaction gateways such as Paypal, Venmo, and Gray will provide the utmost protection for the transactions done. venom ensures that your transaction is safe and they use data encryption and password protection methods. So, there is less possibility for scammers to access your account. Avoid sending money to services that are not yet delivered or to the wrong person. In such cases, Venmo couldn't assist you much in getting back the money.
Privacy settings on Venmo?
Venmo lets the transaction be public by default. so this is a security risk as any of your contacts may be tracking your payment details such as to whom and how much you are sending. So if your want your transaction details to be safe, change them from public to private. Go to settings>privacy>select private.
Read Also: My Apron Home Depot Portal – A complete Login Guide
Payment using Venmo
Payment in Venmo is possible for a single user or multiple users at a time. The payment method is a simple and easy way to send money instantly. Money Received from your friends will be stored in your Venmo balance which can also be considered a virtual wallet. To make a payment using the Venmo app follow the simple steps given below.
Open your Venmo app
Tap on the pay/Request button 
Select the contact you want to send money 
Enter an amount 
Tap on pay/Request 
How do delete a Venmo account?
You can close your account both in the browser or in-app if you have planned to opt for some other transaction gateways.
To close the account on a computer do the steps given below
Sign in to your Venmo account.
Go to account settings
Select close Venmo account
To Close the account in your app prompt the steps below.
Go to the You tab or profile icon
Go to settings in the top right, and click on the gear icon
Select the account under the preferences
Select close Venmo account 
If your account is inactive or you feel it's no longer in use it's better to close the account as it imposes security risk.
What fees does Venmo charge?
Venmo has listed the fee it charges while using card payments. you can have a look at it in your app by following the steps below.
Go to the profile tab
Tap the Settings gear in the top right
Tap on Payment Method
Tap on the card
It will enlist all the charges levied while using the card based on the premium services and features that you use. Some basic fee details are mentioned here
It is free when you send or receive money using your Venmo balance with Venmo receivers.
It is free when you pay using venom balance from the linked bank account or debit cards 
Venom charges you a 3% fee while using your credit card transactions.
1% fee for faster payments of payroll and government checks
5% fee for faster payments of non-payroll and non-government checks
1.5% for instant transfers from your venom account to linked bank or debit card accounts.
Limitations of Venmo?
 As it is an American Owned company it was aimed at the payment of bills between friends who wish to split the charges such as restaurant bills or sharing a cab etc. Both the sender and receiver must reside in the US which is considered a drawback. As it can't be used outside the U.S . It includes social networking interactions where it encompasses three feeds such as public feed, Private feed, and friend's feed. By default Venmo allows all transactions to be made public which raises some security issues.
Wrap-up Information
Venmo provides the best user experience and flexibility for paying and sending money within the U.S.This user-friendly, social interface, with no transaction fees for certain services sets you to use this app without any doubt. Make sure you close any unused account to protect your account from being misused. Venmo provides you with the easiest way to delete or close your Venmo account. Hope you would have grasped the information needed about Venmo accounts from this article. Now It's a good start for you to send and receive money using this app with confidence.
FAQ
Is there a limit to how much money I can send on Venmo?
Yes, you have a weekly limit to send money on Venmo. In case of not complete identity verification your weekly limit of sending amount is $299.99.whereas if you have completed the identity verification then the sending limit is $60,000 per week.
Is it safe to accept Venmo from strangers?
Venmo is purposefully designed to meet the needs of doing money transfers between friends or known contacts. It is safe to use Venmo only with people whom you trust. In case of doing transactions with an unknown person make sure you have received the service or product and then you can proceed with the payment.