Are you tired of noisy and grainy photos? We've got you covered! In this article, we've compiled a list of the best photo noise reduction apps for Android and iOS. 
These highly-rated denoise image apps are designed to eliminate unwanted grain and noise while preserving image quality. With user-friendly interfaces and intuitive controls, transforming your noisy photos into visually appealing masterpieces has never been easier. Discover the power of these photo noise reduction apps and unlock the true potential of your photography today!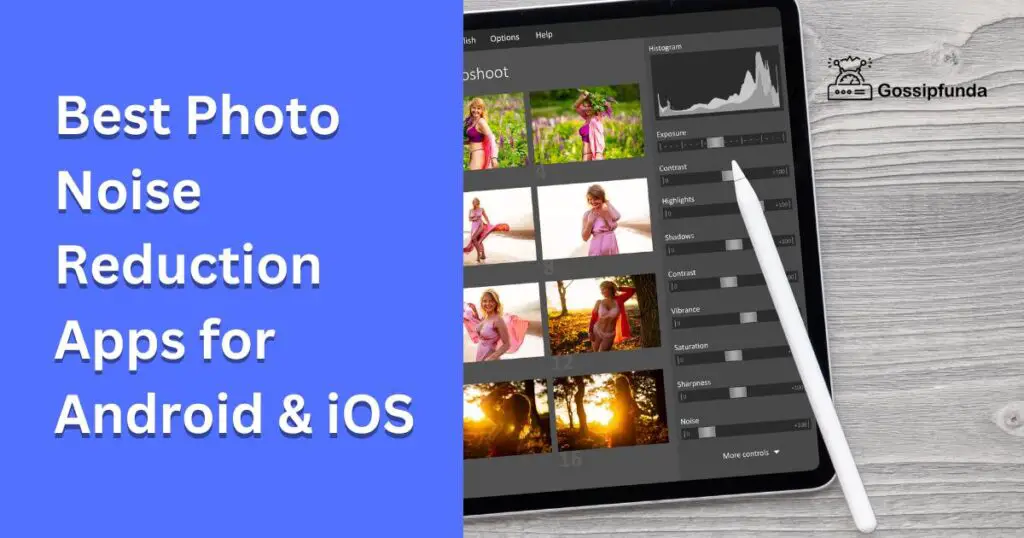 Snapseed
From fundamental adjustments like brightness and contrast to more advanced tools such as selective adjustments and the healing brush, Snapseed provides a comprehensive set of tools to enhance your photos. 
One notable feature of Snapseed is its noise reduction tool, which effectively eliminates unwanted grain and noise from your photos. Powered by advanced algorithms, the app meticulously analyzes each pixel in your image to identify areas affected by noise and applies the necessary corrections to restore clarity and sharpness. 
Moreover, Snapseed empowers users with the ability to make selective adjustments, allowing you to precisely target specific areas of your photo where noise may be more prominent. This level of control ensures that no vital detail is compromised during the noise reduction process, resulting in a final image that maintains its integrity. 
Adobe Lightroom CC
Adobe Lightroom CC is a powerful photo editing app available for both Android and iOS devices. It offers advanced features that allow photographers to reduce noise in their images with ease. 
One of the notable features of Adobe Lightroom CC is its ability to selectively reduce noise in specific areas of your image using the brush tool. This feature comes in handy when you want to preserve details such as skin texture while reducing noise in other parts of the image.
Another feature is its auto mode, which intelligently analyzes your image and applies noise reduction settings automatically. This saves time especially if you have multiple photos that need to be edited. 
In addition, Adobe Lightroom CC provides users with various presets designed specifically for reducing noise. These presets can be customized further based on personal preferences or styles.
Raw Therapee
Raw Therapee is a free and open-source photo noise reduction app for both Android and iOS. It provides users with various features to improve the quality of their images, including sharpening tools, color correction options, and exposure adjustments. 
One of Raw Therapee's key strengths is its advanced noise reduction algorithm that can help you denoise image files without losing too much detail. This feature makes it an excellent choice for photographers who want to optimize their low-light photos or images taken at high ISO settings. 
Another feature of Raw Therapee is its support for RAW image formats from different camera brands. You can use this app with your DSLR's RAW files and take advantage of its wide range of editing options to produce exceptional results.
Photolemur
Photolemur is an innovative photo editing app that harnesses the power of AI to swiftly and effortlessly enhance your photos. By utilizing advanced algorithms, Photolemur automatically analyzes and improves each image with just a few simple clicks. 
Among its notable features, Photolemur excels in reducing noise in photos. Whether you encounter low-light situations or utilize a lower-quality camera, noise reduction is crucial for attaining clear and sharp images. Photolemur's capabilities in this area ensure that your photos maintain their clarity and quality. 
One of the advantages of using Photolemur is its ability to eliminate the need for manual adjustments. Instead, the app employs sophisticated machine learning algorithms to handle these adjustments on your behalf. This saves you time and effort while delivering impressive results. 
Also, Photolemur prioritizes user-friendly functionality. It is designed with beginners in mind, allowing individuals without extensive photography or editing experience to achieve professional-looking results effortlessly. With its intuitive interface and automated enhancements, Photolemur empowers users to create stunning photos with minimal exertion. 
Noiseless
Noiseless is suitable for both Android and iOS. This app works by analyzing the image to identify any digital noise present in it, then applying advanced algorithms to remove it without sacrificing image quality. 
One of the best features of Noiseless is its simplicity. It offers a user-friendly interface that makes it easy for users to navigate around and use all of its features without much hassle. 
Additionally, this app provides various presets that allow users to quickly apply different levels of noise reduction depending on their preferences or requirements. Whether you're looking for minimal or maximum noise reduction, Noiseless has got you covered. 
Another great thing about Noiseless is its ability to work with multiple file formats such as JPEG, TIFF, PNG, and RAW files from popular cameras like Nikon, Canon and Sony among others.
Noise Reduction App Tips
When using a noise reduction app, it's important to keep in mind a few tips that can help you get the best results possible. 
Start with a high-quality image: Begin with a photo that has good quality and minimal noise to achieve better results when using a noise reduction app.
Use multiple apps if needed: If one app doesn't completely eliminate all noise, try using different apps or combining their effects for optimal results.
Adjust settings carefully: When using a noise reduction app, be mindful of adjusting settings like sharpness or contrast. Avoid overdoing these adjustments to maintain a natural-looking photo.
Consider investing in paid apps or upgrades for free ones. While there are plenty of good free options out there, sometimes paid versions offer extra features and better performance that can really make a difference in your final result.
Conclusion
Feel free to research and experiment with different programs until you find the best one for you! After all, incorporating photo noise reduction into your editing workflow can significantly improve the quality of your images, no matter which program you choose. 
One program that is also worth considering is Luminar Neo, which provides a wide collection of editing tools, including advanced image noise reduction features. With Luminar Neo, you can achieve professional results and create high-quality images.  
Check out these apps today and see how they can transform your work!