The popularity of android phones can be seen globally. Android holds a tight grip on the market share of the mobile industry. One of the most important reasons for its popularity is its wide range of prices for android devices. But that does not mean that android does not face any problems. The most frequent issue experienced by Android users is with non-working apps. This issue has been reported by most android users. So to fix this issue, we need to briefly understand what could be the possible causes for the malfunctioning of your apps in android. The problem in the working of apps is the consequence of various issues. As android is an open-source platform, any source of junk can also gain access to it. So in this article, we are going to learn Why are my apps not working on my android?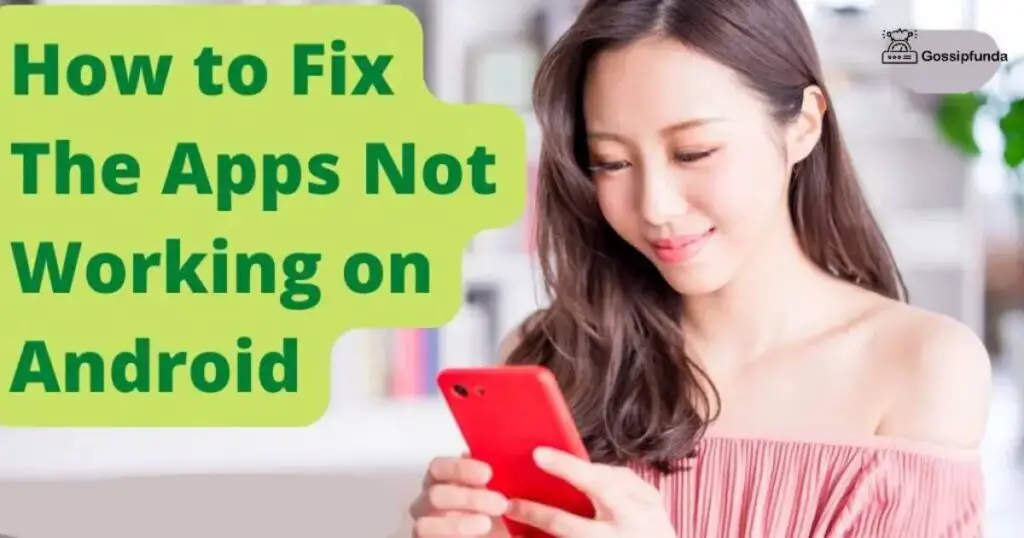 Reasons why apps are not working on Android phones?
Faulty app update
It is necessary to update your apps and software whenever it is required. It increases the security of your phone and fixes software bugs. But as we know android is open to all sources hence it also comes up with many default apps. These bad apps slow down the functioning of your smartphone operation. These applications which you have updated might not be completely compatible with your current software.
Temporary errors in the system
Sometimes you may come across temporary errors while using your phone. Such type errors include freezing your screen or hitting the notification app not responding etc. such errors may occur due to corrupt systems, hardware issues, or cache data problems. Another type of error is that your phone turns On and Off by itself. This could be the result of software bugs in android.
Lacking memory and phone storage
Let's accept the fact that the internal memory of an android device is not as empty as it appears. Most of the space is utilized by the preinstalled apps and the rest by the operating system of the software. Even if there is enough space for the installation of an app, then also the notification rings 'this device does not have enough space. But actually, there is not enough storage to execute the process of installation.
Flaws and bugs in the apps
Many app developers for the sake of money create many junk apps and sites. As a result, many viruses and software bugs find a path to enter your phone. Some bugs or flaws are unknown to the user, or they are ignored as not considered important to look upon. Due to this, these bugs and viruses remain in the device for a long time. You must keep a check on such bugs and ensure proper security for your data.
Corrupted cache and data
As a consequence of excess cache data, the loading speed is lowered and corrupted data is caused. Every app creates cached data, and this data quickly consumes memory storage and becomes corrupt. It leads to connectivity issues and can affect other apps within the device. Users must clear cache and useless data regularly.
Incompatibility issues
You are unable to install some apps from Google Play Store as your device is incompatible with this app. The possible reason for its incompatibility could be that the developer of the particular app has not chosen your device for their app. Such problems can be fixed in a few different ways. You may upgrade to the latest version of your software, clear cache data, or you can get the app from a third-party site.
Now, you might be quite familiar with the possible reasons due to why apps are not working on your android. The above-written problems can be resolved in many ways, which will ultimately result in the smooth working of your android device. Here are some ways to tackle issues related to the working of apps in android.
Ways to fix android apps not working
Method 1: Upgrade the app
If your app is not working smoothly then firstly you need to look at the latest update of the app. The most recent version of your software must be installed if an update has been released. You can update your app by following these steps:
Open the Google Play Store app
Tap the Profile Icon near the search bar
Tap the Manage Apps and Device option and press the Updates Available
Find out the app in the list which is not working properly
Tap the Update option and restart the app
You can also go for the Update All option to upgrade all the pending apps.
Method 2: Force-stop the app
Still, if your app is not functioning properly even after updating to its latest version, then you should stop working on your app on your own. Sometimes what happens is that your app keeps on running and processing in the background, due to which it may not respond as expected. For the time being, force stop the app and all the processes going on in the app will eventually come to rest. You can force stop a particular app through the following steps:
Long press, the app that has been affected
Choose the App Info option from the menu 
Tap Force Stop option is shown on the left corner at the bottom
Relaunch the affected app to see the changes
Method 3:Try reinstalling the app
It is strongly recommended to reinstall the affected app if it's still not working properly after trying the above-mentioned methods. This method resolves the problem in most cases only if the source of the issue is incompatibility. For example, if the app was not directly installed from Google Play Store but from another source. You can reinstall an app by:
Long press, the affected app
Tap Uninstall option to remove the app from the device
Head back to Google Play Store
Search for the app in Search Bar
Tap Install option
Restart your app
Method 4:Uninstall the android system web view app updates
Android system web view is an app that works in the background. It allows the other apps to show web content to the user. An error in the working of this app may affect many other apps. Android System Web View is frequently one of the main offenders when various Android apps crash for no apparent reason. This is because many Android apps make use of this component. You cannot directly uninstall the app, all you can do is uninstall its web view updates. Following are the steps to take so;
Go to Settings and tap the Apps and Notifications option
Tap the Android System Web view option mentioned in the list 
Tap three dotted icons in the top right corner
Tap Uninstall Updates and click Ok
Restart your device
Method 5: Check for android updates
Even after performing the above method, there might be a probability that you do not get the desired outcome. Don't need to panic. Try using this method to get results .you need to make sure that the software on your phone is not outdated. For whatever reason, if you've consistently swiped away the "System Updates available" message on your phone, you should now check it again. They keep your device stable and bug-free. You may install your pending system updates in the following ways:
Go to Settings
Tap System→System updates →Online updates
Check in for the pending updates
Tap Install and restart your device
Method 6: Get back to the older version of the app
We update an app to avail of the new features and increase the efficiency of the device. But occasionally things may not turn out as expected. Instead, the new version of an app brings new problems with it. Disturbingly, the problem with an android is that you cannot get back to the older version of an app directly. Even if you uninstall it and try to reinstall it; you will end up getting the same app you removed. You require an APK to get the desired version of the app. These methods allow you to download an earlier version of an app;
APK Mirror: The website provides APK files for the huge majority of applications through the Play Store. The repositories of apps that were released two years ago can be accessed. Firstly, open the website and search for the app in the search bar. Check for the version you want to download. Click on the given link of the version and the app of that version will be installed on your device
APK4Fun: It is a famed repository where you may download earlier Android software versions. The website offers a variety of earlier APK versions of well-known apps and is typically renowned for offering safe and secure APKs for side-loading them to your Android phone. The download process is identical to that of the APK mirror.
Many other websites provide you with APK file links, but they are not 100% safe to use. Your system may get harmed by the malware caused by such files. So be careful with the website you are using. Otherwise, instead of degrading the problem, you may incur new kinds of faults in your device.
Method 7:Reset your gadget
After trying every possible method, the last you are left with is to reset your device. Your phone might need to be reset to factory settings to remove all the data from your device. Basically, in most cases, devices can be made to reset through the settings of the phone. You may choose the factory resetting method if you are unable to turn on your device. You can perform this method by using the power and volume buttons of your device.
This method will erase all your important data from the device, so you need to use this method quite cautiously. Ensure you have a backup of all the information and files you require.
Android devices tend to work slowly with time. Well, how to improve Your phones quicker and better is therefore the biggest commonly requested query across Android users. So, let us have a look at 
 Some tips to maintain your android phone
Clear cached data of unused apps: generally, cached data is a good feature for any app, as it makes the app load at a faster pace. But deleting cached data of unused apps can make your android device faster. It will free up a great amount of space and enhance device performance.
Install a custom ROM: Volunteer developers created custom ROMs to replace a phone's default software, rather than waiting for manufacturers to fix them. By switching to a custom ROM, you can continue using your smartphone long after it has officially reached the end of its useful life. You can then choose how long you use the device you spent a lot of money on, just as with your PC.
Install apps from verified sources: Android forbids installing and downloading apps from untrusted sources because doing so is risky. You run the risk of doing potential damage to your Android smartphone if you choose to download apps from sources other than the Google Play Store.
Install antivirus software: This palm-sized device contains everything, from social networking to bank accounts, from retaining documents to storing private communications. Android purchases apps from developers as well. Sadly, doing so weakens and leaves the device's security system vulnerable to viruses and bugs. Therefore, installing antivirus software is crucial for extra security.
Try using the lite versions of apps: Various apps provide lite versions of their app. Some popular apps include Twitter and Facebook. They have fewer data usage and are less prone to malware. They also increase the efficiency of your device and allow your phone to work faster.
Conclusion
Everyone wants their device to operate without freezing or crashing. There shouldn't be any possibility of any malware on the system. We as users expect a lot of things from our gadgets, but we need to understand that our device also expects the same from us. You anticipate your phone to last a long time because you spent a lot of money on it. The truth is that even if you take exceptional care of your high-quality cell phone, there is still a potential that it could malfunction and shatter. You should handle your phone with extreme caution, just like you would any other technological gadget.
FAQs
My Android device frequently hangs. What should I do?
Your device is most likely experiencing this issue as a result of other applications using up RAM. The hardware lacks sufficient RAM to run the system programs. As a result, your smartphone begins to lag and hang. Mobile apps that are obtained from dubious sources or unsafe websites frequently contain malware (viruses) that can damage your phone. These infections cause your phone to hang up by interfering with its background operations. Your phone may hang if its software is out of current. System software is updated frequently to address bugs that could prevent your phone from performing at its best.
How can I secure my Android phone's private data?
You shouldn't blindly accept every app's access terms, even if it's practically impossible to operate a smartphone without granting apps access to some items. It's hardly surprising that many apps desire greater access than they need because they rely on selling your personal information to advertising to earn money. Firewall apps are useful for ensuring that no apps are sending or receiving information without your knowledge.
Which antivirus program is best for Android users?
One of the top manufacturers of consumer cybersecurity goods and a pioneer in antivirus security is McAfee, the antivirus company that more than 500 million consumers trust across 150 countries. Reputed and reliable internet testing labs have given this brand many antivirus awards, such as those from AV-Comparatives, AV-Test, PC Mag, and The Anti-Malware Testing Standard Organization.