Hide apps on android:- Keep Your Personal Life Personal, Ultimate answers to all your questions, Let's come have a look below and learn. Why Use? How To use? How do you hide apps on android?
"Father asks son for his phone and the boy starts to think now what to do, how to hide my personal details, android apps, dating application safe from his father's eye."
Everyone has experienced this type of situation once in their life either its father, friends or anyone else. We all want to keep our personal life private because we don't want anyone's other interference in our private life. Hiding you're all ANDROID APPS which means personal to use is very important nowadays.
So, If you get panic while handing over your phone to someone and thinking in mind that you have got some private images, personal documents, or datings apps that you don't want to be known to anyone else. Here comes the role of Hiding apps and we finally realize its importance.
Now the question that will strike to your mind will be that how to Hide?
Yours have visited the perfect site here I will today explain in detail how you can hide any apps available in your android phones. I am going here to explain to you Three basics and easy ways to hide your personal apps and help you keep your personal life data safe from the prying eyes.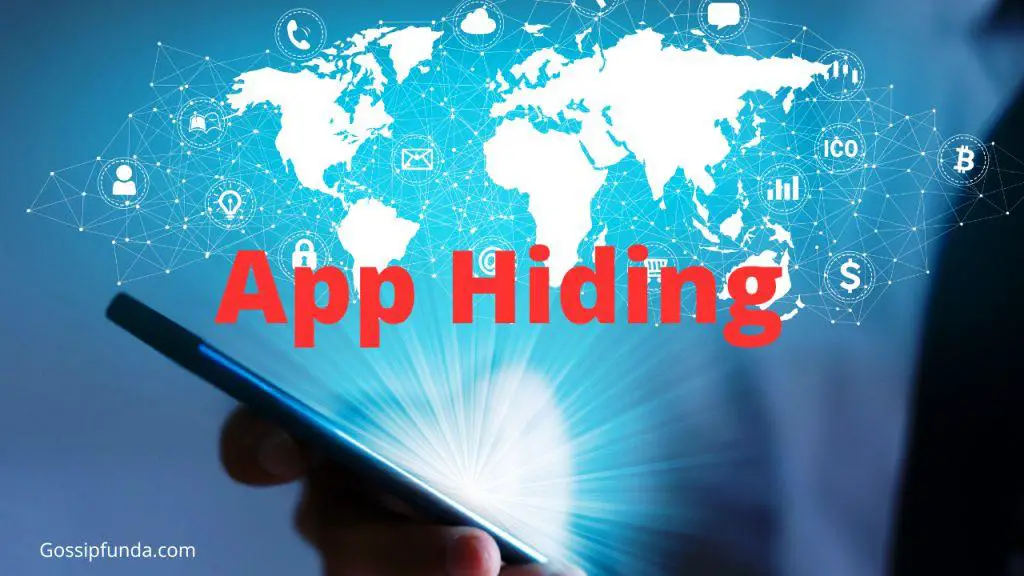 Don't Miss: how to find hidden apps on android?
How to hide apps on android without launcher
This one is the first and easiest way to hide your apps without the installation of any app or launcher. You have to do nothing just visit Settings>Apps>Select Apps to Hide>Disable. But it can be used just with the pre-installed apps.
Don't worry my friend I have another solution here to solve your problem.
Do you remember when you bought your phone for the first time, It asked you to provide some information to login. Once you log in all your contacts linked with that account gets in the phone, Photos saved on the drive can be downloaded, Google photos sync all your photos and get it to your new phone. So, I explained so much in the above about the login id you must have got an idea about what I am going to talk about.
Here it is, You have to do nothing you just have to go to settings>advanced settings>multiple users. And it's done, you got again a new mobile type looks in your phone noting installed, no pictures, no contacts. This will really be helpful and quite easy to do as you just have to create a guest account. In Huawei Honor Smartphones you get to link as a child account which is just an awesome feature in the handset.
How to hide apps on android without rooting
A second and easy way is to download an app hider app from Play Store. I have mentioned without rooting because many of us don't want to get into a problem that happens during rooting an android smartphone. Some of you also here would be not so much techy which means interested in technology and would not be knowing how to root. So, this one is for all who want a simple but smart solution. I will list below some such android apps which can help you hide your apps and data.
1. App Hider -Hide Apps Hide Photos Multiple Accounts
Its specification makes it add it in the first place and that is hiding apps, hide photos and videos, Dual Apps, Multiple Accounts.
This app imports app into App Hider and have to uninstall that app from your phone. This app optimizes all your social apps. Before the uninstallation of the apps, we have to launch the cloned app in the app hider. 
It is a multi-functioning app as it does functions like cloning apps, hiding photos. But besides all this, the app can look like a calculator. You can't run program after you hide it here even it doesn't run in the background. It is all done to save your battery and memory.
It comes with a premium feature which gets you the advanced settings. A person who wants to get rid of any social media site, this is the best app to use. You have to just do is hide the app here with pin and make it disguise the app icon.
2. Apex Launcher
To hide apps you need to take the help of the third party and that is the installation of a launcher. You will find more than 1000 launchers available in the play store but this one is surely having launcher if you want to hide apps and change the look of your smartphone. Your smartphone looks as it is having a pre-installed theme and a launcher that doesn't look more classy. But installing this launcher makes your smartphone look classy and enables us to hide our apps. We just have to is that visit Setting>Drawer Setting>Hidden Apps and we have the view of all apps that can be controlled.
This is the free launcher and comes with advanced settings in app-purchase.
3. Nova Launcher Prime
This launcher is also available for free but its quite not suitable if you are looking into hiding apps from the prying eyes. This app is really very old in the market and always in demand as it has many themes to change your phone's look. You need to buy this version of launcher because in the free version it doesn't allow you to hide apps.
4. Hide App – Hide Application Icon
We generally download a lot of apps that make for mobile look crowded. And we get annoyed when notification of each apps pop-up with sounds. So, if you want to hide that type of apps and get rid of that just download the app and enjoy it.
Its user interface is quite simple when you enter the app you get the list of all apps that you have installed in your phone. You got a box to tick and once it's done. You can even secure the app with pin security and the developers know the importance of your private life so they had made a backup feature for you.
5. Hide It Pro
Don't look at the icon to much as the icon resembles it is simple like any vault-app but it is not. This app has been developed quite in an impressive way that it looks like a media player and also has the function of audio settings in it. But after a long press, it comes to its own state and makes you realize that you got an amazing app installed on your phone. It comes with password security, It enables us to hide apps, pictures, videos, and other private document files.
This app has a feature like whenever anyone wants to look into your personal files it misleads them to the password lock screen. This feature enables us to catch the person who wanted to look into your personal files red-handed. This app has also got the feature to simply backup the data to the google drive. 
Other best hiding Apps
Your real concern behind hiding apps is the security which you can achieve by using any of the app lock available in the web market.
 App Lock
You all have must listen about this app, this app is also popular because it is free and very convenient to use. It locks your photos and videos too. The best part of this is that it uses less memory. It has got an advanced feature of being able to prevent itself from being uninstalled. App Lock requires a password before you want to uninstall it. It also enables us with a fingerprint lock feature.
This most basic feature of this app is app is that you can make disguise of this app icon so that nobody knows that you have it installed in on your device. This app has got quite impressive features like- Picture Vault, Lock/Unlock Apps automatically, Fake Cover, Quick-Lock Switch On the status bar.
App Lock Fingerprint
This app is just awesome as it can snap the selfie of the person who wants to get unauthorized access. This app has also the best features within it but comes with an in-app purchase option. As its name suggests it comes with a fingerprint lock feature which can be the best feature for any app. The main features of this app are:- Applock, Catch Intruders, Fingerprint, Fake Lock, Notification Lock, Scalable Pattern, Smart Lock, and Multiple Lock. It comes with 31 supporting languages.
If You own a Huawei Honor Smartphones you can hide your albums just by opening a gallery and touching the three-dot icon in the corner and if you want to unhide it go to settings and security and safe pictures and just unhide. In the era of the internet where internet rules nothing can be private and safe if you are not taking actual and perfect steps to avoid any of the unusual activity that can happen with you.
If you have not read my previous Blog on Android Firewall please visit there and learn a little as you are just a click away.
Conclusion
The problem with we humans is that we learn after we get hurt. We never stay ahead so we just have to be smart and live a step ahead.
Our Privacy On our Own Hand. So, I have listed above all possible the possible ways to keep your privacy safe choose the way you like to hide apps on android and also your private images.