Music is the fastest way to recharge oneself. If we listen to our favorite music if we feel depressed, sad or angry, it works out like a charm. You tend to feel energized by listening to a familiar tone that can wake you up from depression. Therefore, whether it be for professional reasons, or simply listening for fun we ought to do it right. The music equalizer that comes prebuilt in android smartphones is always trash. Some don't even give you a proper option to set them up. Therefore, this article is going to help you find the Top Equalizer Apps for Android.
If you ever felt, that the new pair of headphones that you bought isn't working right, it might not be necessary its fault. Nowadays, every smartphone company tends to install its UI over the stock Android. The efforts they put into making the music app lovely is none to zero. Therefore, unlike listening to the same old track again, we would like to add some spice to it for our comfort. If you have never used equalizers, then let us see why they are useful.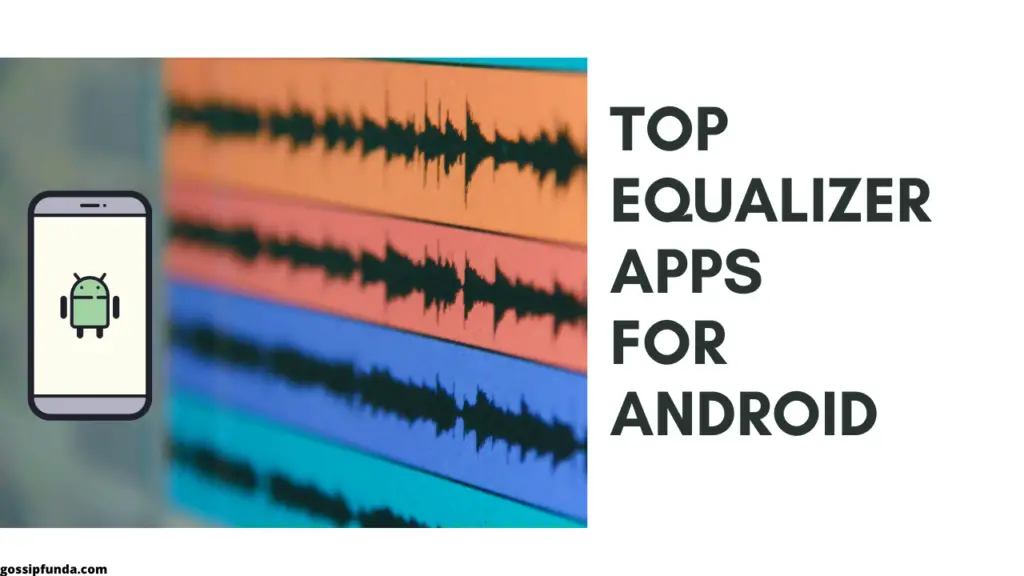 Why use equalizer apps?
It is not like someone becomes a DJ just by installing these apps. They are made so that you can enjoy your music the way you like it. Android Smartphone, generally does not have equalizers installed. If they do come, it isn't very good to use.
Using these apps can not only improve your music experience but also provide a newer experience. Of course, you need not set the settings again and again, just a setting that suits your liking. It might be possible that an earphone or a headphone change might be the reason for your dislike in music output. Therefore, we present to you some of our best recommendations, you must try if you haven't already.
Best Music Equalizer| Android Apps for 2020
We are going to go with multiple free apps and some of them that are paid. But rest assured, the ones that made this list are very good and have an excellent user interface.
Music Volume EQ
This the top free Music Equalizer, which is available in the Play store. It has over 50 million downloads and is an excellent choice. The app has a simple design, very easy to use.
You have auto start options in the settings that can be toggled. There are multiple preset options available that are prebuilt. Some of them include Normaal, Hip-Hop, Dance, Rock and many more, Therefore, you just need to play your music and select your choice to make it work. There are also options for Bass Boost and Virtualizer that can spice your music.
Equalizer FX
This is the cleanest-looking music Equalizer app on play store. It has over a million downloads that tell you how good it is. The best part about this app is that it has Profiles that can be set up as per your requirement.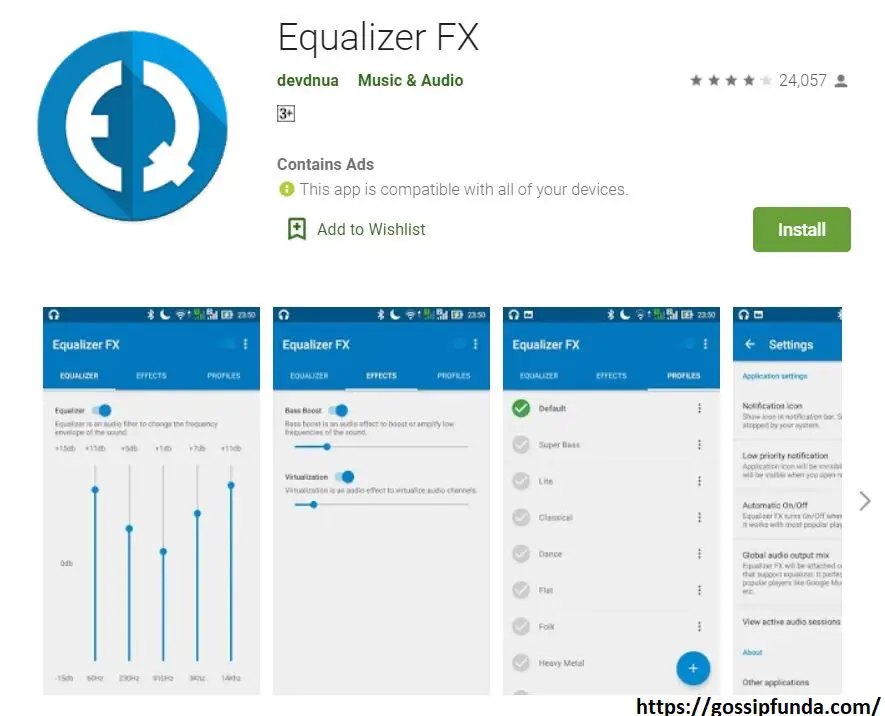 Therefore, you can set up your personal profile and listen to music. TYhis also offers effects such as Loudness Enhancer that works really great. It has a similar working to that of Music Volume WQ but has a more simpler design. Furthermore, it can detect if you already have another Equalizer running so that you don't mess up the sound. If you like this app, then there is also an ad-free version available for download.
Bass Booster & Equalizer
This is one of the coolest Equalizer apps out there. It is very customizable. The equalizer itself is very good but the best part is about other features. It has a feature called 3 D audio, that enhances the complete experience.
You have the option to enable edge lighting. You can take a look at this feature down below and cool it looks. Obviously, you need to grant the app permissions to float over other apps. If you are okay with such permissions then, you will have a great experience. You can also change the same old boring theme of the app. You can choose from multiple colors to have a huge variety.
Furthermore, the app has many presets that help you to quickly app the Equalizer. The only downside is the ads. There is actually a very good way to remove ads. You don't even need to pay to do this. You can just watch a couple of ads to remove the ad itself. Ironic isn't it? Again, if you like this app, the play store is the place to get it. It is one of the top Equalizer Apps For Android
Equalizer Music Player and Video Player
This app is actually an all in one. It is a complete package that contains a music player as well as an equalizer. The app has multiple presets that can be modified by the user. You can even create your own playlist to be saved and replayed.
Furthermore, whenever you play a song, you have a nice LED strip thing going on around the edges. The best part about this app is that it has a sleep timer. This means you can set up when the music would stop if you wish to take a nap wearing your earphones. Again, the downside of using this app is ads. You can again, remove all the ads by paying for the pro version.
RE Equalizer 10-Band
This app is a really good investment if you are unsatisfied with the above variety of choices. RE Equalizer has multiple presets built-in that includes the 20 pre-engineered presets along with 5 custom ones. It has a mode to draw curves and multiple shapes.
This is an app for professionals, as it also comes with an audio analyzer that the free apps lack. The interesting part is that the app has tutorials for beginners so that everyone can use it. It is powered with the Shunt Audio engine.
This ends our list of Top Equalizer Apps For Android
How does a sound equalizer work?
Now that we have covered many awesome equalizers, let us see how they work. Equalizers work by adjusting the frequencies of the sound wave that is produced through the audio. This way it can alter the tone and the amplitude of sound that passes through it. Therefore, it simply said it uses many filters to perform this action.
Let us understand some of these filters in detail by going through each of them.
Low Cut Filter
This filter has the duty to remove all the frequencies, which are set up under a particular sound frequency. It depends on what the particular cutoff point is set. This filter then simply then eliminates the frequency that does not qualify the requirements
Low Shelf Filter
This filter has the job to boost the signals that are under a specified frequency point. Unlike the Low cut filter, they do not eliminate the sound completely but gradually decrease or to be specific alter them to make a sound effect
High Cut Filter
This filter has the duty to remove all the frequencies, which are set up over a particular sound frequency. This filter then simply then eliminates the frequency that is above the cutoff frequency. Therefore, it is the reverse of low cut filter
High Shelf Filter
This filter has the job to boost the signals that are over a specified frequency point. Unlike the High cut filter, they do not eliminate the sound completely but gradually increase or to be specific alter them. It is the reverse of a Low Shelf Filter and is used to make broad tonal changes.
Bell Curve Filter
It has the ability to change or alter the frequency of sound around a center point. They are the most versatile kind of filters and are very important for any equalizer
Band Pass Filter
These filters allow you to isolate the frequencies around a specific center point. Multiple usages of Bandpass filters are used in many equalizers that grant control over the sound from the audio
Conclusion
To conclude, we learned about how you can use equalizers to improve sound quality. There are multiple Equalizer apps that available for download at the play store, and you can take a look at Top Equalizer Apps For Android.
Furthermore, most of them are available for free and are extremely small in size to download. They come in with multiple customizations that can please any users.
Lastly, there are multiple filters used by any equalizer to fix the audio that we provide to it for a good experience.
Do not miss: How to block websites on android?