If you're a fan of virtual reality, you're well acquainted with the Oculus Quest 2. This powerful, all-in-one VR headset brings otherworldly experiences straight to your living room. However, even the most advanced gadgets encounter glitches. One common issue users report is their Oculus Quest 2 getting stuck on the flashing logo. But don't stress just yet; we're diving deep into this topic to give you actionable solutions.
Reasons behind Oculus Quest 2 stuck on Flashing Logo issue
Software Glitch: Sometimes, minor software errors can cause the device to freeze or display the flashing logo.
Incomplete Updates: An interrupted or incomplete software update can result in the Oculus Quest 2 becoming unresponsive.
Battery Drain: If the battery is completely drained or there's an issue with the charging circuit, the device might not boot up correctly.
Internal Hardware Failure: Faulty internal components, especially those related to power management or processing, can cause boot issues.
External Damage: Accidental drops or shocks might lead to internal damage, causing the device to malfunction.
Overheating: Extended use without breaks, especially in warm environments, can lead to overheating, forcing the device into a protection mode.
Corrupted Files: Downloading or transferring corrupted files or apps might interfere with the boot-up sequence.
Memory Issues: If the internal storage is full or has errors, it can prevent the device from starting up normally.
Firmware Problems: Occasionally, problems with the device's base programming or firmware can lead to the flashing logo issue.
External Interference: External factors, like magnetic interference or exposure to extreme temperatures, can disrupt the device's normal functioning.
Understanding the Problem
When faced with a challenge or issue, it's critical to first grasp its nature and root causes. "Understanding the problem" means delving deeper than the surface symptoms to determine the underlying reasons causing the situation. By comprehending the essence of the problem, one can devise effective strategies or solutions. In many cases, hastily addressing only the apparent issue without understanding its core can lead to recurring problems or even exacerbate the situation. Essentially, it's about getting to the "why" and "how" of an issue, rather than just seeing the "what."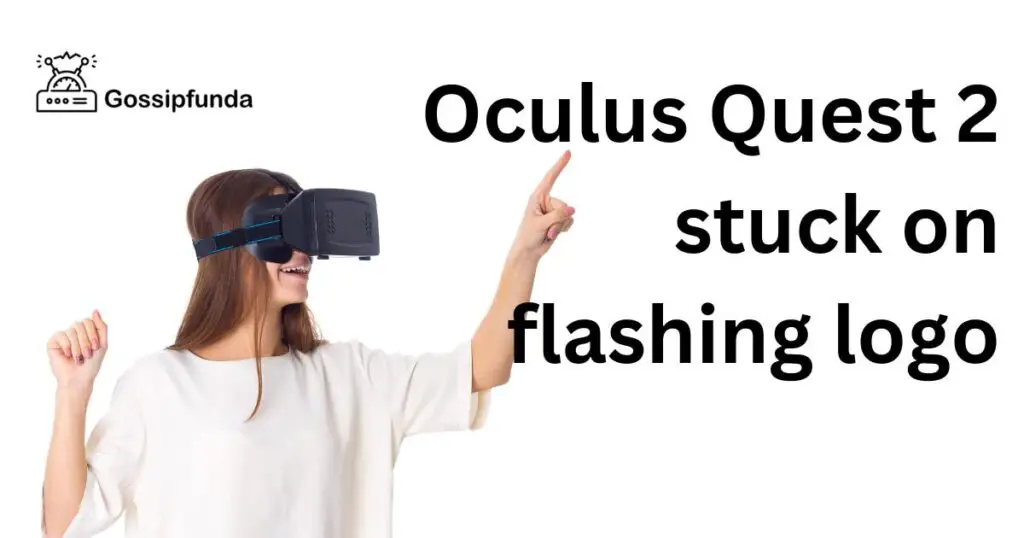 How to fix Oculus Quest 2 stuck on flashing logo
Solution 1: Restart Your Oculus Quest 2
Restarting your Oculus Quest 2 can solve many minor glitches and issues, ensuring smooth gameplay and user experience. Follow these comprehensive steps to restart your VR device successfully:
1. Power on Your Device: Make sure your Oculus Quest 2 is turned on. If you've been using it, you'll likely be at the home screen or within a specific VR application.
2. Locate the Power Button: The power button is situated on the side of the headset. It's essential to differentiate this from the volume rocker, which is also on the side but has two distinct buttons for volume up and down.
3. Press and Hold the Power Button: Gently press down on the power button and hold it. As you do this, you'll notice a power menu appearing within the VR display. This menu will present you with various options, including 'Restart', 'Power Off', and 'Cancel'.
4. Select 'Restart': Using your Oculus Quest 2 controller, point the pointer towards the 'Restart' option and press the trigger to select it. Alternatively, if you're not in the VR display, continue holding the power button for around 10 seconds until the device powers off. Then, press the power button once more to turn it back on, effectively restarting it.
5. Wait for the Restart to Complete: Upon selecting the 'Restart' option, the Oculus Quest 2 will begin its restart process. You'll observe the device turning off and the Oculus logo appearing as it powers back on. This process can take a few moments, so be patient.
6. Confirm Successful Restart: Once the Oculus Quest 2 completes its restart cycle, you should find yourself at the home screen or main menu. At this point, navigate around a bit to ensure responsiveness and confirm the issues you were facing have been resolved.
7. Troubleshoot if Needed: If, after restarting, you still encounter problems, consider additional troubleshooting methods like checking for software updates or performing a factory reset.
Remember, regularly restarting your Oculus Quest 2 can help maintain its performance, much like rebooting a computer or smartphone periodically. It clears temporary cache and can resolve minor software glitches.
Read more: Oculus Quest 2 keeps restarting
Solution 2: Check for Updates
Ensuring your Oculus Quest 2 is up-to-date is vital for optimal performance and user experience. Here's a comprehensive guide on how to check for and install updates on your device:
1. Power On & Wear the Headset: Turn on your Oculus Quest 2 and wear it. You'll start at the main home screen.
2. Open the Main Menu: On the bottom of your virtual display, there should be a series of icons. Click on the 'Settings' gear icon, which should be towards the right.
3. Navigate to the 'About' Tab: Within the Settings menu, scroll to the side until you find the 'About' tab. Click on it.
4. Locate 'Software Update': In the 'About' section, you'll see details about your device. Among these, you should find an option labeled 'Software Update'.
5. Check for Updates: Next to the 'Software Update' label, there will be a 'Check for Updates' button. Click on it. If an update is available, you'll be notified here.
6. Download & Install Updates: If an update is found, there should be a prompt to download and install it. Click to proceed. Make sure your headset is sufficiently charged, or better yet, keep it plugged in during the update.
7. Wait for the Update Process: Once initiated, the update process might take some time, depending on the size of the update and your internet connection speed. It's vital to keep the device steady and not turn it off during this process.
8. Automatic Restart: After the update installs, the Oculus Quest 2 will likely restart on its own to apply the changes. Ensure you allow this process to complete without interruptions.
9. Verify Update: Once the device has restarted, head back to the 'About' section in settings. Here, you can confirm the software version to ensure it reflects the latest update.
10. Regularly Check for Updates: With tech devices, especially those that offer interactive experiences like the Oculus Quest 2, regular updates are common. It's a good practice to check for updates periodically, ensuring the best and safest VR experiences.
Keeping your Oculus Quest 2 updated ensures you're enjoying the latest features, security patches, and performance enhancements offered by the Oculus team.
Solution 3: Maintain Your Device for Longevity
The Oculus Quest 2 offers a stellar VR experience, but like any device, it demands proper care for lasting performance. Here are key practices to ensure its longevity:
1. Safe Storage: Always store your device in a cool, dry place. Consider investing in a protective case to shield it from dust and potential impacts.
2. Keep It Clean: Regularly wipe the lenses with a microfiber cloth to prevent smudges or scratches. Avoid using abrasive materials or liquids.
3. Avoid Direct Sunlight: Never leave your Oculus Quest 2 under direct sunlight. The sun can damage the internal sensors and screens, disrupting the VR experience.
4. Handle with Care: Although the Oculus Quest 2 is sturdy, it's still an electronic device. Avoid dropping it, and handle the controllers with care.
5. Charge Smartly: Avoid overcharging the device. Unplug once it reaches 100%, and refrain from using it while charging to prevent overheating.
6. Regular Software Updates: Stay updated with the latest software patches. They often contain fixes, optimizations, and new features enhancing the device's performance.
7. Limit Exposure to Moisture: Sweat can be a concern during intense VR sessions. Consider sweatbands, and always dry off the device after use.
8. Be Mindful of the Battery: Store the device at about 50% battery if you're not planning on using it for extended periods. This helps in maintaining the battery's health.
9. Manage Downloads: Regularly review and manage your downloaded apps and games. A cluttered device can lead to slower performance.
10. Engage with the Community: Join Oculus forums or VR communities. They often share valuable tips, tricks, and hacks for device maintenance and longevity.
Your Oculus Quest 2 is an investment in immersive experiences. By ensuring its well-being through regular maintenance and cautious handling, you'll prolong its life, ensuring countless hours of uninterrupted virtual exploration.
Solution 4: Factory Reset: A Last Resort
While the Oculus Quest 2 offers a seamless virtual experience, sometimes, the only solution to persistent issues is to start afresh. A factory reset erases all data on your device and returns it to its original state. Before you take this step, ensure you've tried other troubleshooting methods. Here's how to proceed:
1. Backup Your Data: Before initiating a factory reset, ensure you've saved any essential data. This includes game progress, downloaded media, and other settings.
2. Wear the Headset: Turn on your Oculus Quest 2 and wear it. You should begin at the primary home screen.
3. Access the Main Menu: Look for the 'Settings' gear icon on your virtual display and click on it.
4. Navigate to 'Device' Tab: Within the Settings menu, find the 'Device' tab and select it.
5. Find 'Factory Reset' Option: Within the 'Device' section, scroll down until you find the 'Factory Reset' option.
6. Confirm Reset: Once you click on the 'Factory Reset' option, the system will ask you for confirmation. Remember, this action is irreversible. If you're sure, proceed by confirming.
7. Wait Patiently: The Oculus Quest 2 will start the reset process. This might take a while, so ensure the headset remains powered during this period. It may restart several times.
8. Initial Setup: Post-reset, the device will behave as if it's brand new. You'll need to go through the initial setup process again. This includes pairing your controllers, connecting to Wi-Fi, and logging into your Oculus account.
9. Restore Data if Needed: If you've backed up certain data to your Oculus account, you can restore it post-reset. Some games and apps save progress to the cloud, so you might retrieve some saved statuses.
10. Redownload Apps: All apps and games will have been removed post-reset. You'll need to redownload your favorites from the Oculus Store.
Choosing to factory reset your Oculus Quest 2 is a significant step. It's essential to exhaust other troubleshooting methods before resorting to it. But if done correctly, a reset can resolve many persistent issues, offering you a clean slate for your VR experiences.
Solution 5: Seek Expert Assistance
When all else fails with your Oculus Quest 2, it's time to turn to the professionals. Here's how you can seek expert assistance and ensure your VR device gets the best care:
1. Oculus Support: Start with the official Oculus Support portal. They have a wealth of resources, including FAQs, troubleshooting guides, and a direct line to their support team.
2. Contact Via the Oculus Website: Go to the official Oculus website and navigate to the 'Support' or 'Contact Us' section. Here, you can send a detailed message about your issue.
3. Live Chat: Some websites, including Oculus, offer a live chat feature. This provides real-time assistance from their support team.
4. Forums and Communities: Platforms like Reddit have dedicated Oculus communities where users share problems and solutions. Sometimes fellow users, who've faced similar issues, can provide valuable insights.
5. Local Tech Experts: Check for local technicians or stores specializing in VR or gaming equipment. They might have hands-on experience dealing with Oculus devices.
6. Document the Issue: Before reaching out, it's useful to document the issue. Take notes or even screenshots or recordings. This helps experts understand the problem more clearly.
7. Be Patient: While you may want an immediate fix, it's essential to understand that sometimes diagnostics and solutions take time. Being patient can lead to a more accurate resolution.
8. Warranty Check: If your Oculus Quest 2 is still under warranty, make sure you communicate this to the experts. Warranty often covers various repairs and replacements.
9. Feedback: After receiving assistance, whether it's beneficial or not, providing feedback helps. It can improve the service for future users and help you with potential follow-ups.
10. Continuous Learning: Engage with Oculus or VR-focused online communities regularly. By staying updated, you'll be better equipped to handle issues and might not always need expert assistance.
Reaching out for expert help can seem daunting, but remember, devices like the Oculus Quest 2 are intricate. Having a specialist's perspective can be invaluable in resolving persistent or complicated issues.
Preventing Oculus Quest 2 Flashing Logo Issues: Essential Tips
Regular Software Updates: Ensure your Oculus Quest 2 is always updated. Manufacturers release patches to fix known issues.
Safe Charging Practices: Use the official charger and avoid overcharging. Don't let the battery completely drain frequently.
Adequate Ventilation: When using the device, ensure it's in a well-ventilated space to prevent overheating.
Manage Storage Wisely: Regularly clear out unnecessary files or apps. This prevents memory issues and enhances performance.
Avoid Extreme Conditions: Don't expose your device to extreme temperatures, moisture, or direct sunlight, which can harm internal components.
Handle with Care: Ensure you're always gentle with the device. Avoid dropping it or putting excessive pressure on any of its parts.
Download Trusted Content: Only download apps or content from trusted sources. This minimizes the risk of corrupted files.
Regular Restarts: Periodically restarting your device can clear out temporary glitches and refresh its system.
Protect from External Factors: When not in use, store your Oculus Quest 2 in a protective case to shield it from dust, moisture, and other external factors.
Engage with the VR Community: Stay connected with Oculus or VR forums. Users often share preventive tips and updates on potential issues.
Following these tips can significantly reduce the likelihood of encountering the flashing logo issue, ensuring a smoother VR experience.
Conclusion
The Oculus Quest 2 stuck on a flashing logo can be concerning, but with the right approach, you can quickly resolve the issue. Whether it's a basic restart, checking for updates, or seeking expert assistance, the solution is within reach. By maintaining your device and keeping it updated, you can minimize potential problems in the future and continue enjoying uninterrupted VR experiences.
FAQs
Why is my Oculus Quest 2 displaying a flashing logo?
It signals a system malfunction or difficulty initializing the operating system.
I restarted my device. Why isn't it working?
A deeper issue, perhaps a software glitch or a missed update, might be the cause.
Can software updates fix the flashing logo issue?
Absolutely! Sometimes missed updates lead to such problems.
Is a factory reset always recommended?
No. It's a last resort, erasing all data. Always backup first.
Any quick maintenance tips for Oculus Quest 2?
Clean sensors regularly, avoid direct sunlight, and keep your device updated.