LIA Informant: Why is it on your phone, uses and What does it do? Fix process com.lge.ia.task.informant had unexpectedly stopped. Hello everyone, I am back again to talk some more about your smartphones. Today more precisely I will be discussing your LG G series smartphone and a stock app that comes loaded with it. With a name like "LIA Informant" any user would be put in doubt about the nature of the app. I seriously was a little worried if it was some sort of spyware or not. So I decided to dig in. I will be sharing almost everything I gathered about it. I will also discuss how to completely remove it in case you decide you don't need it. I've also included the proper use of the app in case you decide to keep it. So let's begin.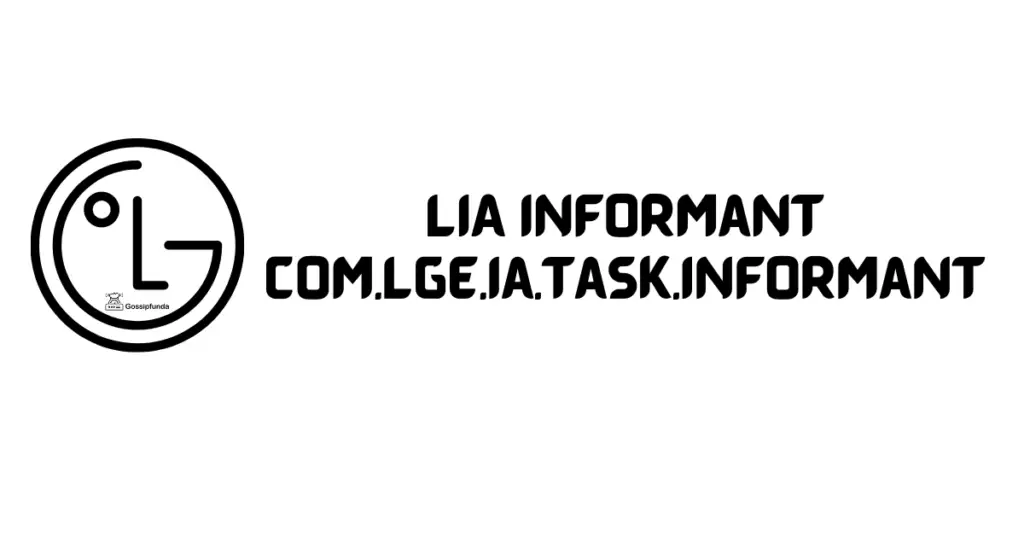 Introduction
The shady sounding application that is present on your phone is not at all shady. LIA Informant is a system app that is present in the LG G series' stock ROM. The application service is used for viewing information from other LG services. A widget known as "Smart widget" uses this application for the convenience of the user. In this article, I will be taking you to the roots of LIA Informant discussing its usage, LG flash tool, removal, and file permissions. I will also be giving a tutorial on how to enable and use Smart Widget on your LG smartphone. So as a scuba diver must have said once or twice, let's dive in deep.
LG G Series
The G series is one of the most popular series of smartphones of LG Smartworld. The smartphones are developed and sold by LG Electronics. LG Electronics is part of LG Corporation, a South Korean company. It is responsible for the worldwide development and shipment of electronic products of the LG family. These include Televisions, smartphones, and other Home Appliances. LG launched the G series in 2013 with the model LG G2. Even though the G series was a success, LG announced it would be discontinuing the series in 2020. Beginning with LG Velvet it would return to using distinct brand names for future devices. LG released the Velvet model around 6 months ago from the time of writing. Velvet uses Android 10 with a 6.8-inch screen and uses LG UX 9.
Read also:
Smart Notice Widget
Smart Notice Widget is a very popular widget among LG smartphone users. LG users love to use the widget in many different ways and also by manually customizing it. These customizations might include making it transparent or tying its functionality with Google Now.
Smart Notice widget provides an amazing number of handy features that have made multiple users fall in love with it. I have listed some of them below:
The Smart Notice widget lets you create new contacts for a phone number that you use frequently but haven't saved.
It lets you create Callback reminders. In case you have an important call to make later, you can use the Smart Notice widget to schedule it.
The Battery Saver feature informs you when your smartphone is running out of juice. It will let you turn on Battery Saver mode on your phone with a single tap.
Smart Notice Widget also has a Birthday Reminder feature. Just set the birthdays of your loved ones on your phone and turn on the feature. You will get notified of their birth anniversaries.
Another great feature that the widget provides is Smart Cleaning. When the Cache storage gets filled to a great extent, the widget reminds you to clear it.
Weather alerts: Maybe a storm is coming your way or it's going to rain all day long. You will get the weather forecast and alerts through the Smart Notice widget.
The widget's Traffic notification feature uses maps to help you notify of the traffic status and avoid congestions.
I believe if you're an outgoing social person then this widget is a godsend. But if you're an indoorsy person like me then this widget might not be that helpful. Some features like Smart Cleaning and Birthday reminders are very useful even for me. So based on these features you can decide if you want to keep the widget or delete it. The Smart Notice widget uses LIA Informant to show information gathered from other LG stock apps and services. Smart Notice widget did draw some criticism on launch for being a "Google Now wannabe".
LIA Informant: com.lge.ia.task.informant
The system app with the package name "com.lge.ia.task.informant" is known as LIA Informant. As stated above, LIA Informant is used by the SN widget to sync up information from other system apps. Even though a part of the system OS, it's completely safe to uninstall LIA in case you don't want it. The system application can again be installed on your device using a third-party marketplace. Since the app is very powerful it does require a large number of permissions on your android device. Some of them are listed below:
LIA can view Network Information. It can check which connections are available to use and which connection is being used.
LIA can read Calendar events made by you irrespective of the person concerned. This helps the Smart Notice widget in informing you about your upcoming events and anniversaries.
The system app can read your call logs. Smart Notice using this permission can create contacts of frequently used phone numbers.
LIA Informant can read all of your text messages irrespective of the sender or the confidentiality of the message.
The system app boots as soon as the operating system itself finishes booting up. This enables it to be completely synced with other apps whenever the phone is turned on.
These permissions are utilized by the Smart Notice widget. Since the app is always active this leads to a huge amount of power consumption and processing power. This has led to  some users uninstalling the stock app completely from their OS.
Enabling Smart Notice Widget
In LG smartphones this widget is enabled by default and if it isn't then follow the steps listed below. This will enable the Smart Notice widget will let you use its functionalities.
Check for Smart Notice on your Home Screen. It should be a rectangular box on the home screen with the weather and other info. If you don't find it, move to step 2.
Pick a blank spot on the Home Screen.
Long press on that blank spot, this will lead you to the Home Screen Menu.
Tap on the widgets button at the bottom area.
Smart Notice option should appear now just above the Widgets button
Tap to add it to your home screen.
A big rectangular box should appear as I have described above. This is the Smart Notice widget.
To properly use and customize the widget, tap on the down-pointing arrow that will show the Smart Notice Cards on your screen.
A "Go to Settings" button should also appear near the bottom. Tap on it to retrieve the settings of the widget,
Now you can modify the widget as you wish.
That's it. Now you have Smart Notice Widget completely set up.
Uninstalling LIA Informant
As I mentioned several people will find LIA Informant to be just another memory-hogging bloatware. If you're one of them then don't worry, I'll walk you through how to uninstall it completely from your system. Even if you completely disable the app, there are ways to get it back but they involve a third-party marketplace. So be sure before uninstalling it completely.
If you get errors like LIA Informant has stopped working or process com.lge.ia.task.informant had unexpectedly stopped, try clearing the cache of the system app. That should fix most of the problems. If it doesn't you can consider removing LIA from your system.
To uninstall LIA Informant, I will again be using our favorite command-line utility software known as ADB. Even if you haven't used ADB, this tutorial shouldn't be a problem.
Enable USB Debugging on your smartphone through Developers Options.
Open your Windows PC and download ADB using this link.
Extract the zip file and keep the contents in a separate folder.
Open the Powershell window or Command Prompt window in that folder.
Type the following command to get the daemon up and running: .\adb devices
Now connect your smartphone to your PC using a data cable. This should list your phone's serial number if everything went smoothly.
Run the following command to completely remove LIA Informant from your LG smartphone: .\adb shell pm uninstall --user 0 com.lge.ia.task.informant
Note: You can add the -k argument to the above command to save cache files if you ever intend to install it back.
That's it now your LG smartphone is LIA Informant free.
Conclusion
Even though the name of the app sounds super shady, Lia informant: com.lge.ia.task.informant is a completely safe app. It's developed by LG Electronics itself. The app does provide some unique features but it also hogs a lot of memory and power. I have now provided you with tutorials on how to use the app and on how to completely remove it. You shouldn't have a major problem with the app now.
Do share this article with your friends and family.
Hope you guys have a great New Year.