Why do we need an Android Spyware Detection App? What are the best apps for this? How can you tell if your phone is under threat of spyware? How to remove Spyware? Spyware is a type of software that will let someone access data from a device it is installed in. And the device can be of any kind. There are Spywares for all kinds of devices, including computers and smartphones. Although, as mentioned above, the post will focus on spyware regarding Android devices. 
Need of Android Spyware Detection App
When your smartphone or tablet gets infected with spyware, all your data is at risk. Furthermore, your phone may not be operational once it has had its way with it. Hence, android spyware detection apps are very important when it comes to the security of your device and its contents. That is why they are highly needed.
Read more: best phone tracker app without permission
Types of spyware
There are a few different types of spyware out there. Though they do the same thing, they kind of do it for different purposes and also vary in their origin. 
1. Apps for family monitoring
These are the apps that you can usually find in Google Play Store as official products. Moreover, you can find them in third-party stores as well. They are mostly targeted at parents who want to keep an eye on their children. And these apps do things such as tracking their location or even checking data on your phones. 
Although you can use such spyware to make sure that your family or close friends are close, things can go down south if someone misuses it. And it can be even worse if you are at the receiving end. Also, you might wanna keep your friends or family away from your stuff. 
2. Consumer spyware
You will come across these apps if you try to download a song online or a pdf or any such stuff. That's because they show themselves in the form of annoying pop-ups and unrecognizable download buttons. You know the time when you saw more than one download button. 
Consumer Spywares are very dangerous. It can easily give access to your phone's data to some unwanted party. The hacker can even get his hands on your photos, texts, app information, current location, contacts, and so on. They can even extract your sensitive information and do a lot of damage. 
3. Trojan apps
Apps in this category are actually found as official apps on Play Store, Google Play Store. But underneath that mask, they are just spyware dedicated to digging up your personal data. Hence they may be the most dangerous kind of spyware.
Things like this often pop-up on the news every now and then. And since they are genuine app at first glance, many people fall for them. Moreover, it will usually be very good at what it does to attract a lot of people. Thus getting more data. 
Watch our video on YouTube:
How can you tell if your phone is under threat of spyware?
Obviously, an android spyware detection app can help you with this task. But most people don't install a spyware app because it might come in handy someday. So, what are some signs that can help you piece together the presence of spyware on your smartphone? 
Check out: Best Root Apps
1. Not so good battery
Maybe you have noticed that your battery life has been running out a bit faster than usual. Well, the performance of your phone's battery does go down after a while. But if there have been any sudden changes, then it might be signs of spyware. 
How long your battery lasts will ultimately depend on how you use it. If you keep high-performance apps running, then it will naturally run out a soon later. On the other hand, a high number of apps or processes in the background can also cause the same. Especially if one of those happens to be a spyware app. So, if this is the case, then you should start looking for an android spyware detection app. 
2. High temperature
Phone getting hot is another common occurrence that might not have any suspicions behind it. That would be the case if the reason was playing too much of PUBG. But if your phone instantly gets hot when you do simple tasks such as checking out your messages or opening Whatsapp, then it probably is a case of spyware. It is especially true if you are dealing with more elaborate spyware. Since high-end spyware can contribute to a lot more to your background processes while munching away from your personal data. 
3. Mobile data finishing up too quickly
When your phone usually takes a big drop, it means that your phone is going through an update. Although sometimes, it can just mean your friend using your WiFi for downloading some huge files. But at other times, it could be the spyware at work. 
If the malicious app really is broadcasting information to an unknown device, then it has to be at the expense of some data. Consequently, you will see your data plan depleting quite quickly than usual. Yet another hint that you should start searching for a suitable android Spyware Detection App. 
4. Apps loading for a long time
Generally, even a third-tier phone won't take much time to load any app. Although there are times when even all-around good phones struggle with loading some apps. These are usually games that are over 1 GB of memory and have high RAM needs. But if the apps that normally load quickly are suddenly taking a long time for the same thing, then it most probably will be under some sort of threat from spyware. Nonetheless, it can also be indicative that your phone has run its course. And if that is the case, then get a new one as soon as possible. 
5. Some of your in-depth secrets are out
If you have noticed that some of the things that you have never mentioned to anyone are floating around, then you don't have to go far to determine its cause. The information might be some meme you didn't show anyone or a slight flirty text you send someone. And it may be just a friend playing a prank on you but using some software. But if the situation is really making you uncomfortable, then the best thing to do is to install an Android spyware detection app. 
Don't miss: Android Recovery Mode
The Best Android Spyware Detection Apps Out There
One of the best strategies for dealing with spyware is to install a spyware detection app. In the case that you really are up with such a threat, the app will scan for it. And if it is not found, then you can look for other reasons for the abnormal behavior of your device.
1. Spyware Detector – Anti Spy Privacy Scanner
It is probably the best anti-spyware software out there for this purpose. Not only will it detect and remove spyware, but it will also keep your phone safe from viruses and malware. The other features of the app include safe web browsing, which will protect you from further threats. Moreover, there is a bunch of algorithms that will keep your phone out of harm's way when it comes to hackers while also scanning for apps that end up compromising your device. 
2. Anti Spy (SpyWare Removal)
Another trusty app that can be used for keeping your phone safe. It is always frustrating to know that people are looking to get there hands on something about you. And that applies to the digital world as well. Hence, there is always a need for apps like this one that detects the spyware and then eradicates it. All you have to do is choose the Scan Now button on the opening screen of the app. Anti Spy will then proceed to check the whole smartphone for even hidden files and apps that have spy origins. 
3. Privacy Scanner (Antispy) Free
Just like the other Android Spyware Detection App on this list, this one is very reliable as well. You can very well use it to get rid of all spyware apps. As a matter of fact, it can identify several parental control and surveillance apps. Moreover, the developers promise that it can detect more than 3,000 spying apps. It works by looking for apps that request rather strange or unnecessary permissions. And after detecting the app, it will notify you about it, and then you can get it removed. 
4. Malwarebytes Security: Virus Cleaner, Anti-Malware
The app is created by one of the high-end companies that have been around the security business for a long time. And with this app, they have entered the Android security arena as well. As they were previously occupied by Windows. If all you want to do is detect spyware and remove it, then the free version of the app is all you need. But if you need top-notch all-around security, then go for its premium version. And its premium version is free for 30 days, so you can check that out. 
5. Anti Spy & Spyware Scanner
With this app, you can further strengthen your search and remove cycles. Since the app has features that allow daily timed scans. This will be better for people who handle very sensitive information. Moreover, the app works with Advanced heuristic engine version 2.0, which means that it can identify spyware that hides as system services. Hence, this is a worthy option to go for if you are in the lookout for spyware detection apps for Android devices. 
Also read: Top Equalizer Apps For Android
How to remove Spyware?
Install any of the Android Spyware Detection App from the Google play store. For example Spyware Detector in my case.
Click on Scan for spyware, you can also choose particular items like mail, messenger, privacy, App audit.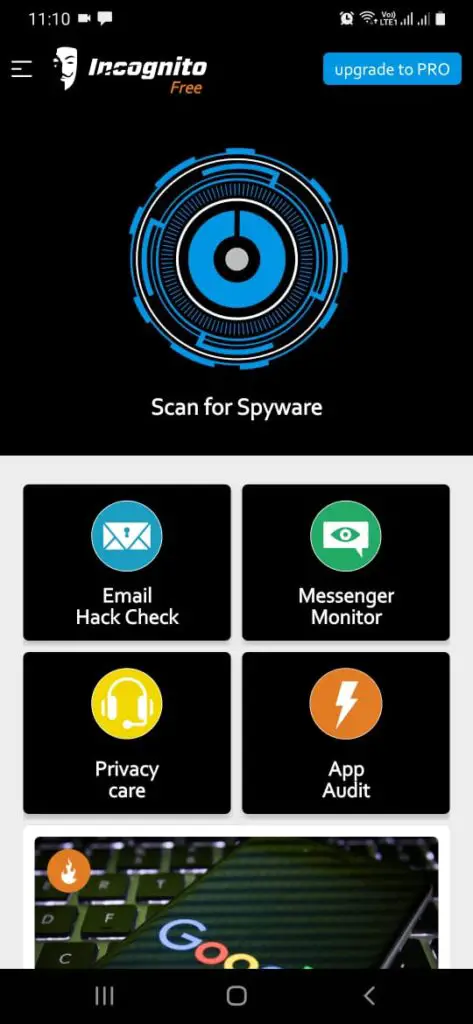 The app will show the list of spywares in your mobile phone, click remove spyware.
Conclusion
Now that you have read this post, you probably have a good idea about the android spyware detection app. Moreover, you know where to look if you are dealing with one. So, what are you waiting for? Give it a go. Good luck.