LG Bridge
LG Bridge is a software that brings together all of your LG commodities. You can easily download this software and install it on your Windows computer from the LG Website. It offers features such as LG AirDrive, LG Backup, etc. Therefore, it is an essential application that every LG user must-have. In this article, you will find out everything you want to know about this software

LG Bridge is an official utility application for the LG-phones and tablets. It has a simple and neat user interface and can be used with ease by everyone. It offers signature features such as phone-backup, restoring settings, updating the smartphone itself and much more
In order to use this wonderful application, you need the phone to be connected to the software itself. Therefore, it is very important that you have a micro USB cable or a type-c cable to connect your mobile to the computer.
How to download LG Bridge on your computer?
You can easily do that by following these steps:
Click here to search for websites that have the option of downloading LG Bridge.
It is recommended to download this software from the official website itself. LG Bridge is a cross-platform software available for kinds of users whether it be Windows or Apple. You need to navigate and choose the option for your operating system.
After downloading, double click the .exe in Windows to open the Setup Wizard.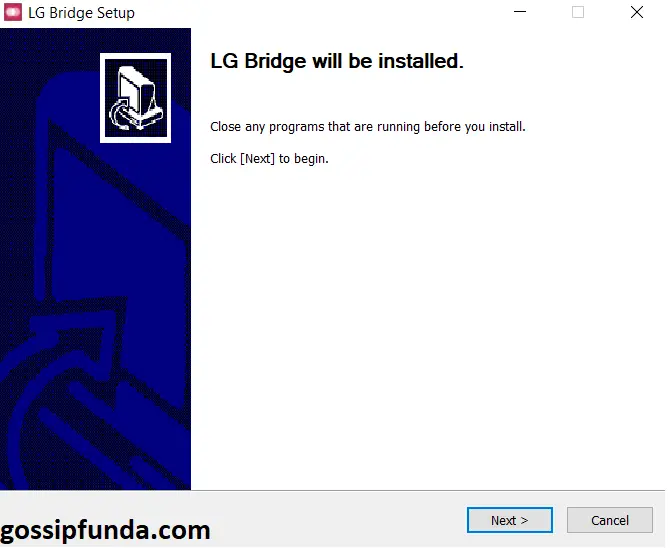 You would be greeted to a new window where the LG Bridge installation wizard would ask you to continue on the setup. Click "Next" to process with the setup
Now comes the option to choose the country where you are living. Make your selection and progress to the next step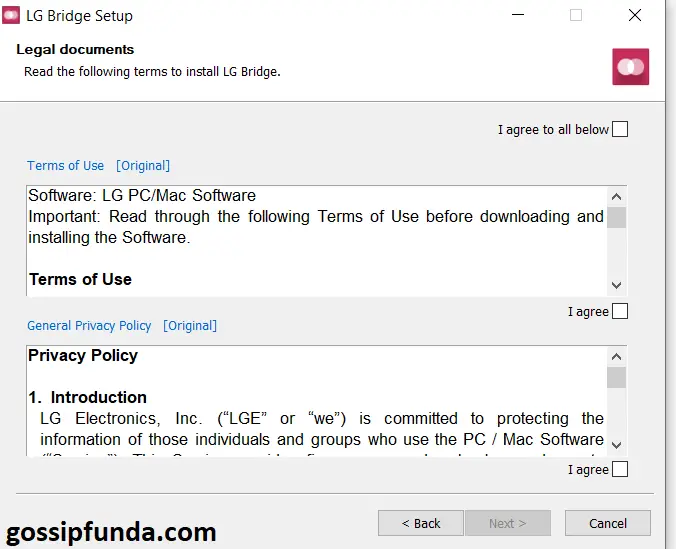 It is very important to go through and agree to the Terms of Use and the General Privacy Policy. Therefore, make sure to read them and check the "I agree" option twice and proceed to the next stage.
You now require to choose the path where the software would be installed. If you're unsure then please leave everything as it is and proceed to the next stage. Alternatively, you can choose a specific destination where you can install the software. Click on "Browse" to choose your drive and proceed to the installation.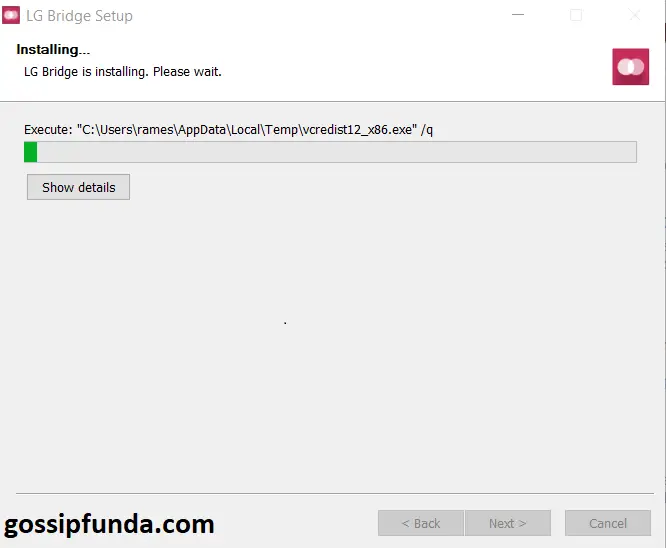 The software should now start to install. Therefore, sit back and relax while it finishes installing.
Finally, you would be greeted with this completed setup wizard. Click on Next to finish and open LG Bridge
What to do after downloading the software?
Firstly, you would be greeted with a prompt like this: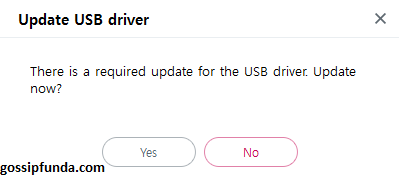 It simply means that the USB drivers are not updated. Please check "Yes" to update them to the latest versions. It is recommended that you have everything installed and updated because you are going to perform crucial steps such as backing up your mobile.
The setup might give you several prompts to install complementary software require to work with the main software. Therefore, you need to install them all to have a smooth working.
LG AirDrive service: completely stopped?
Undoubtedly, you might have seen this message pop up while opening the application: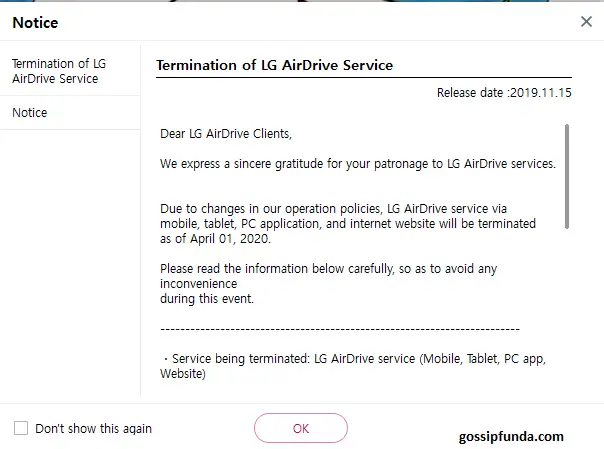 LG AirDrive was an excellent service where you could control your LG devices wirelessly. It is to be noted that this service is going to be permanently discontinued after April 01, 2020. If you are reading this blog after this time period, unfortunately, you cannot use this service anymore.
How to use LG Bridge?
Finally, you have completed the installation of the software. Now you need to sign in to your LG Account through mail or Google Account to use the LG Bridge AirDrive feature.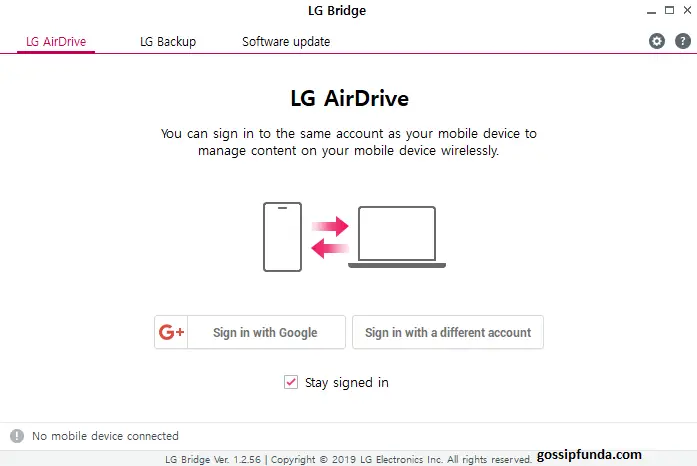 You would be prompted to a browser window where you can enter your Google account and password. You would be redirected to complete yet another setup if you are a first time user.
In the next step, you would be asked to enter your birthdate to finish setting up your account. Don't worry, this is the last time you have to do this.
It is very important again to review and accept the terms and conditions and privacy policy of using the LG Account and the Air Drive service.
Finally, you would be redirected to the software itself. You can immediately notice that you have successfully signed in with your Google account. You need to do the same on your LG device. This would ensure that both your smartphone and computer are connected to one another.
How to update your LG smartphone or tablet?
It is very easy to update your mobile through this software. It is also the recommended way to do so. As a consequence of update failure on your device, you may lose your data. If you update through the software, it is easy to even recover everything that you lose. We will get to that later.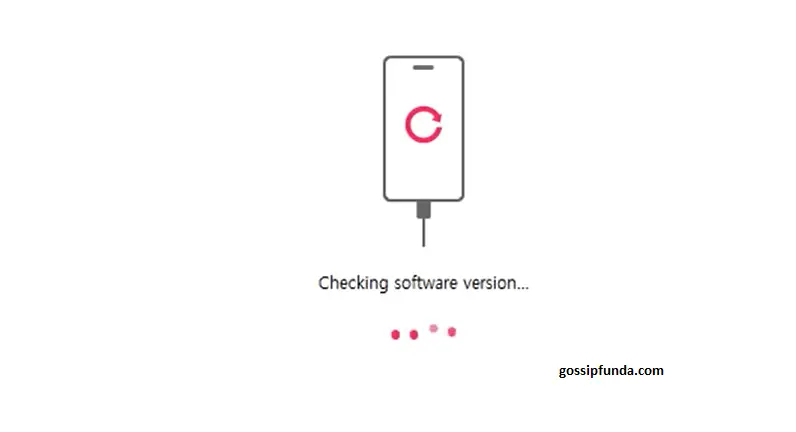 Firstly, connect your mobile device through a nice micro USB cable. Ensure that there are no loose connections that might disrupt the process.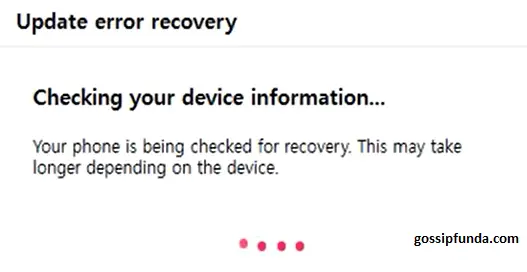 Your phone should be immediately read and now click on update software to start the update
You can refer to the following image to get a nice idea of how to do it properly.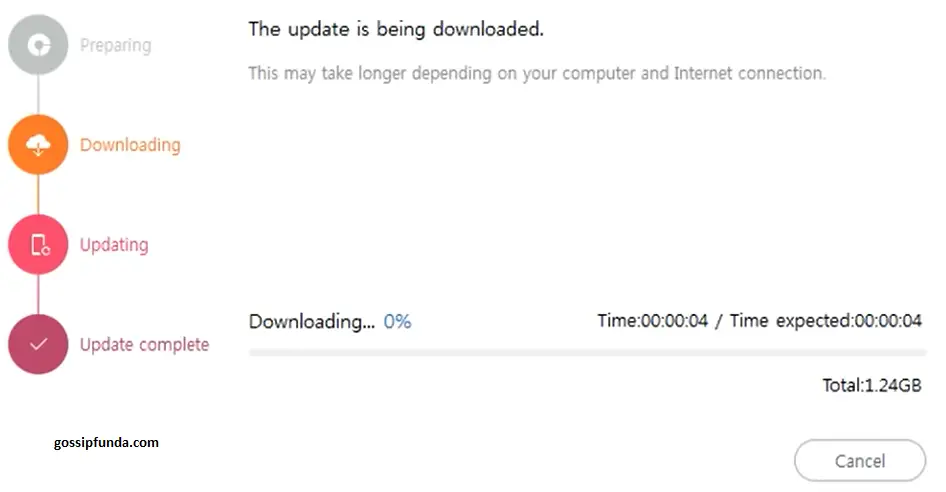 As you can see the application would properly update your device to the latest version.
How to back up your LG Device?
Backing up any of your smartphones is a tedious task because it takes a long time to do so. Unfortunately, you should never skip this process and always ensure that you have backups take for your smartphone on a regular basis.
What is Ransomware?
Ransomware is a special type of malware that encrypts your data. You would then require to pay the hacker a sum of money to decrypt the data. If you have a backup of your device then you can protect yourself even if you are infected with this malware.
Typically, in a ransomware attack, your data is locked for a certain amount of time. If you pay the money to a hacker in that certain amount of time, your data will automatically decrypt.
There is a less chance of a hacker getting caught because the payment would be done through the blockchain network, using bitcoin. It is very difficult to track him down. Even if the federal authorities can track, it would take a long time to do so. You won't be having time to decrypt your data which would result in permanent erasure.
It is to be noted most of the RANSOMWARE ATTACKS are targetted to US USERS. Therefore, you should always and always keep a backup
Can I back up on the phone itself?
The backup on your mobile would save the data on your phone's internal storage. Firstly, this would take away unnecessary space and make your phone slower. Secondly, if the internal storage gets erased *POOF* goes your backup. Finally, LG Bridge does a complete backup of even your home screen and apps. Therefore, it is recommended to use the official software to perform this task.
Why is LG AirDrive being permanently discontinued?
Why is the most impressive feature of the application going to be discontinued? Well, there has been no official statement regarding this and we can only guess the reason.
It might be because enabling this feature gives you complete control on your phone remotely. In this world of wireless technology, it is super nice to avoid cables but you need to have a powerful wireless technology that not only is fast but also safe
There is no point in using software that compromises your data. LG must have a good reason to have taken such a step. Permissions are a huge thing in today's world. If you noticed, every time when you had to accept terms and conditions, I warned you to read it properly. It is because there might be something that would be the door to your privacy breach. People tend to ignore permissions and accept them in a flow. YOU SHOULD NEVER DO THAT. Please read before you accept anything.
Conclusion
LG Bridge is an excellent backup and recovery software for LG users. It is officially supported by LG's website. If you own an LG mobile, it is very much recommended to download and utilize this free application
LG AirDrive is a super useful utility that can be used to share data wirelessly. Unfortunately, from April 2020 LG is removing this feature for probable privacy reasons
Ransomware is a special type of malware that encrypts your data. This is why you should always keep multiple backups of your device. This ensures that you don't lose your data
To conclude, always update your device to the latest update. This is because your security patch gets updated that ensures your security on your mobile device.
Don't Miss: Modeling of Combinational Logic Circuits