Best Phone Tracker without Permission: Want to keep track of your young once? Can't decide which spyware to choose? Need some tips and tricks? On Gossipfunda we made a list for you with all the pros and cons. Keep your hormonal teens in check with these Spywares using state of the art Global Positioning System with some impressive features overlayed. Get all the information you need to choose spyware for your family.
First of all, we want to make you clear that we don't find such Phone Tracker App freely available for you to track someone without permission. Only the intelligence and police has authority to track you without your permission. However you still have lot of opportunity to do this. Let's dive in the deep.
Note: It is illegal to track someone's phone without his/her permission; it violates the right to life and personal liberty.
What is a GPS tracker?
GPS is an abbreviation used for Global Positioning System. It uses 24 interconnected satellites with other devices to triangular a person's position with astonishing accuracy on the surface. Three different data sets are used for GPS tracking: time, positioning, and navigation.
GPS technology has been around for a long time and was created for military use in the 1960s. By 1983, GPS became publicly available for use, and it has revolutionized in the past 4 decades. We don't even realize today that GPS is there as it is integrated into everything from our phones to our cars and has changed our lives in many ways.
Must read our article: Android Spyware Detection App
How does Phone tracking work?
Phone Tracker uses GPS tracking. GPS uses multiple satellites to work, and these satellites continuously use their locations and status to figure your location. All of this is monitored by the Master Control Station and other monitoring stations on the earth to increase the accuracy and maintenance of satellites' proper functioning. These control stations are responsible for maintaining and correcting in case any error occurs, or a satellite goes off course.
A GPS device such as a GPS monitor receives these instructions and interprets the data received. By using three or more satellite data, it can triangular your position on the surface with accuracy as low as 10 centimetres. More satellites are used to increase the accuracy further and cross-check your position.
Why should you get a Phone Tracker?
Maybe your children in their early teens are not telling you where they stay after school, or they sneak past you without you even knowing it. As we all know, teens tend to do immature things, and they can't understand what is wrong with it due to their brain functions not developed completely. As parents, we must keep them safe and away from harm's way, and keeping track of their move is important.
Benefits of Tracking Phone:
On the other hand, if you happen to be their guardian, then you cannot keep them in the house against their will. This makes such kids go on the wrong path over time as a lack of proper guidance and restrictions. With that being said, keeping track of their location when they get too late to come is better than you starting to worry about their safety and hoping for their wellbeing. Using a widely popular tool like GPS to keep track of these hormonal teens is very important and acceptable as pre-teen can be hard for all kids.
And keeping track of them even from miles away is what you need to keep them safe from wondering in inappropriate places, there we made a list for you to keep track of your young once on best phone tracker without permission.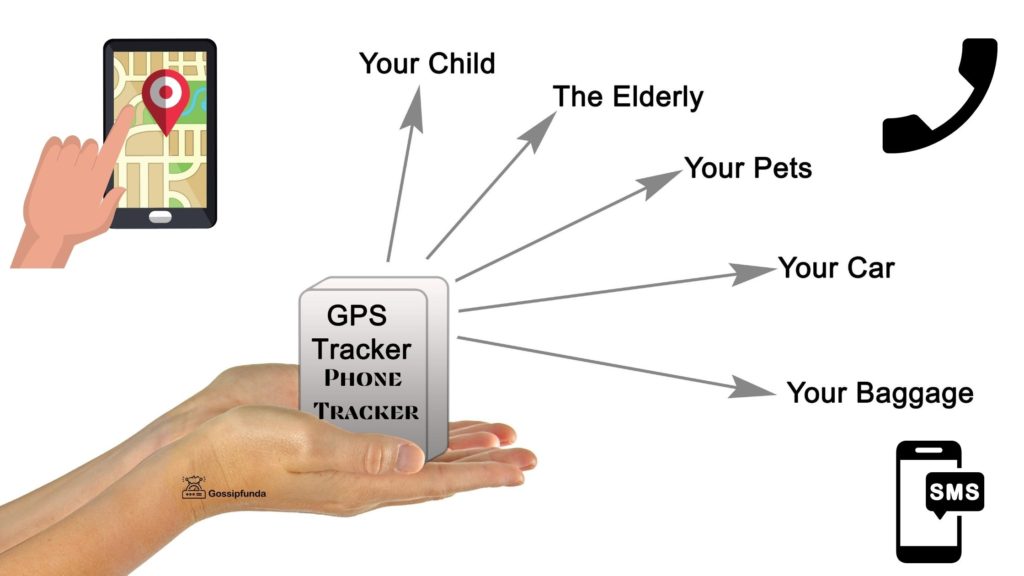 These GPS phones do not only help you locate your young once but also find their lost phone with ease, maybe they forget their phone in the library, or someone took it from their bag.
But do keep in mind that you should not use such apps for late teen kids as they can easily disable them, or they may get upset about you keeping track of them 24/7. So, try to trust your kids as they grow up and watch signs for any reason; they may want to hide anything from you and work on removing any of those barriers together.
Don't even miss: How to catch someone spying on you? You should know what are the Symptoms of Hacked Computers.
Best Phone Tracker without Permission
FlexiSPY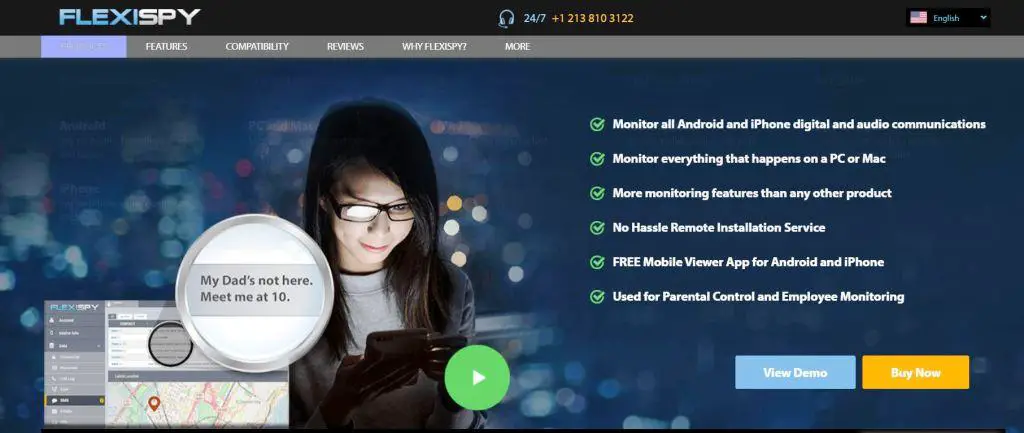 FlexiSpy is a tracking and spying app for different platforms. It means that you can keep track of your target with or without letting them know about you keeping an eye on them. However, it does not offer a lot of features other than tracking your child but it works pretty well for what it is built for.
However, keep note that you have to let the person know that you are installing the app as the device needs to be unlocked, but once itis installed, they will not notice it as the app will not be visible and does not indicate that you are tracking them.
Tracking Features:
The app has some pretty good features when it comes to tracking. It does offer a lot of features like:
You can spy on calls
Listen to that person's device
Check out the messages and calls in full
You even get to keep a log of them
Track the person's movements and the cell phone location
The app even allows you to take full control of the phone in case you need to get something out of it or delete some sensitive data.
It also allows you to click photos from their phone, which cannot be viewed by that person
Restart the target phone
Check the battery status.
This way, that person cannot hide anything from you even if they want to.
But keep in mind that FlexiSPY will cost you more than any other spyware. You can choose either a monthly or annual plan. It charges US$68 for 1-month access or US$149 for one year. FlexiSPY includes all the tracking features you can ask for and should be considered premium spyware. It even costs US$199 just for three months' access. However, it comes as a premium plus, including live calls, mic control, and a control camera.
However, if you are not planning to keep track of call logs, we suggest you stick to a less expensive premium plan. The premium plan should be enough for daily joe and enough to keep track of your young once.
FamiSafe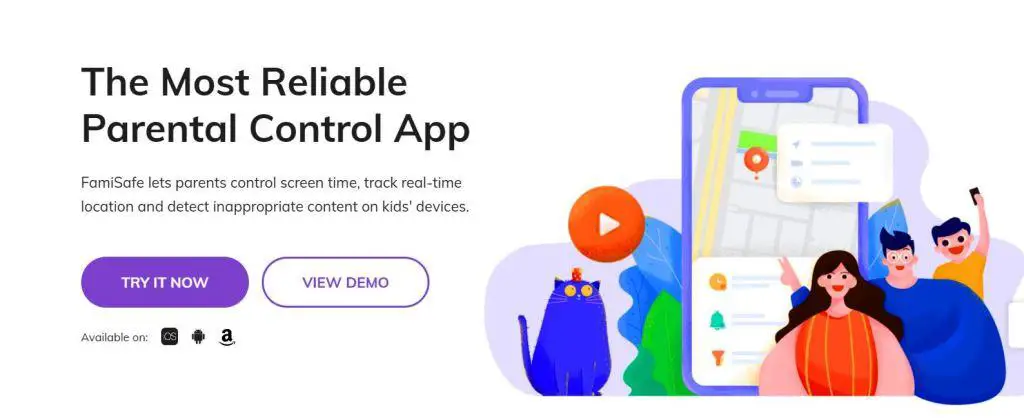 FamiSafe believes itself to be the best spyware out in the market because of its tracking features, but you be the judge after seeing our review. You can skip to the article's core to see if FamiSafe claims are to be believed or not.
With FamiSafe, you can track the person's phone in a matter of minutes and with minimal efforts. Its geofencing feature is the most useful feature available on the app, which lets you set boundaries or premises for your young once. It will send you a notification as soon as they leave the set premises. FamiSafe also lets you block certain websites and phone calls in addition to the previous geo-tracking feature.
Tracking Features:
It sells for the only reason that it lets you keep track of your loved ones 24/7 without too much hassle. And when it comes to your young one's smartphones:
You have access to their location history,
View browser history,
Black ads website(s),
Geofencing.
It even lets you block those addicting games and inappropriate apps for their age from your device,
Lets you know whenever any violent or inappropriate images come up on social media
And even notify when specific keywords come.
mSpy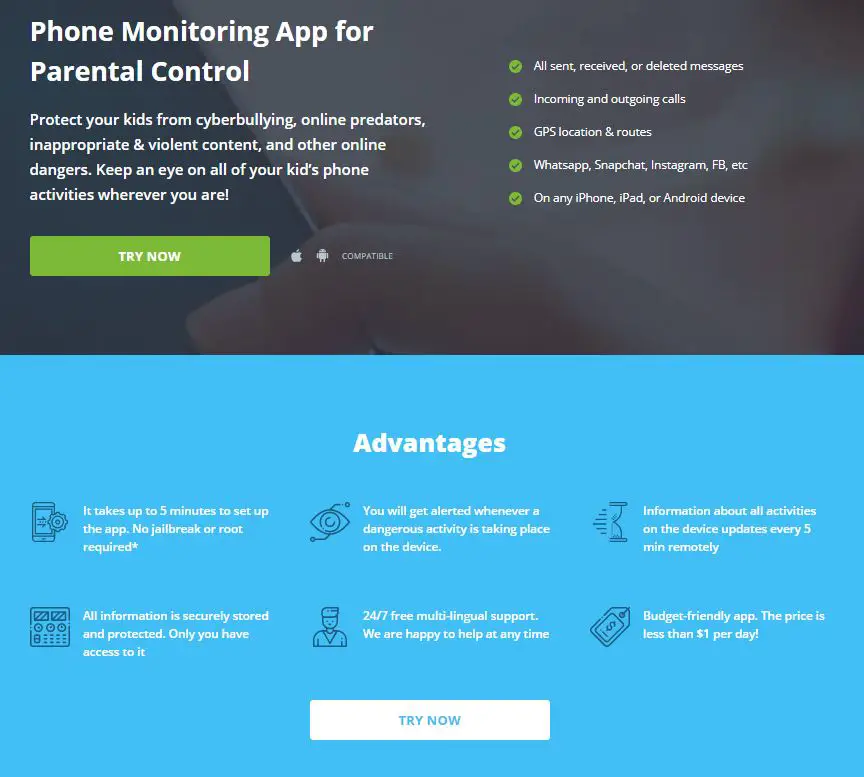 mSpy is another very useful spyware that works very well and gives you a stable application that you can rely on to keep your loved one safe. It can also stay hidden to track any iOS and Android devices without trying too hard. Like other spyware, it can keep a low profile and track the device's location in the background.
Tracking Features:
It can track a wide range of activities:
Including chats
Browsing histories
Call logs
SMS
And whatnot? All these you can do so on your target devices without them knowing.
You can choose to jailbreak the iPhone or root the Android phone, but even without it, mSpy offers a lot of features that should be more than enough for normal people.
The best feature of mSpy is that it can track location and other details in stealth mode without letting the phone owner knowing anything. You can also keep track of:
WhatsApp
Viber, call logs
Other social media, similar apps.
Furthermore, it is very user friendly, and also offers to keep track of the call logs.
KidsGuard Pro App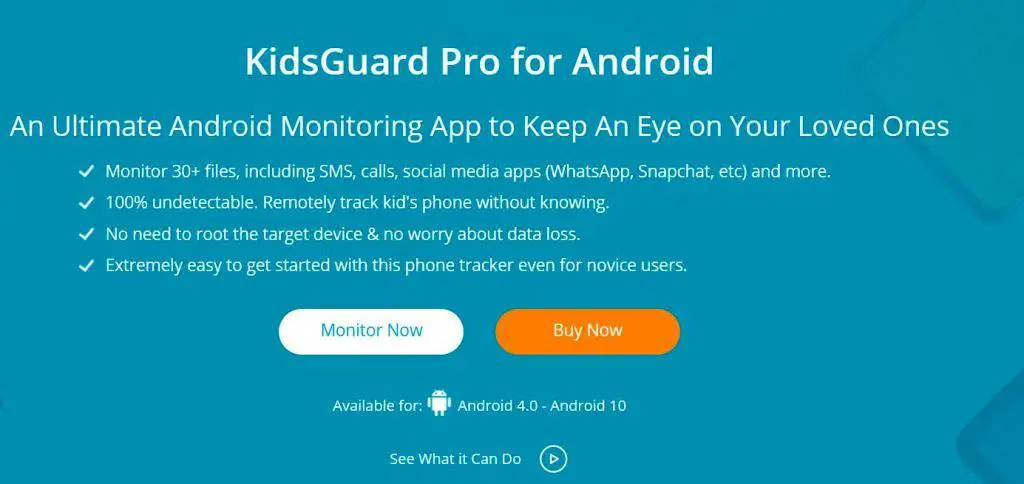 KidsGuard Pro is another professional GPS location tracker with decent results. And even protects young children from adulterated content, which could easily slip-up in ads.
Tracking Features:
It keeps track of your young once with a real-time monitoring system
It also keeps a history of the tracked location
Allows you to see images,
Video tracking
Social media content with ease.
Makes an eye on your young once not going on any wrong page or website.
In short, KidsGuard Pro keeps your kid safe and provides some pretty great features for concerned parents who concerned about their kid's safety online. It offers effective features for parents to keep your young one's safe, and even offers a real-time position tracking with a history of the location along with the date and time and is supported on all smartphones. It is easy to learn and use for parents to keep track of their children.
GPS Tracker App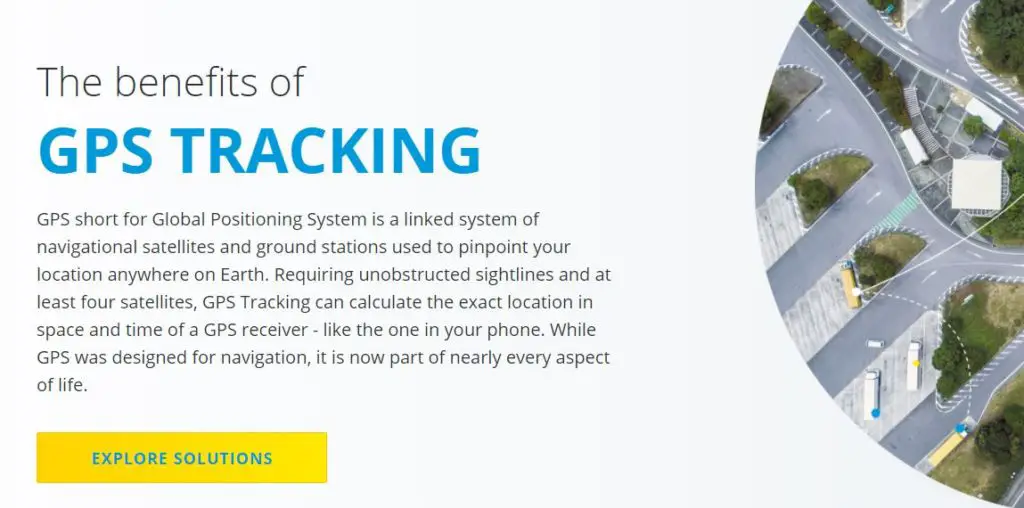 GPS tracker app is a non-professional tool that lets you choose to track your family member if you are concerned about their safety and wellbeing. If you are an android user, you must be familiar with Google Maps as the app uses it as default, but keep in mind that apple iOS no longer allows you to run Google Maps on its platform.
However, this app keeps you limited to tracking your loved once GPS location and does not provide additional features like previous spyware. This means you cannot see their messages or call logs or any of those features with this application.
Summary
You have found that no such Phone Tracker app freely available for us to track someone without Permission. Only the intelligence and police has authority to track you without your permission. However, You can choose the best phone tracker without permission according to need, pros and cons. Keep in mind that it is ok to spy your early teens, but it gets a lot messy if you try to do the same with your late teen kid. They could see you as controlling parents. They would start to revolt, talk it out to them about anything you feel they must be hiding from you.
Talking to them is more important than any of the software. This said, try to find out the best spyware from the verdict we came with after seeing their pros and cons.