Kyocera duraforce Pro 2 mobile phones are in the U.S. Smartphone markets for more than 60 years and have now turned out to be the toughest of all. This rugged brand is now out with another version of its legacy, DuraForce Pro 2, which is surely a tough phone. Read the full article to know all about the Kyocera DuraForce Pro 2.
Kyocera duraforce Pro 2
The Kyocera, a well-known brand for its durability, launched DuraForce pro 2 in November 2018.
It doesn't matter if you are an adventurer or a traveler, a student, or just a strict parent; this product is for you. Although Kyoceralaunched this product more than a year ago but, still DuraForce2 can be considered as the toughest of all the models. Being an old phone now, butit has got some features to turn your head.
The Kyocera DuraForce Pro is a product under the company Kyocera corporation. It is a Japanese ceramics and Electronics multinational company that was founded 61 years ago. The headquarters of Kyocerais situated in Kyoto, Japan. The Kyoto ceramics company founded it in 1959. Kazuo Inamori earlier founded this company. This Japanese company has expanded its technology in ceramic materials with the help of strategic mergers and internal advancement. It also manufactures ceramics for industrial purposes, solar power systems, telecommunications systems, etc. Many more services of Kyocera are semiconductor packages, electronic components, medical implant systems, and cutting tools.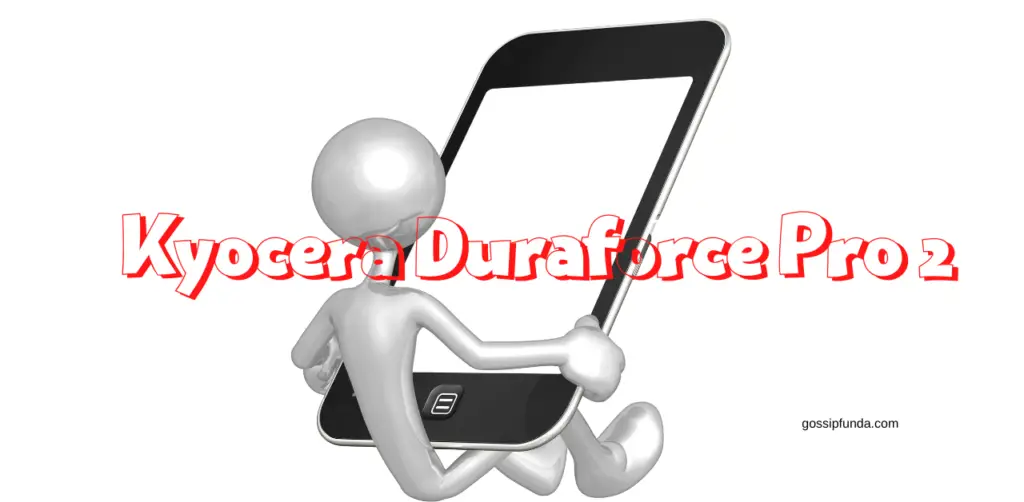 Kyocera is most known for its electronics industry and is a public organization. The company is also into the automotive industry. The Kyocera started with a ceramic insulating product known as kelcima. This was earlier used in television picture tubes. After the success of this product, they started adapting to their technologies to produce a vast range of ceramic products.
In the 1970s, Kyocera started diversifying the company by launching solar photovoltaic modules.
Specifications
Kyocera DuraForce Pro 2 is just a perfect rugged toughened mobile phone for anyone with a 5 inch or 68.9cm square big screen. The display is an IPS LCD capacitive touchscreen with 16 million colors. The display has a 1080×1920 resolution at a 441 PPI density. It is a Verizon exclusive, which is considered the second hardest display after diamond. The protectionof the screen is ensured through the sapphire crystal glass. Hence it makes the screen of Kyocera DuraForce Pro 2, virtually an entire scratch-proof screen. The screen ratio is 16:9.
Special Features
The DuraForce Pro 2 is having two cameras, as usual, one front and one back camera. This may look a bit outmoded for today in the world of quad cameras, but it isn't that bad.Well, It has a back camera of 13MP and a front camera of 8MP. Obviously, in comparison to the previous model, the front camera has been updated, which is also a wide-view camera.
It truly has an extraordinary HD camera, even underwater. It can also take a 150° wide-angle view video with its built-in camera.
The DuraForce Pro 2 also proves to be a productive phone whose touchscreen is operative, along with gloves and wet touch. This feature ensures that you don't stop your work due to any reason. You also have the option to program the side buttons for the push to talk plus feature. This will give you flexibility in communication.
It has an option for Qi wireless charging, which was also there in the DuraForce pro. The DuraForce Pro 2 comes with a normal charger with a standard output of 10W. But,you can separately buy a quick charge 2.0 for DuraForce Pro 2 as well.
Another impressive specification is the speaker's part. It comes with nice loud stereo speakers. You will also see a 3.5mm earphone jack, which is usual. If you are a person with a busy work space, this could be perfect for you. Kyocera DuraForce Pro 2 has loud 100+dB front Dolby speakers. This feature is best for conference calls.
The power button is just the same as the previous model that is multi functional. Basically, you have your finger sensor side mounted.This is achieved by using the power button as a fingerprint sensor. You can easily unlock your phone using this sensor. This sensor is really quick.
Additional Specifications
In terms of dimensions, the width of this phone is 0.53 inches and is 2.89 inches lengthwise. It has a height of 5.91 inches. The DuraForce Pro 2 weighs 246 g. All these dimensions are approximately the same as the DuraForce pro.
This Kyocera model again has a 3240 mAh lithium-ion non-removable battery that will seem the same. Hence no enhancement in terms of battery.
The DuraForce Pro 2 runs on Android 8( Oreo), which is different as they have at least made updations in this department.
Talkingabout the storage, Kyocera DuraForce Pro 2 has reallygot better. It provides you 64GB ROM along with a 4GB RAM. This model also allows expandable memory up to 200GB through a micro SD card.
Talking about SAR details, this device has ahead of 0.67W/kg and also a body-worn of 0.68W/kg. Along with both these, it has a hot spot of 1.16 W/kg.
In the network category of specifications, it has CDMA – BC0, BC1, 800, and 1900MHz, respectively. You don't actually need to tether to a computer to offload the pics and videos, but just share and post with the Verizon LTE 4G network. The LTE advanced has a 50% more faster peak speed in around 500 cities.
The standby time of this device is calculated up to 312 hours, whereas the talk time is up to 21 hours in 3G.
The (PTT+) push to talk plus a feature on this app can be utilized on 3G and 4G networks. It also provides HD voice qualityand video calling.
The DuraForce Pro 2 is proved to be not only water-resistant but a phone that can dive in as well. It can remain in working condition perfectly till 6.5ft or 2m for around 30 minutes. The camera is also waterproof and can work in different modes as well.
Designing Features
This device supports a dual-band, 2.5, and 5 GHz WI-FI facility available. It is of 802.11 a/b/c/n standards.
The Bluetooth is of 5.0, A2DP, LE standards.
The NFC option is also available in DuraForce pro 2.
The radio feature is not there in this model.
GPS feature is also available like other normal mobile phones with an 'A' grade GPS.
It has a 3.1 type-C USB with a reversible connector.
The DuraForce Pro 2 also includes multiple default features like accelerometer, gyro, compass, and barometer.
The model is also of military standards and is drop-proof with 810G standards. It is a quite sturdy Mobile phone and can easily tolerate all drops. 
The Kyocera DuraForce Pro 2 gives you an option to mount it on the handlebars or helmets with other accessories.
This model, like the previous model, is only available in black color. The company had also changed the looks by removing the three front buttons as these days; technology is going more on virtual buttons. 
What comes in the box?
On purchaseof Kyocera DuraForce Pro 2, here's a list of all products that you will receive in the box. Starting with the major thing, Kyocera DuraForce Pro 2 mobile phone whose features have been enlisted above in detail. Secondly, a normal wall or USB charger that you get with all mobile phones. Next comes in pre-installed SIM card (4FF), which is something different, as you don't get a SIM card with every mobile phone. Then, you have a user manual to access the features of DuraForce pro 2. And lastly, a basic consumer safety information.
Carriers
A carrier is basically a company providing mobile networks, and the Kyocera cell phones are operating for only a few carriers. Though the company is a Japanese company, but still it works under U.S. Carriers. Some of the main carriers supported by the Kyocera company are AT&T, Sprint, T-mobile, and lastly, Verizon.
Kyocera mobile phones were founded on 1st April and have also manufactured satellite phones for the U.S. and Canada.
Pricing
This much-appreciated cell phone, Kyocera, is a mid-range mobile phone. Not way too high priced, but this model may seem a bit higher in terms of price. The DuraForce pro was of ₹12,999, whereasthis time, the company has hiked its prices. The DuraForce Pro 2 presently ranges around ₹30,999. The rafre KYV40 is priced as ₹20,999, whereas the Android one S2 is of ₹8,999. So basically, this was a lot of high prices compared to other models.
Know more: IR Blasters: Every Detail You Need To Know
Conclusion
The Kyocera DuraForce Pro 2 is actually the most robust phone as it has military standards. It has all that you can ask for, from a mobile phone. Though it is a bit older phone, but still it has got many features that are competitive with today's smartphone features. Comparing to its predecessor, DuraForce Pro, it has got a better and wider lens camera, better processor, increase in ram and storage, NFC enables, and very better display.
Also, on comparing with other tech giants, for instance, take IQOO smartphones, they have brought this idea of a fingerprint scanner on the side power button in 2020, but the Kyocera launched it 4 years ago. It has set up high standards for other brands like Nokia, which is well known for its strength. Also, it is in the ring with another brand that is SONY, which is known for its waterproof cell phones. The Kyocera has given the assurance to protect your phone from water till 30 minutes. Basically, this phone has amalgamated so much into a single device. Check out the next article on Gossipfunda, in order to stay updated about Kyocera, and know more about what the brand has now to present.