Whether you're designing a website, writing a blog post, or organizing your photos, there are times when you have a large number of photos to process and very little time. Instead of dragging yourself through processing them, one after the other, why not speed up the process and save yourself some valuable hours?
When it comes to batch resizing, it is far more efficient and straightforward to choose from the range of free online tools available. 
And below, we have done the research for you and rounded up the top online resources for batch image editing to make your work easier.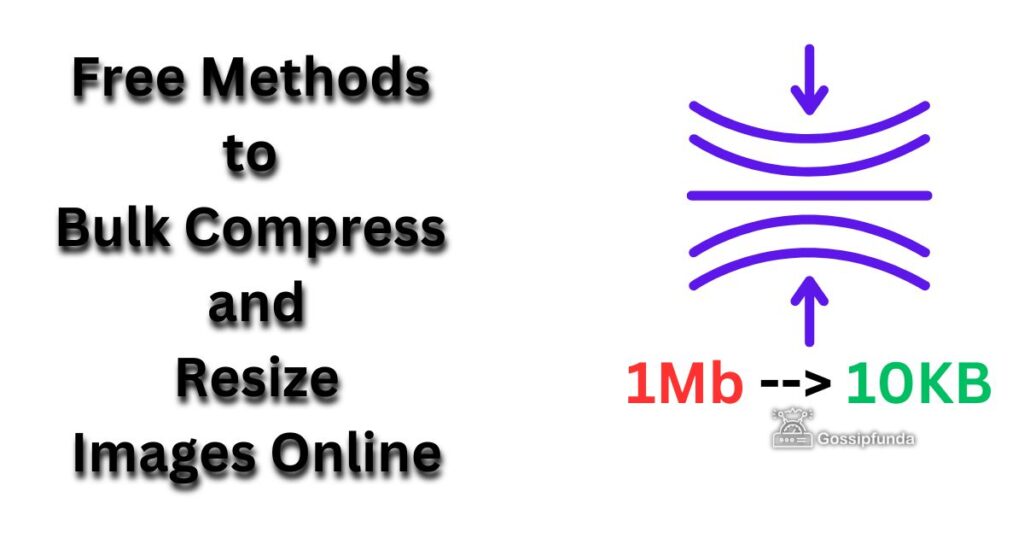 My Compress Image
With this online photo compressor, you can quickly learn how to compress an image or multiple photos at once. It sources its speed from its simple interface, no editing mastery is necessary. To get started, just drag the files onto the site followed by a choice of your preferred quality. With a few clicks, you can export resized images with zero quality loss.
BIRME
BIRME (Bulk Image Resizing Made Easy) provides a convenient, browser-based service for resizing photos in bulk. This ensures you don't need to waste time waiting on uploads and downloads to a third-party application as the process is quite swift with no downloads necessary for volumes of 70 or more.
To get started, simply drag and drop the files you want to resize into the interface. Then, you can employ the functions available on the side to adjust your desired sizes for the files.
Once you're satisfied with the settings, click the 'Save as ZIP' button to generate a zipped bundle of all your resized photos.
RedKetchup
RedKetchup makes it a breeze to resize, compress, and convert multiple pictures in one easy swoop. With its intuitive interface, you'll find it easy to quickly resize your photos in no time. Plus, with additional features such as converting multiple files simultaneously, RedKetchup is definitely the right choice for your photo-editing needs.
As such, Configure Batch helps you size your jpeg files in any way you need, giving you the power to tailor those dimensions according to percentages, exact measurements, file size, width, height or longest side. On top of that, add a backdrop, sample and filter to sharpen up your photos any way you want. Not to mention that RedKetchup boasts the capability to deepen or alter colors for even more creative projects.
raken.io
With Kraken, image compression and downloading can be achieved swiftly and easily. Through its drag-and-drop functionality, you have the power to select whether you'd like to compress your files using either lossy or lossless compression. Then, it's only a matter of downloading them as individual photos or in a single ZIP file. This offers a distinct benefit compared to other available tools.
It is important to keep in mind the constraints that may apply when using this service. Unless you opt for a premium subscription, each image cannot exceed 1 MB in size, and the total monthly upload limit stands at 50 MB. Advantages of upgrading include the opportunity to upload large files reaching up to 32 MB along with an expanded monthly upload limit in gigabytes. Additionally, you can make use of extra features such as resizing and Dropbox synchronization for a more tailored experience.
Online Image Resize
This platform helps to rapidly resize up to 100 images at one time, as long as the size of the files does not surpass 20MB. Best of all, any image you upload to this service will be deleted from the servers after 30 minutes.
This platform can be used for many tasks, from converting and cropping to rotating and compressing BMP, GIF, JPG/JPEG, or PNG files. However, it should be noted that this tool allows you to resize an image's width only. But that's not a huge issue since this is a useful resource for resizing multiple images in one go.
Bulk Resize Photos
Last but certainly not least, we have Bulk Resize Photos, one of the top-tier image optimization tools available online, and for good reason. Conveniently, it employs six scaling methods: percentage, file size, longest side, dimensions, width and height. This immense capability makes it a go-to tool for webmasters and photographers alike.
Bulk Resize Photos also offers exceptional speed on the client-side eliminating time wasted uploading files. Plus, you'll have the tools to adjust quality features, pick your preferred format (JPG, PNG, WEBP), plus the option to add padding.
The Bottom Line
Undoubtedly, there exists a vast selection of online image editors, reaching far beyond those just highlighted. These tools make going through multiple images on the web an efficient process, helping you run through either a few or a substantial amount of them with ease.
Choosing the right platform for editing your photos is essential. To ensure the utmost security and privacy of your files, make sure that you upload them client-side, just as you would with My Compress Image or any of the other recommended websites.