Globally, cloud services and technologies are being adopted, which has also increased the number of cybercrimes. The 2019 Official Cybercrime Report estimates that by 2021, cybercrimes will damage businesses worldwide by $6 trillion. This loss as a result of cybercrime is astounding. Having a secure cloud solution for corporations is crucial in this regard. One such provider of cloud services that has shown exponential growth over time is Microsoft Azure. Azure offers many certification courses, the most common being the AZ 103 exam which the AZ 104 certification has now replaced.
The AZ 104 exam will test your technical ability to implement solutions based on various scenarios and is ideal for those who are relatively new to the world of Azure and wish to develop a fundamental grasp of the many services and features offered by Azure. That does not imply, however, that this certification is simple. One of the most sought-after qualifications is also one of the hardest to obtain.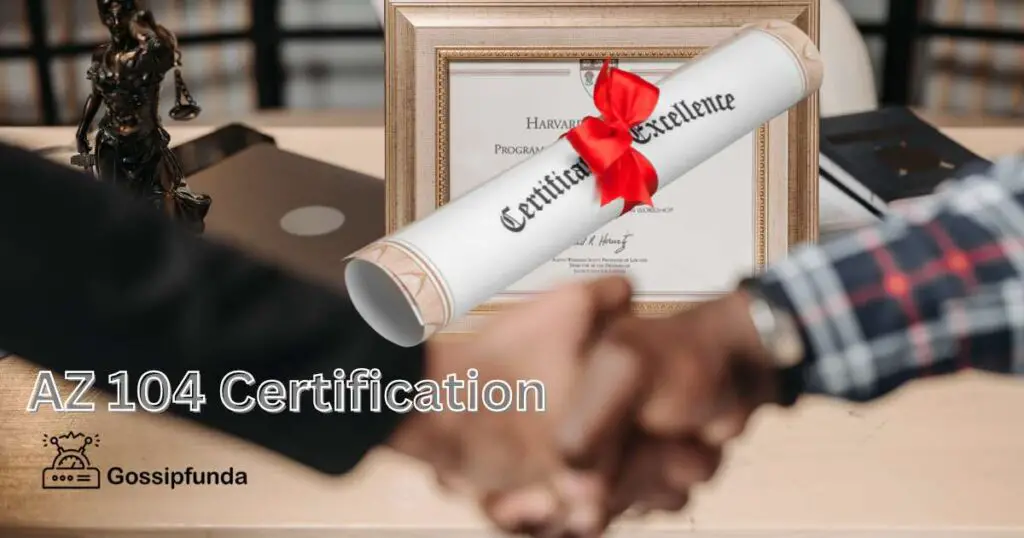 What is the AZ 104 Certification Exam?
The Microsoft Azure certification test evaluates your technical proficiency in the following areas:
Control identities and governance in Azure
Implement and manage storage 
Manage and deploy Azure computing resources
Set up and control virtual networking
Backup and observe Azure resources
You should be able to implement, manage, and monitor the Microsoft Azure environment for a company as an exam candidate. A candidate for this test should have hands-on experience of a minimum of six months of managing Azure and a solid grasp of the platform's foundational services, security, workloads, and governance. 
AZ 104 Certification Pass Mark, Cost & Expiration
Exams for the certifications are graded out of 1000. So, to pass the AZ 104 examination and get your Azure Administrator Badge, you should score at least 700.
The Azure certification cost is $165 (The price depends on the nation where the test is conducted).
Usually, the AZ 104 test must be updated every 18 months. However, Microsoft will occasionally discontinue credentials, and you could also notice that test numbers vary over time when Microsoft significantly changes the certification's curriculum.
Despite being an entry-level test, the AZ 104 is difficult! You should approach the exam anticipating a variety of question styles—scenarios, laboratories, multiple choice exams, etc. There will be many questions for you to consider, and you may revisit ones you first didn't wholly understand.
Steps for Exam Preparation
It would help if you went through the Azure certification training required to become a Microsoft Azure Administrator. So, adhere to these guidelines to achieve your aim.
Recognize the Learning Path
Before preparing, you need to devise a path of learning to ease down your preparation. Start with the fundamentals first and then progress towards more complex topics. Try to take up as many online tests as possible to understand the exam's structure. 
Examine the test's objectives.
Reviewing the exam objectives is crucial as you start your preparation process. It will give you a comprehensive understanding of all the many subjects and abilities you must possess. Understanding the exam objectives can also eliminate doubt, allowing you to concentrate on studying. In addition, the AZ 104 Microsoft Azure certifications exam goals might assist you in strengthening the modules and the corresponding subtopics.
Using reputable training resources while studying for the Microsoft Azure AZ 104 test online might be beneficial. Since there are several reputable companies out there offering the most effective training programs, along with study materials and professional-level support to guide you with your Microsoft AZ 104 Azure certifications test preparation.
Practice exams have become increasingly relevant. They help you to identify your fundamental strengths and deficiencies. Utilizing practice tests gives you a chance to strengthen your deficiencies before your D-Day. 
An excellent way to speed up your preparation is to join online forums, which allow you to network with others traveling the same path. In addition, they provide the advantage of asking questions immediately and getting answers quickly: industry experts or licensed professionals moderate online discussion boards.
The most crucial component in your Microsoft Cloud certification is test preparation books. You can be troubled by questions while you study for the test. However, books help you overcome this fear. You can utilize or consult several good books that have long dominated the market to prepare for the AZ 104 test.
Bottom Line
Now is the perfect moment to start learning to get AZ 104 certification if you want to specialize in Azure administration. Azure administrators are in high demand as businesses struggle to meet the unexpected surge in demand for cloud services across all industrial sectors. As a result, professionals with experience in managing mission-critical data on the cloud are in high order. AZ 104 is a fantastic place to start, which provides you with a strong foundation in the field of Azure administration.