We are living in a smart world where each and every product is getting smarter every day, new technologies get old in a matter of hours/days, and in this article, I am going to cover two smart TV choices that are the android tv and Roku. it is a comparison article so, you can get an idea of your smart TV choice and decide which OS to go for. It can be really difficult to select a TV on just the basis of its UI, I am going to talk about features offered by them, their prices, what are they, reviews by customers, quality, interface, and many more (my opinion too if that matters), and some frequently asked questions. Make sure to read this article thoroughly because I am covering everything you need to know about these two TV platforms, alright let's go and discuss android tv vs Roku. 
What is android tv vs Roku?
Android tv
Well, you can consider an android tv a replica of our android phones, it was designed with this goal. Although it is not a complete copy of the android phone and also can not perform as better as an android phone but considering the fact that it is a tv, it is awesome. You can use some of the android apps and features on your tv as well as the basic services that tv provides (like you can access to entertainment). Since it is based on android phones it provides a familiar experience. All the essential entertainment applications are available to use (you can not call or email someone) that we may have already used on our phones.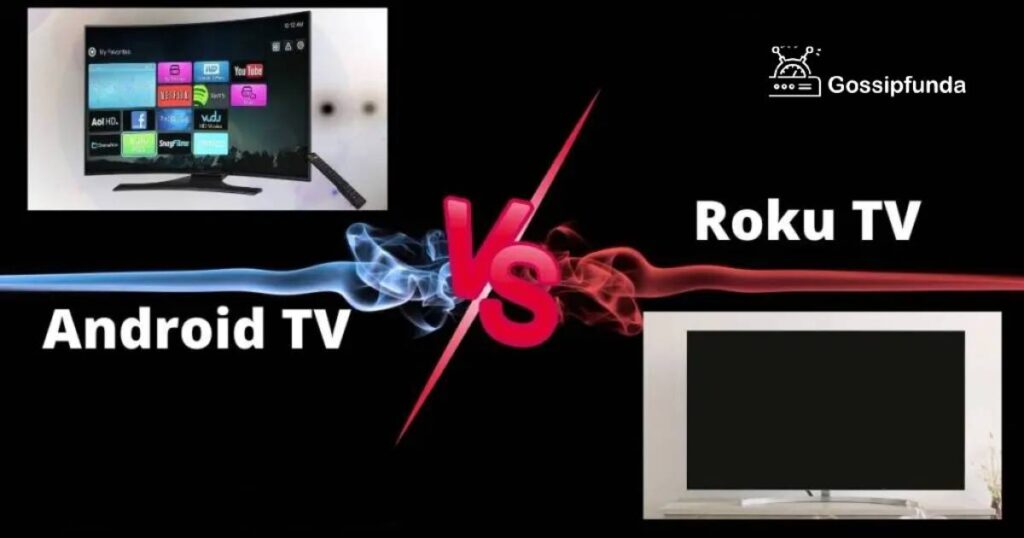 The android tv offers all the google applications with a similar interface. If we talk about its history then it was announced in the year 2014 at google I/O to be the successor of google tv (google tv failed) and it is designed by google itself. The android tv design is used in many tv brands like Sony, TCL, and Hisense. The android tv interface is designed in such a manner that you can navigate through various content easily.
If we talk about the difference between android tv and android phones then android tv focuses more on recommending people a ton of content whether it is content from streaming services like Netflix, amazon prime video, or even the content of your own personal media. It also includes technologies like Chromecast and Google Assistant to enhance performance. You don't need to worry that it is based on the latest technologies then the video quality service may not be on point, android tv is also a beast in video quality (it supports video quality up to 4K ultra HDR) and you also get music technology of Dolby Atoms. I will continue more about android tv later in the article.      
Roku
Unlike android smart tv, Roku is a device that we plug into our TVs to enjoy its services. You can say goodbye to your cable or satellite connections if you have Roku, It offers you streaming services without them. If you have any idea about Amazon Fire TV or Apple TV 4K then you can understand that Roku is kind of similar to them. To enjoy Roku services you must have an internet connection (since it is not a cable or satellite connection) of 1.5 Mb/s speed to stream in standard definition and if you wish to stream in high definition then get an internet connection of at least 3 Mb/s. Roku comes with a Roku box, Roku remote, and a streaming stick.
You can also control your Roku device with the help of the Roku app on your phone or tablet (the app is available for free) and some Roku remotes also have a headphone jack and voice command feature. Just like android tv Roku also supports video quality of 4k HDR and music of Dolby atoms. If we talk about the history of Roku then its name means six (in the Japanese language) and the reason behind this name is that it was the founder's sixth company launched and Roku launched its 1st product in the year 2008. Also, many people get confused over that whether it is software or a device. Well, it is both. Roku offers many models with different prices which offer a number of features (like google assistant and Alexa) respective to the price. I will discuss more about Roku and its services later in the article.  
Comparison between Roku and Android TV 
Now, let's begin the comparison between android tv and Roku. after all android tv vs Roku is the reason you are reading this article. I will be comparing Roku and android tv on the terms of:
User interface
Channels and streaming platforms
Bluetooth Support
Chromecast support
Voice control
The pricing of both
The difference in the user interface of android tv vs Roku tv
If we talk about simplicity then Roku offers a more simple interface (not talking in a bad manner) that can be easily understood and used by any type of user whereas android tv's interface can be a little tough for newbies. Roku shows a list of all of your installed or subscribed, apps and channels on the main screen, and navigating through them is also simpler. You may call the interface outdated but it is built in such a way that a non-techy guy can also understand and use it on his first try. The Roku's interface provides you with such facilities:
Search bar: a search bar that can be used for universal searches, to look for your desired title across all the popular apps of Roku
Store: if you wish to buy any shows or movies or even rent them, you can get them from this section
Settings: in this section, you can perform activities like, change the time, control accessibility, change the theme of Roku, etc. 
Featured free: you can see all the featured content of Roku here, which you can watch without spending even a single penny. 
Streaming: in this section, all the apps (including both types, free and paid) are available so, you can download them
My feed: it is like a recommendation section, you can see the list of content you have interest in so, you can purchase them 
This was the basic interface of Roku on the other hand android tv has a modern interface. You get options like access google play store by which you can install the desired apps on your android tv. Also, you get access to google assistant and google chrome browser. You don't need to install the google chrome browser, it is pre-installed.
How many channels and streaming platforms you can access from android tv and Roku
Roku- Roku provides more than 190 channels (free of cost) and there are about 2000 channels on Roku if we include the paid ones also. Now if we talk about streaming services channels then Roku has HBO Max, The Roku Channel, Tubi- Free Movies & TV, Netflix, Hulu, Disney Plus, Prime Video, Sling TV, Peacock TV, discovery plus, Xfinity Stream Beta, Paramount plus, AT&T TV, Philo, Plex-Free Movies & TV, VUDU, Pluto TV and many more. It also provides some channels which are not available on android tv, I think Roku has an upper hand here.
Android TV- if we compare it to Roku then android tv is free from carriage disputes which is honestly great as it will provide access to tons of streaming channels. You get all the popular streaming channels like Netflix, Popcorn Time, Amazon prime video, BBCiPlayer, Jio TV, Pluto TV, NBC, and many more. Not sure about how many non-popular streaming channels are available to it (but it is surely less than Roku)
Bluetooth support on Roku tv
Roku does not let you connect to all the devices you can only connect to Roku devices and of a limited number. I have mentioned all the Roku devices you can connect with Bluetooth, here:
Roku stream bar
Roku smart soundbar
Roku ultra model 4800
Roku TV
You can also listen through Bluetooth but you need to use Roku mobile application for that. The app's name is Mobile Private Listening. You can enjoy your listening after turning on the mobile private listening feature, connect your phone with the Bluetooth speaker to do so.
Bluetooth support on android tv
Bluetooth support on android tv is slightly better than on Roku tv. The pairing process is easy, you can easily pair and enjoy our listening session by connecting your Bluetooth device with your android tv. Android tv is also hassle-free.
Chromecast support on android tv
Its feature is built-in on android TVs. you don't even need to buy a dongle in order to use the Chromecast feature, it is absolutely free.
Chromecast support on Roku tv
Unlike the android tv, Roku tv does not provide you with the Chromecast feature but if you still want to use it there is a way. You can search on the web for alternative screen mirroring options and you will find plenty.
Voice control on android tv
Although android tv only offers google assistant and google chrome, but it is done in the best manner. A perfect example of quality over quantity. Each and every android tv comes with a voice remote along with the android tv box. The android tv remote allows you to command the Google Assistant to make the job easy for you. The google assistant feature on the android tv is overpowered, you can ask any sort of things about it and it won't provide you with a disappointing experience. You can also command for little things like open "channel name," play a show, pause a show, increase or decrease volume, and other media-related activities.
Voice control on Roku tv
Unlike the android tv, each Roku tv connection does not come with a remote that can provide you with voice control. In fact, they added the voice control option in the year 2015 and since then only the costlier options come along with the voice control remote. But you have the option to purchase the voice control remote, they officially sell it.
The voice control remote can look for your desired titles, search for the content you are looking for, open apps, and basic media activities like increasing or decreasing the volume, playing the video, pausing the video, and muting. You can also control your Roku tv with an Alexa or google assistant speaker (if you own one.) now, the fact that yes Roku tv does support Alexa and google assistant but is not full-fledged, for example, you can't take a look on the events of your calendar by google assistant.
Pricing of Roku tv
As Roku tv comes with different versions so does its pricing. The pricing of Roku tv and the service offered by it depends on the model of Ruku you are getting. I have listed all the Roku models with their respective pricing. Here is the list in increasing order:
Roku express – You will have to spend $24.99 for this model
Roku express (4k+) – You will have to spend $29.99 for this model
Roku streaming Stick 4K – You will have to spend $49.99 for this model
Roku streaming stick HD 4k+ – You will have to spend $69.99 for this model
Roku ultra – You will have to spend $99.99 for this model
Roku streambar – You will have to spend $129.99 for this model
Roku streambar pro – You will have to spend $179.99 for this model 
Pricing of an android tv
Unlike Roku, you can not purchase an android tv operating system to install and use on just any tv. You need to purchase a fully functional android tv to get all the features of an android tv. So, I can't tell you a specific price, you can get an android tv because there are tons of android tv models of many different brands and every brand has its own pricing. Even so, if I have to make an assumption about you can get an android tv is that you may get a tv for $179 (not, sure but you should get one at this price) you can surf the internet to purchase an android tv and you will get tons of options with price in your budget too.
Final words
If I have to give my opinion on which one is better then I would say it is the Roku tv. If we compare the overall aspects then it is better, the simple interface to adapt, a lot easier to use, is adaptable, and the best one is that you can easily carry it any place and it can be used with almost any tv to convert that tv into a smart tv.
I am not saying that android tv is bad but think about the research you have to go through to select the best possible version of android tv for you, don't know how much it will cost you too whereas Roku is a cheaper alternative. Do let me know which one you are going for and which you would recommend to others. Hope! This android tv vs Roku article helped you and if you liked this please, consider sharing it.