Google created the Android TV os for media sticks, set-top boxes, and smart TVs. It is significantly dissimilar to Google TV, which has been discontinued some few years ago. Google TV doesn't have many apps, but Android TV can access the Google Play store. To put it briefly and simply, Android TV is indeed an Android OS system tailored for devices with large screens. Can I record from my android TV box? Numerous customers wish to capture their TV screens because Android TV enables straight Play Store app installation.
Although there are many screen recorder apps for Android TVs, recording Android TV screens isn't as easy as it is on an Android TV, despite the abundance of these apps on the Play Store. Google actually took away the user-facing "Draw over other programs" settings tab to prohibit apps from taking screenshots or recording the screen in order to combat piracy.
The majority of us have tried it out at least once on one or maybe another internet protocol television (IPTV) application. You might have been curious about how to record material on an Android TV box. This is excellent news because it is possible to do so. The files can be exported to an external storage device, CD, or USB stick once the recording procedure is complete. This article will bring you through a step-by-step process for recording internet protocol television (IPTV) on your Android TV Box with the most user-friendly approach possible. We should first look at what internet protocol television (IPTV) is specifically before moving directly into how to achieve it.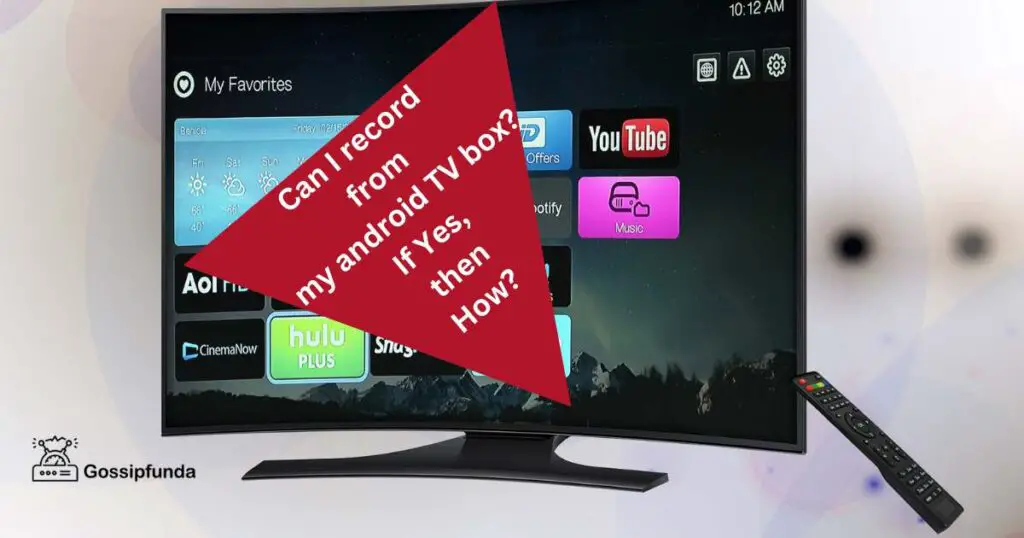 What exactly is IPTV?
With your internet service provider, IPTV, also known as Internet Protocol Television, enables you to stream live TV directly onto your Android TV Box. You can watch live TV from essentially any other source thanks to it as well. There is no danger of disruption unless your connection goes down because IPTV only uses an internet protocol network to give you live TV data.
Are Android Boxes Capable of Recording?
On Android TV boxes, there are a variety of methods for recording TV shows and movies. When playing a video game, creating a video tutorial, or explaining how the screen is presented, screen recordings might be helpful. To demonstrate games to friends and post on social media, many gamers also film their screens. While the necessary software isn't free, it's simple to capture live TV using Android TV boxes. If you're trying to find a screen recording application, have a look at TV Mate as a suitable choice.
Android TV devices do not come standard with screen recorders, despite their high price. Downloading programs that allow for screen capturing is what you should do instead. Screen capture is, nevertheless, a native capability of Android. You can capture your display in video format by installing XRecorder, which eliminates the requirement for other source programs. All you have to do is open the app and hit the "record" icon in the top-right corner to start recording a screen recording over an Android TV device.
What is the purpose of recording?
You might decide to record IPTV for a variety of reasons.
The video can be saved for later viewing.
If the video was too difficult to understand in one sitting, you could view it again.
The video can be customized and edited to suit your needs.
The video contains information that is helpful.
From a live game, you can save unforgettable moments.
Let's get right on to recording IPTV now that you are familiar with how it operates and the advantages it offers.
Can I record from my android TV box?
Yes, two distinct approaches can be used to accomplish this. The most approachable and simple of them will be our first focus.
Method 1: Use TV Mate to record
TV Mate is an incredibly user-friendly application designed for Android devices that is specifically made to record all TV shows, movies, as well as audio that you watch on your Android TV Box.
The instructions for using it are as follows:
Step 1 is to Make a new folder and put your films in it.
By selecting "Home," you may access the Play Store.
Enter "X-plore File Manager" into the search field.
Choose "Install" first from the menu and download that to the computer and afterward install it there.
You will see a prompt after you have finished installing it; click "Allow" to continue.
Then, you can select the "Android" folder in the file directory that appears.
Hold down the "ok" button on your remote to display the options list while maintaining the Android folder selected.
Choose "New Folder" from this menu, click "OK," type any name you desire for the storage folder, and then click "Next."
Then, after a brief delay, your new folder would be created once you choose "Allow" from the prompt that appears.
Step 2 is to Activate the TV Mate.
You can record IPTV and watch it at the same time using this app.
Click the "Home" menu and select "Play Store."
In the search box, enter "TV Mate," and then pick the very first match that appears.
You can download and then install the program by clicking "Install."
Allow the program to download and then be installed by waiting a few minutes.
The 3rd step is to set up a TV Mate to save IPTV.
Then, press the left arrow on the remote control a few times to navigate to Settings after starting TV Mate from the Main menu.
The "Other" option can be found by navigating all the way down in the settings.
Switch the recording folder to the one that you previously made by clicking on "Recording" inside of it and setting the starts and stops of recording to your specific needs.
Press the "ok" option on your remote control, then the "up arrow" button, after which you can now select any station in TV Mate.
Following this, you will see a "Record" option available on the player's bottom right side.
To begin recording immediately, tap on the record button.
And that ought to be enough to enable you to begin recording IPTV right now. But if you found that this didn't seem to work for you, you may try the next approach.
Method 2: To utilize a game capture card 
Many individuals record IPTV using this technique because it is simple to utilize once more. Just a Game Recording/capture Card will do; nothing else will.
following these straightforward procedures after obtaining it to do so:
Step 1 is to connect the card to your tv using an HDMI wire.
Step 2: You will now require a USB stick, which must be linked to the computer or other device that is running IPTV.
Step 3: Connect the IPTV gadget to the HDMI connection on the game recording/capture card's output, and the USB device to the HDMI socket on the game recording/capture card's input.
Step 4: Following the card's connection, any recordings you make will be instantly saved to the USB stick that is attached to the computer.
Step 5: After the recording is complete, make absolutely sure to disconnect the USB stick and afterwards enter it into the system you intend to use to watch the recordings.
With that, recording your IPTV videos would be a breeze.
The Best 2 Ways to Screen Record on Android TV.
A few applications need to be manually configured, and your Android TV needs to be set in order to record the screen. The two most effective ways to record the display on an Android TV will be discussed in this post.
Method 1: Making use of AZ Screen Recorder
The greatest and most often used screen recording app for Android right now is AZ Screen Recorder. The AZ Screen Recorder may be used to record the Android TV screen too though. You must do it by carefully following the instructions provided below.
Download & Install send files to television ( in Android TV as well as the phone Phone)
Download and then install the AZ Screen Recorder (on Android Television)
Adjust Orientation Apk download file (on Phone)
On your phone, use the Send Files to the TV application, then join your smart TV. Once connected, deliver the Set Orientation Apk file that you've already downloaded to the smartphone. After that, install or run the Set Orientation Apk file on the smart TV.The orientation should now be set to "Landscape."
Run the AZ Screen Recorder app that was earlier downloaded on the Android smartphone to start recording your Smartphone screen in your Smart Tv.
Method 2: Making use of TeamViewer
You must use a wireless or a cabled mouse to navigate AZ Screen Recorder's user interface (UI) because it wasn't designed for Android TV. Many users can have trouble with the aforementioned technique. Therefore, you must try this strategy if the one described above does not work for you. Certainly, this will be successful.
The TeamViewer App may be quickly installed because the Google Play Store is accessible from your Android TV. Install TeamViewer for Windows on your desktop or tv after obtaining TeamViewer Quicksupport for Android TV or the Mi Box S.
Open TeamViewer on your Windows computer as well as your Android TV now. Put the ID shown on the TV screen into the Windows client and hit the "Connect" button to get started.
Following a successful connection, TeamViewer Widow on the laptop will allow you to view the TV screen. You can begin recording by simply clicking on the export window button in the top corner.
"Start session recording" can be selected from the drop-down menu. By selecting "Start session recording" again after you have finished, your recorded file will now be stored on your computer.
The stored recording file will then appear in the TeamViewer window when you double-click on it. Simply choose the "Convert" option in the menu bar, and afterward watch as the recording is converted into MP4 format.
There you go! That's it. Using TeamViewer, follow these steps to capture the Android TV screen.
Sum up 
To put it briefly and simply, Android Television is an Android os system tailored for devices with large screens. Numerous customers wish to capture their TV screens because Android TV enables straight Play Store app installation.
Despite the fact that there are several screen recorder applications for Android TVs, it is more difficult than it is with an Android smartphone to record an Android Tv. Google entirely eliminated the user-facing "Draw over the other programs" settings page to stop applications from screen-capturing as well as screen-recording.
This article is all about the ways to record the android television screen so if you are interested just have a look.
Frequently asked questions (FAQs)
Ques 1. Is a TV show recording app available?
Ans: A few Android TV apps are available with recording capabilities. They can help you watch your preferred television shows and movies on your Android TV Box even though they are not as exhaustive as other options. Users can view the TV Guide and select a show to record after login into the app. After choosing a show, people can record it by clicking the record button. You can capture live TV shows using the system's camera if you'd prefer. Shows can be recorded using the application in both full-screen and customized modes. The frame dimensions, voice narration, and picture-in-picture effect can all be changed after the recording procedure has begun. Additionally, the app has an annotation option that enables you to annotate your recordings with text and other information.
Ques 2. How Can I Use a USB to Record IPTV?
Ans: This post will explain how to tape IPTV from your Android TV box if you've been looking for a simple method to do so. This function has been requested by IPTV customers for a long time, and it is now available. While everyone has different reasons for recording, a recorder might come in very handy when there is an unstable internet connection. Here are several justifications for why it makes sense to record IPTV shows on your Android TV device. Make sure your gadget has enough space.
A portable USB flash drive makes it simple to augment the 8GB of internal storage that an Android box has. Two connections are a further necessity. For this to operate, you will require at least 2. From their IPTV provider, the majority of consumers only have one connection. Two of them are required if you wish to use the second approach. Open the app on your device, then select "record" from the menu in the lower right corner of the screen to get going.
Ques 3. How Can I Capture Content via Streaming Box?
Ans: Easy to do, Follow the on-screen directions after downloading the free TV Mate program to your PC. Select the program to record from when the software has been installed, then click "OK." Choose "record" from the menu there in the lower right corner of the page." The time and effort required to record the program will only take a short while, but it will be completely worth it.
If you're searching for workable options for capturing live TV, an Android TV box with a constructed tuner is a great choice. These frequently cost little and offer a variety of internet streaming services. Perhaps you won't even require extra for streaming.. You can start recording TV shows from streaming services once you've set it up. As an option, you can record movies, television shows, or other stuff using your Android box.
Ques 4. On an Android TV, how do I record TV shows?
On an Android TV box, you may easily record TV shows if you missed your favorite episodes or if you simply would like to record a movie. One episode or an entire series can be recorded using the live channels application on the set-top box. Click the record button after choosing the program you want to capture. The live channels application will be able to predict when to begin recording and also how long it will last. From local storage or the internet, stream videos to your Android TV box.
Several software, including Kodi, can be installed on your device after you've linked it to the internet. To directly stream videos to your box, you can also download YouTube. The Android TV box is primarily used to stream video content, despite the fact that it has many other features as well. Installing programs from the Google Play Store, however, will allow you to customize them.
Ques 5. Do Android Boxes Allow Recording?
Ans: On Android TV boxes, there are a variety of options to record movies and TV shows. Video tutorials, playing video games, and explaining how the display is shown can all benefit from screen recordings. To show off their skills to friends and post on social media, many players film their screens. Android TV sets can easily record live TV, but the necessary software isn't available for free. Consider TV Mate if you're looking for a screen recording application. Despite being expensive, Android TV boxes lack screen recorders by configuration. You should instead download programs that allow for screen recording. On Android, however, native screen recording is available. Without using any external source software, you can record your display in video format by downloading XRecorder. Launch the app, then hit the "record" icon in the top-right corner to start capturing a screen capture on an Android TV device.