Hard drive companies have always been in demand as it has been a very important thing for a long. People these days have so much stuff, but devices that have less storage. Hence, hard drives come in as a savior. In detail, let's know how it became so important and what are the most popular hard drives to buy. Read the article till the end to know all about 12TB hard drives.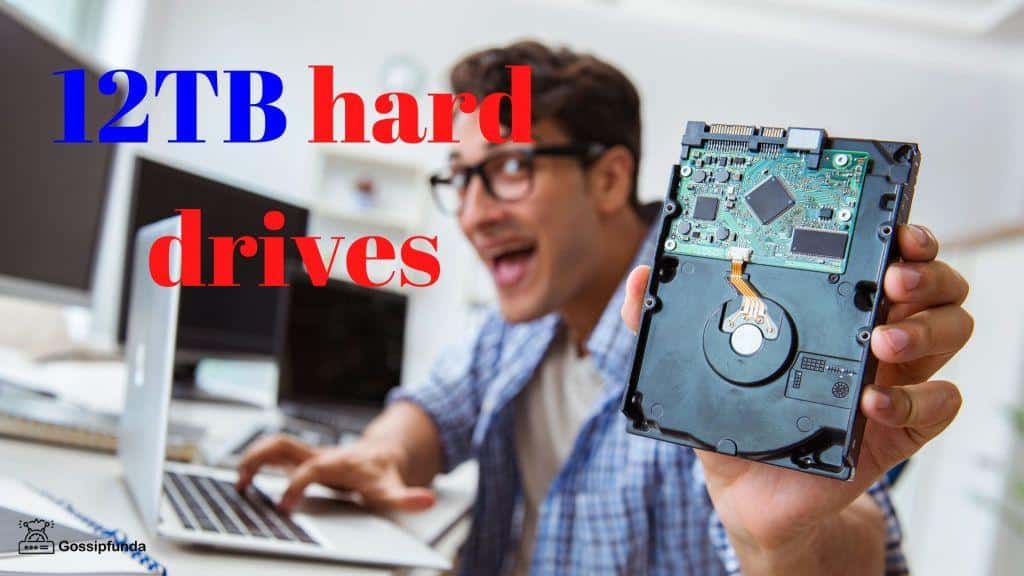 12TB hard drives: Introduction
It was a time when people thought the storage in your mobile phones is all you have in your media. But later came the hard drives the first time in 1956 by the IBM company. It was a boom in the industry, and literally, 16 years ago, hard drives with storage up to 512GB was a lot. However, times changed, and now people are settling on hard drives with storage up to 12TB. Today, there are many popular hard drives available in the market, expensive to cheap, sheer beauty to natural looks, and all kinds of hard drives.
Another classification of hard disk drives that are for desktop, CCTVs, server markets, and NAS type. At present, the maximum demand for high storage capacity is in the enterprise, data center, and cloud architects. And the biggest challenge is to cater to this demand with the best performance at the lowest price possible. In order to stay in the competition, the hard drive companies are continuously giving multiple features. We are seeing the maximum demand for 12TB and 14TB hard drives these days, but surely we can expect 20TB in the coming days. 
Let's look at some of the popular 12TB hard disk drives to buy.
see also: 1TB SSD & 2TB SSD
12TB HDD Products
1- Seagate barracuda pro ST12000DM0007
With the increasing demand for storage, Seagate had proved to give the best performance. This model is a perfect solution to all your storage problems. This 12TB hard drive has an RPM of 7200. It will provide you with a read speed of 243MB/s and a write speed of 236MB/s. Seagate barracuda pro provides you a cache size of 256MB along with the multi-segmented DRAM cache. This product is a perfect piece for those who are vloggers and love to shoot videos. They may come across storage problems frequently. 
Seagate company has a warranty of 5 years on this product. Hence, you exchange it or report a problem within 5 years. This company is the only company that focuses on desktop storage problems and increasing the capacity of hard disk drives. Barracuda pro gives you 923GB/in2 areal density that has been observed in a sealed helium closure. This is compatible with any OEM storage devices. It is now coming to the price, $429.99, which may change in your location.
2- HGST Ultrastar He12 HUH721212ALE600
The Ultrastar He12 is an enterprise capacity solution. This hard disk drive gives you an RPM of 7200. The HGST is based on the helium technology that is the usage of helium instead of air. The read and write speeds of the Ultrastar are 239MB/s and 223MB/s, respectively. This hard drive has a high performance with a cache size up to 256MB. The best thing about this HGST HDD  is that it will give you so much of capacity while utilizing the lowest energy possible. This can be understood by numbers that are with this product will consume 23% less energy and, in return, give you 30% more capacity than other products. 
You again get a warranty of 5 years on this hard disk drive from the company. This is a cool and quiet product that can easily take up to tasks of 550TB in a year. Now, finally coming to the price factor, the HGST Ultrastar He12 will cost you around $359 and may vary according to your location.
3- Seagate Ironwolf pro
Seagate ironwolf pro runs in the category of NAS hard disk drives that have been rated one of the best in many lists. The SATA interface capacity of this device is 12TB. By the SATA interface, we mean that the performance given by this hard drive will be reliable and of high efficiency. This supports the SATA 6Gbps interface, which uses parallel magnetic recording. It is a 3.5inch long hard drive.
 It has many features like the technology involved in this product that will determine the rotation and linear vibrations as well to ensure the best performance. This, too, has an RPM of 7200. The read speed is 255MB/s, and the write speed is 245MB/s. The ironwolf pro also has timely error detection and its recovery that will prevent the fallout of the hard drive. In terms of storage, the ironwolf pro or all the NAS series have up to 1.2 million hours MTBF. The cache size of this hard drive is the usual 256MB, and it also gives a warranty for up to 5 years. The energy consumption is as low as 7.8 watts and is also based on helium technology. Talking about the price, the Seagate ironwolf pro may seem a bit expensive, with a price of $499.99.
4- TOSHIBA N300 8TB NAS
If you think 12TB is a bit of extra storage, then we have got your last device on this list with storage of 8TB as well. This hard disk drive also has an RPM of 7200. The interface of this Toshiba N300 is the usual SATA 6Gbps. You can easily use this hard disk drive for a workload of 180TB in a year. This may seem quite less as compared to Seagate, but Toshiba N300 is also good enough. However, the cache size is too small up to 128MB, but this hard disk can be used for small data storage reasons. It has many features as it can also monitor internal vibrations and rotation of the device.
 Also, it has a buffer up to 256MB that can give scalability in multi raid environment up to 8 drive bays. One more thing, people added reviews about was the noisy operation of this hard disk drive. Overall, it is a good hard disk drive in terms of performance.
5- Seagate Skyhawk AI
Seagate's hard drive is a fantastic product designed for surveillance purposes based on Artificial intelligence (AI). The RPM again is the same 7200 and gives you a warranty of 5 years. It provides a read speed of 235MB/s and a write speed of 222MB/s. In recent days, surveillance throughout the world uses artificial intelligence. This may include face recognition and fingerprint scan etc. Hence it requires a lot of data that has to be handled and analyzed fast. The Skyhawk AI is perfect for such uses. The cache memory of Skyhawk AI is 256MB. It is also equipped with data recovery algorithms and error detection techniques.
This is capable of working with 64 HD cameras along with 16 AI streams. Skyhawk AI will be able to handle a workload of 550TB in a year. Also, it has the advanced vibration management along with the 2M hour MTBF. Coming to the price, so this superb hard disk drive from Seagate will cost you somewhere around USD 449 and may vary today at your location.
6-HGST Ultrastar He12 HUH721212ALE601
This is again a 3.5inch sizeable hard disk drive from HGST. Presently, you may assume it to be the best option after Seagate for HDDs. This model is actually the first 12TB hard disk drive to give PMR technology. With this technology, the hard drive is adaptable to any application or capacity environment. It is equipped with the 4rth generation of helium seal technology. It also has the latest 8 disk design that will contribute to an increase in capacity by 20%. The read and write speeds of this hard drive are 243MB/s and 250MB/s, respectively. 
The interface is the SATA 6GB/s and gives a cache memory up to 256MB. You get a 5-year warranty on this product as well. An amazing thing about it is that it has an encryption circuit as well that will ensure instant secure-erase. Overall, it is a perfect enterprise-class hard disk drive. This can easily manage up to 550TB of data per year. In terms of price, this HGST model will be for $380 but may vary as well. 
7- WD Gold enterprise-class hard drive
This hard disk drive is an excellent product that is available in a storage range of 4TB to 12TB. It is a NAS hard drive that has an interface of SATA 6Gbps. The RPM is the usual 7200. Whereas, it gives a cache memory up to 128GB. If you are a businessman or someone who has to deal with the storage of a large number of files, then these WD Gold series hard disk drives are perfect for you. These are not so expensive and give you great performance that can be compared to Seagate.
Conclusion
Hard drives are a need these days, be it for a vlogger or businessman or s ordinary student. Everyone has high storage needs, and the products listed above are the solution to such requirements. Apart from these, there may be many more hard drives available in the market at various prices. But, we have included the best brands and their famous models for your reference. These hard drives have not been arranged in any order but are added randomly. You may visit your nearest store and know more about these products in detail. However, for any new update on related content, stay connected with us.
Read also: How to format USB on macOS