It sounds like you might be experiencing a connectivity problem. Please try again after making sure that your internet connection is steady. You can try restarting your device or wiping your web browser's cache and cookies if the issue doesn't go away. Error messages can have a variety of fundamental reasons. Many of them are out of YouTube's control, such as a slow internet connection or insufficient memory on your device. Some of the most typical error messages include the ones listed below: Check your network connection, please.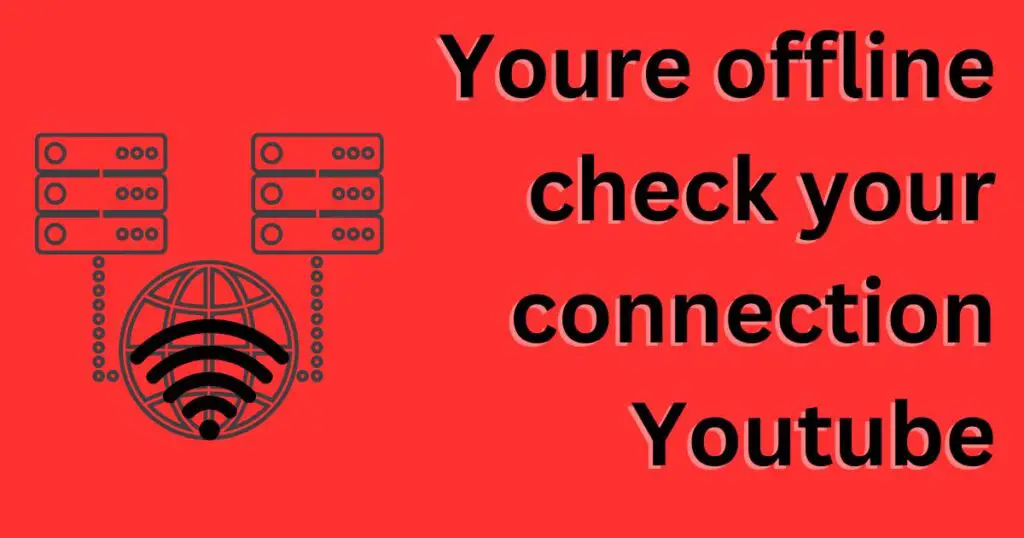 How do I fix the "You're offline check your connection error"?
For iPHONE/iPAD/MAC
Method 1: Make sure your iPhone is connected
To make sure YouTube is loading properly, you must check your iPhone's Internet connection.
No service, much alone YouTube, will be accessible if your device's internet connection is down. To fix the iPhone's internet connection, adhere to following steps:
The Control Center's Airplane mode can be disabled.
From the Control Center, turn off the airplane mode.
Join the 5GHz Wi-Fi network instead of the 2.4GHz one. 
Utilize tools like Speedtest to check the internet speed.
Method 2: Ensure that YouTube's cellular data is turned on
Make sure YouTube's cellular data is enabled by following these steps:
Enter iPhone Settings, then select Cellular.
Select Cellular under Settings on your iPhone.
Verify that the toggle next to YouTube is turned on by swiping down.
Verify that the toggle next to YouTube is set to green as you go down
Method 3: Activate and deactivate Airplane Mode
When users switch their iPhone into Airplane Mode, all radio connections—including Wi-Fi, Bluetooth, and cellular—are severed. In this method, network problems will be fixed, and YouTube will resume working as intended. You may activate or deactivate Airplane Mode in the iOS Control Center by touching the airplane icon. From the Control Center, the aeroplane mode can be activated and deactivated. As an alternative, you can accomplish this by doing the following:
Open settings.
Turn on Airplane Mode
Press the same switch once more to turn it off after a few seconds have passed.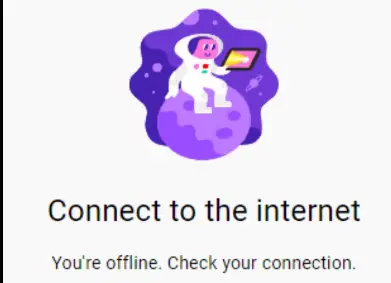 Method 4: Deactivate your VPN
Some readers assert that by just turning off their iPhones' virtual private networks, the problem was fixed. Although VPNs are an excellent tool for protecting your identity online, improper installation might cause them to disrupt internet connectivity. It's also possible that your VPN will give the impression that you are using the internet from a place where YouTube is blocked.To turn off your VPN, do the following:
Go to Settings and select VPN.
In your Settings, click VPN.
Press the switch next to Status to stop your VPN.
If it says Not Connected in the status of your VPN, it is off.
If YouTube starts working again after you've disabled your VPN, it's likely that the issue is with your VPN rather than YouTube or your iPhone.
Method 5: YouTube Force Close/Open
When YouTube is giving the iPhone or iPad problems, there is a simple solution that can be quite helpful. To utilize this technique, adhere to following steps:
By twice hitting the Home button, you can end the app. The app switcher will now be visible, and you can choose any of the active apps.
To close the YouTube app, swipe it upward.
Method 6: Reinstall YouTube after uninstalling it
If YouTube doesn't respond to your claims, you might want to try uninstalling and reinstalling the application. 
After completing that, see if the issue still resides. It's crucial to understand that removing the app does not  mean it will remove your account.
You will have to sign in again if you decide to reinstall it.
Method 7: Delete All Data From The YouTube App
Next, we'll fix this problem by eliminating YouTube's cache and data. Temporary data is erased when the former is used. When the latter is utilized, all app data, including various settings, are removed. Follow these guidelines to accomplish this:
Open your device's Settings menu.
YouTube can be chosen by tapping on Apps.
Once you have opened Storage. There are two choices available: Clear data and Clear cache.
Click on the second option and remove the cache.
See if YouTube is now operational.
Go back and clear the data if it doesn't.
Check to see if it fixes the issue.
Method 8: Restart your iPhone
Try shutting down and restarting your iPhone if you still feel the need to do so. To start over, you can reset your iPhone. You might be able to fix minor software issues this way and get YouTube videos to play on your iPhone once more. In order to turn off your iPhone, follow these steps:
Holding down the volume button while pressing the power button simulataneously
 This is also known as the Sleep/Wake button. The words "Slide to power off" will appear on the iPhone along with a red power icon.
Swipe your finger from left to right over the red power icon on your iPhone to turn it off.
You should give your iPhone about 30 seconds to shut down fully.
Method 9: Restart your iPhone
This method involves turning on and off the Wi-Fi twice, a lot like when you turn on your iPhone. Turning the Wi-Fi on and off again may help to fix this minor software bug that is creating the unstable Wi-Fi connection. Do the following to turn the wifi on and off.
Open the Settings app on your device, then choose Wi-Fi.
The option adjacent to Wi-Fi can be chosen to turn it off. When the switch turns pale, the Wi-Fi has been turned off.
Press the switch again to reestablish the Wi-Fi connection after a little delay.
Method 10: Verify whether YouTube is unavailable worldwide or in your area.
Sometimes the problem is YouTube rather than your computer. It's possible that many other people will have the same issues you do with YouTube not working properly on their computers and gadgets. Do the following to confirm this:
Enter "Is YouTube down in your region name" into the search engine.
From the search results, select one of the downdetector.com or downforeveryoneorjustme.com links. It is possible to find out if this is a widespread issue by visiting these sites.
If you answered yes, wait till YouTube addresses this issue.
You can get in touch with them on Twitter by sending a message to @TeamYouTube or by viewing their most recent tweets.
Method 11: Try YouTube's Incognito mode
If YouTube doesn't normally function for you, you might want to give using it in Incognito mode a try. It resembles Chrome's Incognito mode almost exactly. To utilise it, adhere to following steps:
InTap your profile picture inside the YouTube app.
Decide on Turn On Incognito.
Hit the Incognito button.
Search for a video to test if it plays.
Tap the Incognito icon in the top right to disable it.
Tap the Incognito icon in the top right to make it inactive.
You are unable to see your subscriptions when using YouTube incognito mode.
Method 12: Log out of your YouTube Account and Re-Log In
In rare circumstances, logging out and back in might be able to fix the problem. Furthermore, imagine that you are unable to access your subscriptions because your Google account password has been changed. Reauthenticating in that situation would be beneficial. To do it, follow these steps:
Click the profile photo.
Tap your name after tapping the profile photo.
Select Use YouTube while signed out.
Tap use signed out YouTube
Switch off your iPhone.
Activate the YouTube app.
Sign in by tapping the profile icon in the top right corner.
Method 13: Change your location on YouTube
Change your location on YouTube
If certain videos won't play, try moving them and see if that works. To do this, adhere to following steps:
Activate the YouTube app.
Click on your profile photo.
Select Settings.
Select General under Settings.
Select another nation by tapping General and then tapping Locations.
Go to Locations and select a different nation.
Method 14: Reset your iPhone's Network Settings
Resetting the network settings on your PC should fix the problem. To achieve this, observe to following steps:
On your iPhone, tap Settings.
Press General.
Reset iPhone by tapping Transfer.
Press Reset.
Select Reset Network Settings.
Connect your iPhone to cellular data or Wi-Fi.
It is believed that the iPhone's YouTube app will soon be patched.
Method 15: Check YouTube-Server Status
Before using this troubleshooting technique, take a moment to check the condition of YouTube's servers. You might not be able to watch videos if the servers crash or need maintenance; this could happen occasionally. Check the status of YouTube's servers to make sure they are operating normally. If numerous people experience the same issue, there is a significant possibility that the servers are down.
Method 16: Disable App Restrictions
The addictive nature of YouTube cannot be disputed. You may be watching an instructional video one moment, and then a giraffe dancing in a zoo the next. All of us have been there. The iOS operating system offers the option to limit the use of a specific app in order to avoid addiction. If YouTube appears on the list, it need to be taken off. Follow the steps below to accomplish this:
Open settings.
Choose Screen Time.
Move to App Limits.
Select App Limits after choosing Screen Time.
Swipe left and press on Delete YouTube option
For Android
Method 1: Disable Airplane Mode
When Aeroplane mode is activated, your Android smartphone's connection to cellular and Wi-Fi networks is severed. When your phone indicates being offline, you should thus check to determine if it is in Airplane mode. If so, feel free to do so at any time. whether it doesn't, attempt turning it on and off and check to see whether the phone is connected to the network. See the steps listed below to learn how to disable Airplane mode on an Android device.
click the icon in your notification tray to enter Airplane mode. Click it once again to make it inactive.
Go to Settings > Connection > Airplane mode to disable it.
Turning off airoplane mode will restore functionality to your Android device.
Check to check if this method for getting your Android back online by opening the Google app and using it to surf the internet.
Method 2: Reset the network configuration
Restarting your device should resolve the problem, even if you've never had it before. You must in order for the device to reset.
Click Reset under Settings > General Management.
The network settings are reset when you click it.
Reset the WLAN, mobile data, and Bluetooth network settings by reading the data and validating it.
Method 3: Remove Google App Data
Clearing the cache for Google apps can be really helpful occasionally. You only need to clear the app's cache memory or data. This may assist in resolving the problem and restoring your phone's connectivity. To learn how to delete Google app data, follow the steps listed below.
Open Settings on your device and select on App management.
Then select the Chrome extension for easier access.
To clear data, select Storage and then press on clear. The app's cache memory can be removed in this manner.
Method 4: Delete Google App Data and Reinstall It to Fix Android App
If the problem is with your Android device going offline this is due to bugs in Google apps, you can try to uninstall and reinstall the app to see if the problem has fixed itself.  Simply follow to the directions given below to understand how to uninstall the app.
Long-press the app on the Home screen and select "Uninstall."
Android appearing offline can be fixed by uninstalling and reinstalling Google apps.
Now go to Google Play Store and look for the software you want to download.
Wait for the programme to install after clicking the install button.
Method 5: Resolve Android OS issues to stop your Android phone from showing offline
On your computer, download and install ReiBoot. Launch the tool after using a USB cord to connect your phone to the computer, then select Repair Android System.
On the following screen, click on the Repair option to proceed.
After entering the model of your Android handset, enter the required data.
As soon as you select your device in the app, the firmware requirements will be confirmed for your phone will start downloading. Keep an eye out for the process to end.
After downloading the firmware package to your PC, choose Repair Now to start the system repair process.
Read Also: Why does YouTube keep switching to light mode?
Conclusion 
As we know YouTube is an Online video watching, a free video sharing platform. Making your own videos to upload and share with others is even better. The "you are offline" problem has proven remedies, according to this article. You can get rid of the "Check your connection" YouTube problem notification on your apple as well as android devices.
FAQs
Why won't YouTube operate despite being connected to Wi-Fi?
As soon as the browser is open, search anything. You might be offline if nothing else operates as it should. Check to see if your Wi-Fi is active and whether Airplane Mode was unintentionally turned on. To check whether LAN or Wi-Fi is connected, users should look at the router.
Use of data by YouTube offline?
To watch YouTube videos offline, download them. Downloading these videos so you don't have to use your cellular data to stream them is one of the simplest methods to cut your data use if you use YouTube Premium.
Why am I unable to access a YouTube server?
Delete the cache and data for the YouTube app. The YouTube app may be the cause of your issues if you've been using it for a while and a lot of cache and data have accumulated. On Android, navigate to Settings > Apps > YouTube > Storage. Tap Clear cache to see if the problem has been resolved. If not, return to the concerned panel and choose Clear data.