Bought a new phone? Yes, it's great news. Nowadays It's very common that people to switch to new phones often. It's because of the mobile industry that is pervasively trying to flood up with new phones and new technologies day by day. Setting up your new android phone is no more a daunting task for you. As the device manufacturers have made it easy way for you to shift your data to your new phone. Whether be it an android phone or an iPhone the steps to set up your new phone are just simple.
Unboxing your new phone will make you excited. Yes, the new plastic cover and the new smell of the box make you much more eager to do the setup soon. This setting up journey or copying data from your old phone to a new one is not an exhausting process if you follow this article step by step. If you are looking for How to set up your new device perfectly then this article is for you.
As soon as you got your new phone you want to settle every aspect of the phone that you had in your old phone. If you are a working person, you don't want any obstruction in receiving your work email, messages, or calls. To enjoy and experience your new phone, you need to shift your data quickly to the new android phone or else you can also start afresh with your new phone.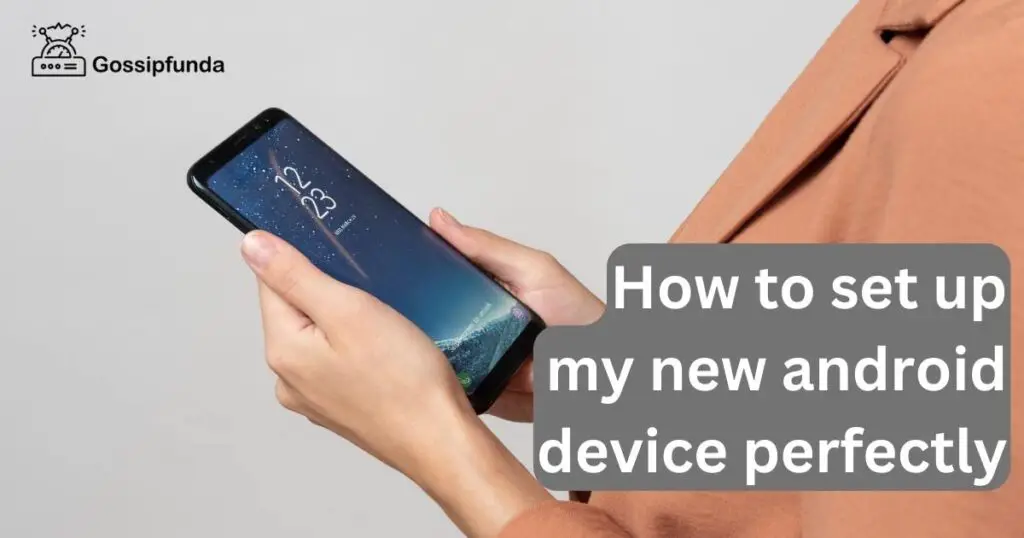 The most common things people tend to transfer from an old android to a new android device are calls and contacts, messages, apps, photos, videos, Music and documents, etc. Ensure that both the old and new mobile are fully charged before you start the transferring process. Let's dive into the setting up of your new android phone.
Setup requirements
Your old phone(not necessary if you have cloud backup storage).
Your SIM card(not necessary if you are going for eSIM activation.
WiFi Connection and its details.
Google account details.
Your old phone PIN, Password, fingerprint sensor, or draw pattern details.
How to customize and set up basic settings on my new android phone?
Most of us would preferably like to copy all the data from our old phone to our new phone. If both old and new phones are android OS then you need not worry about the setup process as it is very simple..setup the new android phone involves processes such as restoring your data, apps, and settings from the phone or the cloud storage. The setup process must be similar in all Android phones other than slight screen display variations. Perhaps if you are shifting data from an iPhone to an android then you must install a third-party app to do it. Follow the steps that outline the process of setting up your new android phone. These are the prerequisite steps to check some things before you start the setup process.
The first screen is the welcome screen and here you can customize your language settings. In the welcome screen by default, it will be in English. If you want to change it you can click on it and choose any language that you prefer.
The next step is vision settings. Here you can change the display size of the text, magnify the screen, and select to speak or talkback option used by people who have vision problems. Once done with these Click on Get started.
Connect to a mobile network. If you have a SIM card, you can insert it or skip it.
TIP: Usually people suggest inserting it at a later stage once everything is done to receive calls and emails till the last minute you set up your phone.
Connecting to the WiFi network that you use in your home helps in the restoration of data and updating. Wait until The process of Getting your phone ready is over and the next screen is shown
Click on next to Copy apps and data from your old phone. if you want to start your new phone fresh with no data then click on Don't copy.
If you want to copy data from the old phone it is done by connecting your old phone using the USB cable to the new phone and clicking on Next.
If you want to restore your data from Google cloud backup click on Can't use Old Device and tap on "backup from the cloud".To have backup data of your old device go to settings>system>Backup data
The next step is to sign in to your Google account or create one if you don't have a google account and start the process of backing up data from your old device. Once you have logged in Tap on I agree
The next step will list all the available backups .choose anyone option. If you choose a backup from your old device it will ask you to enter the security PIN, Password or fingerprint sensor, or drawing pattern that you used on your old device
In the next step, you need to select from the options which allow you to restore selected apps or entire data from your phone. Once selected this process takes a bit of your time to restore the data.
Once all data is restored you can continue with the prompt shown onscreen and complete the setup process. 
These are the initial setup process that is done. Now, Let's have a look at how to backup data on your old device in detail. As a subsequent process, the next step is to back up data and restore it to your new device. This varies according to your phone model and its version. As there are multiple ways to back up your data you can choose the legitimate way that suits you.
How to back up data on your old Android device?
Google has made the backup process simple and easy so that anyone who has lost, or broken their phone, or wants to shift to a new phone can back up their data and use this option effectively. Most of us will back up our apps, music, contact, messages, photos, calendars, call logs, videos, app data, etc which is connected to our google account. So it will automatically get into our new phone because once you have used the backup option for all of the. Let's look into the steps of how to back up data in your old phone.
Both the old phone and new phone should be charged well and have a good WiFi connection.
Take your old phone, Open settings, select Google, and sign in, certainly, you must be having a google account. If not create a google account.
Turn on Account sync data in the settings
Select Backup by Google one and enable the toggle button
Click on Backup now.
This will automatically back up your data which you can be accessed using Google drive later.
Backup Google contacts
You should have a Google contacts app on your phone that backup your contacts on Google servers. So, you no need to worry about your contacts. Once you set up your new phone sign in to your Google account. Open the contacts app, all the contacts will be synced and displayed on your new phone from the google servers if you have backed up already. Once you sync your contacts with contacts.google.com then you will access it from any phone,iPad, or web once you sign in to your account. Follow these steps to back up your contacts.
Open your phone settings, Tap on Google
Go to Settings for Google apps
Select Google contacts sync
Select also sync device contacts
Enable Automatically Backup & sync device contacts.
Google allows you to save your contacts only in one google account .so in case you have multiple accounts, choose the account where you had like to save your contacts. 
Backup Google Photos
Check whether your photos and videos are backed up and synced to your Google account.
Open the Google Photos app, and select the profile picture
Go to photos settings
Enable Back up & sync option to be on.
List of steps outlined to backup data from Android to Android
Back up data using system settings
Select settings> Google>Backup>Turn on Backup Google by one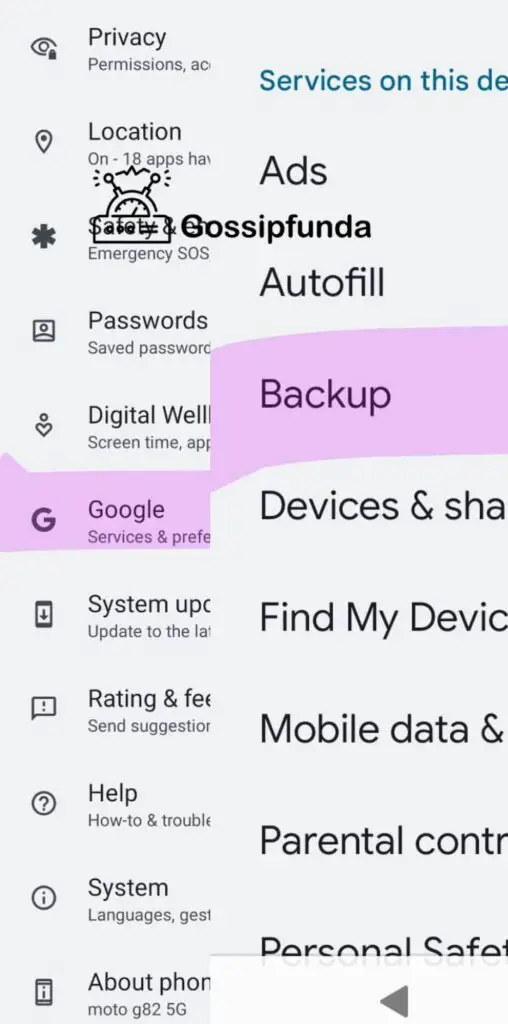 Open the new phone and select Backup from an android phone option
Select settings>Google> setup and restore > Setup nearby device option in old phone
Select the nearby device and choose the new phone device name
Tap next and it's me to confirm the screen lock of your old phone. Tap on copy
Take your new phone, and sign in to your Google account, Here, enter the screen lock of your old phone again,
Select Restore and finally, your data are started to transfer to your new phone.
How to transfer data from android to android using a PC
If you want to transfer data at a stable and faster rate then you can choose the alternative method of using your PC. Here it requires just an app to be downloaded named Mobile Trans PC for Windows or Mac OS. It is one of the best, simply secure, and fastest ways to backup and restores data between phones Follow the steps given below to transfer data between phones on a PC 
Download and install the MobileTrans app on your PC according to the compatibility of your OS. 
Go to phone transfer and choose Phone to Phone 
you need to connect both devices to the PC using a cable. The devices will be indicated as source and destination. If you to change the source and destination device you need to click on the Flip option and change it 
Click on start and the transfer process starts. With one click you Youll get all data to your new device. 
Some other options are available to back up and restore small-sized data by using 
Bluetooth, Gmail, google account, etc. In case of transferring data between Samsung phones, you can use the device app "Samsung smart switch".Between Motorola phones, you can choose the app"Motorola migrate".Between LG you can use the app named "LG mobile switch" and Huawei the app is called "Huawei backup". 
Transfer files and data without your old phone
Most people who lost their phone or have a broken phone which cant be repaired tend to look for such options. When you need to transfer data without your old phone the minimum information required is your Google account and password. As your google account have the backup of your phone data in google drive it can restore the data to a new device without any issues. You need to do the following steps given below.
Open the welcome screen of your new device. Select start
While following some of the onscreen prompts pts you need to select the option" Backup from the cloud"
In the next screen select sign in with your Google account.
Your phone will be restored with the most required data.
Conclusion
All of us are in search of a simple solution for every possible task that we do. Once you have a new phone it doesn't meet your needs immediately. you have to set up and hope this article helps you in setting up the process of your new phone. Once the setup process is complete you have to do some of these other steps along with it , as not to miss out on anything else. You need to update your system and apps to enjoy the latest features of every app. You need to link other apps to your phones such as Facebook, Twitter, Linandn, and Gmail, and integrating the security features enables you to use this app as usual. Finally, you would have learned the very simple steps of how to set up your new android phone from this article.
FAQ
What should I do first with my new Android phone?
While setting up your phone you need to do these things for the efficient working of your new phone. Transferring your contacts, Inserting the SIM card or activating the eSIM, Protecting your phone using security features, Connecting with email and other accounts, downloading the necessary apps, Connecting to WiFi or a data plan, Pairing with a Bluetooth accessory, battery-draining draining activities, Explore additional supporting resources and tools provided with the phone such as Google Assistant.
Do You Need a Google Account to Set Up a New Android From an Old Phone?
No. You don't need a google account while setting up your new android phone. It is possible to skip the now option while setting up a process to avoid creating or providing a google account. It doesn't have any impact on apps like contacts, or messages. But while using your phone for some proprietary applications google account is a must to have. To sign in to other third-party app applications or avail of the best services of these apps it is required to have a google account.
Does having Gmail mean you have a Google account?
Gmail is one of the Google applications. with Gmail, you can only manage, and access your emails but with a google account, you can access many services such as logging in to docs, sites, maps, and photos provided by Google. The Gmail account ends with @gmail. Com. But a Google account doesn't need to end up with @gmail. Com. We can say that all Gmail. Com are Google accounts but all google accounts are not Gmail accounts.