Do you ever wonder how these big corporate organizations manage the large number of devices that are being used by their employees on a daily basis? Well, the answer to this question is pretty simple. They have to build a server network and connect all the devices to that server somehow. As a result, the devices can be remotely managed through that server itself. It is a quite handy process.
And when we specifically talk about android devices, MDM comes into play. MDM app is nothing but an android device management software to manage the functions of android devices in enterprises and organizations. There are a lot of benefits of using an android device management tool. In this article, we will discuss What is MDMApp on android? How it works and what are its sole benefits? Let's get started.
NOTE – Here, we are discussing MDMapp specifically on Samsung devices.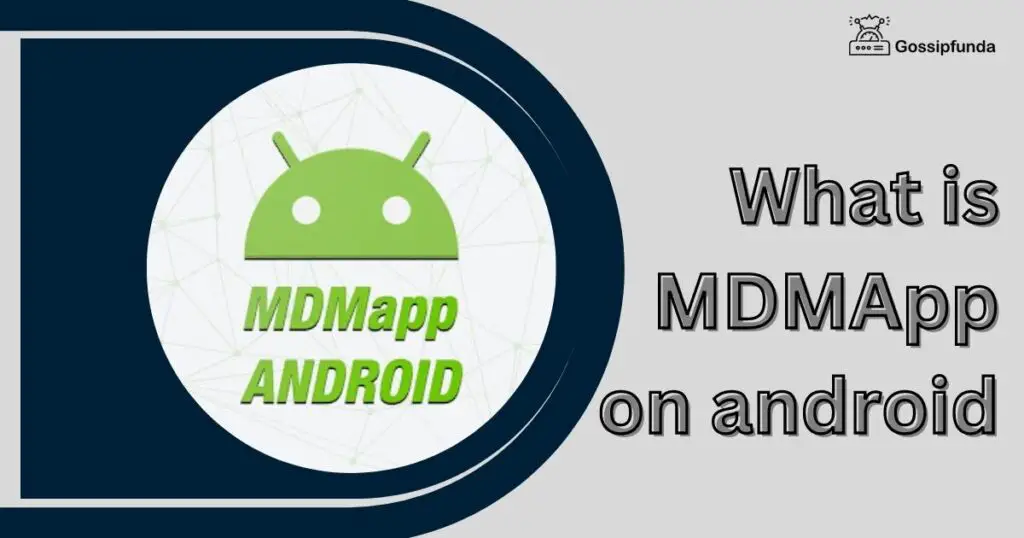 What is the MDM app in Samsung and How does it work?
Before moving to its objectives, first of all, let's understand what actually is MDMapp. As I said, it is an advanced mobile device management tool pre-installed in your smartphone by corporates for managing, securing, and monitoring data.
In simple words, it works like a client-server architecture in which there is a central MDM server and a separate management tool on devices. The MDM app acts as a medium of communication between the main server and the android device. All the device configurations or security updates are pushed to these devices by the IT admins through the central server. It not only manages the information but protects it also from theft. Although it is a paid service and your organization pays for it. In samsung devices, it is installed with the help of com.samsung.android.mdm package.
Overall, it makes it easier for enterprises to monitor the activities done by IT professionals on android devices. You will be able to see the messages circulated by the IT admins and follow the instructions accordingly. It maintains transparency between the employee and the corporate.
Objectives of MDMapp on Android
There are numerous objectives of an android mobile device manager. The ultimate goal is to enhance the whole process of monitoring and managing the android devices such as smartphones, Tablets, and other such devices in an effective manner. Some of the major objectives are listed below.
To manage device enrollment.
To manage credential information.
Registration of IMEI number and other configurations.
Unique QR code generation for each and every device.
To manage the security of data and devices.
To back up the essential data.
To manage essential applications.
To impose mandatory restrictions.
Audit and reports.
Location tracking policies.
Email management.
Battery level tracking.
Remote access to the device.
Rolling out OS updates.
Synchronization of files.
Samsung KNOX integration. 
What permissions are required by the MDMapp on Android?
To ensure the proper functioning of the MDMapp, there is some sort of permissions required from the user end. The permissions required by the MDMapp are not fixed and may vary from device to device. On some devices, it may be limited to the background apps and processes only and on the other hand, it may ask you to give access to other things also.
Here is the list of all the permissions required by MDMapp.
Contacts
Camera
Location Access
Screen Calling
Storage (Files directory)
Telephone Access including IMEI number.
Messages
Do you need MDMapp on your android smartphone?
To be honest, you don't really need the MDM app on your smartphone because it is quite useless for you. The only use of this device management tool is for corporate organizations or Big MNCs. Their ultimate goal in using this software is to access and track the activities and progress of their working professionals. The reason behind that is to analyze that data and enhance their systems accordingly for better use. Not to mention, it is a paid service.
Demerits associated with Smartphone Management
Even though the MDM program gives you a lot of flexibility in managing and tracking devices but on the other hand, there are some demerits also which are associated with managing android devices. These are listed below.
Registration of the Android Devices
Smartphone Configuration (Limit the use of features)
Administration of the Android Platform
Software configurations
Security and Privacy Configurations
Why do organizations use the MDM program?
Well, as you know that technology is getting more advanced day by day and a smartphone is a gadget that most people are having today. The reason why smartphones have become so popular is because of their handiness and portability. You can perform tons of things from a basic smartphone and can carry it anywhere you want.
The organizations are pretty much aware of this all. They don't want that the inside information or internal data of the company to be leaked out at any cost. In past times, these issues are faced by the big MNCs at a very large scale. The employees can leak precious data in exchange for money and it may lead to harm to the organization in many possible ways. Not only this but it may degrade the reputation and image of the company in the market.
So, ultimately, the MDM software program is used by these organizations with the help of which they can easily track and monitor all the activities which are happening on the devices associated with them. Not to mention, they also have remote access to the devices and can roll out OS updates, security patches, and important messages easily.
Also, Office smartphones have limited access to other fancy features such as unnecessary browsing, video streaming, and much more.
How MDMapp can prevent Cyberattacks?
MDM is an advanced android mobile device management program that can definitely prevent cyber-attacks or hacking up to a certain extent. Mainly, the data is leaked because of the irresponsibility of the end user which leads to cyber attacks.
Sometimes, cyber attacks are very dangerous and can harm the financials of the company. To prevent these things, MDM provides administration control over the devices and keeps monitoring them all the time. If any illegal activity is done, it can easily get detected by it.
Can MDMapp be uninstalled from the device?
As I mentioned earlier, MDMapp is a type of system application that is pre-installed on your device by corporates. Also, it is installed on your samsung device with the help of com.samsung.android.mdm package developed by samsung itself. Still, if you want to uninstall it, you can follow this simple procedure step by step.
Step 1 – Go to the settings app on your smartphone.
Step 2 – Go to the tab named Apps.
Step 3 – Here, you will find the list of all the apps installed on your device.
Step 4 – Now, search for MDMapp there and click on it.
Step 5 – After that, click on the uninstall button to remove the app from the device.
Read Also: One-Handed Mode in Android 12
Conclusion
This is a detailed explanation of MDMapp (android mobile device management software). I hope you clearly understood what is MDMapp on Android and why it is mostly used by big corporates. Look, their perspective behind this is to collect all the information and then optimize their systems so that they can get the maximum possible work output in an efficient manner. It leads to making the system more secure and there will be no data breach. Also, it gives you a fair idea of how employees are working.
That's it for today. If you still have any queries or doubts related to this, you can freely drop them in the comment section below. I will surely get back to you in no time.
Must checkout – Go to the Android tab on our website for more tips and tricks.