Are you a passionate gamer seeking a powerful and immersive gaming experience? Look no further than the Alienware X-Series laptop. Packed with cutting-edge technology and exceptional performance, this gaming powerhouse is designed to elevate your gameplay to new heights. From its lightning-fast processor to its stunning display and advanced graphics capabilities, every aspect of the Alienware X-Series is optimized for a seamless gaming experience.
In this article, we will delve into the impressive tech specifications and features of this gaming laptop, highlighting why it stands out from the competition. Whether you're a casual gamer or a competitive esports player, the Alienware X-Series is built to deliver unrivaled performance and take your gaming adventures to the next level.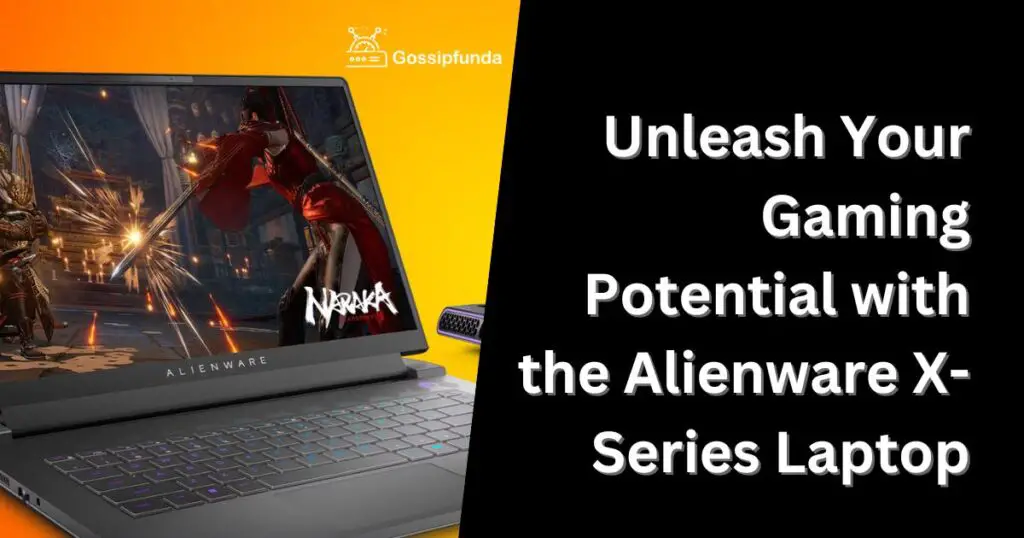 Impressive Processing Power
At the heart of the Alienware X-Series lies the 12th Gen Intel Core i9-12900H processor. With its 14 cores, 20 threads, and turbo clock speed of up to 5.00 GHz, this processor is a force to be reckoned with. Its exceptional multitasking capabilities ensure smooth gameplay even during resource-intensive tasks. From rendering complex graphics to running multiple applications simultaneously, the i9-12900H handles it all with ease. Its 24 MB cache further enhances performance by reducing latency and improving data retrieval speed. The result? Faster load times, seamless transitions, and an overall immersive gaming experience.
Windows 11 Home Single Language
The Alienware X-Series comes pre-installed with Windows 11 Home Single Language, providing a user-friendly and intuitive operating system. Windows 11 introduces a sleek and modern interface, optimized for gaming and productivity. With enhanced gaming features, including DirectStorage for faster game loading and Auto HDR for improved visuals, Windows 11 takes your gaming experience to new heights. Additionally, the Single Language version ensures a seamless experience with English as the default language, allowing you to dive into your favorite games without any language barriers.
Superior Graphics with NVIDIA GeForce RTX 3070 Ti
The NVIDIA GeForce RTX 3070 Ti with 8 GB GDDR6 memory brings lifelike graphics and real-time ray tracing capabilities to the Alienware X-Series. Whether you're exploring vast open worlds or engaging in intense firefights, the RTX 3070 Ti delivers stunning visuals with remarkable clarity and realism. Its powerful GPU ensures smooth frame rates and eliminates screen tearing, while NVIDIA G-SYNC technology synchronizes the display's refresh rate with the GPU's output, reducing stuttering and input lag. The result is a visually immersive gaming experience that keeps you at the edge of your seat.
Immersive Display and Advanced Optimus
The Alienware X-Series features a 15.6-inch FHD display with a refresh rate of 360Hz, ensuring buttery-smooth gameplay with no motion blur. The 1ms response time minimizes ghosting and allows for lightning-fast reactions, giving you a competitive edge in fast-paced games. The display also incorporates Advanced Optimus technology, intelligently switching between the dedicated GPU and integrated graphics to optimize power consumption and extend battery life when gaming is not demanding high graphics performance. This intelligent optimization ensures you get the best balance between performance and battery efficiency, allowing you to game longer without compromising on quality.
Seamless Multitasking with 32 GB LPDDR5 Memory
The Alienware X-Series is equipped with 32 GB of LPDDR5 memory running at an impressive 5200 MHz, delivering blazing-fast performance and ensuring smooth multitasking capabilities. The dual-channel configuration enhances data transfer rates and overall system responsiveness, allowing you to seamlessly switch between applications and tasks without any slowdowns. Whether you're streaming your gameplay, running resource-intensive applications, or multitasking between games and productivity tools, the generous amount of memory on the Alienware X-Series ensures a lag-free and immersive experience.
Blazing-Fast Storage with 1 TB PCIe NVMe SSD
With a spacious 1 TB M.2 PCIe NVMe SSD, the Alienware X-Series offers lightning-fast storage for your games, applications, and multimedia files. The NVMe technology provides significantly faster read and write speeds compared to traditional hard drives, reducing loading times and accelerating data transfer rates. This means quicker game launches, faster level loading, and seamless transitions between game scenes. The generous storage capacity ensures you have ample space for your game library, eliminating the need to compromise on which games to keep installed. The SSD's reliability and durability make it an ideal choice for gamers who demand speed and efficiency.
Read more: Simplisafe sensor not responding
Stylish Design and Customizable Lighting
The Alienware X-Series sports a sleek Lunar Light chassis with a High Endurance Clear Coat designed for stain resistance, keeping your laptop looking pristine even after hours of intense gaming. The laptop's design incorporates AlienFX Lighting Zones, allowing you to customize the keyboard and other areas with up to 16.8 million distinct colors. The per-key RGB LED AlienFX lighting on the Alienware xSeries keyboard adds a touch of personalization, creating a visually stunning gaming setup. The Alienware Command Center further enhances customization, providing control over overclocking, thermal management, power settings, and audio profiles. With the Alienware X-Series, you can showcase your unique style and create an immersive gaming environment tailored to your preferences.
Seamless Connectivity and Expandability
The Alienware X-Series offers a range of connectivity options to ensure you stay connected and expand your gaming experience. With a USB 3.2 Gen 1 port with PowerShare, a USB 3.2 Gen 2 Type-C port with DisplayPort and Power Delivery, and a Thunderbolt 4 port with DisplayPort and Power Delivery, you can connect external devices, displays, and high-speed storage with ease. The HDMI 2.1 port allows for smooth 4K gaming and multimedia output to compatible displays, delivering stunning visuals. The inclusion of a microSD card slot provides expandable storage options for media and game files. The Alienware X-Series is also equipped with Intel Killer Wi-Fi 6E AX1675 and Bluetooth wireless connectivity, ensuring fast and stable network connections for online gaming and other activities.
Long-Lasting Battery and Power
The Alienware X-Series is powered by a 6-cell 87 Wh Lithium-ion battery, offering extended gaming sessions without the need for frequent recharging. The Alienware Battery Defender feature optimizes battery life by intelligently managing power consumption, allowing you to game for longer periods without worrying about running out of battery. The laptop includes a 240W small form factor power adapter that efficiently charges the battery, minimizing downtime and ensuring quick recharges when needed. Whether you're gaming on the go or immersing yourself in extended gaming sessions, the Alienware X-Series is designed to keep up with your gaming demands.
Conclusion
The Alienware X-Series is a gaming laptop that leaves no stone unturned when it comes to delivering exceptional performance and an immersive gaming experience. From its powerful 12th Gen Intel Core i9 processor and NVIDIA GeForce RTX 3070 Ti graphics to its stunning display, lightning-fast storage, and customizable design, every aspect of this laptop is optimized for gamers. With advanced features, seamless multitasking, and connectivity options, the Alienware X-Series ensures you stay ahead in the gaming arena. Unleash your gaming potential with the Alienware X-Series and elevate your gaming adventures to new heights of excitement and immersion.