Honor, the renowned Chinese smartphone manufacturer, has begun rousing tech enthusiasts' interest. Their eagerly awaited, ultra-slim, foldable smartphone — the Magic V2 — is on the horizon. This revolutionary device, slated for a July 12 unveiling, could reshape our expectations of foldable phones.
Spotlight on the Honor Magic V2: An Evolution in Foldable Tech
In an exciting turn of events, Honor released a teaser image, subtly hinting at what's to come. While the renderings are partial, they fuel speculation and eagerness among consumers and tech pundits alike. The left and right images offer glimpses of a slightly curved edge screen, reminiscent of previous Honor Magic models. Yet, it's the middle image that puzzles us — a different design, with boxy edges and a circular detail. This could suggest an additional upcoming device in Honor's portfolio, possibly a tablet.
Foldable Smartphone Showdown: Honor Magic V2 vs. Samsung Galaxy Z Fold 5
Honor's Magic V2 is poised to enter the foldable smartphone market, taking on industry giants like Samsung and Google. While a US release remains uncertain, the device's unique offerings could pose a considerable threat to Samsung's upcoming Galaxy Z Fold 5 and the much-rumored Google Pixel Fold.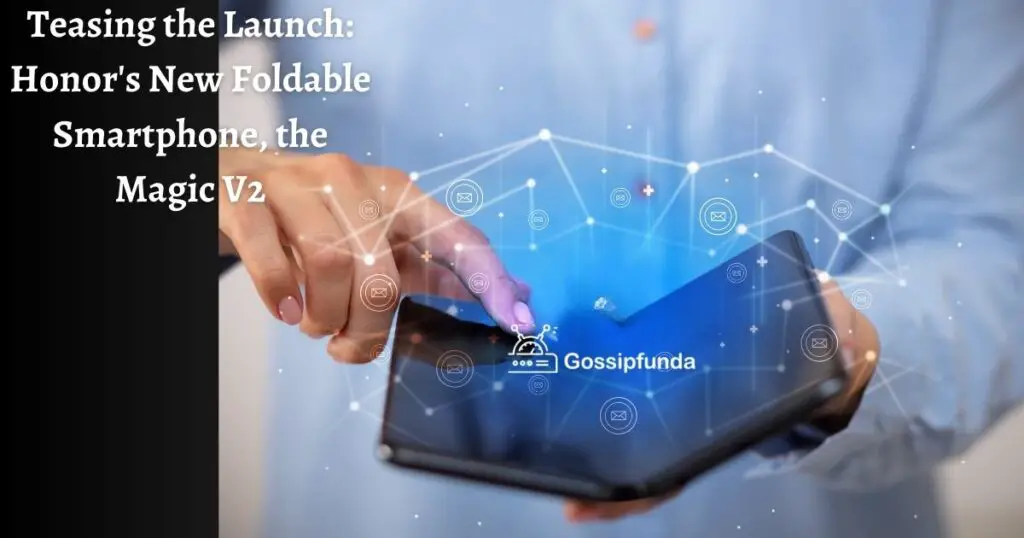 Also read: Cost to Hire UX Designers and Why it is Needed for Your Project
The foldable display, a cornerstone feature of these phones, is where we can start drawing comparisons. Preliminary reports suggest that the Magic V2 will boast a 7.9″ LTPO OLED foldable display, closely resembling the Samsung Galaxy Z Fold 4's 7.6″ offering. However, Honor's inclusion of high-frequency dimming with LTPO could offer the Magic V2 a significant edge, providing a 120 Hz refresh rate while being energy-efficient.
Power Packed Performance: Snapdragon and LTPO Join Hands
Peeking under the hood of the Magic V2, reports suggest a powerhouse performance, courtesy of the Snapdragon 8 Gen 2 chipset. Accompanying this robust processor are choices between 8GB or 16GB RAM and storage options extending up to a whopping 512GB.
The LTPO OLED display will complement these powerhouse specifications, offering superior visuals. This potent combination of Snapdragon and LTPO is expected to deliver a smooth, seamless experience for users, redefining the foldable phone experience.
The All-Seeing Eye: Upgrading the Camera Game
Rumors hint at a substantial camera upgrade for the Magic V2. Its predecessor, the Magic V, housed a 50MP rear camera with an ultra-wide lens. Now, Honor might elevate the camera game by including a triple camera setup featuring a 108MP lens. If true, this could catapult the Magic V2 into a league of its own in the foldable smartphone segment.
Battery Power: A Step Towards Wireless Charging
Further speculation around the Magic V2 revolves around its battery life. Reports suggest a Li-Po 5000 mAh non-removable battery, coupled with support for 50W wireless charging. This potential upgrade is a significant leap from previous 'V' models, which lacked wireless charging support.
Conclusion
As we inch closer to July 12, anticipation for the Honor Magic V2 reaches fever pitch. While the company has kept much under wraps, the available tidbits point towards a formidable foldable smartphone. Whether it's the display size, the improved refresh rate, the power-packed Snapdragon chipset, or the exciting camera and battery enhancements, the Magic V2 seems primed to challenge current market leaders.
However, all details will be confirmed only on the unveiling day. Though a US release remains doubtful, the global smartphone market eagerly awaits the arrival of this potentially game-changing device. Stay tuned for an in-depth review of the Magic V2, promising to reshape our perception of foldable smartphones.
FAQs
What is the Honor Magic V2?
The Honor Magic V2 is a foldable smartphone from Chinese manufacturer Honor.
When is the Magic V2 expected to launch?
Honor plans to launch the Magic V2 on July 12.
What makes the Magic V2 unique?
Features like a 7.9″ LTPO OLED foldable display and a Snapdragon 8 Gen 2 chipset make it stand out.
How does the Magic V2 compare to other foldable phones?
It's poised to rival the Samsung Galaxy Z Fold 5 and the Google Pixel Fold with its innovative features.
What camera features can we expect from the Magic V2?
Rumors suggest a possible triple camera setup, including a 108MP lens.