If your product is intended to solve the problems of your customers or change the world in any possible way, it will inevitably work with people. Probably, the idea of making products convenient and easy to use wasn't very appreciated throughout history: they must work, and that's all. You can remember all these overly minimalistic command-line interfaces or clumsy websites of the 2000s and early 2010s. Some developers still think that they can utterly ignore the user side of the application: "Don't be a noob, and that's all."
But for now, such a scheme will not work well, so you must think about the cost to hire UX designers for your project. And that's good news! It's unlikely that you want the world to be flooded with overcomplicated tools that will rather blow your mind than help you to do anything.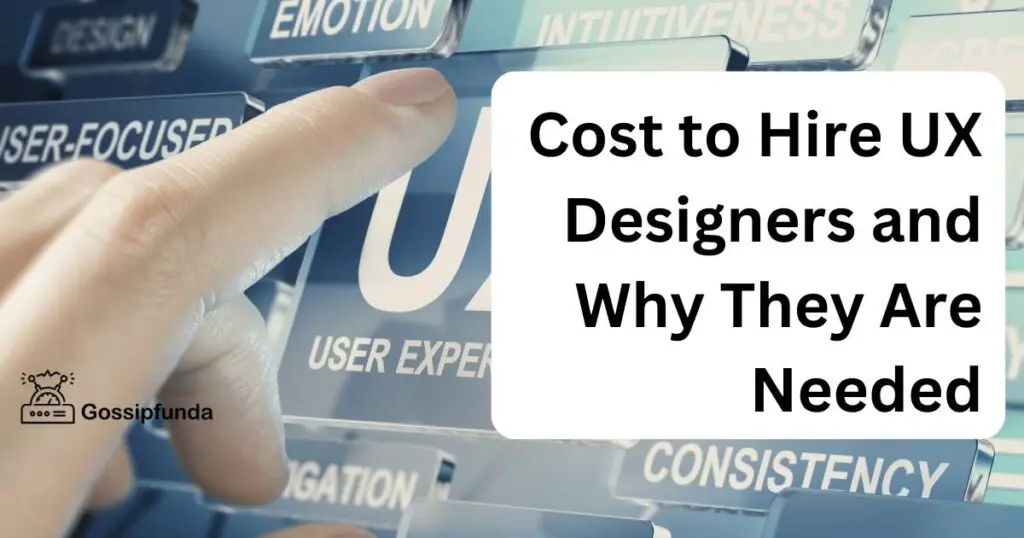 While investing in UX design incurs additional project costs, it pays off through increased revenue from satisfied users. Let's explore the significance of UX design, implementation methods, finding designers, and associated costs. A well-crafted user experience not only reduces user frustration but also enhances brand loyalty and customer retention. By prioritizing UX design, you set the stage for long-term success and sustainable growth.
Whether they are so necessary?
Let's consider an easy physical object as an analogy. A carriage should be ergonomic to move smoothly, comfortable to sit without fear of falling, and not harm horses when they are harnessed. After horses were replaced by engines, similar criteria were applied to modern cars. Throughout history, as human societies evolved, quality and safety concerns increased too. While hundreds of years ago, typical carriages were built just to move, today, even the cheapest cars have developed safety systems and are quite convenient.
A similar tendency applies to the world of software. The first computers and their interfaces were clumsy, but as manufacturing became large-scale, user convenience became crucial. Now, entrepreneurs and developers create thousands of mobile and web applications constantly, and they must compete to solve user problems in the best way. So, the need for UX designers and researchers grows by 13-19% from 2017, according to CNN Money, and continues to grow. According to The Bureau of Labor Statistics (US Gov Agency) Overall employment of web developers and digital designers is projected to grow 23 percent from 2021 to 2031.
See below a skillset of good UX designers: it's not so small and combines various soft and hard skills.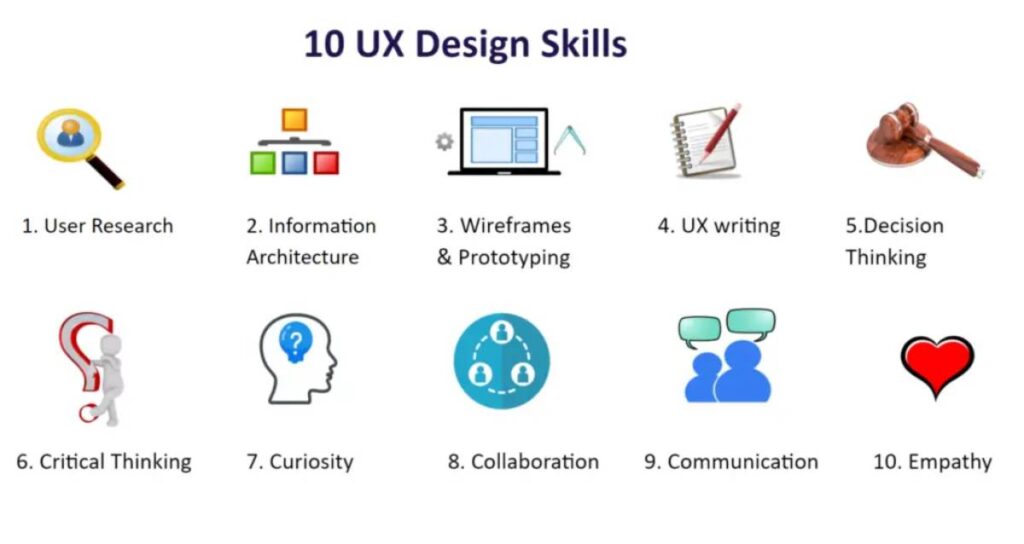 What's a usual workflow of a user experience designer? We'll summarize it in several points for you to understand how to evaluate them and work with them.
Conduct user research to understand their habits, gather statistics, and understand how to organize the product. For that, UX designers cooperate closely with app testers and marketers.
Create user personas, journey maps, and user flows, which show how users see the application and communicate with it. Consequently, they provide clues on how to design it. See examples of these maps and schemes below.
Create a prototype of the application, including all its screens and transitions between them. 
UX writing is a necessary action in all stages, which includes creating tables, diagrams, and pieces of text describing users, their habits, preferences, and how the app should behave to interact with customers properly. These writings are called user stories and illustrate what users do in the app.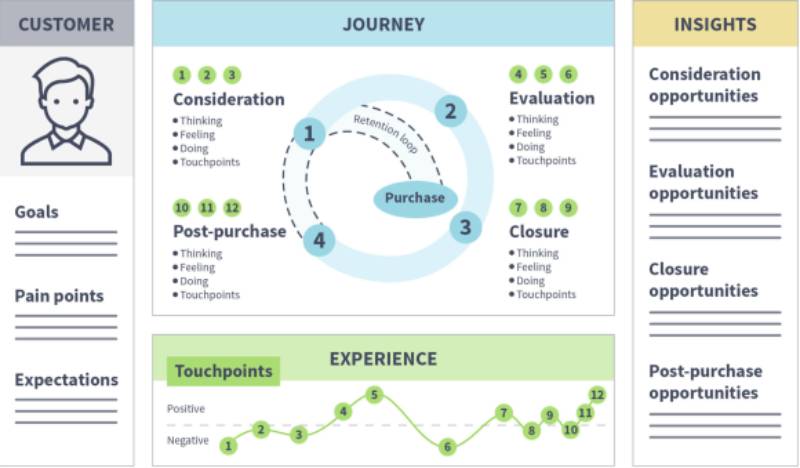 As one can see, UX designers should possess skills that relate them with product managers, testers, writers, and interface designers.
In all development teams that want to create products for humans, these people are absolutely necessary. They identify all flaws, refine prototypes, and connect the technical and user sides of your application. Certain apps captivate users with their seamless integration of color schemes, buttons, and animations, creating a mesmerizing experience. Enter skilled UX designers, who possess the knowledge to prototype interfaces that evoke such delightful emotions. So, they make the product vital, ensuring that it'll actually solve users' problems and leave them highly satisfied.
How to make your product usable
As you see, your product's technical functionality and code clarity is only one side of the picture. The other side is how well it interacts with your users. See below an example of a payment app design from Dribble that shows how the functions of payments and price monitoring may be realized creatively and comprehensively. 
So, let's summarize the three important elements of a usable product. Of course, there are many more, but we'll concentrate on the user experience part now.
🔵 Nice color combinations to guide and attract attention while not causing cognitive overload.
🎮 Appropriate animations to ensure an interactive experience and make all features usable.
🗄️  Menus and screens that users may select quickly and easily. The fewer clicks necessary to access any part of the app, the better.
Make your customers love you, not hate you
As you collaborate with developers and testers on your application, ensuring its seamless functionality and user satisfaction is paramount. Enter UX designers—experts who thoroughly examine your app, highlighting any flaws and providing actionable recommendations for improvement.
In addition to that, they are closely connected to your actual and potential users, as they must research and understand them. UX designers are often directly engaged in communications with them to gather data and then create maps based on them. Lastly, they work with your prototype and often do a large amount of design work by themselves.
If everything is good, the reward is the product that causes joy and admiration, not tears.
Where to find?
Searching for good UX designers may be a tricky task, so before that, it's better to understand their key competencies (we'll summarize them soon!) to know how to evaluate them. 
A good place to start is the websites Behance and Dribbble, where thousands of designers publish their works. Check also Upwork, which clearly shows you the rates of each designer. And, of course, don't forget about LinkedIn, where you can easily connect and communicate with the designer.
How to select?
Let's summarize everything about their skills, competencies, and other criteria.
UX is multidisciplinary, so make sure that your candidate understands interface design, is proficient in writing and prototyping, and that you can communicate with a candidate seamlessly.
Check how they are familiar with crucial UX tools: Adobe Illustrator and Figma are among the most necessary, and a good designer will also understand web programming.
Design thinking includes prototyping, ideation, and testing. These three stages are crucial for obtaining a good product, and a good designer always applies them.
Empathy means the ability to understand others and perceive their emotions, and you may easily evaluate empathy skills during the conversation. It's essential for user research, to connect with them, and for successful cooperation.
How much may they cost you?
Now that you know where and how to search for them, we can evaluate the approximate cost of good UX designers. It's important not to skimp on them, taking the large skillset they must apply to make your product actual and usable.
There are various rates depending on the years of experience, country of residence, and overall designer's success and dedication. The more dedication they have, the better their work will be and the more money they may charge. Typical rates are $15 – $100, despite the fact there can be higher ones. A typical UX project lasts 1-1,5 months, together with all research and testing. 
The more features it will have, the more UX research and design are necessary. and so the longer will be the development time, as well as the price. Also, if you clearly formulate and prototype your project in the early development stages, it'll be developed much quicker. Lastly, the more elements, such as buttons and icons, will be created from scratch rather than re-used from stocks or patterns, the more it will cost you.
Based on that, you may calculate the total price. Only in rare cases it'll be more than $15,000 – $20,000, and usually only several thousand dollars. Would it be worth the usable and adorable product which brings you money and customers' love? 
However, ensure that your costs will actually serve the purpose: check the list from the previous section again and see whether your candidate corresponds to these points.
Conclusion
A good UX designer must be present in every development team. He or she ensures that the product will indeed fulfill its purpose and deliver value. It's a multidisciplinary field, requiring design thinking, writing and prototyping skills, and good organizing capabilities. So, to hire a good guide for your product's usability, make sure to check their competencies using the list. You'll be in a much better position on the market if your tool will solve your customers' problems and satisfy their desires without any flaws.