Well, techies! In this article, we came with a very prior topic: software development outsourcing. At present, most of the students are developing their careers in software developer engineering. And this is a very high-demand profession in the world. We are going to provide you with complete guidelines to make you understand software developer outsourcing. And, you can learn the whole required knowledge here only on this single page. 
You can learn about the entry-level questions to the high-level questions here. If you are a professional in IT background. Then, this article will help you to out, your doubts about this outsourcing term in software development. You are a fresher, and you want to enhance yourself as a software developer. Then, you must learn this content from the beginning to the end. Then you'll get the best knowledge of your chosen career area.
And we will tell you about the relevant things which you should know about software development. Suppose you are doing a job in the position of a software developer. Then, you can know how to do outsourcing software.
Do not miss: How to become a Full Stack Developer?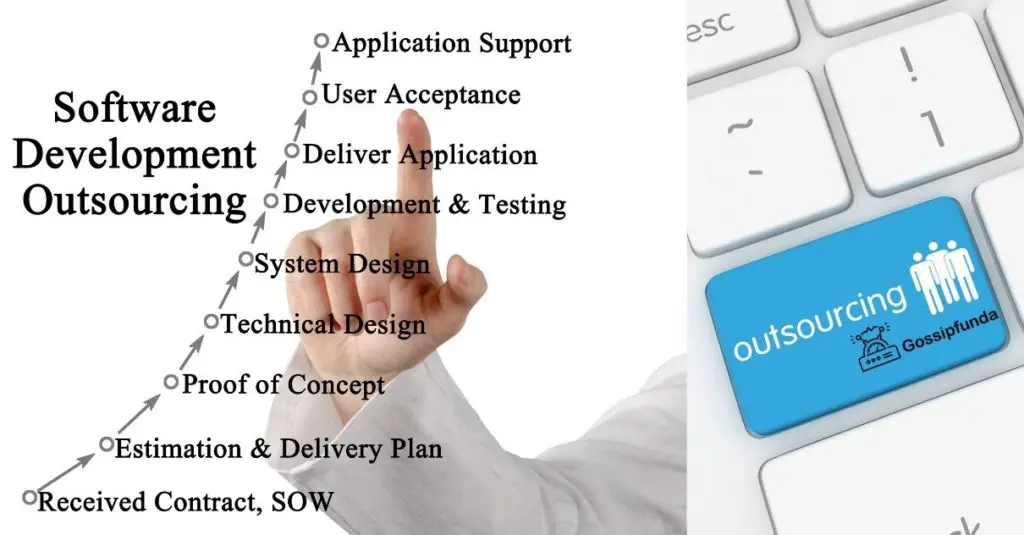 What is software development outsourcing?
Let us first understand, in simple words:
Outsourcing – As its meaning is hidden in its name, software development outsourcing means developing software through an external source. That's why it is called software development outsourcing.
Furthermore, an organization hires an outside company. And it has entrusted it with the task of doing all the prescribed tasks of software development. Thus, the software development work can also be done from home.
The organization selects a vendor who is fully qualified and competent to do the work of software development work and entrusts him with the task of doing the software development project well.
Why it important?
Outsourcing software development is important because it allows you to focus on your business better and focus on other business activities, such as branding of products and researching innovative ideas, etc.
Like we have told you, for outsourcing software development, you have to hire a company or a qualified candidate. You can soon reach a qualified candidate who is best for your company.
 It is very important for this. Because, with the help of a qualified candidate, you can get your software done sooner. There is no chance of mistakes in it. And a well-qualified candidate can develop software quickly with fewer errors. And you can deliver it for its users.
What are the services?
Now we are going to tell you about the services which the software developing companies provide.
When we talk about software development outsourcing services, first of all, some famous services are included in it, such as web and mobile applications and cloud computing applications.
The robotic automation process is also a part of software development outsourcing. These given services are very much in trend nowadays.
Along with these innovations, which are being developed from robotics. So it is also included in software development outsourcing.
Examples of software developing services –
Data science with artificial intelligence and machine learning-based projects.
Chatbot, data collection, and data storage.
Computer vision and image processing-based projects.
Blockchain-based development projects.
Open Source projects.
IoT-based projects.
Web development-based projects.
Android application.
Mobile-based solutions.
Is it good to do software development outsourcing for new startups? 
Yes, it is good to do software development outsourcing for a new startup. Because it gives you so many advantages, and it allows you to save money. And, you can hire an employee for remote work.
And in a new startup, you need to focus more on your company. Because if you are free from such kinds of work. Only then, you can focus on other important activities. And you can focus on another part of the company.
When, we are starting a new company. Then we need to focus on some key points to grow our company. Suppose we are not free, then how can we do focus on the required place. That is why outsourcing is very important to a new startup.
What are the technologies for software development?
There are so many software development technologies and new tools, which are useful for software development. And these companies will come up with the latest technologies in the market.
Technologies –
CSS and HTML
C and C++
Javascript and java
Android and ios
Database with oracle and Postgres
NET and PHP
Some of these technologies are used for web development. Some of these are uses for android development. And others have their different uses.
Is there any benefit to outsourcing software?
There are more benefits to doing software development outsourcing. But now we are going to tell you about the basic key benefits.
Benefits of outsourcing –
Sustain operational control.
Advance staffing flexibility.
Concentrate on core tasks.
Lower costs.
Encourage growth.
Furnish continuity and risk management.
Strengthen internal staff.
These are the benefits of doing software development outsourcing.
Now I am going to describe some key benefits. It can help you to focus on the core tasks of your company.
It can affect costs also. This means software development outsourcing gives lower costs.
Why do we need to outsource?
We need to outsource. Because of outsourcing, we can focus on core activities in our company. 
We hired a qualified candidate to develop software. So we feel free. And with a free mind, we can think about all the necessary concepts to grow our company.
That is why we need to do outsourcing. And it is a very important part to increase the growth of our organization. 
What are the advantages of doing outsourcing?
Software development outsourcing is a kind of project. And you can save money by outsourcing the software. It allows you to hire good candidates who can work from home for your company. 
Flexibility – outsourcing gives flexibility in work because companies can hire customers only when they have needs.
Remote work – companies can save their money because they have to pay less in hiring candidates.
Control labor cost 
It can implement risk management.
It can assist the growth of a company.
What are the disadvantages of doing outsourcing?
There are some disadvantages also. Now we are discussing the negative points. That can come into outsourcing.
Name of issues 
One of the main issues is security risks that mostly come from it.
The second issue is collaborations. Because when we hire candidates for work from home. So candidates can belong from different cities. And their language can also be different. So the collaboration issues can come. We can be confused when communicating with them in different languages.
Sharing risks is also one of the biggest problems by doing software development outsourcing. You can feel difficulties in risk-sharing with the employees.
Another problem is privacy.
Poor communication skills can have a bad effect on the group discussion while discussing the projects.
What should we check while hiring a software development outsourcing?
There are some basic things that we need to look at in a software developer.
Check communication ability.
Check their coding experience.
Understanding skills of the project concepts.
Check their additional Loopholes while signing the contract with them.
How much does it cost to do software development outsourcing?
There are two types of costs involved:
Cost for junior engineers –   we have to pay less cost for junior engineers. They have intermediate-level experience in coding.
The cost for juniors is 15$ to 45$.
Cost for senior engineers – the cost for seniors is 50$ to 100$. So they have advanced level experience.
And the cost can differ for both. It depends on the variety of outsourcing. And this is a cost for hourly based.
How can you do software development outsourcing?
There are some essential steps through which you can do software development outsourcing.
Select the Outsourcing Model.
Make a clear intention for outsourcing your software construction.
Add the project management and collaboration skills with the remote team.
Set your expectations.
Put milestones.
Select a good candidate based on their experience and coding skills.
What are the best companies?
There are so many companies that are doing software development outsourcing. But for now, we are going to tell you about some selected companies.
Saigon Technology – this company makes cloud-based applications.
Aalpha – work on cloud-based software.
ScienceSoft 
fayrix
Lavasoft: It is a top company. It got a gold partnership with Microsoft.
Qubit Labs
Xicom Technologies
Pixel Crayons
BairesDev
ArrowHiTech
Value Coders
These are the companies given, which are doing the outsourcing. All these companies are hiring software developers. You are a person who has the profession of a software developer. 
They can go on the websites of these companies. And you can check the requirements and other things. May this article help you to know about the companies, which are for software developers.
General guideline?
We have given you a complete guideline for software development outsourcing. You can read this content from the beginning. Then you will get a piece of complete knowledge about this.
And we have told you about the required facts. That, you should look at while hiring the candidates. But some of you may be the candidates. And you are reading this article, and then we have focused on you also. We have told the companies' names, which are hiring the software developers for work from home jobs.
Summary
While giving the summary of software development outsourcing, we just want to say that we have tried to describe the complete guideline about this. Now you must have the fundamental knowledge of outsourcing. However, we told you the benefits of why we should do this to grow our company. Thus software development outsourcing is a helpful technique for companies. Finally, it helps the company to focus more on its business models.
And it also helps us to save money. So we can hire candidates for work from home jobs. And we can pay less in work from home jobs than the office work. While reading this article, you can read about the technologies, which you should know. In other words, you have relevant experience with those technologies. Only then companies will hire you.