Small SEO Tools
Today's discussion is regarding some small SEO tools used in the process of Search Engine Optimization or simply we are going to dive deeper into some Basic SEO tools. Before moving ahead let's understand a bit about SEO, after all before knowing about the tools at least one should be aware of the activity to be performed by the use of the tools.
Abraham Lincoln once quoted, "Give me 6 hours to chop down a tree and I will spend the first four sharpening the ax."
Such is the importance of having the perfect set of tools for any task. Having the correct set of tools makes you more efficient and the work gets a lot easier.
SEO basically involves a set of techniques used to improve the ranking of your website in online searches. It consists of methods to understand and exploit the algorithms according to which queries of users are responded by search engines. Adding CSS to a website is necessary to make it attractive to users around the world. Similarly, SEO is necessary in today's world so as to make your website more appealing to search engines. After all, it is the search engine that acts as an entrance to your website, for the outer world. SEO tools make this herculean task of analyzing trillion bytes of data spread over the entire web and providing you strategies to modify your content so that your website attracts search engines.
Powers Possessed by these tools:
SEO tools perform multiple functions and thus are extremely powerful and why shouldn't they be? After all hefty tasks demand robust functioning tools and techniques. These software and platforms are used for different tasks like keyword maintenance, content management, backlink analyzing, ranking of a website, traffic analyzation, and handling. Let's discuss in short what are these techniques.
Keyword
Basically every search request is all about keywords that the user enters into the search engine as a query. Keywords can be thought of as the link between the search results of the query generated by the user and your website. Whether the hashtags on Instagram or the video tags on YouTube, all are examples of keywords. Using the correct keywords in your content nearly does most of the work. SEO tools like KWFinder analyze the statistics of various keywords thus providing you with the idea of which keywords to be used in your website so as to make it rank higher in searches.
Content Management
The game is not just about using the correct set of "words" in your website, it also depends upon where and how to place the keywords within your content. For instance the most optimum position is to include them in the titles.
Backlink Analyzing
In simple words backlinks are the links of your website on other websites. This is a great strategy to drive users to your website from a website having heavy user traffic.
Traffic Analyzing
SEO tools are also used to perform a traffic check on your websites, one of my favorite features because it narrates to you regarding the number of visitors of your website and also at what time you get maximum user traffic on your website. You can analyze the type of audience that is being driven to your website easily and efficiently.
The Key Players in  the Market
A variety of SEO tools rally around in the market, many of them providing decent services free of cost while few companies even charge money for their products and services. First, we'll traverse the list of free SEO tools and then the paid ones. Also by the end of this article, you will understand the importance of paid SEO tools and reasons for investing in them. So let's begin with the best SEO tools that are free of cost. The best SEO tools that are free-to-play with are from the very known giant Google. After all when the biggest search engine is Google then why not the best tools be provided by it for search engine optimization.
Basic SEO tools by Google
Google PageSpeed Insights
This tool is provided by Google as a part of its SEO platform Google WebMasters. Google PageSpeed Insights analyzes the speed of loading of your content on desktop as well as smartphones and produces a score of your website. For instance, here I searched for the results of a website "unsplash.com" which is a website that provides free images.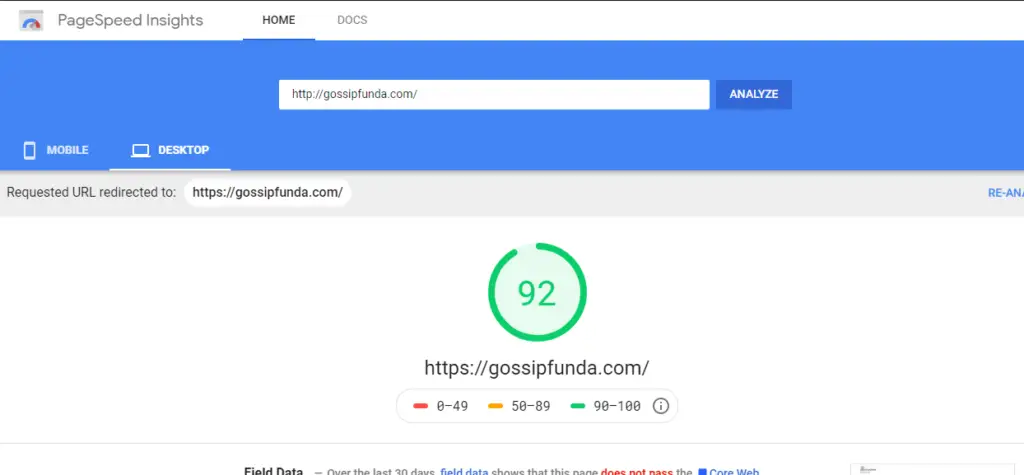 Google Trends
It displays figures and statistics related to the number of searches performed on different topics around the globe on its a search engine. Trends shows which topics currently trending in google searches and even sorts results according to parameters like country, time, etc. Here is a snapshot of the results displayed by Google Trends for the search term "corona."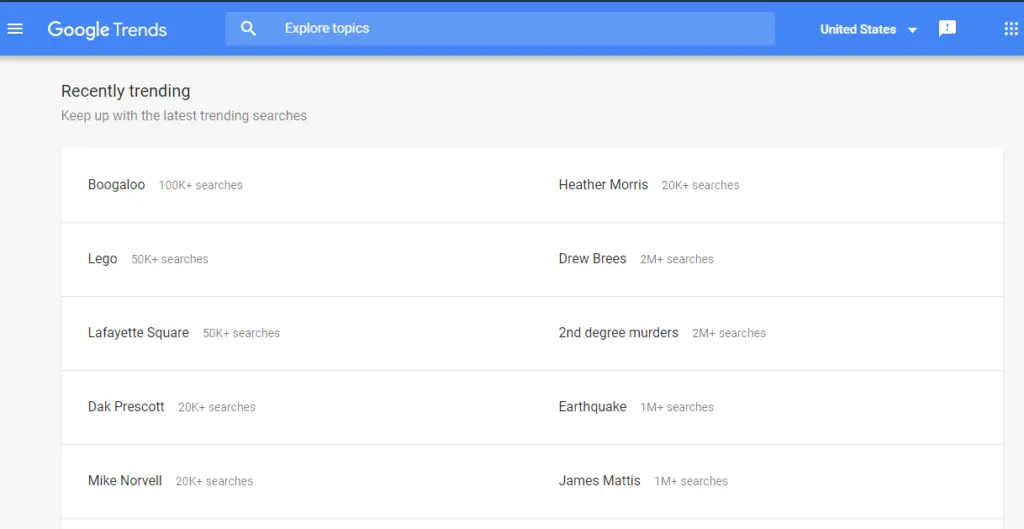 Google Analytics
This is a free service provided by Google to users to check the traffic on their website and analyze the traffic on the basis of various parameters for instance the different countries from where the traffic is being driven on your website. Google Analytics provides you with sufficient data so that you can track the returns of your investments (if any) on the marketing of your content. It is attached as a snippet to the JavaScript code of your website.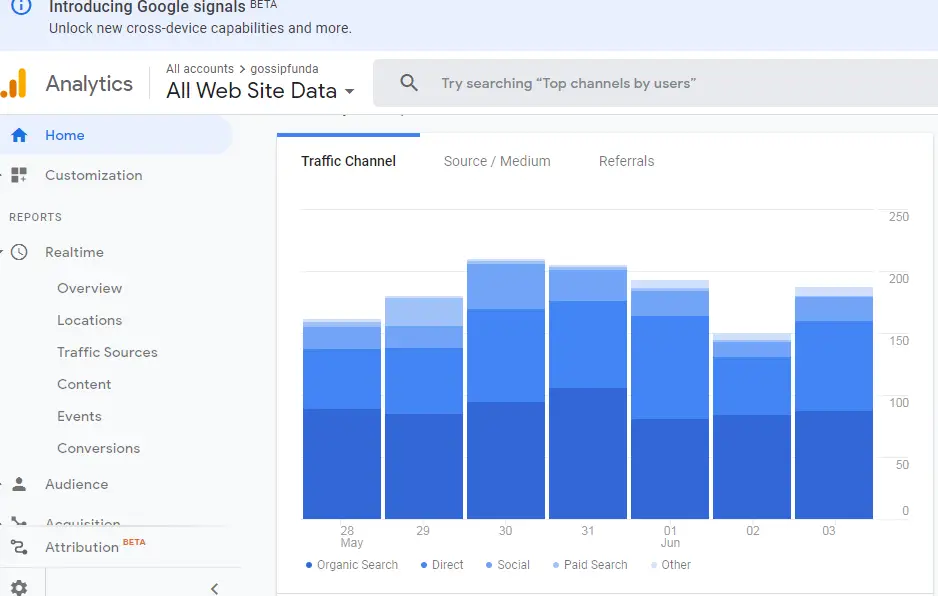 Google Search Console
This is a powerful tool provided by Google for free. It provides you with the information about your website's presence in Google searches. It can also be used to extract information about websites that have links to your content. This was first a part of Google Webmasters platform and now is an independent platform. The Google Search Console is free and easy to use.
SmallSEOtools.com
If you are looking for an allrounder in the field of SEO then this platform is the ultimate destination. This platform provides tools for Text content, Image editing, Keywords analysis, Backlinks, website management, and whatnot. Well, now that we know that this platform is a jackpot in the field of SEO let's dive deeper.
SmallSEOtools provide some really awesome tools. The products come into use not only for SEO but for many other tasks. For instance, it has a plagiarism checker, a grammar checker, website manager, online pdf converter and the list goes on and on. Here I am discussing some really cool SEO tools on this platform. I leave the rest of the tools for another day.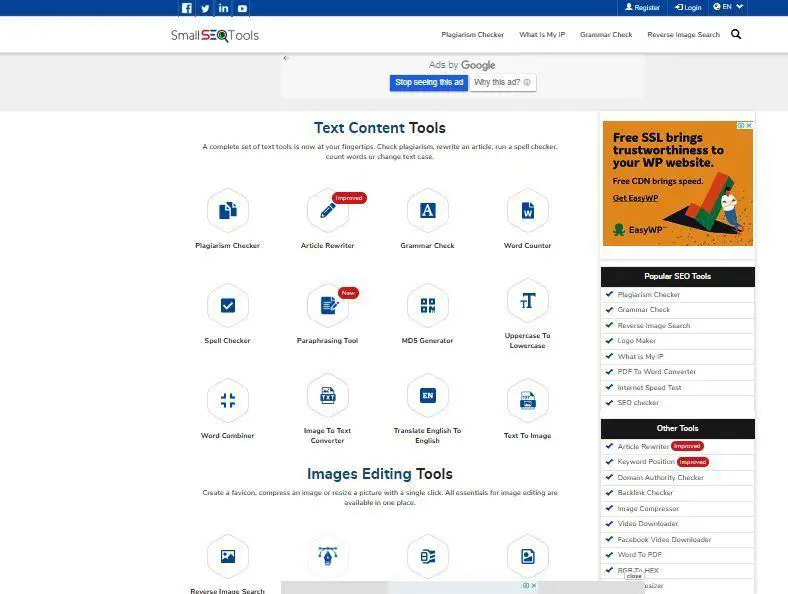 Plagiarism Checker
This is the most used feature of the platform. Plagiarism is imitating else's ideas or content and presenting it as yours. The  plagiarism checker on SmallSEOtools compares your content with the content of at least a billion other web pages. It then displays results showing the amount of plagiarism in your content. The results provided are nearly perfect.
Grammar Check
A tool useful for all the Grammar Nazis out there. Jokes apart, any content to be published over the internet has to be grammatically correct. The content of a blog or an article are checked for their grammar before being published. The grammar checker of SmallSEOtools is quite good to accomplish this task. You can check the grammar, number of words in your write-up. A statistical analysis is provided of the content you upload. Just copy the content and paste it on the text area, or you can directly upload the file as well.

Keywords Research
Another tool on the platform that is useful for SEO. Keywords as discussed before in the article, are the backbone of SEO. The Keyword researcher suggests the best keywords for the domain you specify. TA tabular analysis of the different keywords is also provided. For instance here is a snapshot of results for the domain, "unsplash.com."
Paid Keyword Finder
This another gem of a tool present on the platform. With this one you can find about the keywords that your rivals are paying for. This tool gives you an idea about the paid SEO services being used by your competitors.
Backlink Checker
SmallSEOtools provides you a free backlink checker. You can check the backlinks of all the web pages present on the domain or only the home page. Backlinks are quite important for analyzing traffic on your web page.
PageSpeedTest Checker
It is well said that time is money. There is not a single user on the planet who likes pages that take an eternity to load the content. Hence fast page load speed is as important as quality content. The Page Speed Test checker on this platform provides you with all the statistics regarding the speed of your web page. For instance, loading speed of images, ads etc.
Some more free SEO equipments
Kewordtool.io
This is a partially free keyword generator tool. It will suggest the best keywords applicable to your content whether it is a website, blog or a YouTube channel but you have to pay for the Pro version in order to view all the statistical figures.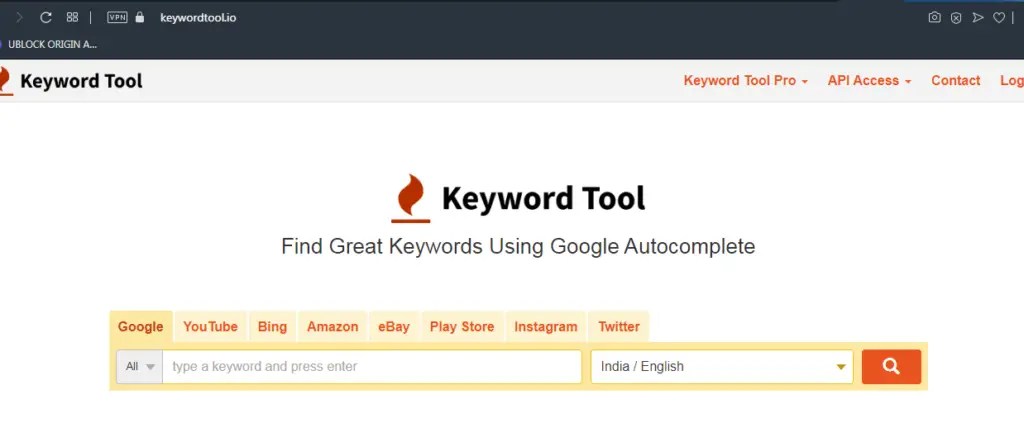 Ahrefs SEO Toolbar
One of the best Free of cost SEO tools. Ahrefs SEO toolbar gets attached to your browser as an extension and displays basic SEO metrics of the different sites you visit. There is no need to download it as a software and visit it separately, searching for SEO related data. It displays figures related to backlinks, user traffic, root domain etc. on the go.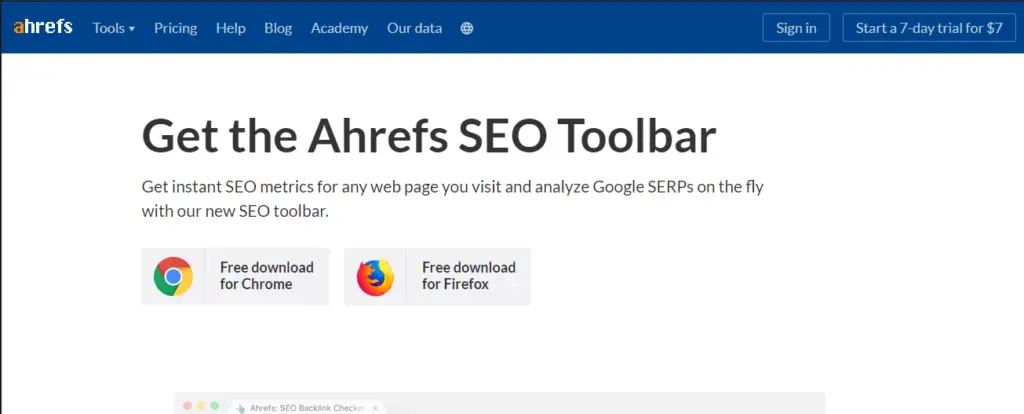 SEO Page Analyzer
Another decent free to use product for web page analysis. This tool tests your web page on the basis of parameters like usability, accessibility, content credibility and generates a report of your website accordingly. It is also available for iOS users on AppStore.
A few paid SEO Weapons
A question that makes everyone curious is, "Why to pay for SEO tools when you can get so much for free?"
Well, as a matter fact you get so much for free but it is never enough. Paid tools provide you with much more precise data and analysis. Also the volume of data provided is abundant and there are many other services like training, advice etc. for which you are paying. We all know that most of the websites are deployed to generate money and spending some amount on the optimization of the searches acts as an investment which pays off in the near future. So let's dive deeper into the market of paid SEO tools.
Keyword Explorer By Moz
Moz provides some of the best paid as well as free SEO tools in the market, including the Keyword Explorer and Domain analyzer. All you need is to sign up on the website to get free access to 10 queries per month. The pro version comes at a pricing of 79$ a month. The Domain Analyzer by Moz is free of cost and can be used by signing up on the website.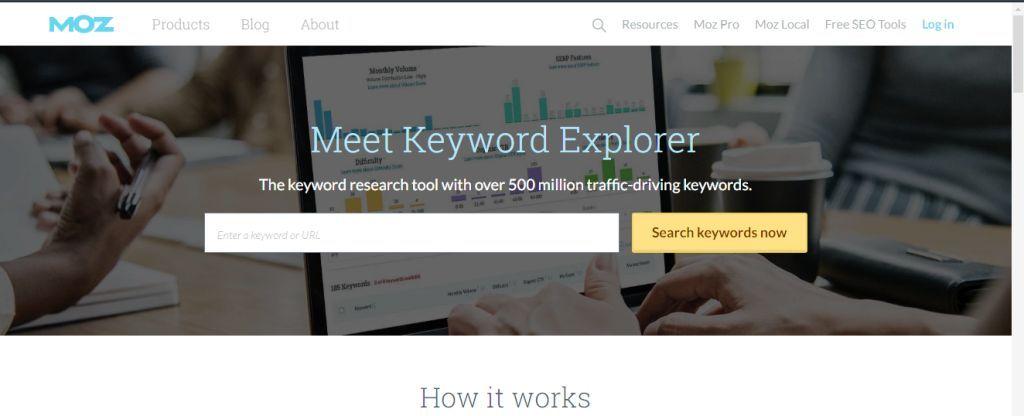 KWFinder by Mangools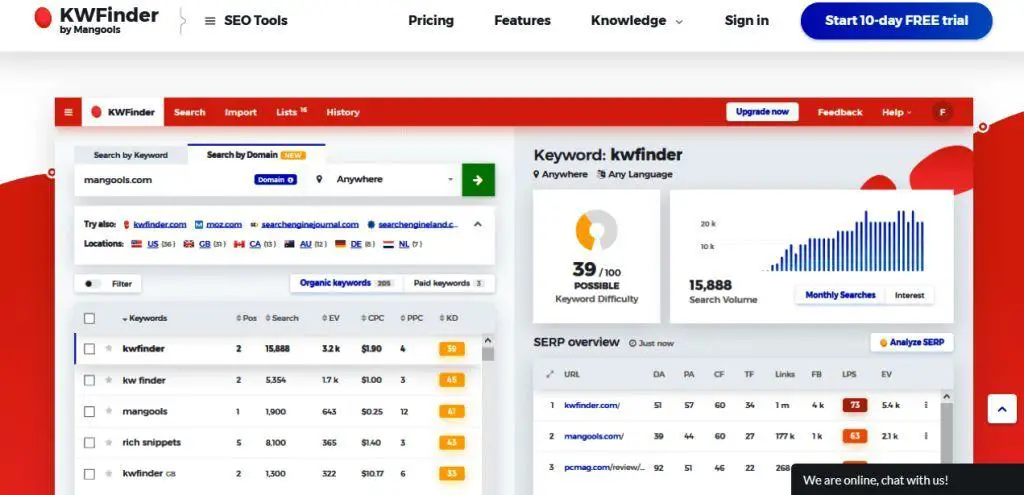 KWFinder is worth giving a try seeing the amount of data provided by it, coming at an affordable price. The paid subscription comes with services like Keyword finder, SERP checker, Backlinks analyzer, and much more. A one-month subscription to the premium plan of Mangools company costs you around 35.91$, which is quite attractive considering the services provided by the company.
Topvisor
Topvisor is another great tool for research on keywords and backlinks. A perfect tool for keyword research, web page analysis and determining user traffic on your website. Topvisor comes with an interesting pricing system, rather than paying for a monthly or annual subscription you can pay according to the number of searches you perform or the amount of analyzing you require to be done for your domain.
Google Keyword Planner
A paid tool by google which comes as a part of Google Ads platform. Google keyword planner also generates data about the different keywords popular in your domain and comes up with suggestions as well. The pricing on this platform is also quite attractive and can be adjusted according to the amount of traffic on your website.
SEMrush
SEMrush is a Boston based company that provides paid SEO products and services. For instance, services like Technical SEO audit, Backlinks audit, Competition analysis, and much more. The pricing of the subscription is quite heavy. But it balances with the amount of services you get. Let's discuss a few services of SEMrush.
Web Traffic Analysis
The most exploitable tool provided on the platform is the Web traffic analysis. It even provides you with features like getting more organic traffic on your web page.
Social Media Handling
SEMrush gives you the privilege to handle all the social media accounts related to your domain from one place. Also statistical analysis of your account is provided on the go. Data like posts, followers etc. can all be handled from a single platform. Also you can add a Chrome Extension of the platform. The extension provides you with all features without the need to open the platform.
Just by creating an account on the platform you get a free 30 day access. You can try the services of the company for a month before starting to pay. Moving ahead let's take a quick look over the subscription costs.
Conclusion
So it is not to be told how important SEO is in the current scenario when google gives you thousands and thousands of links as a search result of a single phrase or even a word. Whether your content fits among the first few of those links or not is a question to ponder about because we all know that rarely a person visits the 10th link provided by Google, leave aside the second page of links.
Though you can get too much for free in the SEO market but you gotta pay something to get an edge over your competitors. Also the services offered by these tools come at lucrative prices. In my opinion in the beginning try to get the maximum out of the free SEO tools and then move forward into the paid market. Also, keep on analyzing the returns on your investments so as to get an idea of how much the SEO tool has been beneficial for your website.