Flashing a phone is not a tough task, trying to figure out how to flash a phone? Want to make your phone as good as new? With custom ROM and flashing, you can do make your android look like your favorite smartphone. We made a step-by-step guide for you on how to flash a phone with ease. Learn everything about flash with our article and be ready to root your phone in no time.
Keep in mind about flashing which could make your phone a paperweight. Know about the advantages of flashing a smartphone. Know all you need to know before attempting flashing with illustrations and examples. We listed the best flashing tools for different android smartphones. Not all OEMs make their phones easy to flash and customize.
What is flashing?
Flashing refers to overwriting one of your phone's partitions with an image you may have downloaded elsewhere, but it usually extends to installing many other things, such as root or another OS on your phone. And if we speak in layman's terms, flashing will come under these activities:
Installing a custom recovery (such as TWRP or ClockworkMod), which allows you to try things like making a backup of any part of your phone, root your phone, install or flash zips containing a custom OS, and lots of others.
Usually done after installing a custom recovery, the recovery allows you to "flash" arbitrary files. One among these could also be a file which "roots" your phone, allowing you to try a variety of different things that are usually blocked because they require "Super user" permission. Use a tool like Nandroid Backup to perform a full backup of your phone, and lots of other things.
Installing a custom OS (such as Cyanogen OS rather than Stock) so as to get a customized experience, get remove bloatware, or the other reason. This is done after installing a custom recovery.
Restoring your phone to the stock firmware means to make it as it came in the box.
Note: You should not try flashing your phone if you don't know what you are doing. This may cause data loss or soft/hard bricking your phone which is a really bad thing while flashing. Soft bricking is not harmful at times.
Remember a hard-bricked smartphone can become as useful as a paperweight.
Useful Blogs for support
What is ROM?
ROM is another name for the OS of your android device. With custom ROM you can have features that are not supported by original ROM. If you've got different smartphones over the years. You would possibly be knowing the different smartphones have different specifications, different working, different UI. Now suppose your mobile has Android Kitkat, and you would like it to be Android 10 (there's no name for Android 10 ) or Android 11. Then you would like to upgrade to Android 10. But your smartphone manufacture stopped support for your phone's model. Flashing a custom ROM will let you use custom ROM. Giving additional features and turning your smartphone's UI completely. But keep in mind that flashing a random ROM can brick your phone.
But if you don't know what you are getting into. Then we would suggest you remove the idea of flashing your phone. Because if something didn't go as planned then your phone can get bricked. Meaning your boot loader will be corrupted, making your phone useless.
For flashing we would suggest you use a PC. As it is simpler and faster than using the smartphone for an equivalent. Then you should use the Team Win Recovery Project as it is best for flashing a custom ROM that we have used so far. Keep in mind to find the correct custom ROM before flashing your phone.
Why you should flash your phone?
A partition of SD card can be used as internal memory (useful for mobiles that have very low internal memory). This can make your life a lot easier as you no longer have to sacrifice big apps.
Creating a link for a particular directory on sd card as if they were located on internal. For example, can be used to create directory bind. 
For installing Custom ROMs and kernels.
If you are suffering from insufficient RAM. Then you can create virtual RAM (swap) (slower than ram; faster sd card classes are faster) from a partition in your SD card. 
Compressing memory data to increase storage capacity.
Installing a custom loader that is useful for the easy installation of ROMs, updates, and kernels.
You can remove any bloatware or unwanted app which your phone manufacturer put in.
You can modify or change your UI to look like any other UI. For example, you can make your phone look like an OnePlus device with Oxygen OS. Or use theme engines as Substratum on your smartphone.
With Xposed modules, you can do anything with your smartphone. No person on earth can tell you all the things you can achieve using Xposed. For example, customize your hardware buttons, status bar, navigation bar, screen dpi, get YouTube ad-free, play YouTube within the background.
Amazing thing is that you can change your GPS position or change your phone CPU's max and min working frequency. But only if you know what you are doing.
Note: There are a number of custom ROMs you can download and flash. This can be achieved by rooting and unlocking the bootloader. Every ROM is made with a different purpose in mind. Some are made for faster/better performance or overall battery improvement or options to customize every nook and cranny.
Download custom ROMs:
A step-by-step guide to flash a phone
In this guide, we will be using SP Flashing tool as it is much easier to use. In a similar way, you can use other tools too. If you want a separate article on any tool, plz comment.
Follow our guide on how to flash your smartphone without having much trouble. Don't do anything differently to avoid any bricking or crashing.
Keep in mind to find the ROM suitable for your task and only download trusted ROMs.
Charge your phone completely before rooting.
Step 1) Download SP Flash tool from here.
Step 2) Install the application on your PC and unzip it.
Step 3) Once unzipped, open SP Flashing tool with admin privileges.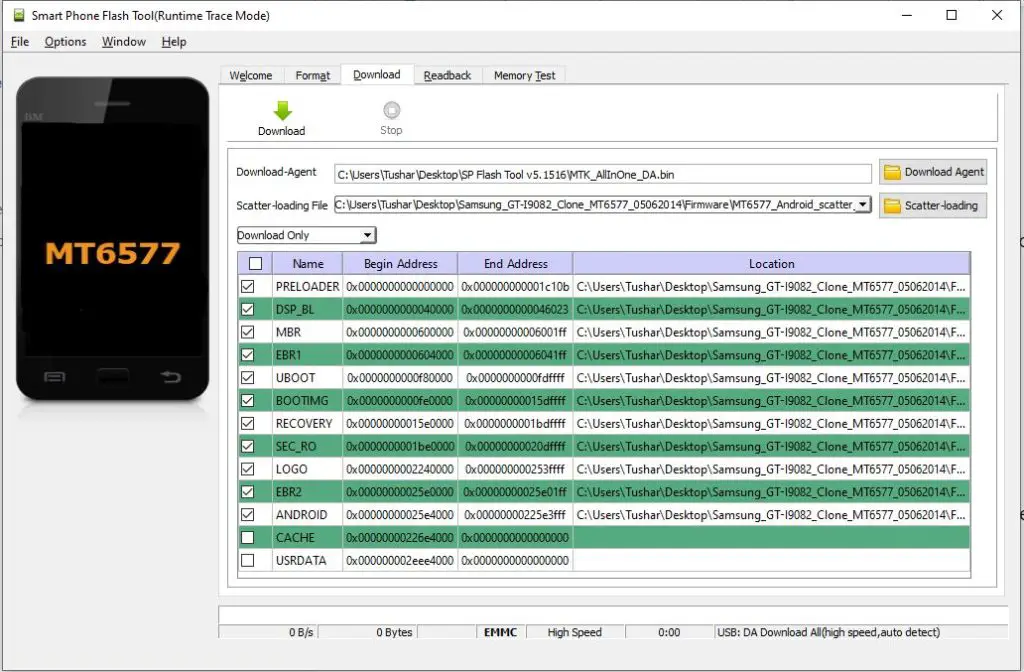 Step 4) Download firmware for your phone from here.
Step 5) Unzip folder once done.
Step 6) Shutdown your phone and connect via USB. Remove battery if possible.
Step 7) Click on "Download Agent" and open "MTK_AllInOne_DA.bin" in the SP Flash Tool folder.

Step 8) Click on "Scatter-loading" and open "MT6577_Android_scatter_emmc" in the firmware folder.

Step 9) Click on Download.
Step 10) Once done, reboot your phone.

What risks are involved in flashing your android
As we told you if you don't have proper knowledge about flashing. And if done incorrectly, it can soft or hard brick your phone.
Requires experience or patience in learning to avoid or minimize damages.
Increasing your phone's memory with this method from 500Mb to 1Gb will not make your phone as fast as a phone with actual 1Gb RAM.
You will be voiding your warranty if you decide to root your phone, nowadays almost every manufacturer will cancel your warranty. To avoid, unroot your phone and flash the backup you made before starting the guide. Your phone will be as good as new after doing this and you can send it for any repair.
You will be vulnerable to viruses/malware and cyber-attacks if you decide to root as there will be no security patch from the side of the manufacturer. If you wonder on wrong websites or download any unofficial apk or application, then you risk cybercriminalS stealing your data and infecting another device that interacts with your corrupted files or software.
You can run into bricking than you risk corrupting your smartphone during the rooting process. To avoid this you must do your research as every custom ROM is different and every rooting software is different. Make sure your phone is fully charged before you attempt to avoid bricking.
Note that some apps may not work on a rooted device as some companies want to protect their apps, banking applications such as Google Pay will not be supported as the rooted phone can tamper with their survey.
If you can't root your phone
Here are some of the best flash tools for almost all smartphones:
Samsung smartphones- Odin, Kies, Smart switch.
iPhone- iTunes,3u tools.
Mediatek based phones (like Huawei, Lenovo, Xiaomi, Karbonn, Lava, Gionee, Micromax, ZTE, etc)- Sp flash tool.
Motorola-Rsd lite.
Qualcomm based phones- QPST, Qualfast 
Xiaomi- mi pc suite, Xiaomi flash tool.
LG- Lg flash tool
Sony- Sony pc companion, Xperia flash tool(by androxyde).
Summary
So we learned how to flash your android along with all the benefits and downsides. We would still suggest you think hard if you really need to flash your smartphone or not. Because if you don't know what you are doing, then you can brick your phone. Soft bricking is easy to remove and relatively harmless. However, if your phone got hard bricked, then it will be as good as your new paperweight. 
Flashing old smartphones is the common practice, as the primary phone or daily driver is safe. Alongside all of this, you should not do online transactions with the flashed phone. As there is no security patch to protect you from hackers and fraudsters. To avoid such situations, you should have a separate daily driver with the original ROM. 
Disadvantages aside, there are many plus sides to a flashed phone. We here at Gossipfunda flash our old phones, and it makes them from trash to working again. However, they always act as a backup device or in case of emergency. But as the saying goes, better to have something than nothing. These phones can come in handy when your main driver is gone for repair or is damaged. Interesting use of old phones are like GPS trackers, you can put an old phone in your car with GPS on. This way you can track your car easily, or even hide the phone somewhere to find it if it gets stolen. 
Always follow the steps as mentioned and learn about flashing before attempting it.