The gaming experience on iOS has reached new heights since the compatibility of games available on the App Store with gaming controllers such as PlayStation DualShock 4 and Xbox Wireless Controller. Gone are the days when the controllers were only restricted to PC and consoles. Now it's just a matter of seconds in which you can pair your controller with your Apple Device and jump into the world of seamless gaming. So, here we are with the latest controller-supported games iOS of 2023.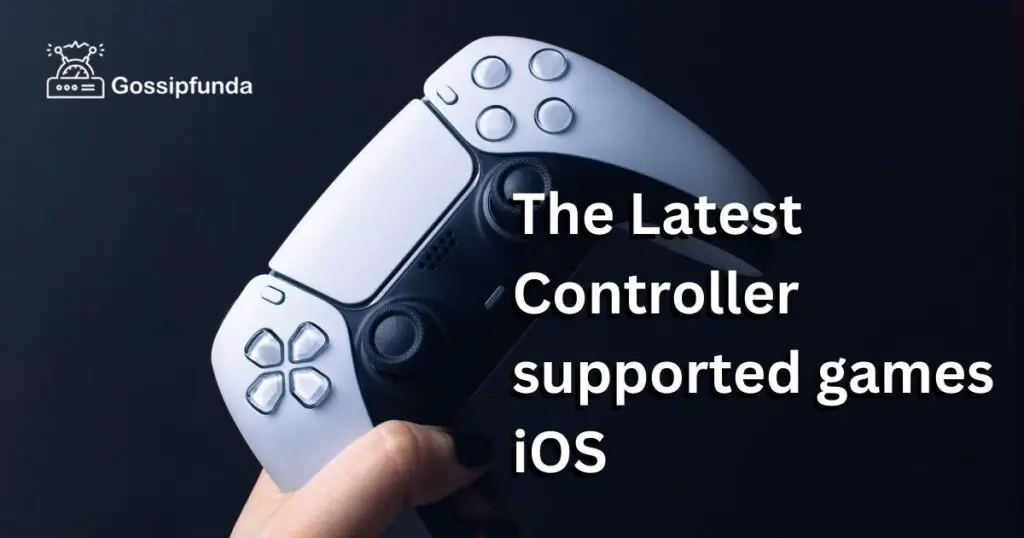 List of Controller supported games iOS
To be honest, gaming is much more fun when played with a controller, not only the gameplay experience is enhanced but competitive gamers do get a slight advantage of quicker in-game movements. Nonetheless, if you're a hardcore gamer or a casual gamer with a controller lying around your home, here is a list of the most amazing and jam-packed games available on the App Store that are more fun when played along with a Controller.
1. Dead Cells
App Store Rating – 4.8 • 6.7K Ratings
For those of you who love side-scrolling Platformer games, Dead Cells is the most admired Candy in the platforming genre. It is a 2D Rouge Combat action game with absolutely stunning visuals and a strong narrative where players take on a Failed lab Experiment and fight their way out. The fun part is that after every death in combat the level's theme is switched and the location on items and powerups are randomized.
From exciting level design to interesting gameplay features this game has found its way onto the App Store from initially being launched on PC and Consoles. Dead Cells has been critically acclaimed on all platforms and has secured numerous awards for its exciting gameplay. The developers even had to state that the best experience while playing this game is with a controller supported games iOS, so make sure you do not miss this one. Dead Cells is available on the Apple App Store for $8.99.
2. Limbo
App Store Rating – 4.6 • 2.4K Ratings
For all the gamers who loved action-horror games, Limbo is yet another masterpiece to behold. Available on numerous platforms, it has secured its acclaim on Apple's App Store. Limbo is a Grim adventure and puzzle-solving platform game. When played along with a Controller you take on the charge of a boy who is trapped inside the state of Limbo and players solve levels with twisted puzzles as levels progress. With its dark and spooky monotone theme make sure you do not play before bedtime. Limbo is available on the Apple app store for FREE.
3. Call of Duty: Mobile
App Store Rating – 4.7 • 1.5M Ratings
One cannot call themselves a gamer if they haven't played Call of Duty at some point in their lives. This game franchise has expanded its gameplay experience from consoles and PC to Mobile as well with their robust new multiplayer game. It's is true it's running and shooting formula. On iOS devices it runs with a smooth frame rate and with stunning visuals. It boasts a variety of game modes such as the infamous battle royale, team deathmatch, Domination, Free-for-all, and a few other unique ones too. Those who are addicted to the Call of Duty franchise can play as characters from the Black Ops and Modern Warfare Saga.
With the release of new content, every season comes new maps, thrilling items in the store all to collect and expand your library with in-game props. As you play you can unlock and earn dozens of iconic operators, weapons, outfits, skins, and gear. Pairing your Ios device with a controller supported games iOS surely does give an advantage for more competitive gameplay with precise and quicker movements. Find online players and team up to experience console-quality HD gaming on mobile and play on the go with Call of Duty Mobile available for FREE on the Apple App Store.
4. Sky: Children of the Light
App Store Rating – 4.8 • 161.2K Ratings
Now let's take a note of the appeal for relaxing games for players who just want to spend some time with a gaming experience that is visually soothing with less over the top action, comes Sky: Children of the Light. Experience an open world of the Sky Kingdom from the creators behind the Journey and Flower games that have a special place in the heart of casual gamers. This game takes players through a journey of 7 dreamlike realms to uncover the mystery of the stars allowing players to interact with each other and uncover the secrets of the Sky.
Team up with players from across the globe and explore dark realms, save spirits and locate ancient treasures spread across its vast open world. Like many other titles on this list, this game also has seasonal events, refreshing the game with fresh new content. Players can level up and express themselves through their characters with unique customizations from hairstyles, clothing, and much more. So Pair up your controller with this game now available for free on the Apple App Store.
5. Brawlhalla
App Store Rating – 4.2 • 14.6K Ratings
Brawlhalla is a 2D platformer game published by the gaming giant Ubisoft. With a massive player base accounting for 80 million players worldwide across Android and IOS, players have the leisure of cross-play. This game takes place in the fictional world of Valhalla (Nordic Heaven) with ancient fighters facing each other in casual free-for-all and ranked matchmaking. Players can create custom rooms and invite up to 8 players on all platforms and play countless custom modes such as Brawlball, Bombsketball, Capture the Flag, Kung-Foot, and many more. Brawlhalla is 100% free to play, with no pay-to-win advantages and no in-game purchases.
6. Life is Strange
App Store Rating – 4.0 • 7.4K Ratings
Life is Strange is a five-part episodic game that has an excellent narrative and its outcomes are dependent on the in-game choices made by players. With stunning visuals and high texture human models, you can dive into the world of Max Caulfield, a photography senior who has just discovered that can has the superpower to rewind time. With her newly found power, she saves her best friend Chloe Price. Take on the role of this pair to unravel the mysterious disappearance of their fellow mate Rachael Amber in Arcadia Bay.
Be Aware that changing time can also lead to devastating future outcomes. Life is Strange has multiple endings depending on the choice of players. With striking, hand-painted visuals and a beautiful soundtrack with full controller supported games iOS. Moreover, you can effortlessly share your progress on social media, and compare your own story choices with your close ones. You can get this game for FREE on the Apple App Store.
7. Grand Theft Auto – San Andreas
App Store Rating – 4.6 • 61.1K Ratings
You cannot call yourself a gamer if you have not played this masterpiece that is still remembered after decades of its release on the original PlayStation 2. Now you can dive into the nostalgia with this game available on mobile. With an outstanding port to mobile by Rockstar Games, no aspect of the game falls short and it gives the same sensation of CJ on the streets of Los Santos.
This version of the game is a remastered, high-resolution port specially built for mobile with lighting enhancements and enriched color palette, and re-rendered player models. Players can play on multiple iOS Devices with could save support for Rockstar Social Club Members. While this game can be played with full touch screen controls, playing with a Controller brings full control for camera and character movements with dual analog sticks. You can grab Grand Theft Auto: San Andreas on supported IOS devices for $6.99 from the Apple App Store.
8. Genshin Impact
App Store Rating – 4.4 • 319.8K Ratings
Anime and Manga fans have finally got a thorough reimagination of the Gacha World. Step into the World of Teyvat, a vast world with elemental energies and life. Players have to start from ground zero and build up their characters, teaming up with forced to unravel the countless mysteries that the world of Teyvat. The huge open world in this game can be accessed via foot, rivers and hills can be glided. With jaw-dropping scenery at every step, Genshin Impact is full of life and color. Players need to harness the seven elements in the world of Teyvat to unleash elemental reactions.
These elements are named Anemo, Electro, Hydro, Pyro, Cryo, Dendo, and Geo. Will you utilize Hydro with Pyro, electro-charge it with Electro, or use Cryo for freezing? Your efficiency in the use of elements will give you a competitive boost in battle and exploration.
The lightning and weather change naturally over time and bring real-life climates to the beautiful open world. Feast your eyes on the world of Teyvat, with a gorgeous art style, true-to-life-time rendering, and finely tuned essence animations furnishing you a truly immersive visual experience. Characters in this MMORPG has are diverse and you will never get bored of the unique personalities and story arcs of individual characters. Explore the gameplay of Genshin Impact with full controller supported games iOS available for Free on the Apple App Store.
9. Among Us
App Store Rating – 4.1 • 664K Ratings
Among Us is a game where your detective senses come into play. This game took the world by storm when its popularity went booming in the Covid Lockdown, from memes to famous Youtubers jumping on this game to enhance the Hype. Among Us has a 2D environment set in Space, where players play online with up to 15 people and amongst the players are imposters, their purpose is to kill everyone else and sabotage the scape ship. trust no one as even your dearest friend can stab you in the back in this one.
With cartoony visuals and simple in-game tasks, it's most fun when played with a group of friends. The great aspect of this game is the cross-play feature so players from all platforms can easily join in a lobby and play as a crewmate or an imposter bent on raving chaos. Prefer how you enjoy playing! Players can adjust the number of Impostors, roles, tasks, player visibility, and better. Play in a unique style as you alter your Crewmates' color, visor, outfit, nameplate, and hat. Among Us is available on the Apple App Store for FREE.
10. Asphalt 9: Legends
App Store Rating – 4.7 • 23K Ratings
When it comes to racing games on the IOS, there might be numerous titles, but no one can argue that the Asphalt series which ever-expanding universe with each installment, blows off the competition to the ledge.
From captivating Racing action to thrilling competitive races, Asphalt 9 gets the adrenaline flowing in players with its fast-paced arcade racing events. Published by the mobile gaming giant Gameloft, this installment in the series captures a rooster of cars ranging from local to licensed exotic exclusive ones.
A racing game addict can never pass up on this one as it offers the dream every gamer has being it from customizing your ride with flashy colors, collecting cars in your garage, ranking up the leaderboards, and much more. When it comes to visuals, Asphalt 9: Legends is jaw-dropping. It offers breakthrough real-life recreations of exotic locations from across the globe. Racing in giant tornados in the American wilderness, avoid landslides in the Himalayas, or a smooth ride across the sandy beaches of the Caribbean Sea is what this game offers best. Each trace offers endless gameplay possibilities to turn every race into a genuine blockbuster movie.
With seasonal events, players can join the fun with others and create exclusive clubs to take upon each other rival clubs. Club members can collaborate to unlock milestones and perks. Whether you are a casual player or a sucker for competitive action Asphalt 9: Legends can get your Racing gears revving, with full controller-supported games iOS devices. All the arcade racing gamers make sure to hop in your ride and cruise in the absolutely pleasing world of this game. Asphalt 9 is available for FREE on the Apple App Store.
Conclusion
This sums up this list of extensive games available on the Apple App Store with full controller-supported games iOS. This list has a game for every kind of Gamer whether it be racing, shooting, horror-centric to more relaxing and gentle games. Grab your controller and experience these games with the best gameplay experience in Single-player mode or compete with your friends for the leaderboards.