Minecraft is a sandbox game that was created by Mojang Studios. Persson used the Java programming language to develop the game. It was first made public in May 2009 after going through several early iterations of private testing. More than 238 million copies of Minecraft will have been distributed by 2021, and there will be close to 140 million monthly active users. To many various platforms, it has been ported.
Users of the blocky, procedurally generated, three-dimensional world of Minecraft can find and gather resources, make tools and other items, and construct structures like buildings and earthworks as well as equipment on essentially limitless land. Players can play cooperatively or competitively with or against other players in the same universe, depending on the game option they have selected. There are two types of game options: creative and survival. There is also a sizable collection of user-generated material, which adds new gameplay opportunities and elements. Examples include alterations, websites, skins, texture packs, and original maps.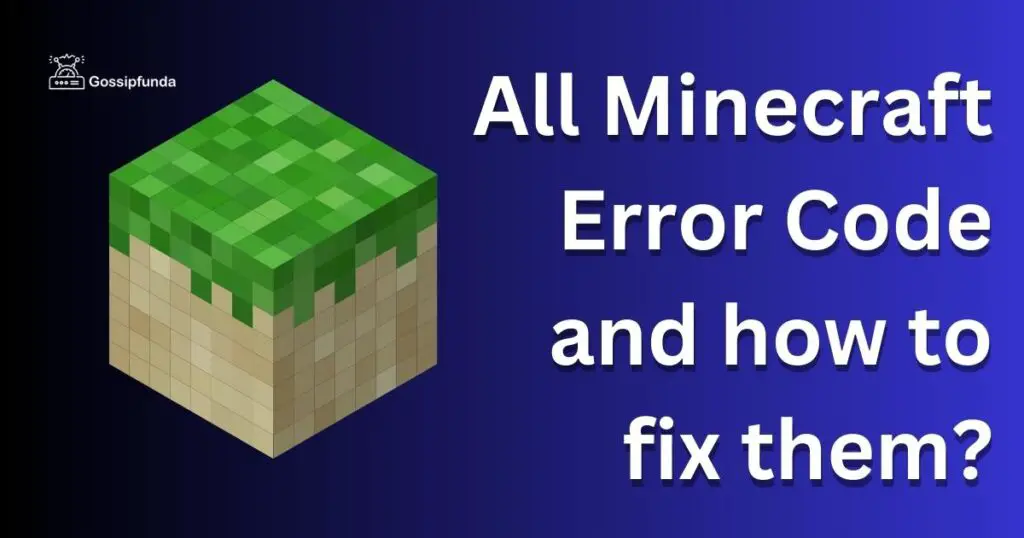 MINECRAFT: TOP ERRORS
Error 1: Outdated Client
This mistake is brought on by problems between the player's copy of the game and the server's copy of the game. Given that changes to Minecraft frequently take the shape of snapshots, major updates, minor updates, pre-releases, and more. The error message will read Outdated Server if the server is operating an older version of Minecraft than the player's game. If the warning notice refers to a Outdated Client, the player's version is no longer up to date. Players must perform an update to resolve this problem.
A user must update to a more recent game edition if they see a "Outdated Client" warning. If they encounter a "Outdated Server" error, they must switch to an earlier game version before they can join a server operating an older version of the game. You can finish both tasks by using the "Installations" navigation option in the Minecraft Launcher.
Error 2: Connection Refused
When players attempt to join an online server but no server with that address can be found, they receive the error message "Connection Refused," which is one of the most frequent multiplayer errors in the game of Minecraft. The server might be unavailable or the IP address inputted incorrectly could be the cause. Checking to see if the website is up and running is the first thing to do when this error occurs. Several services that track Minecraft server activity, uptimes, and downtimes can be used for Th. Players can find out if the server is online or not by visiting any website. Players must verify their IP address once more if the service is up and running.
It should be noted that most DVD-ROMs only permit a maximum of five changes to the DVD region. The number of alterations still available is shown on the DVD Region tab.
Since IP addresses are lengthy sequences of numbers, they may occasionally be off by one or two digits. Restarting the service may also be helpful.
Error 3: java.net.SocketException: Connection Reset
The player's internet connection is likely unstable. If the client and server link abruptly breaks. Players can try to avoid the server going offline for an extended amount of time by waiting while it restarts. They should verify their internet connection in the interim, as they should with many of the other problems on this list.
Error 4: Unable To Login
When the client and server game versions diverge, this error message displays. However, it typically happens when a user enters a server too soon after it has restarted. The ease of getting to the internet can significantly affect this problem. If a player's link drops off before the server login procedure is finished, this error might happen. It is very easy to fix this mistake. First, the user must determine whether the server is accessible. They must also validate both their own copy of Minecraft and the server's. Plus players must verify that their online link is functional.
Error 5: Minecraft Error has occurred
Minecraft Error has occurred is a generic error message that players may encounter while playing Minecraft. This error message can appear for various reasons and can be accompanied by specific error codes or additional information that provides clues about the underlying issue. Common causes of this error include problems with the game's files, conflicts with mods or plugins, outdated Java or graphics drivers, insufficient system resources, or network connectivity issues.
Error 6: Minecraft error code 0x87e50038
Minecraft error code 0x87e50038 is an error that players may encounter when attempting to launch or play the popular sandbox game on their devices. This error is specific to the Microsoft Store version of Minecraft and is typically related to issues with the game's licensing or permissions. When the 0x87e50038 error appears, it prevents players from accessing and playing the game, causing frustration and disappointment. To troubleshoot this error, there are a few steps to try. First, ensure that you are signed in to the Microsoft Store using the account that owns the game. If you are already signed in, try signing out and signing back in again.
Minecraft Error Crossbow
Minecraft Error Crossbow is not a specific error that players encounter while playing Minecraft. However, the term "Crossbow" in Minecraft refers to a powerful ranged weapon that shoots arrows with great accuracy and force. The Crossbow has its own set of mechanics and features within the game, allowing players to customize and enhance its abilities through enchantments and various ammunition types. While players may face issues or challenges while using the Crossbow, such as aiming or reloading difficulties, there is no specific error associated with it.
Minecraft Error 422
Minecraft Error 422 is an error message that players may encounter while trying to connect to a multiplayer server in Minecraft. This error typically indicates a problem with the server's authentication or connection process. When the Error 422 appears, players are unable to join the server, preventing them from playing with friends or participating in multiplayer gameplay. Resolving this error usually requires a few troubleshooting steps.
Minecraft GLFW Error 65542
Minecraft GLFW Error 65542 is an error message that Minecraft players may encounter while launching the game. GLFW, which stands for Graphics Library Framework, is a software library that handles window creation and input handling in various games, including Minecraft. The GLFW Error 65542 specifically refers to an issue with the GLFW library during the game's startup process. When this error occurs, players may experience crashes or be unable to launch Minecraft altogether.
MINECRAFT: RISING ERRORS
Error 1: Incompatible patch channel 
These errors typically indicate that the modpack version operating on your client and server are different. Click the Gear icon, then select Game Settings to view the modpack version that has been loaded on your server. Look for the Installed Version after you scroll past the modpack summary. Depending on the client you're using, you can check the version that's installed on your computer, but it's usually displayed in the top-right corner of the modpack profile.
 You will need to upgrade either your client or your server if these versions aren't the same.
Error 2: Internal Exception: io.netty.handler.timeout.ReadTimeoutException
To fix this problem, players must make sure they have a fast enough internet connection. Although capacity is the best option. Before beginning Minecraft, users should make sure to close or terminate any programmes that aren't presently required in order to avoid bandwidth issues. No matter what device a player chooses to play Minecraft on, tonnes of errors frequently show up. There are many other mistakes that are much more severe and less common; the ones mentioned above are just the tip of the iceberg. Players should bear in mind that every error can be fixed. The issue can frequently be resolved by checking your internet connection, restarting the game, or joining to a server again.
The common methods to fix all Minecraft errors 
Method 1: Refresh Minecraft
The first action you should take to solve any issue you may be experiencing is to maintain your game. Because switching to the most recent version of Minecraft could offer numerous options. Try these methods if you're unsure how to update Minecraft:
It's a good notion to first install Java on your computer. edition 8 of Java is needed for the Java edition of Minecraft. Download Java from this page to make sure Windows 10 doesn't already have numerous versions of Java loaded. To ensure that the proper version is downloaded right away to your device, choose the Online Installation option. Download the Java edition of Minecraft. Get the Minecraft software. 
Open Minecraft and sign in using your individual account.
Install any recently published updates for Minecraft.
If you see the "bad video card drivers" alert now, go to your Start Screen and follow the remaining instructions below.
By pressing "Wind + X" on the keypad, start Device Manager.
Remove your display drivers by going to "Graphics Drivers" next.device manager. Instead of using the Nvidia/AMD page, visit the primary website of your manufacturer.
Install the drivers even in Windows 7's Compatibility mode after downloading them from there in accordance with your manufacturer's instructions. 
Method 2: Reinstall JAVA
The first thing to solve is the Java configuration problem, which is the main concern of error code 1. Although many guidelines advise changing the Java executable path, we suggest just reinstalling Java entirely. Apart from updating the Java version, this resolves any strange setup issues. To be clear, we allude to the Java Runtime Environment when we discuss reinstalling Java. (JRE). Download the most recent installer for Java from the official download website. The same is also available from Oracle's website. Java is offered in versions for Linux, Mac OS, and Microsoft Windows. Select the appropriate installer for your machine, preferably the 64-bit version.
Once the setup is done set Java installer on your computer.
Once the download is finished, exit the setup.
Method 3: Change the path of the Minecraft launcher
The seamless operation of the game depends on more than just the Minecraft game files. Equally crucial is the Minecraft launcher, which can crash the game if it can't correctly connect to the executable file. Special characters in your User ID are a very frequent bug that block the Launcher from finding the game directory by messing up the path. Fortunately, it can be quickly fixed by adding a minor modification to the shortcut target. Right-click on the Minecraft Launcher shortcut on the desktop and choose Properties to change the location.
The Properties window's Shortcut option should be selected.
The Target field input should be chosen, and the extension -workDir%ProgramData%.minecraft should be added. Don't delete any of the current text. If you do, recover it by pressing Ctrl + Z.
To apply the adjustments and close Properties, click OK.
Method 4: How to play the game on LAN
If you're having difficulty playing Minecraft with your friends over LAN, try enabling Minecraft in Windows Firewall:
Go to Search and enter "firewall" to launch Windows Defender Firewall.
Click Enable an application or feature through Windows Defender Firewall from the left pane.
Make sure that when you pick Minecraft/Minecraft for Windows 10 that both Private and Public are checked. Minecraft does not allow LAN gaming Turn off your device. 
If you're still unable to play the game via LAN, make sure everything is operating correctly with your internet connection. If a problem arises, study this article to find out how to resolve Windows 10's internet connection issues.
Method 5: How to prevent Minecraft from lagging
Comply with the system specifications
You're lucky to even be able to start the game if your computer doesn't satisfy the minimum system requirements. So, think about upgrading your hardware if your machine isn't powerful enough to run Minecraft.
System prerequisites for Minecraft:
CPU: 2.6 GHz AMD Athlon 64 (K8) or Intel Pentium D.
RAM: 2GB.
GPU: Nvidia GeForce 9600 GT or AMD Radeon HD 2400 with OpenGL 3.1. GPU : Intel HD Graphics or AMD Radeon HD Graphics with OpenGL 2.1.
HDD: Minimum 200MB for the game core and additional files.
45. Release of Java 6.
Method 6: Give Minecraft more RAM
If you're unhappy with the speed, the launcher now gives you the choice to give the game more RAM memory. Here is how to do it:
Firstly launch the Minecraft software.
Then from the Launch choices, select your choice, and then enable Advanced settings.
If you save these options, the game will start with 2GB of RAM. Substitute the proper amount of RAM for 2048M if you want to assign more RAM.
Method 7: Upgrade to newt GPU drivers
Gaming mistakes frequently stem from driver problems, and Minecraft is no exception. Your graphic drivers should be updated to the most recent version to address many possible game bugs. The two primary methods for updating GPU drivers are directly searching for a package or uninstalling and reinstalling the video card in Device Manager. The second approach is advised because it optimises your drivers for your unique hardware. Find the manufacturer's website and visit there to directly install the most recent VGA drivers. For all of their laptop versions, manufacturers like Acer, Lenovo, HP, etc., provide drivers for download, whereas desktop users can go to Nvidia or AMD for their graphics card's driver.
Read Also: Minecraft Error code 1: Causes and How to fix It
To locate the appropriate drivers, you'll need your laptop's model number. This can be found on the GPU's product packaging or underneath the laptop.
You should be able to find a catalogue of all compatible drivers by searching the manufacturer's website for your laptop model. To locate the VGA drivers, scroll through; the graphic card's name is frequently included.
The driver installation will come from the GPU manufacturer, regardless of where you got it.
Conclusion
Through this article we know that Minecraft players have access to a world where they can explore, build, and live virtually. Minecraft is a open-ended gameplay, which appeal to players of all ages, this has made the game it one of the most well-known video games ever. Now that you are equipped, you can handle any Minecraft-related problems. In this essay for Minecraft players, we've covered all the most typical errors as well as those that are about to occur.
FAQs
Is Minecraft a free game?
Can I access Minecraft for nothing? Yes, you can enjoy Minecraft without having to download or install anything at classic.minecraft.net.
Using Google will Minecraft be free?
Play with your pals and go on adventures filled with breathtaking scenery and unexpected danger. On Windows, Android, PlayStation 4, PlayStation 3, and Vita, the free Minecraft trial is accessible. Depending on the device being used, the trial period differs.
How can I get free outfits for Minecraft?
Websites for Minecraft Skin Downloads Skindex.
NameMC
Google Play Store
Tynker.
App Store for Apple.