So you just equipped yourself to have an amazing gaming experience with  Roblox and this is what your server is fetching you. Extremely frustrating right. We understand your pain and will fix Roblox error code 503. We have come up with a quick and easy 5 step solution to help you re-access your sites and enjoy your gaming experience. To get started with it here is something you need to know about what is causing you the error. Roblox being one of the biggest gaming industries tends to encounter these problems once in a while. Here this article will help you to understand and resolve the issue.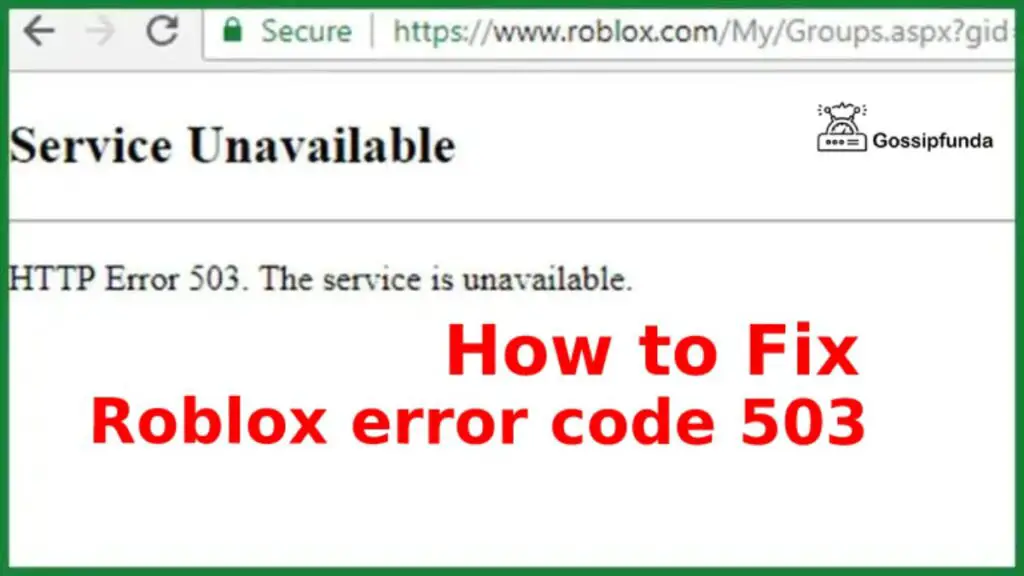 What is roblox error code 503?
This error mostly occurs when players fetch different roblox gaming server sites  trying to explore the different  modes of game by the use of their  different browsers. Generally because of this if you encounter this issue, this could be linked to browsers in use or may be the company going under maintenance , the Internet speed, there could be few more reasons to it. One of the key reasons involving it could be that the site has to suffer tremendous amounts of traffic due to which it generally crashes.
However you don't need to worry about any of these problems as our team has come up with the proven methods to scrape off the roblox error 503.
How to fix Roblox error code 503?
The steps enlisted before are detailed enough to equip you with the solutions and to  provide you with enough efficient methods for you to help you break through this situation.
Method 1: Reloading the page
One of the most common fixes to be applied  is to simply refresh the page again and again until it responds. To do this you can do following steps for computer users
Press the F5 on the keyboard
Another way to get the same result is to click the browser refresh button.
Once you're done reloading the page , check if the server is working properly.
For smartphone users:
If you are playing Roblox on your smartphone you can perform these steps:
Exit the app
Remove it from the recent app section enter again and see if the issue is resolved.
Method 2: Internet connectivity and internet speed
If the servers are working and you still get the error. you can tend to look for your internet connection and determine whether it needs a fixing or not you can do this by.
Simply plug out your router.
Wait for a total of 5 seconds.
Plug back in the router.
Once you're done with these steps you can move and use a software to check if your server speed is complying with the requirements as per roblox internet speed requirements or not. If this method fails to work then you should contact your internet service provider to get clear insights on these and make sure if it is working properly or not.
Method 3: Contact your internet service provider
Your internet service provider is the one who establishes connection in your home. This initial connection allows your modem to translate internet traffic so your router can provide wifi to allow the internet to function. However these are the reasons why you should contact your ISP:
You are facing difficulty in connecting your gateway device to the internet.
You are experiencing trouble with your internet network which has been in use.
When you test your internet speed and the  speed test results show slower speeds than your plan and are unable to match the requirements then you should contact your IS.
To contact your ISP you will have to identify your ISP first of all and to this you can do this. First of all visit the website which is providing your internet service.
From there on repeat the steps.
Step 1: Go to Home.
Step 2: Select Consumer Info.
Step 3: From there select the Telecom Service Provider List.
Step 4: You can identify your ISP provider and look for their contact details.
Once you're done with this steps you can further ask them:
Recently has there been an internet service outage in my area?
Are there any changes made to the internet service?  
Have there been any other network service changes that could be affecting my network?
Method 4: Clear Cache
Time to time you need to delete the cache and cookies of your web browser in order for the system to work nicely. The exact steps depend on what browser you're using.To complete the steps in chrome extension you should perform these following steps.
The method is quick to perform and often times the need of an hour the roblox error you just encountered could be resolved by repeating the following steps, and if you're someone familiar with the internet you might be already knowing these but for those you living under the rocks for a while do these following steps:
For the chrome users.
If you're using Google Chrome, browser for Roblox. Then here is the list of instructions for you.
Step 1: Press the customize and control Google Chrome Button. The icon is generally on the top corner for the right side of your browser.
Step 2: Click on 3 dots and open the drop-down menu.
Step 3: A dialogue box appears and from there on click on Settings.
Step 4: Choose the Privacy and Security Option.
Step 5: From there on click Clear Browsing Data.
Step 6: Select form the browsing history. From here, you can either choose to clear your cache
You can choose the parts if you have something important stored up. Or else you can choose cookies and cache and press the 'Clear Data Button'. For a Firefox user you can clear your cache in these ways:
Click the menu button on the top right corner of the browser.
Select Settings from the drop down button.
From there click on the Privacy & Security panel.
Go to the Cookies and Site Data section.
Proceed to Clear Data.
Remove the check mark in front of Cookies and Site Data.
Then at last click the Clear button.
Method 5: check for server status 
After this Any changes you've made will be saved automatically– Another thing you can do is to check Roblox server status. There are times when the server sites are going under maintenance for adding up new features .Basically it can  be referred to as a  reconstruction for the servers if they are down all you can do is wait for it to be fixed.
For instance you can contact the team to know till when the servers will be back in use. You can contact them by visiting their emails and writing a complaint for the server error or you can do this by contacting their social media handle.
Conclusion
We have gone through a list of ways to help you figure out Roblox error code 503. Roblox not only provides a platform for gaming input but also a platform for creating any game. It promotes up-and-coming game creators and gives them a stage on which to build themselves and look for greater opportunities to showcase their abilities. The majority of like for the game often creates a lot of traffic and the server shut down and there comes a 503 error part. the methods enlisted are optimal for solving out the problem.
Frequently Asked Questions
What did the 503 service unavailable depicts?
To put it simply, 503 Service Unavailable means that HTTP response status code that signals your web server, is currently not able to handle a request due to high traffic or something else. oftentimes the reason remains unidentified.
Is it something to worry about error?
No typically these kinds of problems can arise due to the server unreachability of the websites itself however these are typically be related to your system failure or maybe the internet connectivity issues be residing.
How can you resolve the issue of no service on Roblox?
Often times you can ted to encounter these kind of problems too there is certain specific way to resolve this
1.Enable Roblox on Browser's Security Settings.
2.Disable or remove any ad-blocking browser add-ons.
3.Install Roblox again.
Should I check for the error from other sources?
Yes it is a really good question to ask. You can definitely check for other sources to confirm that the problem is not specific to  you can do this by using other devices to login to the user account to confirm if it is the device related problem and the server is actually down.
When is the Roblox Server backed up?
As soon as the maintenance or you may refer to it as reconstruction work is finished then the Roblox Server is eventually backed up by the server which contains tons of stored information. Your server problem will be easily handled if the developer resolves the issue promptly. Sometimes there is a major issue if the company is undergoing a bigger problem otherwise it is pretty fixable.