In the world of video games, few franchises have left as indelible a mark as Mortal Kombat. Since its inception in 1992, this iconic fighting game series has thrilled players with its brutal combat, memorable characters, and engaging storylines. Fast forward to 2023, and we are eagerly awaiting the release of "Mortal Kombat 1" or MK1, the twelfth main installment in the series. In this article, we will delve into the exciting world of MK1, exploring its gameplay, characters, development, and what sets it apart from its predecessors.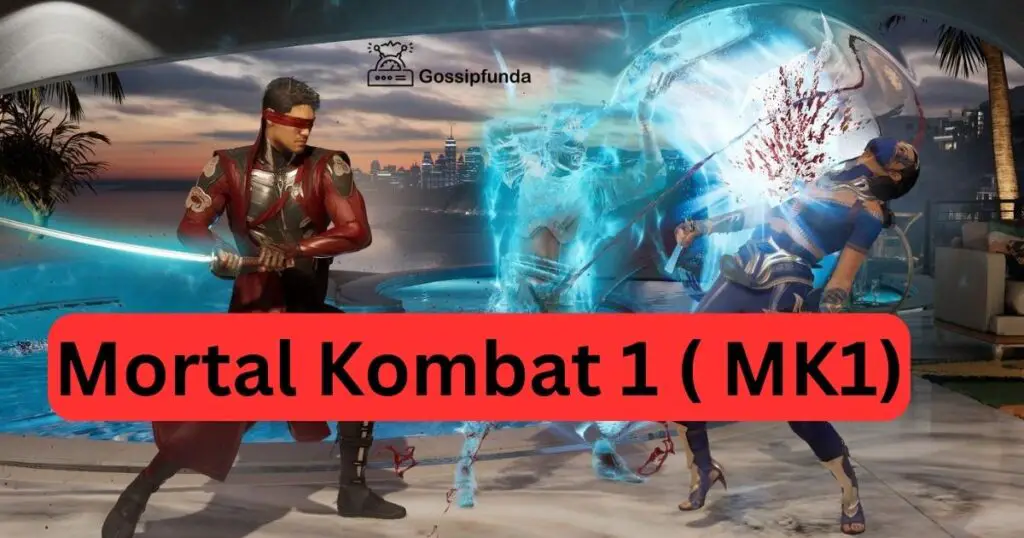 MK1: A New Chapter in the Saga
MK1 is set to be a game-changer in the Mortal Kombat series. Serving as both a sequel to Mortal Kombat 11 (2019) and the second reboot of the series, following Mortal Kombat (2011), it carries the weight of high expectations. Scheduled for release on Nintendo Switch, PlayStation 5, Windows, and Xbox Series X/S, the game offers an early treat for Kollector and Premium Edition buyers on September 14, 2023, with Standard Edition players joining the fray on September 19, 2023.
Don't miss: Dark and darker (DarkAndDarker) server error please try again
Gameplay: Combining Tradition and Innovation
One of the core strengths of MK1 lies in its gameplay. The game promises to deliver a rich gaming experience with a blend of tradition and innovation. MK1 retains its signature brutal combat, but with added features that make it stand out. It has been confirmed to feature a story mode, online multiplayer with rollback netcode, and offline gameplay.
One intriguing feature is the introduction of "Kameo Fighters." These characters will offer assistance to players during fights, creating new dynamics in battles. These characters are separate from the main roster, and players will choose them before each fight. Additionally, the Air Kombat combo system, which was featured in previous titles, returns with refinements.
A Captivating Premise: Fire God Liu Kang's Universe
The premise of MK1 is set after the events of Mortal Kombat 11 and its Aftermath expansion. Fire God Liu Kang, having achieved godhood, creates a new universe in his own image. However, perfection eludes him, and he assembles a diverse group of warriors from different realms to confront a familiar threat from the past. This intriguing storyline promises a narrative that will captivate fans and newcomers alike.
A Reimagined Cast of Characters
Mortal Kombat has always been known for its diverse and memorable cast of characters, and MK1 doesn't disappoint in this regard. Since its announcement, the game has revealed reimagined versions of beloved characters such as Liu Kang, Scorpion, Sub-Zero, Raiden, Johnny Cage, Kung Lao, Kitana, Mileena, Kenshi, and many more.
As an exciting bonus, Shang Tsung will be available as a pre-order bonus. But the excitement doesn't end there. MK1 has plans for post-launch releases, including six additional characters and five Kameo Fighters, adding depth and variety to the roster.
Main Roster and Kameo Fighters
Let's take a closer look at some of the main roster fighters and Kameo Fighters that will populate the world of MK1:
Main Roster:
Ashrah
Baraka
General Shao
Geras
Havik
Johnny Cage
Kenshi
Kitana
Kung Lao
Li Mei
Liu Kang
Mileena
Nitara
Raiden
Rain
Reptile
Scorpion
Sindel
Shang Tsung (pre-order bonus)
Smoke
Sub-Zero
Tanya
Kombat Pack:
Ermac
Homelander
Omni-Man
Peacemaker
Quan Chi
Takeda
Cyrax
Darrius
Frost
Goro
Jax Briggs
Kano
Kung Lao
Motaro
Sareena
Scorpion
Sektor
Shujinko
Sonya Blade
Stryker
Sub-Zero
Kameo Fighters: Kameo Fighters are unique partner characters that enhance gameplay. Some of them can also serve as main roster fighters. Guest characters can even become Kameo Fighters, adding an exciting twist to the gameplay experience.
The Journey of Development
The development of MK1 has been a rollercoaster ride of anticipation for fans. After ceasing support for Mortal Kombat 11, NetherRealm Studios announced a new project in July 2021. Johnny Cage's voice actor, Andrew Bowen, accidentally leaked the development of the twelfth installment in a tweet that was quickly deleted.
In February 2023, Warner Bros. Discovery CEO David Zaslav confirmed the upcoming release of MK1. On May 18, 2023, NetherRealm Studios officially unveiled MK1 with a release date set for September 19, 2023. This game is the second reboot of the series, set in the New Era timeline created by Liu Kang after his ascension to godhood in Mortal Kombat 11.
Players who pre-order any version of the game for PlayStation 5 and Xbox Series X/S gain access to a beta in August. Moreover, after the game's launch, NetherRealm Studios plans to provide cross-play and cross-progression, enhancing the multiplayer experience. The development team comprises NetherRealm Studios for PlayStation 5 and Xbox Series X/S versions, QLOC for the Windows version, and Shiver Entertainment and Saber Interactive for the Nintendo Switch version.
Celebrities Join the Fray
Adding to the excitement surrounding MK1 are appearances by Hollywood stars. In August 2023, Dave Bautista appeared in a trailer for the game, paying homage to the iconic 1993 "Mortal Monday" commercial for the original Mortal Kombat. This celebrity cameo adds a dash of star power to an already highly anticipated title.
Not to be outdone, in the following month, Megan Fox was revealed to be voicing Nitara, one of the reimagined characters. Such celebrity involvement underscores the game's significance and its appeal to a broader audience.
Conclusion
Mortal Kombat 1, or MK1, is poised to redefine the fighting game genre. With its engaging gameplay, captivating premise, reimagined characters, and the promise of post-launch content, it's a game that fans of the series and newcomers alike can eagerly anticipate. The journey of its development, from leaks to official announcements, only adds to the excitement. And with the inclusion of Hollywood celebrities, MK1 seems ready to capture the hearts and minds of gamers around the world. As we count down the days to its release, the Mortal Kombat legacy continues to evolve, promising a thrilling experience for all who enter its deadly arena.
FAQs
What's the release date for Mortal Kombat 1 (MK1)?
MK1's release date is September 14, 2023, for Kollector and Premium Editions, and September 19, 2023, for the Standard Edition.
Can you tell me about MK1's gameplay features?
MK1 features story mode, online multiplayer with rollback netcode, offline gameplay, and the unique Kameo Fighters.
What's the premise of MK1's storyline?
After Mortal Kombat 11, Fire God Liu Kang creates a new universe and assembles warriors to face a familiar threat.
Who are the main characters in MK1?
Liu Kang, Scorpion, Sub-Zero, Raiden, Johnny Cage, Kung Lao, Kitana, Mileena, Kenshi, and more.
Are there any celebrity appearances in MK1?
Yes, Dave Bautista and Megan Fox are part of MK1, adding star power to the game's allure.