In 2023, Apple made waves yet again with its annual event. Held in the iconic Apple Park, the tech giant unveiled a slew of innovations. From the Apple Watch Series 9 to the iPhone 15 lineup, we've delved deep to bring you a comprehensive summary of the main highlights. So, if you missed the live event, worry not. Here's everything you need to know!
Apple Watch Series 9: A Revolution in Wearables
The Apple Watch Series 9, showcased at the much-anticipated Apple event of 2023, truly heralds a new era in the world of wearable technology. The innovations packed into this compact device, combined with its chic design and advanced functionalities, make it a standout product. Here's a deeper look into what makes the Apple Watch Series 9 revolutionary.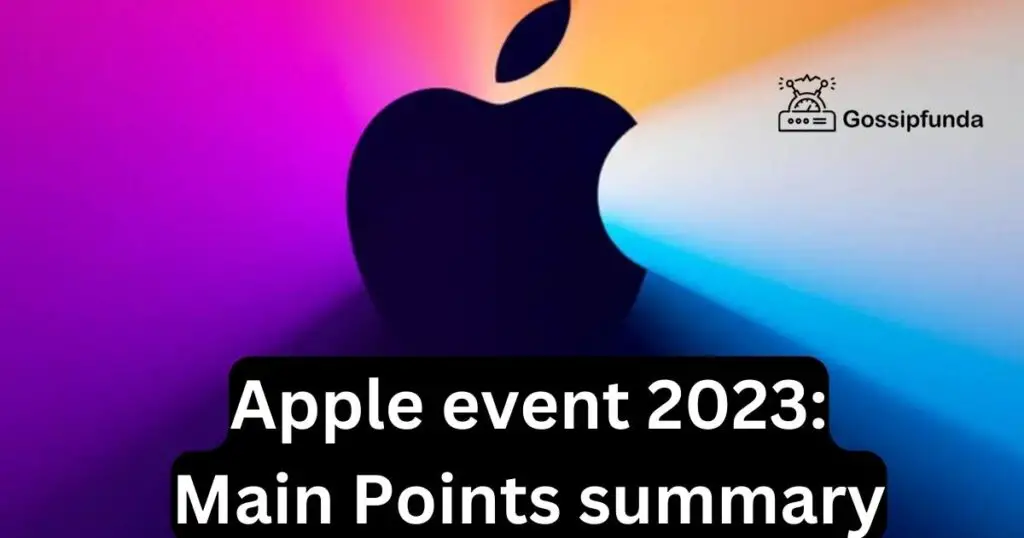 1. The S9 Chip:
The heart of the Apple Watch Series 9 is its new S9 chip. Apple's claim of a 60% speed increase is not just a marketing gimmick; it translates to real-world performance. Whether you're launching apps, getting fitness stats, or making a call, the S9 chip ensures that the Watch responds almost instantaneously. And with a 30% faster GPU, graphics-intensive tasks and animations are smoother than ever.
Don't miss: Next Apple Watch probably built with a 3D printer
2. Design and Display:
While retaining Apple's iconic design language, subtle tweaks and enhancements set the Series 9 apart. One of the notable upgrades is its display. The screen is now double the brightness, ensuring that whether you're in a dim room or under direct sunlight, the watch face remains clearly visible.
3. Dictation:
Voice is becoming an increasingly popular mode of interaction with devices. Apple's decision to improve dictation by up to 25% is a nod to this trend. It means that the Watch understands voice commands better, allowing users to send texts, set reminders, or search for information more accurately and swiftly.
4. Innovative Features:
Access Health Data with Siri: Now, you can simply ask Siri about your health stats for the day, and she'll provide them. It's a seamless integration that reinforces Apple's emphasis on health.
Name Drop: This feature allows users to share personal information when in proximity to another user with the device. It's social networking taken to the next level, directly from your wrist.
Double Tap: The Watch Series 9 introduces a unique gesture-based control – Double Tap. By tapping the index finger and thumb of the hand wearing the watch, users can navigate through its features. It's a step towards a more intuitive and hands-free interaction with the device.
5. Carbon Neutral:
In a world becoming increasingly conscious about the environment, Apple Watch Series 9's status as the company's first carbon-neutral product speaks volumes about Apple's commitment to sustainability.
6. Additional Flair:
Apple understands its user base's desire for personalization and flair. The new Apple Watch Series 9 now comes in a fetching pink, adding to its appeal for those looking to make a fashion statement.
The Apple Watch Series 9 isn't just another update. It's a clear reflection of Apple's intent to push the boundaries of what's possible in wearable tech. By integrating cutting-edge technology with user-friendly features and a commitment to sustainability, the Series 9 isn't just a revolution in wearables; it's a glimpse into the future.
Apple Watch Ultra 2: The Pinnacle of Luxury
Apple didn't stop at the Series 9. The Apple Watch Ultra 2, an update to its predecessor, also graced the stage. Armed with the same S9 chip, it brings a new level of luxury to your wrist. Whether it's the modular Ultra customizable watch face or its data-collecting power zones during workouts, it's designed for the discerning user. And for those with an adventurous spirit? It logs water dives, making it a truly versatile companion.
iPhone 15 & iPhone 15 Plus: A New Era of Connectivity
The iPhone 15 lineup is here, and it's nothing short of spectacular. With its Super Retina XDR and the powerful A16 bionic chip, it promises a seamless user experience. Its advanced camera system with 48 megapixels ensures that every memory you capture is crisp. The location share feature makes connecting with loved ones effortless. And with the Voice isolation capability, your conversations will remain crystal clear.
iPhone 15 Pro & Pro Max: A Prodigy in Mobile Tech
Touted as the "most Pro iPhone", the iPhone 15 Pro series breaks barriers. From its durable titanium exterior to its A17 Pro chip, every feature is a testament to Apple's commitment to pushing boundaries. The Pro camera with multiple lenses mimics having seven camera lenses. Whether you're a budding photographer or a professional, its capabilities are bound to astound.
USB-C: The Connector Evolution
It's official. Apple has made a pivotal move by introducing the USB-C connector to its devices. From the iPhone to the AirPods, this new feature promises faster charging and data transfer, revolutionizing the way users connect.
iCloud+: More Space, More Possibilities
Storage woes? Apple has got you covered. iCloud+ now offers two new tiers, allowing users to store up to a whopping 12 terabytes of data. It's not just about space, but also the limitless possibilities it brings.
iOS 17: A Fresh Breath of Digital Air
Apple's latest operating system, iOS 17, promises to change the game. Set to release as a free update, it brings a plethora of new features, ensuring your device feels brand new, no matter its age.
Conclusion
The Apple Event 2023 wasn't just about new products. It was a testament to Apple's unwavering commitment to innovation. From wearables that redefine luxury to smartphones that push the boundaries of tech, Apple has set the stage for a future where technology and human experience seamlessly intertwine. If you're a tech aficionado or someone who just loves top-tier gadgets, the future, it seems, is bright and brimming with potential.
FAQs
What's new about the Apple Watch Series 9?
Boosted with the S9 chip. Brighter, faster, and now in pink!
Is there an upgrade to the Apple Watch Ultra?
Yes! The Ultra 2 has the S9 chip and logs water dives.
What stands out in the iPhone 15 series?
Super Retina XDR, A16 bionic chip, and an advanced camera system.
What's the big deal about iCloud+?
Storage galore! Options for 6TB or a massive 12TB.