Do you want to make an app like WhatsApp? Want to make your app a huge success like Whatsapp? Learn how to create a Chat App like WhatsApp which can be successful. See what are the steps you should follow to make a successful chat app. Learn what are the components of a successful app. If you want to read more useful articles then check out our page. If you want to take a shortcut then check out our youtube channel.
Now we all are aware of the huge success of Whatsapp and we don't need to tell you about it. But do you want to know what makes Whatsapp a great success and how you can replicate it? In this article, we are going to see how you can make an app that can stand out in the saturated marketplace. You can also contact mobile app development services company for this.
Before we can start with the steps for making a successful app like Whatsapp, we need to see what makes Whatsapp stand out. Since many companies are trying to make Whatsapp clones to replicate the success. You should know why Whatsapp worked and how to avoid creating another generic copy.
Role and history of Whatsapp
Whatsapp first hit the digital stores in 2009 and was a hit. Whatsapp's popularity tempted other developers to create similar apps with few tweaks like Telegram, Viber, WeChat, and more.
If you look at most of the apps, the majority of the app never reached even close to the popularity of Whatsapp. And the apps which are popular similar to Whatsapp are doing something unique.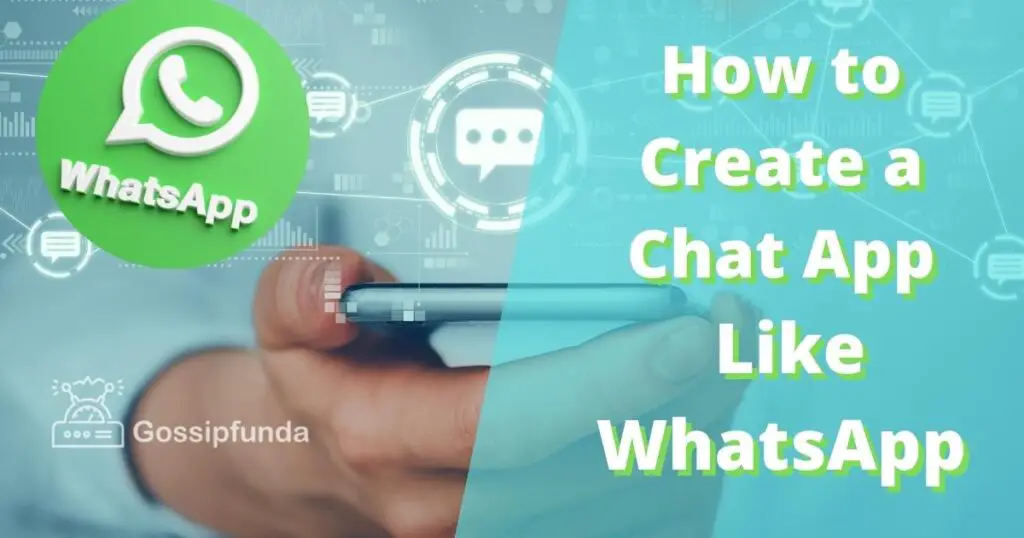 Credit: Statista
Now due to soaring popularity, Facebook acquired Whatsapp in the year 2004 with a user base of 1.5 billion. And year after year, the app became more and more popular among professional and casual users alike. So now that we have the history of Whatsapp, we can start how you can make your app unique.
Determine what features your chat app need
There are some basic features that your app must include for it to compete with other apps in the arena. These features determine if your app will be a success or failure in the long run.
You can use these features to lay out a blueprint for your app and follow the features step-by-step.


Most of the core technicalities are identical across all popular messaging applications. This is the vital component that makes chat applications so successful and natural to use. You can implement this step-by-step guide as a fundamental for how to create a messaging app.


Registration

This is a very basic but very important feature of any app since users need to have some type of identification. Aside from identification, it also allows users to have more security and avoid scams.
If you look at any app which has multiple users, there will be a way of signing in. A very popular way for signing is by using Gmail since most users have a Google account. Click here for more info on Google sign-in.

Contact Integration
Once we are done with users, the next most important feature your app need is contact integration. You might have noticed it when you install any new messaging app, you get the option to import all your contacts.
This is very important since users should be able to send messages to their contact with minimal steps. If you tell them to add numbers manually, then your app is a flop before it's even created. Remember to make the process of contact integration as short & easy as possible.

Profile customization
Now we can start with giving users more things to do in the app which will make them feel unique. This is a very powerful feature since users will be able to make their custom profile like user names, profile pictures, and more.
This is a reason why social media platforms like Instagram keep users engaged for a longer period.
Text messages
This is the core functionality of any chat app and it should be as seamless as possible. Users should be able to send messages instantly with support for emojis, gifs, stickers, and more. Also, users should see if their contacts are online or not, this makes the app feel more lively.
The messages should have push notifications so users will know they received the message. Along with other useful features like poke, no sound notification, un-send message, and more.

Group calls
Group chat attracts more professionals and users who want to talk with family or friends group. If your app does not this feature then some users may not prefer your app over others.
But creating groups should be easy to create and have some features which make it easier to share in groups. You can check Whatsapp groups since they have a very simple and easy-to-use UI.
Video and voice calls
Many apps have a voice and video call features but they are not executed seamlessly. Your app does not need to have these features but if it does then they should be seamless. Users can get frustrated easily when there are other better options available.
These features increase the time user spends in your app and help increase engagement.
Notifications
We have also seen it before but this feature is really important, users should know when they get any message. But your app should also provide features like auto-reply and multiple message handling. Also, the notification should have different privacy levels.
Notifications should be as simple as possible so users don't feel overwhelmed. A good example is Whatsapp & Telegram.
Media File Transfer
This is not the most very important feature but nowadays it is a standard feature in chat apps. The thing which makes Whatsapp stand out is not they handle Image and Video transfers. Also, Whatsapp handles multiple file transfers very well. Your app should have a simple UI that users can understand without reading a simple word. The app should support JPG, PNG, GIF, MP4, and more formats.
How Can You Make a Replicate Whatsapp's success?
We know about Whatsapp's history and we can not create a successful app just by copying what WhatsApp did. Whatsapp has the advantage that it entered the chat app market early and gathered a huge user base. And that user base is increasing year by year as indicated by the chart below.

Credit: Statista


Now your app does not have that advantage since the chat app market is very saturated and it's very hard to stand out. And if you try to create a Whstapp clone then users will not bother to use it.
You can think as a user if you option between a very popular app Whatsapp and a new similar app. Which app do you think will be your first option?
Users will not use your app if you do not provide any unique feature that other apps do not provide or if it does not work properly. Also, your app can have trending features that will attract users from other apps.
Innovative Ways to Develop an App like WhatsApp
We know why Whatsapp became a huge hit and what features you should include in your app. Now we will see how you can make your app stand out with a blueprint.
Analyze market need
Before you start the development process, you should wait and analyze if your products have a place in the market. If there is no demand for your product then your app is not going to be successful. The market will determine if your app is going to succeed or fail and you should do a survey or market analysis.
If you feel like the project is not what is required in the market and by the users. Then it's time to go back to the drawing board and come up with a new idea. There are some steps you can follow to answer the question "is my product viable or not".
Follow the steps and perform the analysis:
Find the purpose of your app
Analyze industry application
Find your target audience/users
Compare your app with the competition
Gather data and use it to find your answers
Analyze the data and draw conclusions
Note everything down and get to work
These pointers will help you with the market needs and check if your product is needed or not. Keep in mind that you should not draw any conclusions without gathering large data. And once you are done with the analysis, you can move towards development.
Select the App Module Which Suits Your Business
Requirements are very important in developing any project and the same goes for the app. Before you can start, you must know the business needs along with any technological challenges. The product/app should meet the business requirements and demands.
For example, the app should contain a user privacy policy, a contact section, and more.
You should also choose which app module to use, the wireframe for the UI (User Interface), and more. Sometimes the end app will be different from what is required by the business. This can happen if the development process is not well throughout. The development process should be tracked at every stage so any unwanted changes can be prevented.
If you choose a simple app module then the development can be user-friendly and increase the chances of your app's success.
Choose trending and must-have features
Now before you start the actual development, you should consider app features which are trending and modules that will reduce development efforts. This is important since many developers will be working on the project including offshore developers.
Also based on the latest technological trends, your app should contain AI (Artificial Intelligence) and ML (Machine Learning). These are trending technologies that can improve your app from a technological standpoint.
Now if you are trying to create a competing app then you must know what makes an app like Telegram, Viber, WeChat, Hike, and Messenger stand out. Your app can include the popular features which Whatsapp provides like:
Stable and Animated stickers,
Light & Dark mode both,
Video calls as well as voice calls,
Conference video call,
Status updates in image and text,
Login & registration page,
Backup
5-Web Whatsapp on the same number
and many more.
These are some of the features which your app must have if you trying to have a similar app to Whatsapp. You are at a disadvantage since you are trying to compete with Whatsapp. And thus your app needs to be superior in some features which will be your main selling point.
Select app design
Once all the initial planning is done, you can focus on the UI. This is perhaps the most important since it's not that users will be iterating with your app. If your app is very powerful but does not have a good UI, then your app will not be very popular.
Having a simple UI/UX is the key to a good app, and you will notice this in the most popular apps. Popular apps have simple and minimal UI which helps the user not feel overwhelmed.
Hire Android App Developers to Develop an App Like WhatsApp
Once everything is planned out, you can start hiring developers to develop your app. You have the option to hire developers directly or you can give contact to a mobile app development services company that will get your app ready.
Developers are not the answer to the solution, you also need to decide if you want to develop a native app or a hybrid app.

NOTE: Native apps only run on Android or iOS but are very powerful and easy to develop. On the other hand, hybrid apps run on Android and iOS as well. But are harder to develop and even harder to maintain.
Read Also: The Whatsapp Web
Conclusion
We have seen what makes Whatsapp so popular and the reason behind its huge success. And most importantly, how you can replicate the success of WhatsApp with your app. We would suggest you go through the steps carefully and do not skip them.
Planning everything is very important, even more, important than the development itself. Since the result can be different from the business requirements it can be disastrous. You can learn more about the technical requirements which will give you a better idea about the app and requirements.