Businesses get more complex as they develop, typically facing serious talent shortage challenges. Around 54% of all organizations worldwide are battling to maintain at least some stability as they are unable to locate personnel with the necessary expertise and abilities they need. Only 29% of tech companies think they have the right IT talent. Such stats show us that examining the expertise and experience of the professionals is crucial.
Even if you have a clear concept of what needs to be done, you will never attain the intended outcome unless you have people willing to work for you. And, it's not easy to find such diligent and proficient employees. This is because AI, big data, analytics, and mobile experts are in short supply, so firms must be cautious when they are developing recruiting strategies.
In order to adapt swiftly and efficiently to business growth, marketing technology companies have found a way to stay on top no matter what. If you want to know how they hire MarTech developers offshore as well as how you can do the same, keep on reading.
Why Does The Problem With Hiring Offshore Martech Developers Exist?
Inability to recruit a sufficient number of professionals with diversified knowledge and abilities usually happens due to a lack of needed personnel credentials. In addition, as a result of the COVID-19 pandemic, businesses had to go through a lot of changes, particularly in their efforts to digitize and increase their use of technology to allow for people to work from home. This shift to a more digitalized world is causing new pitfalls.
The most significant problem is the current talent shortage. The lack of good employees slows down business processes and leads to dramatic losses.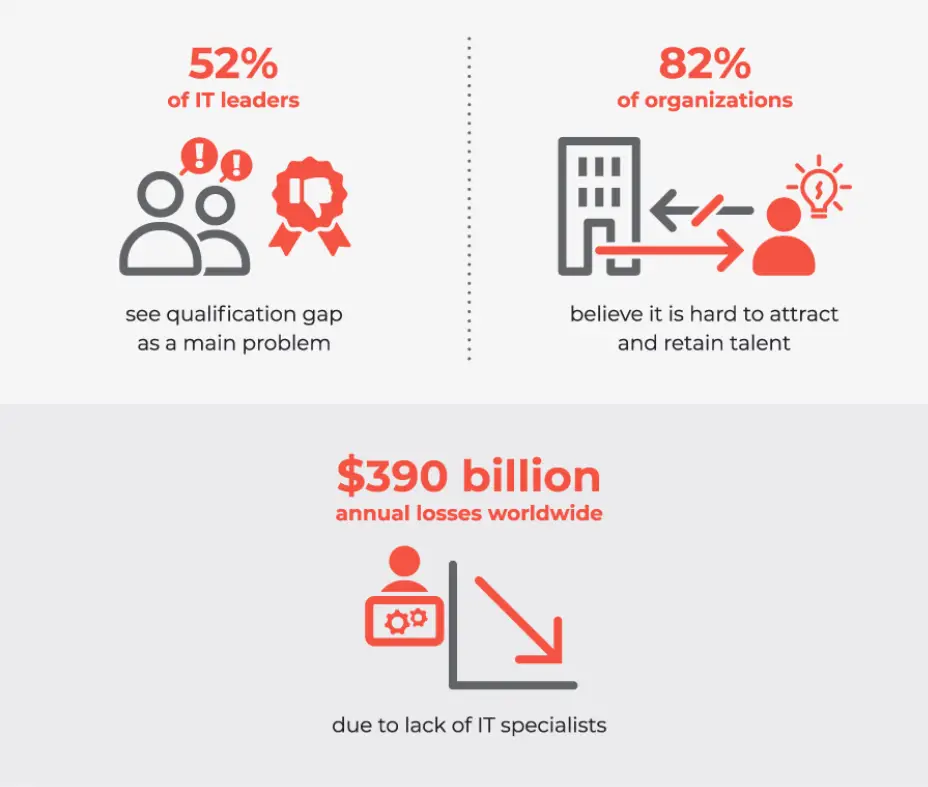 What Are The Options For These Companies?
Forbes has listed the proven ways in which companies can overcome the shortage of needed talents. One of them is that they should launch training programs, specifically tactical training programs aimed at top graduates in order to "qualify" people for the most crucial roles. There should also be onboarding, executive training, and structured mentorship programs that can last anywhere from 30 days to six months. So if you have no time it will not be a smart choice, which is why you need to make time.
In addition, using LinkedIn's recruiter tool allows you to reach the talent you want by connecting skill sets with opportunities, but it does take a lot of effort and time to connect.
However, the problem is more complicated than the lack of skillful employees. There are concerns about the cost, location, work atmosphere, team culture, and other factors as well. How adaptable do you want to be? Is it truly necessary for the work to be located where the company building is?
Overall, you will need to think about many things. It will take more than simply programming languages, frameworks, and infrastructure when launching a new MarTech development project, or even adding new features to your existing platforms. The most crucial decision is to choose which development resources you will use.
In order to address all of these challenges, it is vital to devise a plan and have documentation that clearly shows the process of new employee recruitment in addition to the establishment of a working environment for them.
This is a long-term process, but it can be shortened. The best strategy for increasing the quantity and quality of the tech talent pool is to recruit from different parts of the world. It's the right time to think about going offshore to other markets in search of needed specialists!
Where to go for offshore outsourcing of MarTech development?
Recruiting skilled IT talent specialists from these places is an opportunity for many firms to tap into a large talent pool. By exploring beyond the typical IT talent hubs, where competition is fierce and staff acquisition costs are even greater, businesses might potentially expand their resources and address the skills gap when looking elsewhere.
Hiring from outside the country also contributes to a workplace culture of diversity and inclusion. When people with different skill sets, backgrounds, and viewpoints work together to solve complicated challenges, the results are frequently multifaceted and powerful.
What country should you consider?
More and more MarTech development companies are paying a lot of attention to Ukraine. Ukraine's IT outsourcing/outstaffing industry has grown rapidly during the last two decades. Going to this country to look for talent would be an amazing option if you are expecting high-quality work at a reasonable cost. 
Here are some of the reasons why companies go offshore to Ukraine:
Engineers of the highest talent are on hand
Reasonable cost to hire martech developers
Excellent final results
Statista looked at the top countries for offshore business services and came up with some impressive findings. Although the United States is at the top of the list, it is one of the least cost-effective possibilities. Ukraine has been voted the top digital, technology, and IT destination in Central and Eastern Europe by Outsourcing Journal as well so there is enough evidence and reasons to get MarTech development services offshore here.
Many businesses tend to outsource MerTech services in Ukraine and are really satisfied with the outcomes. Thus, with a variety of assets to attract investors, Ukraine is the ideal site for IT growth.
Want to know how you save up when hiring offshore martech developers in Ukraine? Here is some simple math.
On average, American programmers earn more than $114,000 per year. In Western Europe, Australia, or Israel, you will have to waste about the same, which is the average salary for software engineers there.
At the same time, wages in Ukraine are amazingly lower. Here you pay for developers three times less. This is such a great opportunity considering the fact that the qualifications of Ukrainian specialists are widely recognized around the world.
All in all, MarTech developers' salary difference is quite large.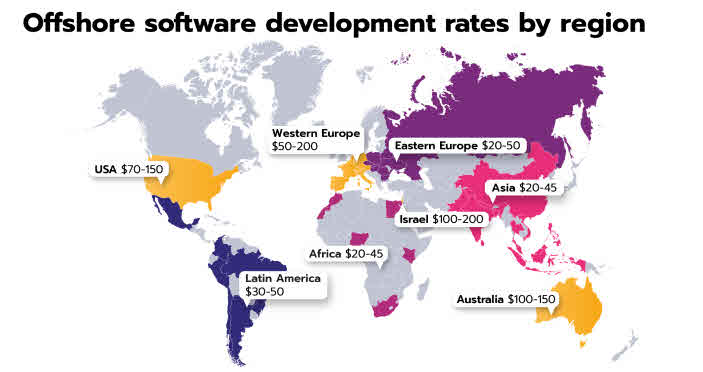 What is the best way to find offshore MarTech developers?
It's not possible to build a great team of people overnight and hire martech developers yourself. But it's much faster with a vendor. Many businesses pick offshore locations to access a larger pool of specialists, expand their development capability and gain access to the skills that they require, and a vendor is usually what helps the best in such situations.
Finding the right people is difficult, but keeping them on the team is even harder. That's why the process of gathering and controlling the team is so important. A good vendor's task is to create a space where employees will feel comfortable as well as be able to stay productive.
The others in the company, not less important, are establishing the correct recruitment process, coping with onboarding the team, supplying it with everything necessary for work (starting from the office, ending with a computer mouse), managing the HR processes, legal issues and more.
Real Case: How Newxel Solved The Problem Of Talent Shortage
A self-service technology platform referred to Newxel with the talent shortage problem. A few words about the company: it is present in 16 locations around the world, and provides a technology platform with self-service programs and applications for efficient data-driven marketing. That's how its services include audience targeting, optimization algorithms, automation controls, and actionable analytics.
Together with the client, Newxel discussed the desired location and other requirements for the offshore office. The client requested five senior developers with Java/Scala programming skills and expertise so that their business can function properly.
Newxel's HR team began the recruitment process right away. They found, interviewed, and hired five competent and highly experienced software engineers in about 6 weeks. Then, they also prepared everything for their work, sorted the office and all the needed applications.
After another meeting with the customer's site manager, Newxel listened carefully to his demands and recommendations for a future project. They talked about the ways to arrange the workspace in Kyiv. Newxel's team furnished it with all they needed at this time.
Eventually, Nexwel got all of the essential equipment and the back-office processes in order. They had put together an exceptional group of people for this firm in only one and a half months and ensured that it ran smoothly, and the success was guaranteed.
After 3.5 months of work with Newxel, the customer wanted to scale up and reinforce its team with five more web engineers. That's how a team of ten specialists was involved in the project after some Newxel's recruitment magic.
There are more services that the vendor provided. Among them were facilities and administrative management, handling legal issues relating to the establishment of the R&D office in Ukraine, programmers' employment, and other tasks required for a smooth workflow.
All in all, Newxel managed to retain talented IT developers. They skillfully reduced staff turnover by collecting regular feedback and holding one-to-one sessions with each developer.
Bottom Line
Technology is always advancing and your offshore MarTech development company objectives may shift as a result. You will always need a strong team at hand that contains good talent which is necessary for accomplishing specific tasks, and for you to function properly. Finding the ideal employee who has a long list of needed characteristics might be a difficult endeavor but with enough research, even a problem like this can be solved successfully.
The solution? Find a reliable vendor! They work with the purpose of hiring offshore MarTech developers and gathering a team of professionals for you. The result? You will not only feel less stressed during the process, but you will have your business finally growing steadily and maybe even higher than expected.
When organizations fill operation roles, they run aiming for growth. They can't afford to gather an under qualified team. Do you employ just anyone for the position fit or for the growth? You can recruit for job fit and hit the low point, but hiring specialists is the task, such vendors, as Newxel can do, and do it well.