Passwords provide security to our device and disable access to anyone unknown. Therefore nowadays it becomes necessary to put passwords in all important apps and also as a security lock. Passwords can be of any kind that as PIN, Password, etc. But sometimes it happens that we forgot our password and then it becomes difficult to access anything, even if you forgot your screen lock then it will be problematic to access your MAC.
So, there you have no need to panic as there are a few ways that you can apply and reset your Forgot MAC password in such cases. In the future, you can write your passwords if you are not able to remember them properly. So, let's get started to know more about resetting passwords. Always build a strong password so that it won't be accessible to anyone else.
How To Reset Forgot MAC Password
There are multiple ways you can reset your Forgot MacBook Password for example you can reset your password with recovery Mode on MAC or you can reset it by using another account. Read the detailed process of these methods below:
Using Recovery Mode on MAC:
If it's an Intel-based Mac then follow these steps:
Shut down your computer.
Keep holding the power button and R command.
Then wait for the screen to reopen while your Mac boots to recovery mode.
If its M1 MAC, then the process will be different:
Shut down your computer.
Keep pressing and holding the power button.
Click on options and then on Continue.
After following these steps here is a way to reset the password on MAC from recovery mode:
Go to utilities and access it in the Apple menu.
Select Terminal from there.
Then Type "reset password" and click on Return.
Go to the hard drive and select your user account.
The last thing that changes your Forgot MAC password, is you can also create a hint question for the future and then click on save. Now you are all set to use a new password after restarting your MAC.
Using Reset password with Apple ID:
You can also reset the password from your login window also, going to the question mark residing next to the password.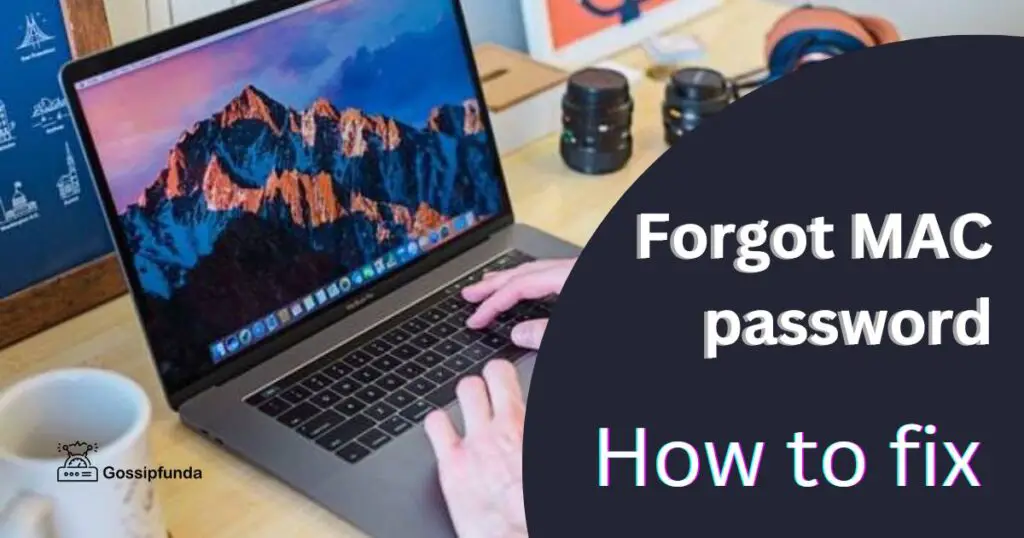 Select "Forgot Password" and agree to the option to reset with Apple ID if you don't see a question mark then hold the power button and restart your computer again.
Click the arrow icon and reset using your Apple ID.
Put in your Apple ID and password, then click next.
The above instruction will be helpful to reset your password. I hope it may be helpful to you and you will surely be able to easily reset your password.
Change password from another account
Steps to follow:
Log in to your other user account.
Click on System preferences > Users and Groups > Lock icon.
Enter the password of your account to unlock it.
Choose your account and select "Reset Password".
For the safe side, if you again forgot the password then kindly create a hint question.
After that logout
Then again type your new credentials on the lock screen.
Store passwords using Secrets
Secrets is a robust password manager where you can look for your password as a central point of reference. The app is supported by industry-standard PGP encryption as none of your files will ever get revealed.
Steps to install Secrets:
Install it from Setapp.
Proceed via the setup guide.
For saving your first password, click on the plus icon next to the search field and enter all the necessary information.
Are Safari-generated passwords safe?
No safari-generated passwords are not safe as anyone that has access to your laptop can access that site easily. Thereby never allow safari to save your newly-generated password. But you can save a password to your iPhone iCloud for your own ease and safety. You should always try to customize your password so that it will build a strong password and will not be easily guessed by any third party other than you. So, always avoid auto-fill generated and saving passwords of some important site that contains sensitive information.
How do I recover my admin account on MAC?
Follow the steps mentioned below :
First, reboot your MAC into single-user mode.
After that restart your computer and keep holding the command and S keys, in order to open a terminal command prompt.
The file system is set to writable mode.
Now recreate the account.
That's how you can recover your administrator account on Mac. I hope you find it useful and will be able to recreate your admin account successfully.
How do you get into a locked MacBook?
Yes, you can get into a locked MacBook by a simple procedure that you need to follow:
Turn on the power of your MacBook and if it is already on then restart your Mac and press the command + R keys together so that when the computer starts up just release it and then you will see an Apple logo on your screen. This will boot your Mac pro in Recovery mode.
If MAC won't accept your password.
Sometimes such situations appear when we enter a password and the Mac does not accept it even though it is the right password. So in such a case, there is no need to worry, you need to restart your Mac and also press the command + P + R Keys together and release it in under 20 seconds. After that your Mac will restart and then you can try again to enter the password and this time maybe it will accept.
If this also won't work then you can shut down and just try after an hour. Sometimes this way also works.
Locked out of MacBook Air M1.
Sometimes you forgot the password to your Mac account and had not yet logged into Apple id on my Macbook yet, and even after restarting it directly lands me on the login screen. Simply follow these steps :
Select Apple menu > Shut Down.
Keep pressing and holding the power button until you see the loading startup.
Click options and then click continue.
Select Toolbar > Utilities > Terminal.
After that type "resetpassword" without any spaces.
Click on Return Key.
After that follow the prompts and keep remembering your New Password.
How to factory reset your MacBook before selling it away?
When you wish to sell your MacBook, you need to erase all your content so that it won't be visible to anyone. Then there is one way by which everything will get erased. You don't need to erase everything one by one.
Open System Preferences on your MAC.
Click System Preferences in the Menu Bar and after that Erase all contents and Settings.
To erase your Mac follow the prompts.
Like iOS, it will fully wipe your Mac.
After that, your content gets erased and you can give it to anyone.
How to create an Apple ID on Mac?
An apple id gives access to iTunes Store, App Store, iCloud, etc other services. It consists of your email address. You can create an Apple Id by using your current email id.
 Follow these steps:
Open your MAC, Choose the Apple menu.
After that go to System preferences and then click Sign in.
Now create an Apple Id and follow the instructions that appear on your screen.
After following these steps you will be able to create an Apple ID successfully.
Tips for creating secure passwords on MAC
Following steps that are mandatory to build a strong password:
Select a password with a minimum of eight characters or more and it should contain different types.
Do not use simple combinations of words that can be guessed easily.
Passwords should have lowercase letters, uppercase letters, digits, and special characters.
You can use the passwords that are suggested to you by MAC also.
I hope you find it easy and useful.
Conclusion
Here,  in this article, we have handled the problem that when you are not able to remember the password then what to do. For that, there are many alternative methods that you can apply and resolve this issue easily.
After reading this whole article, you will be able to reset your Forgot MAC password and find it helpful to overcome this problem. Therefore if you forgot your password there are many ways listed above for you. Just read them carefully, and follow the steps accordingly and your password gets reset in a few minutes and there is no need to panic or take tension. Hope you find our article useful.
FAQs
How to change MAC password?
In Users & Groups into System Preferences, click at the bottom of the Users & Groups window. Enter your password to unlock.
There you can click on 'Change Password'. Then a dialog box appears and there you need to mention the old password, after enter your new password, reconfirm it and select change password. By following these steps your password gets changed easily and you can log in with a new password.
How to turn off automatically filling in passwords?
Follow these below-mentioned steps to prevent the iPhone from automatically suggesting/generating passwords:
1. Go to your iPhone Settings.
2. After that Go to Passwords.
3. Click on AutoFill Passwords.
4. Turn off / Disable the Autofill Passwords.
5. After that, your auto-filling passwords will get diable and it will no longer suggest any password. Within a few easy steps, you will be able to do this.