Is your iPhone disabled? Can't you unlock your device? want to know, How to reset iPhone without a password? Or you want a hard reset. When this happens, you can not get into it or access it anymore. In such a condition, you need to reset the phone hard and reset the software.
Make sure when you're doing this, your phone doesn't have iCloud activation because if it does have to Find your iPhone activity, it means when you do reset with your iCloud activated, you won't be able to log in due to your iCloud details in your device.
To reset the phone and software follow the given procedure:
Note: Before following this procedure, you need to remove your SIM card. Otherwise, you may lose your contacts if they are not synced anywhere.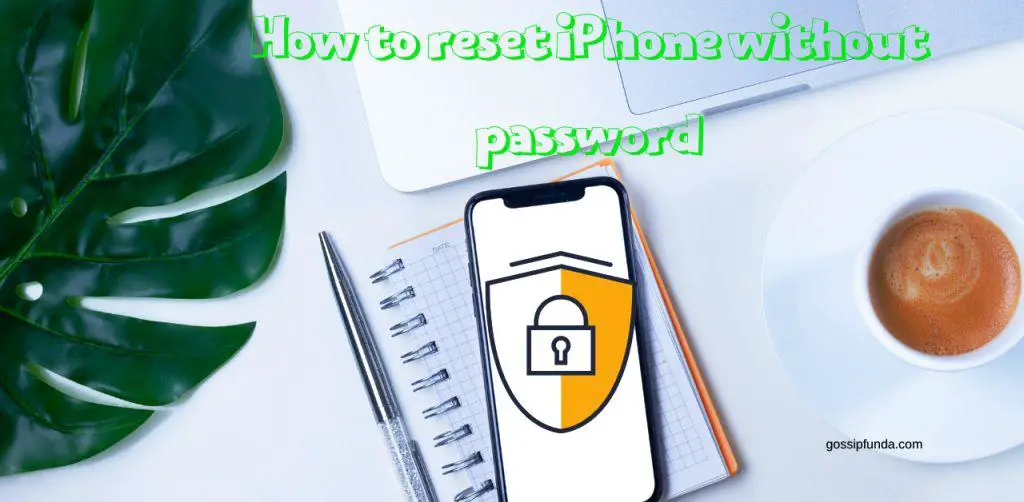 iOS 12 AND ABOVE ARE NOT SUPPORTED
Power off the phone hold the home button by pressing it in and then insert the USB data cable, and you'll be presented with this screen, which is a connector on display now.
Once that happens, we are going to iTunes which will be flash up on your screen
connect your iPhone with the laptop after you connect with your device a screen will pop up "The software on iPhone needs to be restored to factory settings or updated" click on Restore.
A new screen would pop up "Are you sure you want to restore the iPhone to its factory settings" All of your media and other data will be erased. The newest version of the iPhone software would be installed to make sure this will delete all of your data from the phone. You'd be able to access the phone even if you didn't know the password previously. Wait for the software to go through its process
When iTunes is finished extracting the software, it's going to begin to install the software on the phone, and you're going to be presented with a blank screen
 (iPhone basically reset itself. Screen with apple logo will appear which shows it's installing the software essentially)
Wait for installation or restoring to finish ( you have to wait for few minutes till the phone's finished its process, then it will reset itself)
Install your SIM  card before this because for reconnection your phone needs an internet connection
Once the phone is restored, a screen with "HOLA" written on it will display. The phone is new now, so you need to follow the prompts and set up the language.
Turn on your cellular data or connect Wi-Fi. Your phone will take a few minutes to activate.
Location service will show up tap on your preferred option then "SET UP IPHONE" will show up. Click on "set up as a new phone," then follow your prompts for preferred option on APPLE ID follow your way through all the options.
Create your own password, and then you will get your access back to it.
Note: The process for the iPhone 8, iPhone 8+, iPhone 10 is volume up, volume downside button or power button (hold the power button till the phone until it turns off.
your iPhone requires it to be updated or restored if you need to remove your passcode you're going to repair it, and you're going to lose all your information, but you're going to get your iPhone brand new
Don't Miss: How to turn off find my iPhone
How to Unlock APPLE ID
The various scenarios in which you might get the apple ID locked can be – got a second-hand phone from an auction with the former owner's Apple ID on it, or someone else typed in the wrong password on your phone too many Times or many more.
To unlock your apple id without password, you have to follow the given procedure:
Download and install 4uKey
4uKey  is a powerful tool designed to unlock all kind of locks on iPhone like 4 or 6 digit passwords, touch ID, face ID or Apple ID
Launch 4uKey, go to unlock Apple ID section
Plug your iPhone in. START
Go to settings and reset all settings on your phone(Enter your screen password)
Soon after the unlock process will begin
A screen  will show up with " Removed the Apple ID successfully!"
Tap on done
Open your phone and tap on settings which will be unlocked by now . Please do not restore your device to factory reset or update .Restore the machine with iTunes  after  the Apple id removing.
Read this also: Why does my iPhone battery die so fast?
How to remove iCloud without a password 
How to remove iCloud without using IMEI or serial number? To reset your iCloud, follow the full procedure given below to get free iCloud to unlock bypass even if its link to your Apple ID or if it is disabled or Rossmoor:
Choose your preferred  language
Do not choose the county you're living in or any province of your own you are supposed to click on  "UNITED KINGDOM" only.
Once you press the united kingdom on your screen, you go to set up a manual. In this case, you have to have a Wi-Fi or internet connection with good speed so that you can connect  your things quickly and fastly
Once you get connected, you have to go through the whole procedure again .once you reach the "QUICK START"  page, click on set up manually.
You  go to "ACTIVATION LOCK" on your screen (DO NOT ENTER YOUR APPLE ID OR PASSWORD)
You have to write the same ID even if you have a hyper iPhone, iPod, or iPad.
On Apple ID: 702990029S
Password, e.g., 123456789( password should be simple and basic )
Once you're done with the whole procedure, press "NEXT" on the top right of your screen, which will show an incorrect password. Therefore, you have to press NEXT 10 times in a row.
At the 10th time, a screen will pop up with "APPLE ID DISABLE" written on it.
The next step we are going giving back to your Wi-Fi settings, click on your connected Wi-Fi
Click on the configure proxy and go to the automatic. Once this process is done, you have to add a no. That is (4406191100 and capital, S). This is direct no. That will connect apple server then you can easily be free from iCloud in your Apple device
Click on "SAVE" on the top right corner, here you can see the configure proxy is now automatic before it was off
Once you come back to tap on the start-up button and press (UNITED KINGDOM)  again, the one we did last time. Once you press click on "setup manual," then wait for some time.
Once you come upon activation lock you press one-time activation log help then press the home button Wi-Fi settings to select your connected Wi-Fi, and here you go into internet settings
After clicking internet settings press the manual option and add ( 102.581.32.1 and capital S) this is the combination of the old numbers that makes your app advice free from iCloud and press save button
Again tap on the start button, and select language then follow the same procedure press on the UK and set up manual
After pressing the set up manually, your screen will show "try again" tap on it and then try one more time again.
Once you're done press home button start one more time again with selecting your language and the UNITED KINGDOM  as your option.Once you press to set up manual straightway press the home button again go to Wi-Fi settings (you will get extra Wi-Fi appears that is your apple satellite) each and every number you have written forward slash and capital S for this thing that was the information you receive with the correct information  tap on it, the network is our home network which we're going to forget
If it gets connected then every single detail you added is correct (how many time you have to press next and back is a part of the process if you doesn't follow it properly your connection will create  error)
Tap on "done" and then "back" then we have to wait for a message (if it is an error it means you have skipped a process or if it is showing " try again" then we are going on the right direction. This procedure may take 20- 25 mins)
If this procedure takes a long time then Press the home button then Wi-Fi settings, click on apple satellite press "forget this network" then press done (at this time we do not have any Wi-Fi connected with this Apple iPad, iPod, iPhone or any Apple device you're using)
Press on the back button click on "APPLE CA" click on the Next button, then wait for your success time appears, then date appears and types your preferred date.
See also: How to set up voicemail on iPhone
Conclusion
We hope that you have got through How to reset iPhone without a password and fix your iPhone. Do not forget to give your feedback and share this to all who needed it.