It's a big question how to type on a pdf, but has an easy answer. You can easily type, edit, convert your PDF. PDF is very important for everyone. The easiest way of editing pdf is using PDF editing tools for this generation of people in which an individual can edit, add text, highlights, comment boxes, links, add extra pages, merge two different pdf, and several other things in it. It is the simplest way of transferring one file format data into another file format data. Nowadays, almost every document is represented in pdf format with .pdf extension.
The best and most simple pdf editors are Smallpdf, Pdf element, Adobe Acrobat, etc. Further all details about, how to type on a pdf are explained in the below-written content for an individual which helps them. 
Don't Miss: Small pdf vs Wondershare pdfelement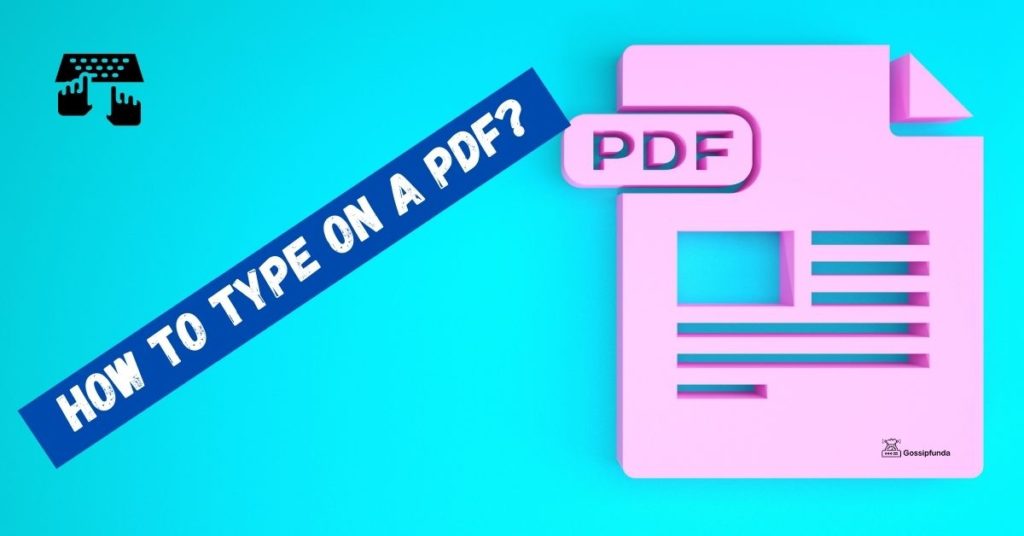 What is PDF?
In the 1990s, Adobe was the first to discover Portable Document Format (Pdf) for representing documents in a best representing way so that people can edit and modified their sentence or write-up, images, highlights, and underline the things using various colors, font size, and font patterns.
According to today's lifestyle and advancement in technology, every individual needs to have pdf inside their electric gadgets viz. Android mobile phones, iPhone, desktop computer, and Laptops.
Every individual such as office people (report of daily work, data entry in excel after that convert it into pdf), college students (submission of assignments, presentation, report writing) and school students (submission of homework and preparing personal notes for putting them long-lasting) use pdf for several works.
How to type on a PDF?
Download Install Wondershare pdf element.
Now, open the pdf editing tool by clicking the icon.

It will look like: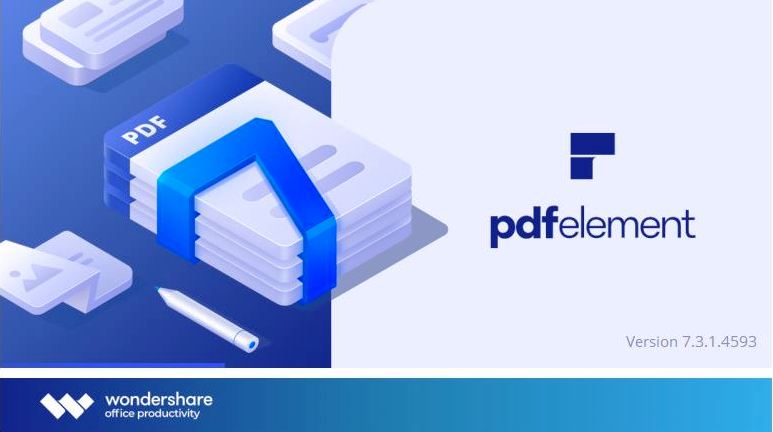 Go to File-> Open-> Recent Document or Browse->to Open the pdf on which you want to type.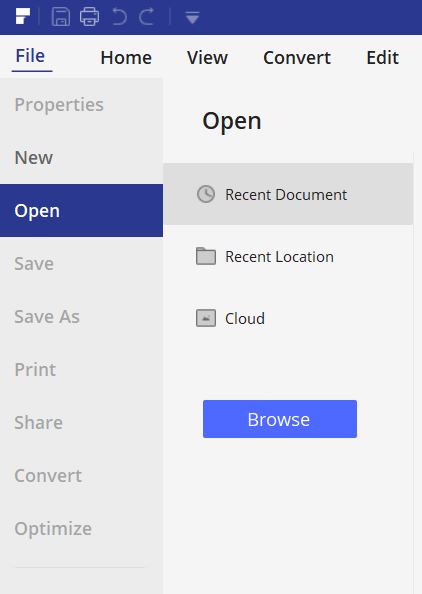 Click on EDIT, Here you will get two options.

Option 1 . Edit text and image object.
Now click on the block or near text where you want to type anything, and start tying on the pdf.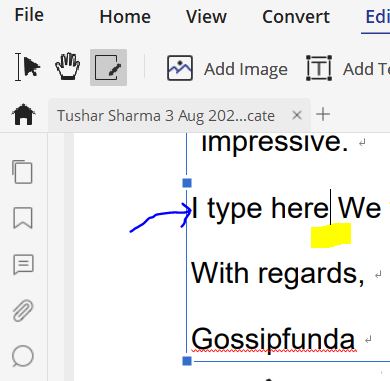 Option 2. Add Text.
Select add text and click on the pdf where you want to type.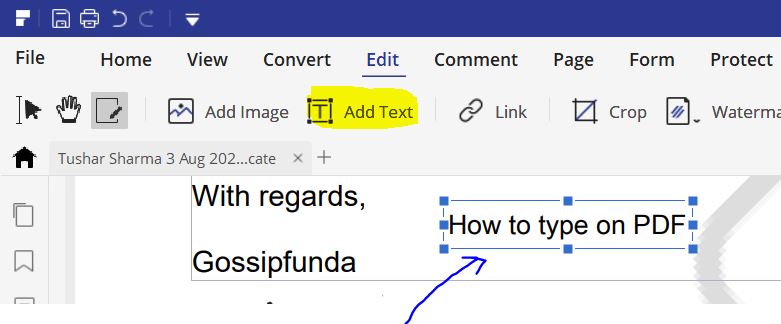 Also you can drag to other position by using move icon form at the blue block, You can change size, color, font, and other properties too, panel is at right side.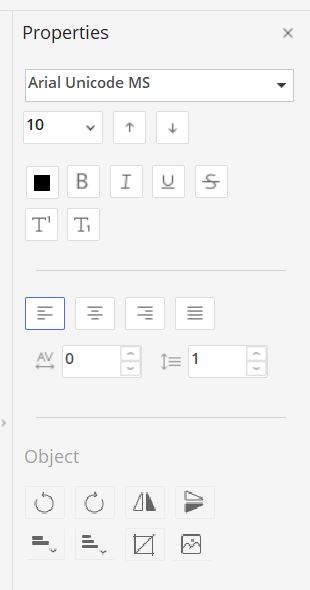 How to Convert a PDF to Document
We can make any pdf file to document formatusing several types of different applications. Thus, there is a list of applications with the help of which an individual can convert their document into a pdf file format such as Smallpdf, Adobe Acrobat, Pdf reader, Pdf Max, Smart forms, Pdf Expert, Pdf element, etc.
Different pdf editing tools are used in different ways of the software and the operating system. Hence, an individual can use editing tools like sticky notes for adding comments and remarks over the document, after that, an individual can save it in pdf and can open in the future. 
There are two different method in Wondershare Pdf element similarly you can find in other tools too.
Open the PDF which you want to convert into DOC
Method-1: Go to File->Save As-> Browse. Provide the path to save file.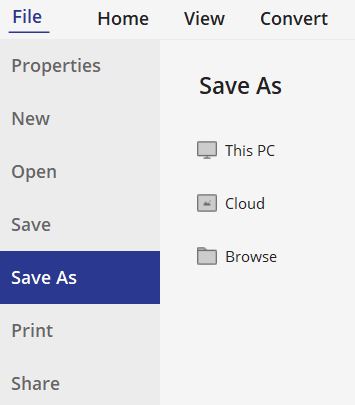 Enter the file name if you wish other wise a copy name created.
Now the main point is to select "save as type" and a menu will be shown. Select the desired DOC format in the list. And click Save. Your PDF is finally converted into DOC.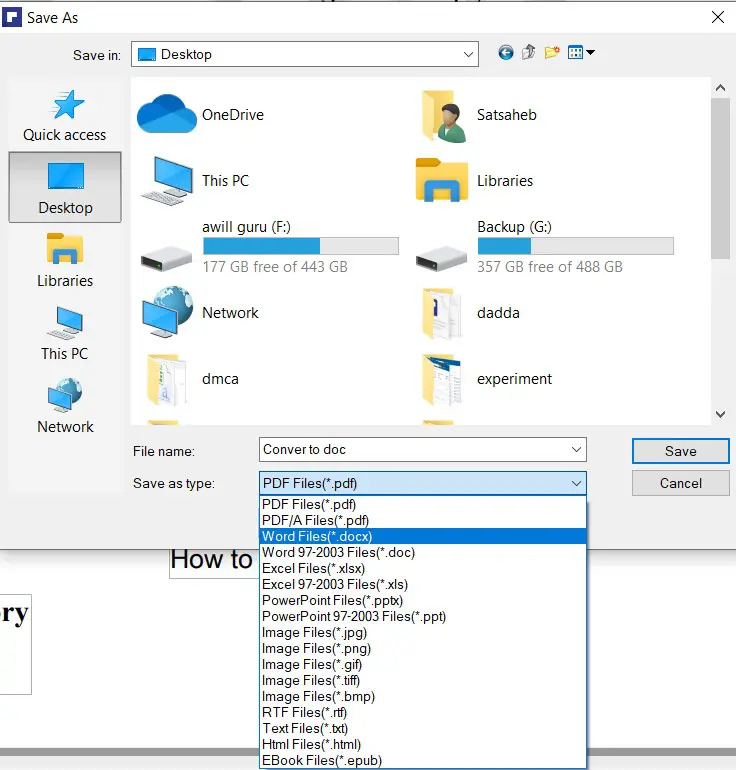 Note: Different tool has different format.
Method-2: Click on "Convert"

You will get different DOC menu, select which you want, this will simply convert your PDF to desired DOC format.
How to Convert a Document to PDF
There are two different method in Pdf element similarly you can find in other tools too.
Method1: Go to 1. File-> 2. Open> 3. Browse-> 4. All Files-> Select DoC-> Save, the doc will automatically converted into PDF.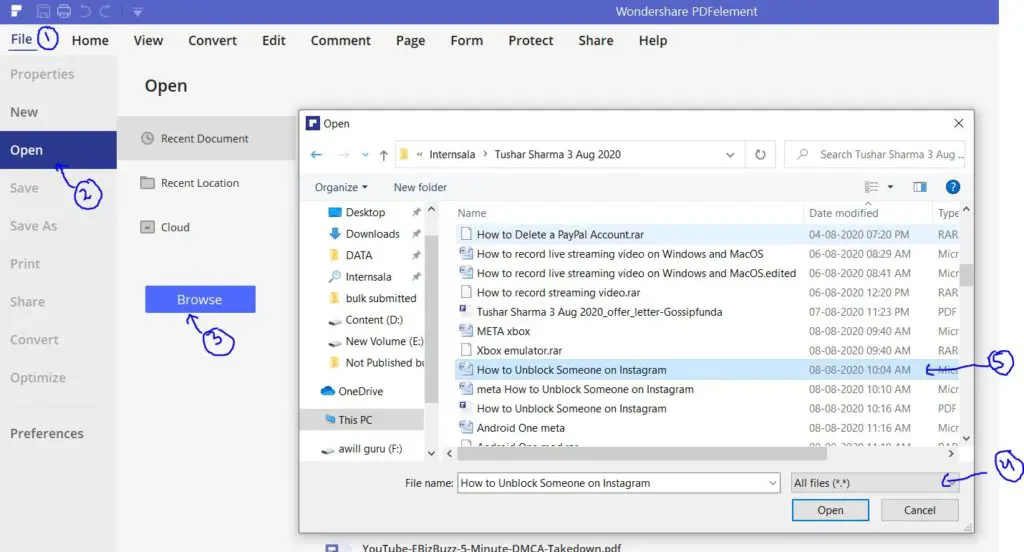 Method2: Open PDF editor tool.
Choose "Convert PDF"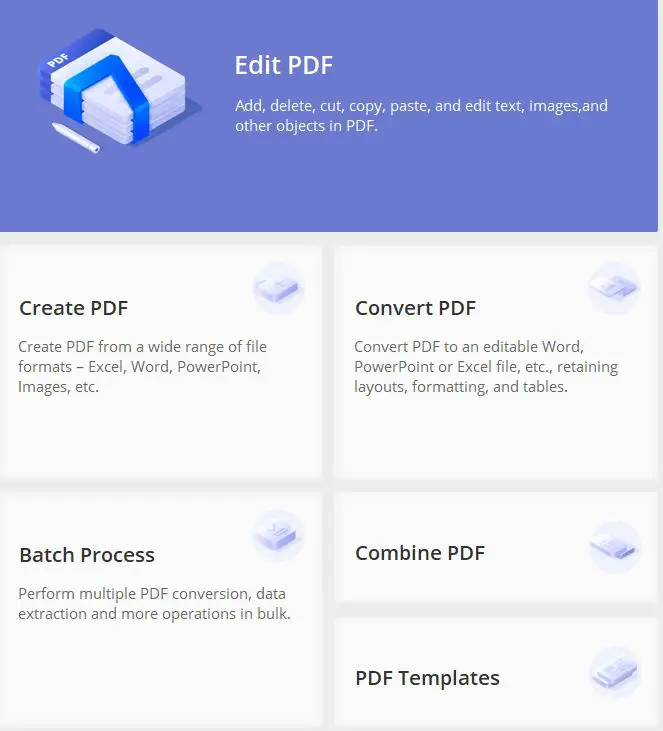 Browse your File( DOC image text etc any format supported by tool)
The DOC will be open in PDF format, So save the PDF
List of PDF editor tool
There are several advantages of PDF which are very helpful in different aspects such as preparation of books, articles, magazines, and broachers. We use pdf format because it put words, images, maps in their own position which means no shifting of file format. Pdf consists not only of one page but more than that including several types of pictures and maps inside it.
For enlarging and reducing the words, pictures, maps we have zoom in and zoom out options so that things can be visible by naked eyes easily. We use Pdf editor for typing over the pdf using several editing tools such as font types, font sizes, and colors. If someone wants to add text or note, it can be written by using a comment box that can be saved for further use.
There are several applications available on the internet and browser which an individual can use in their desktop computer, android mobile, iPhone, etc. without any cost which means free downloading.
Typing Pdf on android mobile, iPhone, and desktop computer with the help of following applications/ software, such as:
Smallpdf
Adobe Acrobat Reader
PDFElement
PDF Max
PDF Expert
Smart Forms.
As mentioned above application/ software viz. Smallpdf, Adobe Acrobat Reader, PDF element, PDFA max, Adobe fill and sign, PDF Expert, Smart Forms, etc, are very helpful for typing on a pdf.
This application/ software should give you a brief knowledge and information about the advancement in the latest technology of typing on a PDF in certain electric gadgets such as android mobile, iPhone, and desktop computer.
1. Smallpdf
Smallpdf is the most important tool for typing on a pdf, mostly used in android mobile, iPhone, and rarely used in desktop computers.  For using this, an individual needs to download and install the application or software. After installing, an individual can upload files, images from their device and system, or either by the browser.
It is supportive and obliging for splitting & merging PDF, convert PDF into various file formats such as word, excel, JPG, PPT & convert word, excel, JPG, PPT into PDF, compress PDF, view PDF either by rotation & editing.
2. Adobe Acrobat Reader
In 1993, Adobe Acrobat Reader was first spread with the help of web services. Such as internet and browser, created for enhancing digital documents, signatures, merging and splitting of documents, publishing PDF files.
It is a multi-tasking software/ application, which means an individual can run it either in a desktop computer, android mobile, and iPhone. It is mostly represented by a red color box with a symbol of an inside it. With the help of this, we can edit the sentence present in the pdf file format.
It also allows "premium" services and for which an individual needs to paid money after that only subscribers surely be granted. Premium services have few advantages, it opens some more additional features to an individual for editing and typing on a PDF.
If an individual wants to use Adobe Acrobat Reader for typing on a pdf, it must compulsory to download it and while downloading the application, android mobile and iPhone requirements must be fulfilled so that it runs smoothly and properly.
After downloading it, an individual must scan the application using a specific anti-virus scanner. As technology advanced with time to time, changes must occur in a system such as changes that took place in the version of software/ application means Adobe Acrobat Reader changes it a version and known as Adobe Acrobat Reader DC.
Both versions are different from one another in desktop computers, android mobile, and iPhone in various aspects such as RAM, processer, screen resolution, hard disk, window, internet explorer, etc.
3. Wondershare PDF element
This is a most favorite and powerful application used in android mobile and iPhone of most of the people in the company because it allows you to type and edit like text and font size, shape, color, etc over the PDF file format. Additional to this, an individual can add photographs and all desired modifications which might be necessary. After doing all editing PDF elements provide full control and confidence to an individual for securing the document/file by selecting the save option.
Download for Windows: Click here
Download for MAC: Click here
4.PDF Max-
In 2015, this software was originally released which means this is too young and its latest update took place in 2016 with best reviews. It can use in android mobile and desktop computers for filling forms along with a wide variety of editing tools such as insert text, highlights, text, etc. This application is free to download.
Android mobile- Click Here
5.PDF expert
In today's lifestyle, it is the most updated, advanced, and dominant application used mostly in iPhone, iPad, desktop computers. It is helpful for completing any type of task in PDF file format. PDF expert size is not too large that is 250.2 MB, an individual can download it from browser and web internet.
It consists of so many languages viz. English, German, French, Portuguese, etc, so that an individual can choose interest language.
6.There are so many methods of typing on a PDF out of which this is the simplest method. This method is an "online converter method" which is very easy and fruitful to every individual who is converting one file format into another file format.
For using this application or software an individual needs to access the internet or go online (it doesn't work offline). First of all, convert pdf file format into a word file format or any other format if required. After converting it, start editing, writing text, inserting images, etc, which an individual required.
Once editing is complete an individual can save it and convert again word file format into PDF file format. And download your file. Hence, the process of how to type on a PDF is complete.
Important Note:
Since there are so many other applications or software available in browsers and the internet like Adobe Fill and Sign, smart forms, etc, out of which are free to download and some are paid. After paying money only an individual gets a subscription for that application or software so that it can type on a PDF on a desktop computer, iPhone, iPad, and android mobile phone.
All these software or application are used for mostly one purpose is Editing. In editing an individual can type text, insert images, highlight & underline the sentences, can create a comment box for writing the vocabulary or notes, and save it also. 
Conclusion
There are many ways to type on a pdf but the easiest and simplest ways are mentioned above. By using the above-mentioned method an individual can easily type on a pdf, edit it and do all changes according to their requirement.
If an individual wants to make their work easier, they can buy the advanced version of the software or application, if not then the free versions are already available.
For the Android user, it is available on the play store, for desktop user web applications are available in the window and at last for iPhone users, it might be available in-app store from where iPhone users can download it. I hope the above-explained sentences and terminology must be helpful to an individual in getting a solution to their queries.