Yet another streaming site error. Chances might be that you were trying to access one of those popular drama shows on Paramount Plus and it just refuses to access your server request. Don't worry we do understand your dilemma and to help you fix that we have come up with an end number of solutions. This article will help you go through a step by step elaborated guide on how to fix Paramount error 2103. Just stay tuned with us and you will find the solution to it. But before that here is a brief overview of everything you need to know about the particular error.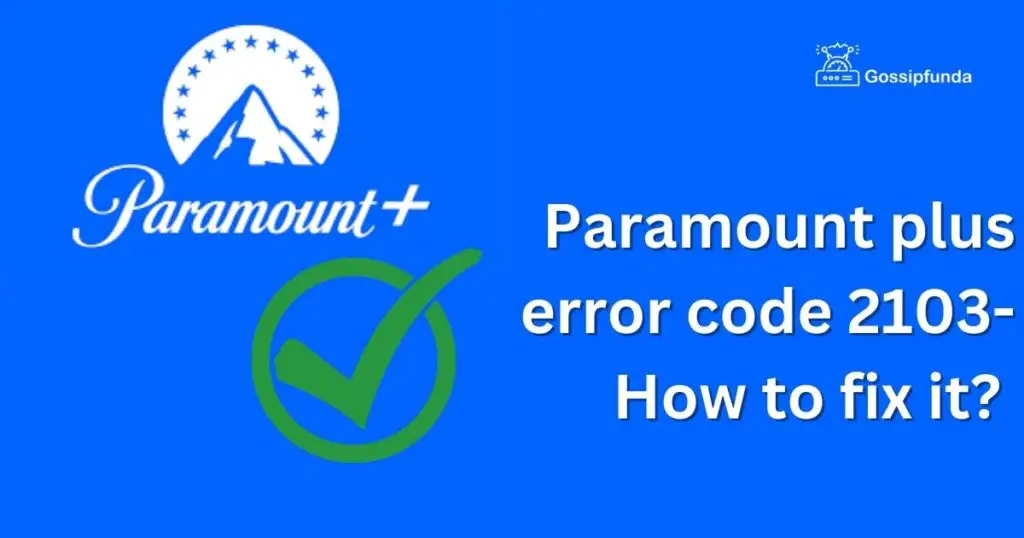 What is Paramount error 2103? 
Though articles suggest that there are not many details available regarding Paramount Plus error code 2103. This lack of information causes uncertainty when faced by the user. They are often left clueless and wander around for a set of instructions to help them through this situation . Generic way to put this together could be denial of request by Paramount Plus server host which is an online streaming service that offers a vast range of movies, TV shows,  sports events, news. For the services they provide, they charge you with a subscription fee that enables their user to access all the premium services within the application itself.
How to fix paramount plus error 2103? 
When encountered with such an error, there are a number of ways which could be applied to fix the issue. Here we enlist the quick and easy yet  awaited ways to actually fix this error. So let's get started with the quick fixes.
Method 1: Internet connectivity error
One of the contributing factors to unreachability of paramount plus servers could be linked to the internet connectivity in use. To troubleshoot the problem run a quick speed test and see if the internet speed is consistent with the server speed. To fix this problem repeat the methods listed below.
Step 1: Remove your router/modem from the device by unplugging it.
Step 2: Wait for a few seconds.
Step 3: Plug again the router and check if the internet matches the system requirements.
If the problem persists, do these advance steps to solve this error. The in-built troubleshooter program  can be utilized to rectify the connectivity issues, Perform these sets of instructions.
For Windows user:
Step 1: Go to Start.
Step 2: Proceed to Settings.
Step 3: Go to the Update & Security section.
Step 4: Click on Troubleshoot.
Step 5: Proceed to select the troubleshooter for Internet Connections.
Step 6: Re-check if the internet has returned.
Method 2: update your browser
A ton of issues can be resolved if we learn to keep our browser in check. Certainly our browsers run out of latest updates to keep it intact with the current improvements and enhanced features. Thus this step cannot be emphasized more.
To simply update your browser do this. (For chrome users) 
Step 1: Open Chrome web browser.
Step 2: Click More located on the top right end.
Step 3: Click Help button.
Step 4: From there select 'about'.
Step 5: Click Update Google Chrome.
Step 6: Once you're done with the above steps Click Relaunch.
 For Android users:
We have a list of instructions for the Mac users too. To update your safari web browser do these. 
Step 1: Go to the Apple menu . 
Step 2: Click to open System Settings. 
Step 3: Proceed to Click on Software Update. 
Step 4: Click Restart Now to install the available updates .
Step 5: If you need to read about the new update read the info. 
Step 6: Safari will be up to date too. 
Method 3: check for browser compatibility
Often times we run the stream sites without even caring to look at the browser specifications. It can be coined as the ability of a certain website to function on different web browser. Make sure the browser specifications meet the paramount p plus server specification. A different cross browser compatibility check helps ensure  if the browsers are working with compatibility in accordance with the website  or not. 
Method 4: Clear Cache
It is a crucial step to refresh and remove the unnecessary or temporary files that take up a lot of space. Time to time clean of cache is required for the system to smoothly function.
To do this repeat the steps:-
For Chrome users here is a set of instructions:
Step 1: Open Chrome . 
Step 2: Click on the three dots present at the top right corner of the browser. 
Step 3: Select More Tools. 
Step 4: Process to  select Clear Browsing Data.
Step 5: Un-tick whatever you want to keep. 
Step 6: Click on clear Data.
Step 7: Click on the OK button. 
For Safari:
Step 1: Go to the apple menu. 
Step 2: Open Safari browser.
Step 3: Click on Privacy.
Step 4: Choose Manage Website Data.
Step 5: Proceed to click on Remove All.
Hence you have cleared your cache data.
Method 5: Turn off ad-blockers
There is a possibility that having an ad-blocker on your device might prevent you from streaming any content through Paramount plus. Hence , turn off it and check if the issue persists or this fixes the paramount error code 2103.
Turn off the ad blocker ( for chrome users) 
Only the sites you trust should be kept as an exception to allow ads to run on that site.
For Android users:
Click on the More option.
Proceed to the 'Info' option.
Click on Site settings.
Click on the Ads.
Select the option Allowed.
Reload the webpage.
You have successfully disabled AD blocker.
For mac users:
Step 1: Start with opening the Safari browser.
Step 2: Go to the "Safari" menu in the top left corner of the screen. 
Step 3: Click on the "Preferences" options. 
Step 4: Go to the "Websites" option. 
Step 5: Proceed to select the Content blockers option.
Step 6: Click on OFF option. 
Method 6:Check Subscription dates
Watch out for your Paramount Plus subscription. You may have missed out on the the renewal of subscription that may show unexpected errors if your subscription has ended. So to make sure your auto payments or renewal dates are intact. 
To do this on your device. 
Step 1: Open your account on paramount plus. 
Step 2: Go to billing sections. 
Step 3: Click to check the next billing date. 
Step 4: If the payment is due then pay for the subscription to continue the services. 
Conclusion
Here through the article we have seen a series of steps to fix the paramount plus error 2103. We went through discussions based on the reasons for this error. We talked about the key methods to ensure that we troubleshoot the error. A list of procedures were mentioned to enable readers to apply the steps in order and achieve desired results. We discussed  the relevance of connectivity issues alongside, we learned about cache clearance, browser compatibility and many more. 
Frequently Asked Questions
Why error 2103 occurs in paramount plus?
There is no defined reason for this problem however it could be linked to certain malfunctions in the device itself which is being used to access the server. 
What kind of facilities are provided by paramount plus?
It is a subscription based streaming site that helps to stream a ton of different show ranging from a wide library of endless options.