Simple activities, such as playing music, are offered without charge, but Spotify Premium is also an option. In April 2006, Spotify was established as a Swedish media service provider specializing in audio streaming by its founders, Daniel Ek and Martin Lorentzon. The company remains privately held.
One of the largest music streaming services, it has more than 489 million active users each month. Spotify is traded as American depositary receipts on the New York Stock Exchange. More than 100 million songs and five million podcasts, all with copyright limitations, are available on Spotify from record labels and other media firms. Basic functions, including commercials and restricted control, are offered in a freemium service; however, other capabilities, including offline listening and commercial-free listening, are only available with premium memberships.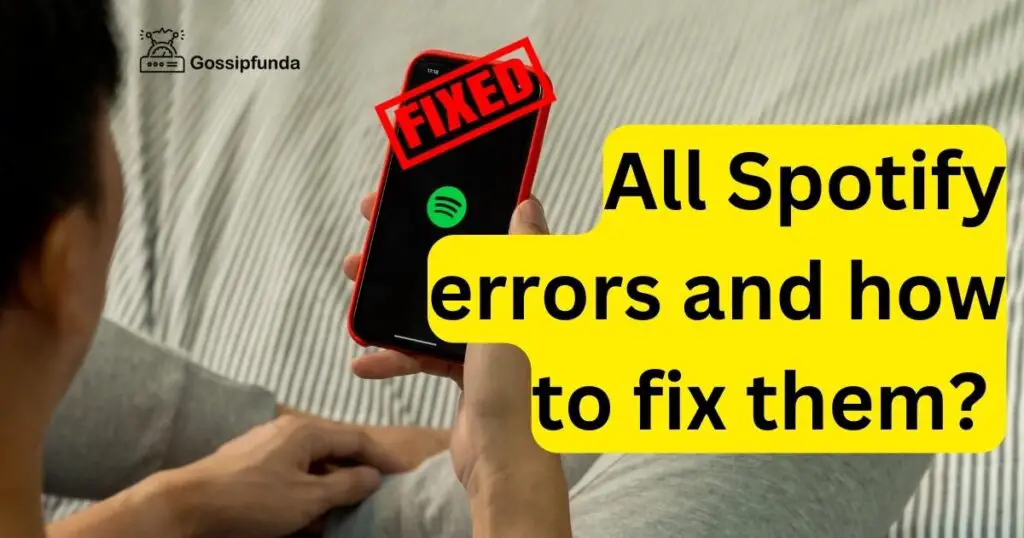 SPOTIFY – TOP ERRORS 
Error 1: Spotify error code 30
Some Spotify users are facing issues with Error Code 30 and are unable to resolve them. When you try to sign in to your Spotify account, whether it is Premium or Free, this Spotify proxy issue may appear on your device. Once you activate the proxy in the Spotify app, the issue can become apparent. The easiest method would be changing the setting of the Proxy option to No Proxy. To erase the user cache and settings, you may need to reinstall Spotify since you'll need to log into the service first. If you utilize the VPN system-wide, Spotify may think you are accessing the app from a different nation.
Error 2: Spotify Error 111
The error indicates that the web player was unavailable and inaccessible. Users appear to be having better success with Spotify right now, so perhaps the issue has been resolved. What upstream connect error signifies for users is slightly different. This indicates that after numerous attempts, the error is preventing your device from connecting to the Spotify server. Data from the user is sent to the network, in this case, Spotify, through an upstream connection. Users cannot use the web player because the upstream connection has been broken as a result of error 111.
Error 3: Spotify error 409
The "409 Conflict" error, as its name implies, is the result of a conflict in the HTTP request. It could occur because the requested resource isn't in the condition that was anticipated. Finding a fresh, clean copy of your Spotify AB file can typically fix the issue. We advise conducting a registry scan to fix any incorrect file path references because the Windows registry may occasionally be trying to load a Spotify Error Code 409 file that is no longer present.
Error 4: Error loading Spotify Tinder Error
Spotify and Tinder's cooperation to assist you to locate your mate based on music taste has proved to be effective so far. The dating app, as we know, proposes to you, individuals, based on your mutual interests and swiping behavior. Music taste is certainly a welcome bonus. Sometimes when you try linking your Tinder account to Spotify, an error will occur that usually says "error loading – something went wrong!". Additionally, it has been noted that the connection screen is missing and the symbol keeps loading.  Users have claimed that even on both Wifi and mobile data, the error still pops up.
Error 5: Spotify error code 30 iPhone
Spotify may not be functioning properly on iPhone due to an accidental issue. You may simply quit Spotify from the app switcher and then reopen it to remedy that. Reply again Here are a few things you may do to fix the error message "(code=30)" when trying to log in to the Spotify app on iOS: After logging out, re-login to the Spotify app. Make that your network is running normally and that your internet connection is dependable.
Error 6: Spotify Auth Error Code 2
This error message often occurs whenever there are difficulties logging into the computer's software. For instance, you might have chosen the incorrect Google or Facebook account for authorization or entered the wrong password. When you encounter the error code 2 while attempting to connect into your Spotify account, there are issues. The initial course of action is advised to try to reset the account password on the forum where users contact with technical support.
Error 7: Spotify error code 24
Low free space on your computer or missing or corrupted drivers are two major reasons why Spotify error code 24 occurs when trying to install on Mac and Windows. Think about performing disk cleanup. Before you clear up your computer disk, don't forget to back up your files beforehand. Next, click the main directory using the right mouse button in your Explorer window. Partition C: is usually the culprit, however, it will also depend on which partition you chose to serve as the main directory. Finally, select the Disk Cleanup option under the Properties tab.
Error 8: Spotify upstream connect error
This indicates that after numerous attempts, the error is preventing your device from connecting to the Spotify server. Data from the user is sent to the network, in this case, Spotify, through an upstream connection. Users cannot use the web player because the upstream connection has been broken as a result of error 111. Making sure that your browser is up to date is one of the fixes that Spotify suggests. It could also be possible to open the online player in a private or incognito window. It's also essential to know that if you are using Spotify on a public network, then access is more likely to be restricted.
Error 9: Spotify Google Smart Lock Error
Google Smart lock is an example of an outstanding password organiser. Regrettably, a number of consumers expressed disappointment that Google Smart Lock was blocking Spotify. You can quickly log into any website or application you choose using the Google password manager, Google Smart Lock. Despite the fact that this feature seems to be good, very few users have complained about problems with Spotify and Google Smart Lock. You may remedy this issue by deleting your Spotify password from Google Smart Lock, among other things. If you disable Smart Lock and modify your Spotify password, it will still function. Altering or moving your location is an additional option.
Error 10:  Spotify error code 73
This message lets users know that a firewall might be preventing them from using Spotify. An incorrect nation or area, a slow internet connection, a Spotify app fault, VPN interference, or an incorrectly set proxy server might all be the root of this problem. You should let Spotify through Windows Firewall because it claims that a firewall may be preventing it from working.  Select the best match after typing "Allow an app through Windows Firewall" in the Windows Search area. In the list of apps, look for the Spotify app by clicking the Change Settings button. Ensure that the checkboxes for Public and Private are both checked. Click OK to restart your computer.
Error 11: Spotify Error auth 73
Whether using a Desktop or smartphone, Spotify is without a doubt one of the greatest platforms for online music listening and media streaming. Nevertheless, some users are encountering an error while trying to activate this software and play songs. The main causes of Spotify Error auth 73 include firewall blocking, third-party proxies, and other issues. This Spotify problem might also be brought on by an inaccurate region setting, unreliable connection, or a third-party VPN. This issue happens in both cases whether you are having a premium or a basic account.
Error 12: Spotify error requesting a link
One of the most aggravating Spotify difficulties you might have when using the app is login not functioning or if not, you can't alter or reset your account password. There are various causes and instances why you cannot sign in or reset your Spotify login and utilize the lost password. The first is when there was no reset email. Another instance is when there is no account linked to the email address you submitted. Some users used an old email address. They forget their email address or have no access to them anymore. Resetting or changing your password using the Spotify Password Reset page is one option to deal with the login and password troubles. Simply, go to http://www.spotify.com/password-reset and enter your account email address. Now, check your inbox and tap the reset link on your mail. Your Spotify account's password can be changed.
Error 13: Spotify Error code 18
Spotify is among the most popular applications for Windows, Mac, and mobile phones. It allows you to listen to music and podcasts, and keep up with your favorite artists daily. Nevertheless, customers are bumping into Spotify Error number 18 while attempting to install the desktop software. Most frequently, this specific error can be caused by residual files from various Spotify instances previously present on the desktop. These leftover files conflict with the new files you're trying to install, allowing the process to fail. A program or service could possibly be interfering with Spotify's installer. Numerous users have reported problems with the Spotify installer when using programs like Comodo and iTunes.
Error 14: Spotify Error Dialog Generic Header
If you use Spotify, you may have seen a strange error message recently that has "error-dialog.generic.header" and "error-dialog.generic.body" underneath it.
Since it doesn't provide much information about what may be the source, this error can be exceedingly baffling. When files that were supposed to be transferred to and saved on your system during the installation of Spotify are instead on it and are currently being used by another process or software, for whatever reason, error number 18 occurs. 
SPOTIFY – RISING ERRORS
Error 1: Spotify Can't Play This Right Now Error
A popular software for streaming music and podcasts on Windows 11 and 10 is Spotify. Some Spotify users have difficulties while attempting to play songs. The app's error notice that reads, "Spotify can't play this right now," is one of the most often encountered playback issues. When it happens, there is a glitch or an issue that may prevent the app from playing any or all of the music. Problems with the software itself, issues with your computer or mobile device, or other factors might all be the root causes of these errors. Hence, the procedures or steps to repair song-playing issues vary depending on whether you're using Spotify on a desktop computer, a mobile device, or the Spotify online application.
Error 2: Spotify Login Error
No matter how many times you input your username and password into the login window on the Spotify app, sometimes you still can't log in. Spotify login difficulties are frequently caused by internet connectivity problems or a bug connected to the Spotify app or the device that it's installed on. Lack of an active internet connection, damaged app cache files, or entering the wrong account password are a few causes why you can't log in to your account. Using the incorrect login or password or unintentionally attempting to get into the wrong app are also common causes of being unable to access Spotify.
Error 3:  Spotify Keeps Pausing Error
The overall experience can be frustrating if songs buffer and pause frequently. Spotify keep pausing is a pretty frequent issue. One of the most frequent causes of Spotify crashing is simultaneous usage of the account on two different devices. When activated, Data Saving mode limits how much data your apps may consume, therefore conserving mobile data. By slowing down your internet speed, this option comes in the way of seamless music playing. If you're streaming Spotify with headphones, the problem could be with your headphones and not Spotify. Audio might cut out or halt due to connectivity problems that can affect both wired and wireless headphones.
The common methods to fix all Spotify errors
Like any other streaming service, Spotify can be experiencing problems of its own, and it's possible that you have no control over them. With more than 400 million active monthly users, Spotify is the most popular music streaming service in the world and isn't going anywhere. Recently, a new AI DJ tool was made available in beta. This feature learns your listening preferences and scans new music releases to play songs you'll enjoy or return you to cherished playlists you've forgotten. With this latest update, Spotify song suggestions will get even better. If you love social media, a short Twitter search with the hashtag #spotifydown can turn up useful information. Let's now look into few methods to fix the Spotify errors:
Method 1: Solution for the dreaded Spotify audio crackling
If you detect a crackling sound during playback, check you are utilizing a fast internet connection. To determine if your Wi-Fi or mobile data speed is adequate, check your Wi-Fi router or use an internet speed test service. Additionally, make sure Spotify's Data Saver function is enabled. It occasionally leads to subpar playback. Check that the toggle for Audio Quality is off by tapping the Settings icon in the top-right corner of your Android smartphone.
Turn off the toggle next to Data Saver by going to Settings > Data Saver on an iPhone.
Turning on hardware acceleration can fix any audio crackling issues you may be having on your desktop. Go to Settings on Windows laptops and make sure the option for Compatibility is turned on.
The process is simpler on a Mac. To enable hardware acceleration, select the Hardware Acceleration option from the Spotify menu bar.
Method 2:  The Spotify app doesn't open or crashes 
Use Spotify on a different device, such as your Mac or Windows laptop, and see if you can reproduce the issue there if you use one of the finest Android smartphones. If so, look into any outages the service may be having. On the other hand, if the issue is localized to your Android device and there's no documented Spotify outage, the fault is with the Spotify app. To fix the issue, force close and reopen the app and reboot your Android smartphone. Also, check for pending updates and upgrade the app.
Clear the cache and data for the app if that doesn't work. Choose Settings > Programs > Spotify.
Press the Clear data and Clear Cache buttons after that. You should delete the program from your Android device after clearing the cache and data. Install the Spotify app from the Play Store, restart your phone, then sign in using your credentials.
Method 3: Update the application 
Visit the Play Store or App Store on your Android or iOS device to see if an update is available. On your Android smartphone, open the Play Store app. You might need to resolve a Play Store issue if it's missing.
Put "Spotify" into the search field.
The Spotify app may be selected from the search results that come up. If you can't locate or find the Spotify app, try these instructions.
Select Update. The app is already up to date if this option isn't offered.
Method 4: Reinstall the application
Consider deleting and reinstalling the app as the final resort.
Enter "Spotify" into the Play Store app.
From the list of results, pick Spotify.
Press Install.
Come out of the Play Store.
Discover and launch the Spotify app, then adhere to the on-screen directions.
Method 5: You can't download songs on Spotify Premium
Numerous users have complained that they occasionally are unable to download tracks from Spotify or that the premium features are hidden from them. Logging out and back into your Spotify account will quickly fix this issue. When connecting to your Spotify account, make sure you are using the right account. Since Spotify enables users to sign in via a Facebook account, if your premium subscription is related to your email, it won't function. You can currently download tracks from Spotify onto up to five different devices.
Check to discover whether you have exceeded the 10,000-song download restriction and if you can access other premium features but cannot download songs for offline listening. You need to delete a gadget if you've gone above the limit. Go to your Spotify account page and use the Sign out everywhere the option to sign out all the devices currently connected to your Spotify account. After that, log in on all of your active devices.
Conclusion
As we all know, Spotify is a digital music, podcast, and video service that allows you access to millions of songs and other content from producers all around the world. You will be equipped to handle all Spotify – related problems after reading this guide. We have discussed all of the most common mistakes as well as those that are likely to occur shortly in this article for Spotify-using customers.
FAQs
Is Spotify a data-heavy service?
The average high-quality stream consumes 12MB every 10 minutes or 75MB per hour. That increases to 150MB per an hour for premium users. If you're streaming at Spotify's lowest quality, you'll only consume roughly 10MB each hour.
Is Spotify free of charge?
Installing the Spotify software is free. Versions are available for desktop, iPhone/iPad, and Android mobile devices.
Does Spotify have an offline option?
Anywhere your internet can't go, take your music and podcasts with you. You can download podcasts, playlists, and albums if you upgrade to Premium. Only podcasts are accessible for download with the free version.