In the digital age, businesses are continuously on the lookout for efficient and reliable platforms to enhance productivity. Among the myriad of options available, Google Workspace stands tall as a robust suite of cloud computing, productivity, and collaboration tools. Integrating Gmail, Docs, Meet, Drive, and many more applications, Google Workspace serves as an all-in-one solution for businesses. But what makes it the go-to choice for many? Let's delve into the world of Google Workspace to unravel its extraordinary features and capabilities.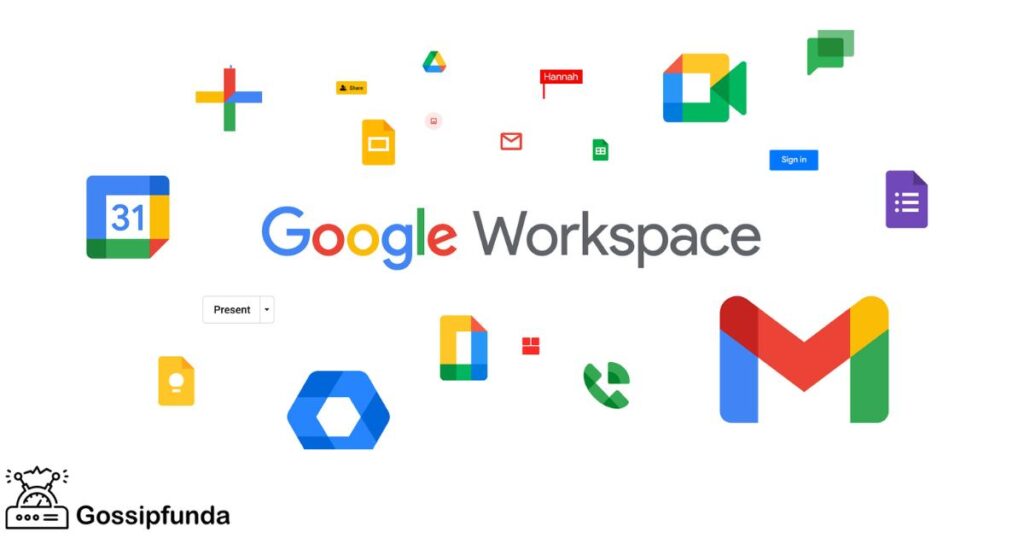 Also read: Formula Parse Error Google Sheets
What is Google Workspace?

Google Workspace, formerly known as G Suite, is more than a collection of apps—it's a holistic productivity ecosystem. It seamlessly integrates Gmail, Google Drive, Docs, Sheets, Slides, and more, providing users with a one-stop solution for their daily productivity needs. All these applications share a common interface, reducing the learning curve for new users. From easy document creation and editing to efficient email management, and even video conferencing, Google Workspace has all the tools needed for efficient remote work.
Google Workspace for Businesses: Why Choose It?
Google Workspace isn't just about the tools it offers—it's about transforming the way businesses operate. The suite enables teams to collaborate in real time, reducing delays and improving productivity. With Google Workspace, geographic barriers vanish as team members can collaborate from anywhere in the world. The suite also provides robust security features, including two-step verification and single-sign-on, assuring businesses of data safety. Plus, with scalable solutions, businesses can opt for plans that fit their size and needs, making Google Workspace a cost-effective choice.
Transitioning to Google Workspace: The User's Perspective
Adopting a new platform may seem daunting, but Google Workspace ensures a smooth transition. The suite offers comprehensive onboarding and training resources, helping users to quickly get up to speed. Moreover, its intuitive user interface is designed to provide a familiar feel to anyone who's used a web browser. From accessing emails to creating and sharing files, the operations are user-friendly and straightforward. Transitioning to Google Workspace doesn't disrupt your workflow—it enhances it.
How Google Workspace is Shaping the Future of Work
The onset of the digital age has led to a paradigm shift in the way we work. And Google Workspace is at the forefront of this transformation. It's not just about providing tools for productivity; it's about redefining what productivity means in a connected world. With its robust integration of various tools, it facilitates real-time collaboration, making remote work efficient and seamless. It's no exaggeration to say that Google Workspace is shaping the future of work.
Google Workspace's Impact on Education
Google Workspace is not limited to the business domain—it has made significant strides in education as well. The suite's simplicity and ease of use make it a perfect fit for educators and students alike. Whether it's for online classes, assignment sharing, or facilitating group projects, Google Workspace has become a vital tool in modern education. Plus, Google Classroom, a part of Google Workspace for Education, provides a secure, streamlined platform for teachers to manage coursework.
The Versatility of Google Workspace
One of the key strengths of Google Workspace is its versatility. It caters to everyone, from individual users to large corporations and even educational institutions. Its cloud-based architecture ensures accessibility from any device, anywhere, making it a true productivity tool for the digital age. Whether you're a freelancer juggling multiple projects or a multinational corporation with employees spread across the globe, Google Workspace has a solution for you.
The Power of Collaboration with Google Workspace
Google Workspace's power lies in its ability to facilitate effective collaboration. With real-time co-editing on Docs, Sheets, and Slides, teams can work together seamlessly, saving time and reducing errors. Moreover, features like shared drives and document commenting enhance teamwork by making it easy to share feedback and ideas. It's not just about getting more done—it's about getting things done together.
The Comprehensive Suite of Google Workspace Apps
Google Workspace isn't just a productivity tool; it's a comprehensive suite of interconnected apps designed to make work easier, more efficient, and more collaborative. Here's a rundown of the apps included in most editions of Google Workspace.
Revolutionizing Email Communication: Gmail
Gmail, the world's most popular email service, is a major component of Google Workspace. Its integration with other Workspace apps makes email communication seamless and efficient. From scheduling meetings directly via emails to accessing shared documents, Gmail serves as a hub for your workspace.
Streamlined Scheduling: Google Calendar
Google Calendar simplifies scheduling, making it easy to keep track of events, appointments, and deadlines. It syncs across all devices, ensuring you're always updated. Plus, with its seamless integration with Gmail, scheduling meetings has never been easier.
Virtual Conferencing with Google Meet
In today's remote work culture, Google Meet has become indispensable. This powerful video conferencing tool supports unlimited group calls, making it easy for teams to stay connected. Its features like screen sharing, real-time captions, and adjustable layouts enhance the virtual meeting experience.
Real-time Collaboration with Google Chat and Spaces
Google Chat and Spaces are team collaboration software that make project management effortless. From creating dedicated spaces for different projects to allowing real-time conversations, these apps keep your team synchronized and productive.
Managing Files with Google Drive
Google Drive is Google Workspace's cloud storage solution. It allows for easy sharing, collaboration, and management of files. With Google Drive, your documents, spreadsheets, and presentations are always a few clicks away.
Google Docs, Sheets, and Slides
These three tools form the core of Google Workspace's productivity suite. Google Docs is a word document software, Google Sheets lets you create spreadsheets, and Google Slides is for crafting engaging presentations. The real-time collaboration feature on these tools allows multiple users to work on the same document simultaneously.
Creating Surveys with Google Forms
Google Forms allows you to create forms, surveys, and quizzes with ease. It's a powerful tool for collecting and analyzing data. Plus, responses are automatically collected in Google Sheets, making data management straightforward.
Designing Websites with Google Sites
Google Sites enables you to create websites without any programming knowledge. Whether it's for an internal project or an external audience, Google Sites makes website creation a breeze.
Quick Note Taking with Google Keep
Google Keep is a note-taking service that allows you to capture, edit, share, and collaborate on your notes on any device.
Visual Collaboration with Google Jamboard
Google Jamboard is a virtual whiteboard that lets you sketch your ideas and collaborate with your team visually. It's a creative tool that can make brainstorming sessions more engaging and productive.
Additionally, some apps like AppSheet, Apps Script, Voice hardware, Cloud Search, Groups for Business, Domains, Classroom, and Vault may require additional purchases, enhancing the functionality and utility of Google Workspace.
Each of these apps plays a crucial role in making Google Workspace the comprehensive, versatile productivity suite it is today. They work together seamlessly, creating a unified workspace that empowers users to work efficiently and collaboratively.
Accessing Google Workspace: The Prerequisites
Embrace Modern Browsers
To enjoy the full functionality of Google Workspace, a modern web browser is essential. Google Chrome stands out as the most recommended due to its seamless integration with Google services. However, you can use Google Workspace with other modern browsers such as Microsoft Edge, Firefox Browser, and Safari.
Google Drive for Desktop: A Must-Have
Google Drive for Desktop, formerly known as Google Drive File Stream, offers a locally installed app for Windows and macOS systems. This enables easy browsing of Drive files and folders, creating a user-friendly interface much like navigating local file systems.
Google Workspace Apps for Mobile Platforms
The versatility of Google Workspace extends to Android, iOS, and iPadOS systems. Most Google Workspace apps, including Gmail, Calendar, Drive, Docs, Sheets, Slides, Meet, Chat, and Keep, are available on these platforms. However, note that Google Sites or Google Forms do not currently have dedicated mobile apps.
Optional Hardware and Chrome Enterprise
Organizations often supplement their Google Workspace usage with related hardware such as Chromebooks, Google Meet hardware, Jamboard devices, or Google Voice phone equipment. Additionally, Chrome Enterprise provides advanced management and deployment options for Chrome and Chrome devices.
Google Workspace Editions: Finding the Right Fit
Understanding Google Workspace Editions
Google Workspace is differentiated by the number of accounts, customer organization type, and capabilities. The Business editions cater to organizations requiring up to 300 user accounts. Larger organizations will need to explore Enterprise editions. If you are a single user, consider Google Workspace Individual.
Specific editions are available for certain types of organizations, such as nonprofit and educational organizations. As you move from Starter to Standard to Plus editions, storage limits, participant numbers in Meet, security configuration, and access to certain apps increase.
Google Workspace Individual
This edition is suitable for individuals who don't need to manage additional accounts. Priced at $9.99 per month, it includes booking services, email marketing, and access to core Workspace apps.
Google Workspace Business Editions
The Business Starter edition costs $7.20 per user per month, while Business Standard costs $14.40 and Business Plus costs $21.60. The differences between the plans primarily lie in the amount of storage, maximum number of video meeting participants, Meet recording capabilities, and access to Google Vault and endpoint management controls.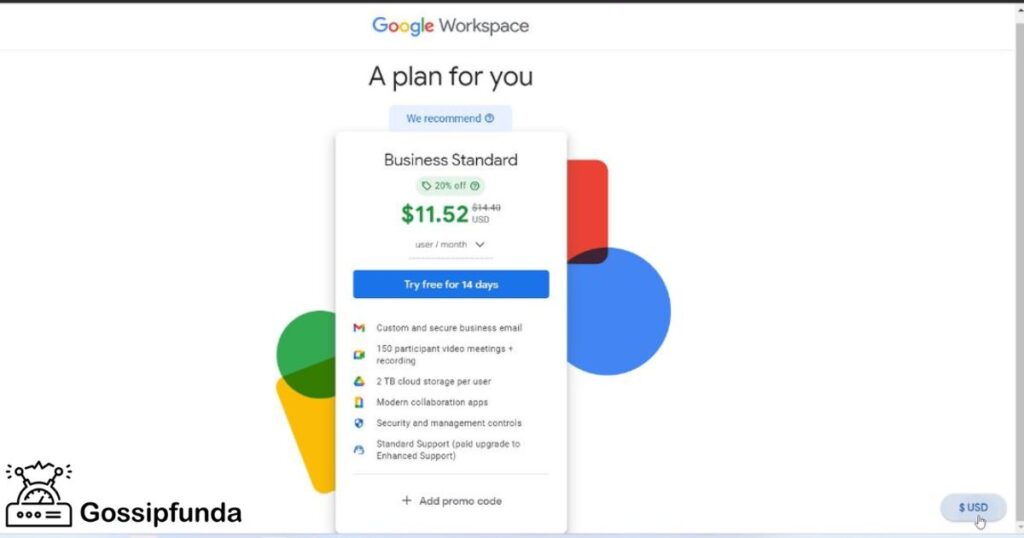 Google Workspace Enterprise Editions
Designed for organizations needing more than 300 accounts, these editions offer additional security and management controls along with virtually unlimited storage. Pricing is not publicly listed, requiring potential customers to contact Google directly.
Google Workspace Essentials Edition
This edition allows organizations to use their existing email and calendaring solution alongside Google Workspace.
Google Workspace Frontline Edition
This edition is designed to facilitate communications between frontline workers and other employees. However, Google does not publish pricing for this edition.
Google Workspace Education Editions
These editions are exclusive to qualifying educational institutions, with some available for free. They include access to Google Classroom, a structured tool for managing remote teaching and learning.
Google Workspace Nonprofit Editions
Nonprofit organizations can apply to access Google Workspace for Nonprofits at no cost. Google also offers them the option to upgrade to other editions at significantly discounted rates.
Why Should You Consider Paying for Google Workspace?
While it is possible to use many of Google's features for free, there are benefits to upgrading to a paid Google Workspace account. These include the ability to use your organization's domain name, allowing for better branding, and enhanced security settings. A paid account also allows for centralized account management, enabling easy additions or removals of users as needed.
Simplifying the Google Workspace Setup
Google Domains simplifies the Google Workspace setup process. After registering your domain name through Google Domains, the platform allows you to set up Google Workspace accounts for your domain directly, removing the need for manual domain name server configuration.
Compatibility of Google Workspace with Microsoft Office Files
Google Workspace supports organizations that have historically used Microsoft Office files. File formats such as .doc/.docx, .xls/.xlsx, and .ppt/.pptx can be stored using Google Drive. Google Docs, Sheets, and Slides support native editing and collaboration on Word, Excel, and PowerPoint files respectively. Gmail also allows for easy saving, opening, and editing of Office file attachments.
Third-party Apps That Work with Google Workspace
The Google Workspace Marketplace is the go-to platform for third-party apps compatible with Google Workspace. These apps include productivity tools, signature services, storage services, and backup providers. Google Workspace also integrates with third-party apps through single sign-on and Security Assertion Markup Language (SAML).
Alternatives to Google Workspace
Alternatives to Google Workspace include Microsoft 365, Zoho Workplace, Nextcloud, KolabNow, and others. For individuals who don't need the organizational email and account management capabilities of Workspace, there are alternatives such as LibreOffice, CryptPad, or Apple's iWork suite.
How to set up Google Workspace account
Setting up a Google Workspace account involves a few steps:
Sign Up for Google Workspace: Visit the Google Workspace website and select "Get Started". Enter your business or organization information including your first and last name, your current email address, business or organization name, number of employees, and country.
Set Up Your Domain: During the sign-up process, you'll be asked if you have a domain name you want to use. If you do, enter it here. If you don't, Google can help you purchase one. Please note that your domain is the URL that your email addresses will be linked to.
Create Your Google Workspace Account: You'll be asked to provide an account name (this will be your primary administrator account and your first Google Workspace email address), password, and a secondary email address for recovery purposes.
Verify Your Domain: If you used an existing domain, you'll have to verify that you own it. Google provides step-by-step instructions for this process. Typically, this involves adding a meta tag, HTML file, or DNS record to your website. If you bought a new domain from Google, it will be automatically verified.
Set Up Users: Once your domain is verified, you can set up additional users. Each user will have their own email and access to the Google Workspace apps.
Configure Your DNS Records: This allows you to use Google's servers for email, ensuring that any emails sent to your domain will go to your Google Workspace email accounts. The process for configuring DNS records varies depending on your domain host.
Complete the Setup Process: Once you've configured your DNS records, go back to your Google Workspace account and click "Verify" at the bottom of the page. This will allow Google to check that you've set up your DNS correctly.
Choose Your Plan: Finally, choose your Google Workspace plan and enter your billing information to activate your account.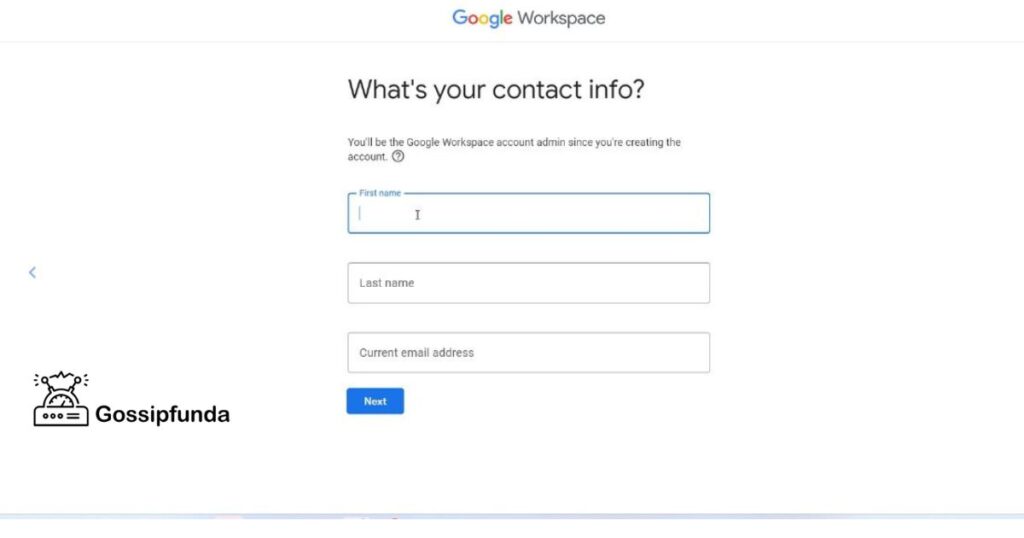 Remember to regularly check your admin console, especially during setup, as it will guide you through the steps necessary to set up various features of Google Workspace, like enabling Gmail and Google Drive.
Conclusion
Google Workspace is a powerful platform offering an array of productivity tools for businesses. It integrates Gmail, Google Calendar, and Google Drive, fostering seamless team collaboration. Available across devices, it ensures accessibility for users. The suite scales with your business needs, proving suitable for small businesses to large enterprises. Prioritizing user data security, Google Workspace features centralized account management and advanced security settings. You can enhance your organization's professional image with your own branding integrated into the system.
Its compatibility with systems like Microsoft Office and numerous third-party applications supports smoother transitions for businesses. Despite other similar platforms like Microsoft 365, Zoho Workplace, or LibreOffice, Google Workspace's blend of user-friendly features and robust security makes it a standout choice. To sum up, Google Workspace offers effective collaboration, secure operations, and adaptability, acting as a reliable partner in your digital transformation journey.
FAQs
What makes Google Workspace a better choice over Microsoft 365?
While both are comprehensive tools, Google Workspace stands out due to its easy accessibility and user-friendly interface.
Can I customize my domain name with Google Workspace?
Yes, Google Workspace lets you enhance your professional image by customizing emails with your organization's domain name.
Does Google Workspace offer security for user data?
Absolutely, Google Workspace provides advanced security settings, ensuring a safe environment for your organization's data.
Are third-party apps compatible with Google Workspace?
Yes, Google Workspace supports numerous third-party apps, offering a broad scope for integrations and enhanced productivity.
What if my organization has been using Microsoft Office files? Can we still use Google Workspace?
Certainly, Google Workspace supports Microsoft Office files, ensuring a smooth transition without the risk of data loss.