While we can add downloadable apps to our phones and tablets to personalize them, the built-in programs usually last longer. The pace of app discovery increases when we use a gadget more frequently. Our phones' preloaded apps become a part of an ecosystem that is exclusive to a carrier or model. We go there for news, entertainment, and weather reporting. Fewer consumers must look for and download software the more apps and functionalities a device has. If the software is pre-installed on the smartphone, consumers are more likely to use the service and stick with the creators. We'll talk specifically about the BBC Agent Android app in this article.
It is a built-in system app that works with your security system to keep you safe. But only Samsung phones have it; not all Android phones do. Nearly all of the information you require concerning BBC Agent has been covered, and the question of whether you can disable or uninstall the software has also been addressed.
What is the BBC agent android app?
It is pre-installed Samsung software that aids in protecting your device's security. It accomplishes this by directly integrating with the Samsung Knox unit. Apps keep an eye out for risks to your system. Knox is primarily made for businesses that wish to safeguard the privacy of their employees' mobile phones, tablets, and other work-related gadgets. There is no other information regarding BBCAgent's role other than its connection to Knox.
The primary function of agent apps on Android is to act as an affiliate for other apps, granting them the necessary access and permissions. Each Android app that runs needs to be granted access to one or more sensors, including the audio, camera, Navigation, and others. In such a case, the agent app aids these apps in gaining access to a particular sensor on the gadget.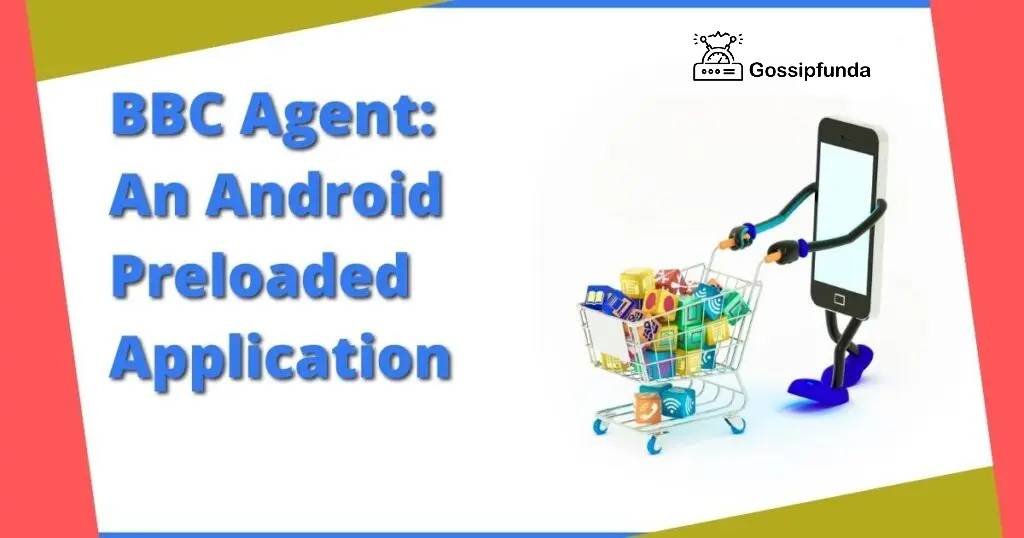 Permissions required by the BBC Agent android app
It's simple to check the permissions for the Bbcagent app. You simply:
Launch Settings
Select Apps.
Choose Permissions.
Locate the program
Examine the permissions displayed on the screen.
The access permissions that are currently granted to BBC Agent on your device are phone and storage. phone authorization that enables the program to view and alter phone identity and status. Storage authorization enables the application to read, alter, or remove the data of your USB storage.
Is the BBC Agent android app secure for your device?
Being a system app, BBCAgent is secure. The application was made by Samsung Electronics Co., Ltd. Malware, spyware, and viruses are completely absent from the software. This app's secrecy may lead some individuals to be cautious of it. However, because it is pre-installed, it has passed the Google Protect Policy. If it had been harmful, this wouldn't have been the case. The software doesn't consume a lot of battery life or other resources, such as Processor, RAM, or memory.
Perks of the BBC agent android app
The software thoroughly examines the phone and reports any issues along with possible solutions, which is a nice thing. However, if the issue predates the installation of the app, you may need to do more than simply let the app be removed; instead, you should seek a free consultation from the service center or provider of your phone.
The app's advantage is that it can kill all pop-up adverts by increasing the number of bars they have to cross to reach the phone. As a result, it will ensure that you do not provide your permission for countless adverts to simply invade your phone.
The final point relates to when your phone starts acting strangely on its own. It appears that the phone is installing a lot of apps without your knowledge, using more data, having a weak battery that might drop dramatically, for instance, from 100% to 1% in ten minutes, and many other things. These are still fixable by BBC Agent.
Limitations of the BBC agent android app
Despite being a crucial component of your system, the BBC agent app is often blamed for draining phone batteries. Since its primary purpose is to keep your system secure, it always operates in the background. Even while they don't run in the background as much as the BBC agent application, the majority of pre-installed apps might still drain your battery life. It may be acting strangely if the application is using more power than it ought to. Perhaps you're experiencing a small issue.
Error fixation methods for BBC Agent android app
Force restart method
In essence, forcing a restart causes all currently active processes to end immediately. Your device will return to its most recent state. Once more, everything will operate without a hitch. Moreover, RAM use will be reduced. The bug that is causing the app to misbehave should be fixed. Now, each phone brand has a different technique for forcing a restart. You can apply this technique in the following fashion on Samsung mobile devices:
Hold down the Volume Down and Power buttons simultaneously as the startup screen appears. Next, let go of the buttons.
Upgrade the operating system of your device
When did you last upgrade your operating system? It shouldn't be shocking if it's been a while that the BBC agent app is using so much electricity. Perhaps there was a bug. Whatever software you use, will inevitably have some flaws and glitches. Major upgrades typically delete a large number of these, although typically some stay or a few new ones appear. As a result, the system will operate faster, more quickly, and have longer battery life. The following is how to update Android:
The Settings application should be launched.
Then select About Phone under System.
When it appears, tap the firmware file.
Wait for the software to install after clicking it.
Remember that you'll need a dependable internet connection to update your phone. If you don't, you might make some annoying errors.
Clean Cache & Data and Force Stop
Despite having a low chance of success compared to other techniques, clearing cache and data and forcing the app to close only takes a short while.
Enter the device's settings.
Locate and select Apps.
Click the Ellipsis symbol (three dots on the top right corner).
Hit the Show system apps button.
Toggle BBC agent on.
Last but not least, tap Clear data to remove data and clear the cache.
Your Device Must Be Factory Reset
Resetting your device to factory settings will erase all of its data, including any apps you may have downloaded. We advise backing up your device first and using the "Reset settings" option first because it just restores all settings to their factory defaults without wiping your data.
The menu item for "Rest settings" ought to be located above the one for "Factory reset."
Enter the device's settings.
Then select General management.
Select "Reset" by tapping it.
The device will present a window with a list of all the data that will be deleted when you tap "Factory data reset."
If you have any screen locks, scroll down, tap the "Reset button," and then confirm them.
When it's finished, your device will restart.
How to disable the BBC Agent android app?
Till now we've covered how to fix the application through some methods. Let's talk about how to disable it before we get to the topic of removing it permanently from your device. This might stop the battery from discharging. Just be sure to disable it again thereafter.
You simply need to:
Activate Settings > Apps.
Find the complete list of all of your apps and system apps by scrolling down.
application for BBC agents
Tap it
Choose Disable.
How to permanently remove the BBC agent android app?
You shouldn't remove the app if it isn't bothering you and you should just leave it alone. Some individuals, however, report that the BBC Agent Android consumes too much battery. Though we have never noticed this app utilizing an excessive amount of battery, we are unsure of why it will occur. The BBC agent program can be frozen or uninstalled without affecting any other features if you are not utilizing the Knox framework. We advise you not to use the Knox because it might begin to malfunction if you do.
There are two options to attempt if this is what you wish to do. One of them needs root privileges. If you proceed with it, your warranty would be nullified.
Let us have a look at the procedure to uninstall this app;
Using the ADB Software package
ADB software can be used without root access. The procedure does need some effort. A user must have good technical skills for the successful completion of the procedure. If you follow the given steps correctly, users can easily uninstall this application;
Click on Settings > System > About phone.
Press the Build number multiple times to access Developer Options.
Go back to the primary Settings menu and tap on Developer Options.
Touching it activates USB debugging. On your PC, set up ADB.
After extracting the ZIP archive, open that folder.
Right-click in an empty spot while keeping the shift key depressed.
Clicking "Open Powershell window here" is required. In the command line, enter ADB devices.
Set the USB mode to File Transfer when you use a USB data cable to connect your Android handset to the computer.
Your phone will notify you that USB debugging is required; press OK to permit debugging access.
Enter the ADB devices command once more. Your device's serial number should now be visible on the Powershell window.
Start the process by typing ADB shell pm uninstall -user 0 com. Samsung. android.BBC.bbcagent .
Take a moment to wait. The app will appear to have been removed from your smartphone.
Using system app remover 
Your Android handset must be rooted to use this technique. The steps listed below can be used to uninstall this system software once you have gained root access;
The System App Remover program should be downloaded and installed.
Open the app, type "BBC agent" into the search bar, and then pick this app by tapping the checkbox next to it.
To delete the program from your smartphone entirely, tap the "Uninstall" option.
Conclusion
We have known that All Samsung Android smartphones come with the pre-installed system program BBC Agent, whose goal is to give additional access authorization to the KNOX security model from Samsung. But they can also create trouble for our device. So in case, your BBC agent app is causing issues you can try the above solutions. Also if you want to remove this app from your device you can surely use these methods. It is not a crucial element of your phone. Therefore, even if you uninstall it, you won't miss it.
FAQ
What is Com Qualcomm Atfwd?
Another system app that comes with your phone is Com Qualcomm ATFWD. You can use it to mirror your display to PCs. Due to its description, many people believe it to be spyware or a virus. This is not, however, the situation. The answer to the question of whether the app is bloatware is no. You can mirror your TV whenever you want, so keep that in mind. Thus, it is not consuming resources.
What is chocoEUkor?
You might or might not find ChocoEUkor beneficial depending on what you're looking for. It allows you to type in elegant fonts. You are viewing a different system app that is only available on Samsung handsets.
Now, it might be considered bloatware by you. What you're looking for will determine whether you find it useful or not. ChocoEUkor can be uninstalled in the same way as the BBC Agent app can.
What is com.Samsung.Android.Bbc.Bbcagent?
The Android version of the BBC Agent is known as BBC Agent. A package that contains crucial files is available for various Android operating systems and third-party applications. For identifying purposes, these names are always distinct.