In this article "Battle of displays: QHD vs UHD, QHD vs 4k, FHD vs HD, FHD vs UHD", I will be discussing the various types of displays used in our mobile devices or our Personal computers. This battle would lead us to understand which display is suited for which user. A battle of displays is just coming up in upcoming paragraphs.
This is brought in the interest of the buyers because we do not know what type of display, we want. It may be possible that our requirement is less and we can get cheaper display but lack of knowledge cost us money. This would lead to a lot of dissatisfaction in a person's mind. Therefore, read the article and make a choice after understanding key points well.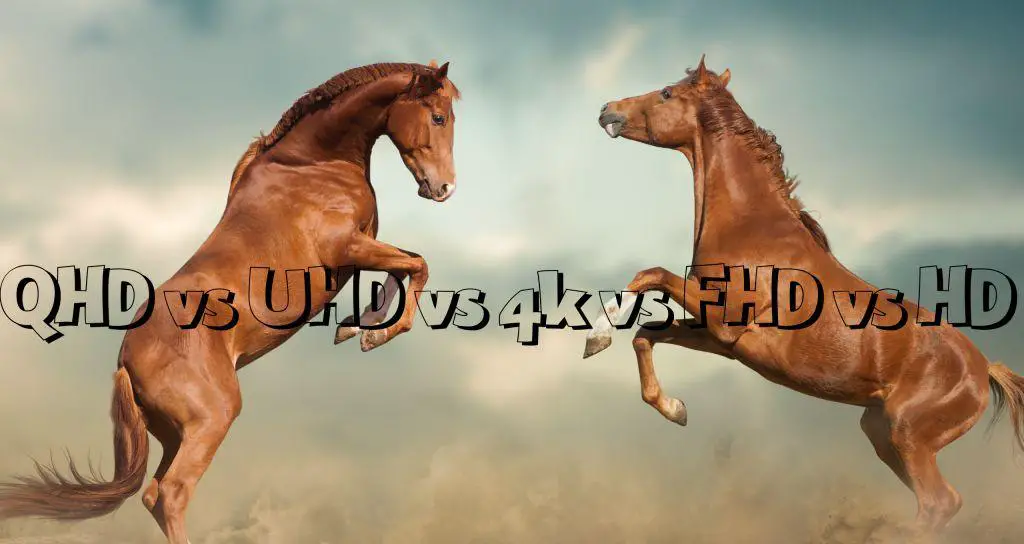 Introduction: –
There are two types of devices one is input and the other is an output device. There are various types of output devices. How do you define an output device? An output device gives results after computing input and raw data. This output device gives results in two forms one is a hardcopy and the other is the softcopy. The hard copy is output received from devices such as printers, scanners, plotters…etc.
The other way of showing the output as a soft copy. The soft copy of the output can be viewed on the screen. A screen has many benefits such as reading documents, viewing output …etc. If we put it in simple terms it is used to a user interface on the respective device for the liveware (user).
Do not miss another article: FHD QHD WQHD UHD Display Resolutions
Video tutorial:
QHD VS UHD: –
QHD
The meaning of QHD is"quad high definition". It is an enhanced form of the standard definition set up at a pixel of 2560×1440 and a ratio of 16×9. It is four times that of standard high definition. If the horizontal ratio is increased to 3440 for the ratio 21×9 then the display is termed as Ultra-wide QHD.
Advantages of using QHD: –
It gives a sharper image than HD for the same resolution or simply the same screen size.
QHD provides better color on the screen, i.e., we can see that the content is enhanced and color vividness is observed.
Those are streaming online and playing games or for gamers, this type of screen is a very decent one to purchase.
It is quite costly as the equivalent features are provided by the other different displays like 4k.
Some of the devices using QHD are: –
Samsung Galaxy S6/S6 edge/S6 Active/Note5/S6 edge+
HTC One M9+/E9+/ME.
Sony Xperia Z5 Premium.
Microsoft Lumia 950/950 XL.
Xiaomi Mi Note Pro.
BLU Pure XL.
Microsoft Lumia 950/950 XL.
Motorola DROID Turbo 2/Moto X Style (Pure)
UHD
Firstly, UHD can display content for 3840×2160 resolutions. Secondly, It stands for ultra-High definition. The aspect ratio for which QHD work is 16 raises to 9, mathematically 16:9 can be used in replacements. It has 4K and 8K too. Adding 4k simply means that it enhances the resolution. The same goes for 8K. 8K will enhance it even more.
Advantages of using UHD: –
In this case the greater is the resolution the better is the quality of the picture.
The depth of the color may reach up to 12 color bits, in the case of HD, the number shoots up to 10.
It is available at a normal rate so it's preferred over many displays.
Some of the devices using UHD are: –
Samsung UHD TV
Sony UHD TV
QHD vs 4k: –
The features of QHD are already mentioned. It is mentioned above for comparison scenarios.
4K
4K, as the name, suggests 4K picture quality is for the display of 4000 horizontal pixels. There are different types of 4K picture quality, some examples of 4K are DCI 4K and 4K UHD. As these two displays are in the range of 4000 horizontal resolution, they fall under the 4K category.
Advantages of using 4K: –
It has a resolution of around 4000 pixels so it will provide better sharpness.
If it is used with a proper and right combination can be highly effective.
4K is used in gaming consoles.
It is widely used in television; Example: – SONY.
Some of the devices using 4K are: –
Samsung Galaxy Alpha.
Samsung Galaxy Note 4.
Samsung Galaxy S6 / Galaxy S6 Edge / Galaxy S6 Edge+
Samsung Galaxy S5 (2014) (Snapdragon model) – It was one of the first Samsung phones to feature 4k quality of video streaming.
FHD vs HD: –
FHD
stands for "full high definition". It works for the pixel of 1920×1080 pixels. TVs that have a length of about 32 inches uses FHD (full high definition). It can display pictures up to 1080p.
Advantages of using FHD: –
Play Graphic-Intensive Advanced Games.
Immersive Viewing Experience of Watching Videos.
Protects Your Eyes.
Online tasks can be accessed easily.
List of devices using FHD: –
HTC One
Spice Pinnacle FHD
Sony Xperia ZL
Sony Xperia ZL
HTC One
UMI XII
HD
HD stands for "high definition". It is the most common type of display used nowadays. It is generally referred to as picture qualities of 720p.
Advantages of using HD: –
The image becomes less fuzzy and blur.
HD also brings a smoother picture and color vividness.
Just an HD display is very cheap nowadays in comparison to other famed displays.
Few other comparisons: –
FHD
FHD is a lot cheaper than QHD. The only major or noticeable difference is that the picture quality of QHD is sharper than FHD. Although this may be a feature of QHD, however, FHD gets an upper hand because it is comparatively cheaper, in other words, a better option for such types of users….
Another fact
Another fact to be noticed between QHD and FHD displays is that QHD eats up more battery in comparison to FHD. If put in simple terms QHD requires more energy than FHD to function. Therefore, devices such as laptops or electrical devices work on the power of battery which take up a lot of battery.
It can be concluded that QHD is not efficient and it also costly so it has more disadvantages than advantages. If you ask my personal opinion then I would say only picture quality does not matter. It matters but not at the cost of the overall performance of the device.
ALSO
ALSO, QHD has many alternatives, so, a user could go for it.
Between
Between, UHD and 4k. The definition of 4k suggests that it's 6.6 percent better than UHD. The resolution of UHD is a little less than 4k. Keeping this in mind we can say that notice will not be seen in these two resolutions, therefore, in this case, the price can be considered as the first priority.
IF
IF, a user is not accustomed or does not want to sit close, and watch every detail, and, the main purpose is just watching then he can go for 1080p or 720p because more than that is not required and the user might feel at some point that it is a waste of money. A normal HD display might be just good enough for you!!
Better sharpness and high detailing will be a good purchase for gamers. As it will provide a next-level gaming experience.
Many people opt for higher price displays which are costly to protect eyes. Only in this case, a person can stop thinking of money. Basically, all the displays which come nowadays are friendly to the eyes and are not like once which uses a cathode ray tube. Now all the displays are LCD or LED and mostly LED. Still, a person should keep this thought as a priority so the eye factor must be kept in mind. So, keeping this in mind the user must purchase the display which suits him/her.
I hope these facts were helpful.
Conclusion: –
Battle of displays: QHD vs UHD, QHD vs 4k, FHD vs HD, FHD vs UHD. When we want to select the best display for our phones. We come with many thoughts likes which display will suit us the most. Do many questions arise? For what purpose do u need it? Are you a game? Do you need it for entertainment purposes like viewing movies, anime…etc? The purpose may largely vary from a person to person. The main necessity or requirement for selecting the best display for an individual comes after understanding the needs.
If we are clear with the needs then a good display will be selected by us. After understanding the needs, we have to look for our budget. The above displays present a lot of commitment. If we talk in normal terms every display provides a good picture quality and will provide a unique experience. We must research our needs keeping in mind our budget.
Thus, It is very much possible that the display that we have purchased and the one that we actually need has a huge price difference. Also, the same is applicable in the case of every electronic device. The more you spend the greater quality of display will be received by you. Still, it may not make you happy. If we understand your needs and frame them properly, you will make the right choice.
HAPPY BUYING!!!
If you liked the content, please share it with others and leave comments, so I can improve and grow. If you feel something missing, please ask queries, we will prove full support and will provide you with an immediate reply.
Finally, Please subscribe to us, it makes us passionate about our work! We will try to provide more quality content.