In the ever-evolving realm of streaming technology, Amazon continues to push the boundaries of innovation. In its latest hardware event, the tech giant unveiled an exciting development that promises to elevate your streaming experience to new heights: the integration of Generative AI into Fire TV streaming sticks. This groundbreaking move not only enhances speed and performance but also introduces a smarter and more intuitive user interface. In this article, we delve into the details of Amazon's Generative AI technology and its impact on the Fire TV ecosystem.
Amazon's Generative AI: A Game-Changer
Amazon has been at the forefront of technological advancements, and its foray into Generative AI is no exception. This cutting-edge technology brings a host of improvements to the Fire TV Stick, making it a must-have for avid streamers. With faster processors and enhanced capabilities, the new Fire TV Stick 4K and Fire TV Stick 4K Max are set to redefine your streaming experience.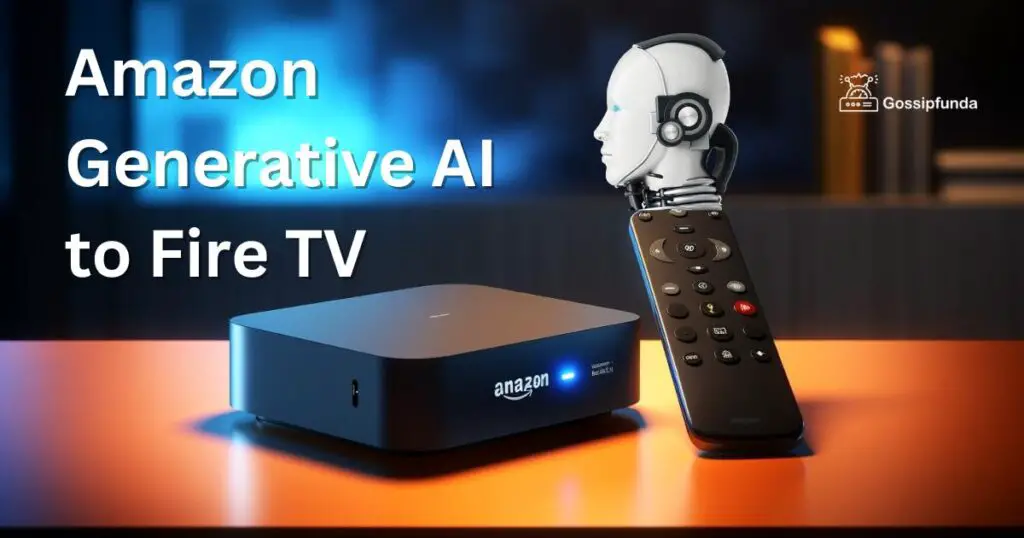 The Power of Faster Processing
One of the standout features of these upgraded streaming sticks is the improved processing power. The standard Fire TV Stick 4K boasts a 30% increase in processing capability compared to its predecessor. This enhancement translates to smoother and more seamless streaming, even for high-resolution content. Whether you're binge-watching your favorite series or enjoying a movie night, the new Fire TV sticks ensure a lag-free experience.
Wi-Fi 6: Unleashing Speed
In the world of streaming, a strong and reliable internet connection is paramount. Amazon recognizes this, which is why both the Fire TV Stick 4K and the Fire TV Stick 4K Max come equipped with Wi-Fi 6 technology. This not only ensures lightning-fast download speeds but also improves connectivity in crowded network environments. Say goodbye to buffering and hello to uninterrupted streaming.
4K Streaming with HDR Support
Picture quality is a significant factor in the streaming experience, and Amazon has it covered. Both Fire TV sticks support 4K streaming, delivering crystal-clear visuals that immerse you in your favorite content. What's more, they offer broad High Dynamic Range (HDR) support, including Dolby Vision, HDR10, and HDR10 Plus. This means that you can enjoy vibrant colors and lifelike contrast, enhancing every frame of your shows and movies.
Choosing the Right Fire TV Stick
While both the Fire TV Stick 4K and the Fire TV Stick 4K Max offer impressive upgrades, there are differences to consider. The Max version goes the extra mile by incorporating Wi-Fi 6E technology and doubling the storage capacity to 16GB. For a mere $10 difference in price, opting for the Max could be a wise choice, especially if you have multiple TVs in your home. However, the standard 4K stick remains a robust option for those who don't require the additional features.
Enhancing Audio with the Fire TV Soundbar
Amazon's commitment to improving the overall entertainment experience extends beyond streaming sticks. The Fire TV Soundbar, priced at an enticing $119.99, is a noteworthy addition. While Amazon didn't make any grand claims about sound quality, this soundbar is positioned as a simple and cost-effective solution for anyone looking to upgrade from their TV's built-in speakers. Its compatibility with existing Fire TV devices and Fire TV-branded televisions ensures seamless integration into your home entertainment setup.
The Future of Alexa on Fire TV
In addition to hardware upgrades, Amazon is revamping the Fire TV experience with a more comprehensive Alexa voice interface. This enhancement, based on Amazon's new LLM Alexa model, promises to make your Fire TV even smarter.
Enhanced Search Capabilities
With the upcoming software update, search functionality on Fire TV will become more powerful. Alexa will have the ability to refine recommendations based on your conversations, providing you with tailored content suggestions. This intelligent search feature will save you time and help you discover new shows and movies that align with your interests.
Streamlined Viewing Experience
Amazon's commitment to user convenience is evident in the introduction of a "continue watching" row. This feature will aggregate content from a variety of streaming platforms, including Amazon Freevee, Disney Plus, Hulu, Max, MGM Plus, Peacock, Starz, and Tubi. By putting recently watched shows and movies front and center, Amazon ensures that you can seamlessly pick up where you left off, regardless of which streaming service you were using.
Elevating Aesthetics: Generative Backgrounds
The new Fire TV Stick 4K Max takes things a step further by introducing the "ambient experience," previously seen only on Fire TV televisions. This feature transforms your TV screen into a smart display when not in active use, displaying artwork and widgets. Later this year, customers will have the option to create generative backgrounds using AI. This innovative addition adds an element of personalization to your streaming setup, allowing you to make your TV screen truly your own.
Conclusion
As Amazon continues to innovate, the integration of Generative AI into Fire TV represents a significant leap forward in the world of streaming technology. The Fire TV Stick 4K and Fire TV Stick 4K Max, with their enhanced processing power and 4K streaming capabilities, promise a top-notch viewing experience. The Fire TV Soundbar further complements this ecosystem, enhancing audio quality. With the upcoming Alexa updates, Amazon is making it easier for users to discover and enjoy content tailored to their preferences. The "continue watching" feature simplifies content navigation across multiple streaming platforms. And with the introduction of generative backgrounds, your TV becomes not just a screen but a canvas for personal expression.
In a world where streaming has become an integral part of our entertainment, Amazon's commitment to improving the user experience is commendable. The future of Fire TV is undeniably exciting, and as these innovations roll out, users can look forward to a faster, smarter, and more personalized streaming journey. Amazon's Generative AI has ushered in a new era for Fire TV, and the best is yet to come.
FAQs
What is Generative AI in the context of Amazon's Fire TV?
Generative AI enhances Fire TV, making it smarter by improving recommendations and creating personalized backgrounds.
How do the new Fire TV Stick models differ?
The Fire TV Stick 4K Max offers more speed and storage than the standard 4K model for just a $10 difference.
Why is Wi-Fi 6E important for streaming?
Wi-Fi 6E ensures faster downloads and better connectivity, preventing buffering during streaming.