Cybersecurity technologies are always advancing as web-based businesses become more widespread while also cyber threats are increasing. Internet users, ranging from individuals who seek online privacy to companies that want to protect corporate networks, are looking for cybersecurity solutions.
Thanks to its popularity, the cybersecurity sector has gotten diversified over the years. There are great solutions such as remote access VPN and the Zero Trust security model, both of which are overwhelmingly preferred by online users. 
But what is the exact difference between remote access VPN and Zero Trust? Do these two services work together or are competitive cybersecurity measures serving completely different purposes? Let's learn all about them and their differences.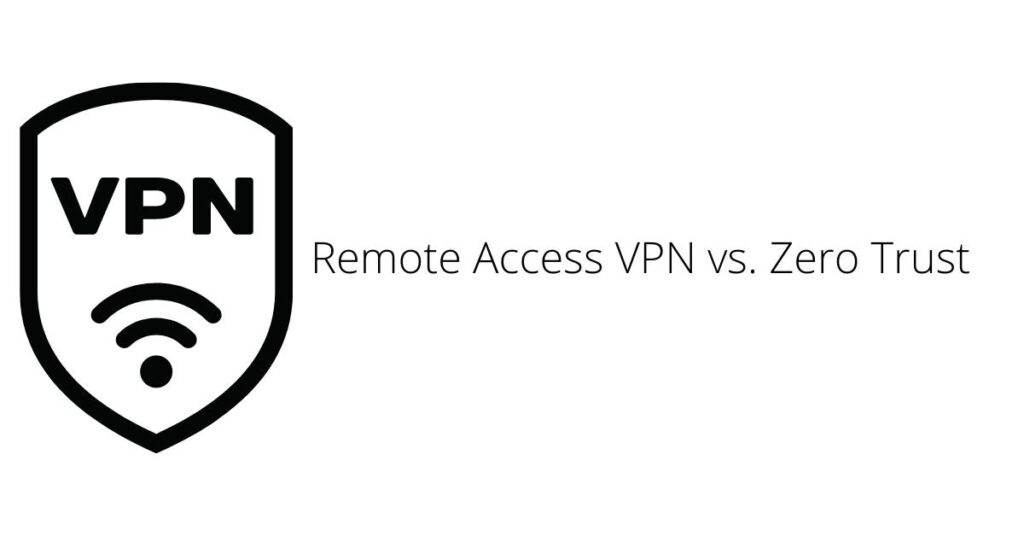 What is a Remote Access VPN? 
Remote access VPN is a VPN service specifically designed to provide secure remote access to work from home employees. COVID-19 forced some companies to adopt the remote work model because of health concerns, and they needed a safe way to work from home.
A remote-access VPN creates a private, untraceable, secret tunnel between the employee's device and the corporate network. Thus, it protects the communication between the two from potential cyber threats. 
Remote-access VPNs are globally unrestricted because they were designed to provide secure and fast access regardless of the end-users location. They can connect the user to the private network from any device, connection, or location. 
This VPN service also encrypts all the data transfers between parties within the network, making it impossible to give away any information in case of a cyberattack. 
Remote-access VPNs are mostly provided by VPN vendors and they're maintenance-free, affordable, and practical. Our favorite provider is NordLayer since they are one of the most prominent brands on the market and have dedicated servers worldwide, making remote access safer and faster. 
What is the Zero Trust security model?
Zero Trust is a cybersecurity framework that believes in the principle "don't trust, always verify" to minimize potential cyber threats. This security framework doesn't grant access unless the users provide verification before every operation even if they logged in to the network. 
Zero Trust security was first created to overcome the security challenges of the shifting online business practices. The physical boundaries of a corporate network were disappearing due to the emergence of cloud-based services. Thus, Zero Trust believes there are no boundaries and security must go to the doorsteps of the users.
The numbers prove that it's a good solution to modern threats as Statista's report states that 42% of the participants said they consider migrating to Zero Trust. 
The zero Trust security model looks at every component, network, service, or user as a potential threat. It changes the traditional understanding that if a device is logged into the network, it's considered 'trusted' from now on. 
Traditional cybersecurity frameworks believe every part of a private network is trusted since the verification takes place before entering the network. They don't take further data breaches into account and are susceptible to internal threats as well as device theft. 
Unlike the traditional practices, the Zero Trust model always acts like there might be an internal breach and mandates further verification to prevent the whole network from being compromised. 
Zero Trust Security Model vs. Remote Access VPN 
Zero Trust security and remote access VPNs differ in terms of functionality and purposes. First of all, Zero Trust is a framework and not a product by itself whereas remote access VPN is a product.
The Zero Trust approach mandates all users to verify themselves before communicating, operating, and transferring information within the network. Remote access VPN on the other hand provides a secure gateway by encrypting and limiting the users. Thus, these two are not competitive cybersecurity services but serve somewhat different purposes.
Remote access VPN protects the network from outside cyber threats such as untrusted public Wi-Fi connections or being traced by malicious users outside the network. It's a way to mask the users' identities and activities within the network.
The Zero Trust security model, however, is much more specific and protects the network from unauthorized access and internal data breaches that might otherwise go undetected. While remote access VPN brings security to the network as a whole, Zero Trust takes security to the actual end-user. 
Simply put, if you were to use Zero Trust for your private network as the only security measure; you would still be unprotected against outside threats since you would be using your local IP address which is traceable and unencrypted. 
Both of these cybersecurity practices are mostly cloud-based services that can be acquired from VPN vendors. They can be a great addition to each other and they're not competitors. 
Use Zero Trust and Remote Access VPN Together
You can choose between the two based on your security needs, but there is also the option to use both and benefit from their cooperation. Remember that the Zero Trust security model is a verification framework whereas a VPN provides your network with a private gateway. 
So why not combine the two and secure remote access with VPN solutions while also ensuring continuous and flawless authentication with the help of Zero Trust? It certainly is a great idea to make your cybersecurity structure more robust than ever. 
The cybersecurity world is always evolving and you can build a bulletproof architecture using several different services. These two solutions are modern, popular, and available to all users regardless of location. Thus, bringing the two together might just be the best of both worlds. 
Must read our: Disclaimer
Final Word
The diversified cybersecurity world understandably confuses users as they can't choose between different products and frameworks. The Zero Trust security and remote access VPN are two of these significantly popular products. 
While Zero Trust provides repeated verification of the users to ensure nothing is contaminated or hacked in the network, remote access VPNs guarantee private network security by creating a tunnel between users and the corporate data. You can certainly use one of these, but the best way seems to be combining the two.