If you are a Samsung user then you must have a list of daily updates of all your apps. In that list, there is a probability that you find your system is updating IPSGeofence in your android. If you have, then you may wonder, what is this? Is someone tracking your system through this application? Looking at the term geofence, you may think, someone is stalking your location. In this article, we will get to know what exactly IpsGeofence is? Is someone keeping an eye on the user using IpsGeofence? How to get rid of the IpsGeofence application? Is the application useful to the user or is it a virus? 
These are some general questions that the users encounter while seeing this application on their devices. Today, with the medium of this article, we will answer all these questions. So, make sure to read this article till the end to know more about the IPS geofence application.
Don't Miss: DiagMonAgent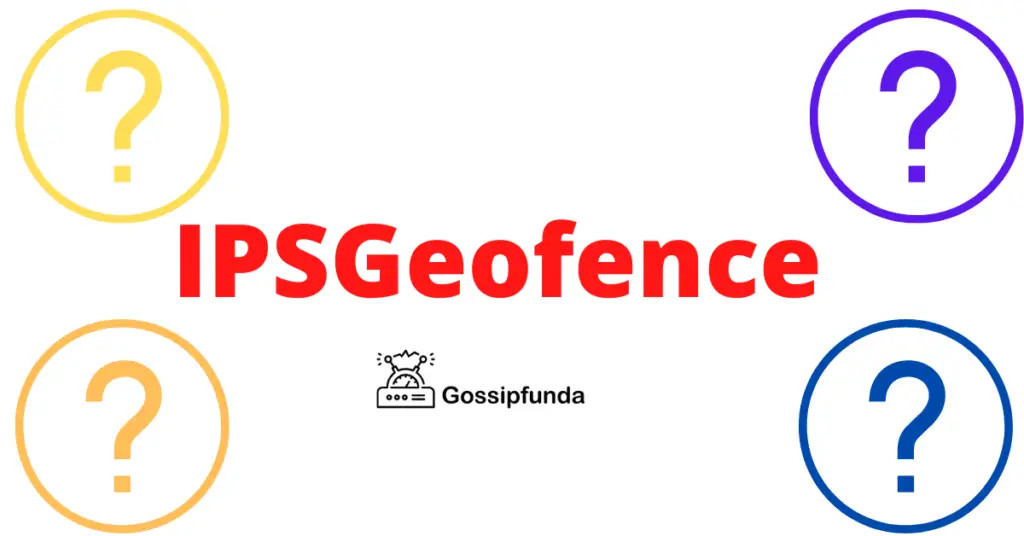 Before getting in the questions let us know what IPS geofence is?
What is IpsGeofence?
This, not the application which users install on their devices then why devices contain IpsGeofence? To know about this let us understand this by splitting it into 2 terms that are IPS and geofence. Firstly, let us talk about the IPS part, what is IPS? Indoor Positioning System in short IPS application consists of devices with different networks. This application helps the users to identify the location of an object or a person where satellite-related technologies fail. IPS allows the users to track locations of objects even in remote places like undergrounds, parking lots, buildings. An indoor Positioning System can trace up to an accuracy of 2 cm diameter. 
Now let us understand the term geofence, it is a mobile-generated or a computerized boundary that resembles the real world.
By knowing these two terms, we can estimate what IpsGeofence is. Now, the question is what is this application doing on your mobile? Is anyone tracking your location through this application?
Read more: ChocoEUkor
Is IPS geofence a virus? 
If the users want to uninstall IpsGeofence from their devices they can find they fail to do so but why? Is this application any sort of virus that is controlling your android phone? Is it dangerous having an IpsGeofence in mobiles? These are some regular questions that people tend to ask in the discussion of IPS geofence topics. 
To clear all doubts about IPS geofence, first of all, IPS geofence is not a virus. Secondly, it is not dangerous to have IPS geofence in your android mobiles. These types of applications will not take over your android phone and cause trouble to you in the future.
If IpsGeofence is not a virus, then what is it? And why is it on my mobile without me installing it? We got to know that IpsGeofence is not a virus, instead, an app on your device which is completely harmless.
To answer these kinds of answers let's see under what category this falls, continue reading to know more about it.
Why does my android contain an IpsGeofence?
Yes, indeed, the user does not install the application himself or herself. Then why is the application still present in the user's device? The IpsGeofence falls under the category of system app or Bloatware. Now, what are system apps and Bloatware?
IpsGeofence is bloatware and it is pre-installed on your Samsung android device. Bloatware is those applications that are present in your systems already without you installing them. These applications are pre-installed by the product manufacturers for the proper functioning of your android.
So, IpsGeofence is bloatware that is preinstalled in your mobile phone by the manufacturers for location tracking. The readers must know that this bloatware is an application that does not have an uninstall option. So, the users cannot uninstall IpsGeofence directly, though there are ways of disabling them.
Now, we have seen that IpsGeofence is a pre-installed application, let us look at some of the features of geofences.
See also: coolEUkor
IpsGeofence Samsung
IpsGeofence for android is an application, for which recent Samsung users got an update. Let us know more about Samsung's geofencing application and more details about it.
IpsGofence for Android is a geofencing application that includes IPS (Indoor Positioning System) is application, developed by Samsung. This application an update from Samsung Electronics Co., Ltd.,
With the development in technology and its advancement, the users are tending towards new features. With the help of all this Samsung launches an update of IpsGeofence for its users which has various uses. This application is completely safe, according to the statement given by Samsung Electronics. According to the official information by Samsung, this application had a green signal to launch after verification of the VirusTotal.
With a complete check from all engines, TotalVirus confirms this application to be safe and harmless. The Samsung users got this update from Samsung on the 15th of April last year. This location tracking device is completely free to download and IpsGeofence APK is available online for download.
The IpsGeofence application occupies about 2.2 MB of space in your device which is considerable. The latest version of this application is 4.10, this latest version has made its track with 1k+ updates. The information is all according to the statistics given by the Samsung mobiles, which may vary later.
How do I disable IpsGeofence?
Many users find security concerns regarding this application and do not want to use these apps and disable them. In this article let us know how to deal with such applications and how to disable IpsGeofence? 
When the user tries to disable the IpsGeofence application by going to app settings, he/she finds that they can't. The users can see that disable option is not available for the IpsGeofence application. Now, what can a user do?
We suggest the users go for the Force stop option if he or she finds difficulty with this application. They also have an option of clearing cache and data if this application does not work properly.
Now, let us see how to Force Stop the IpsGeofence application in Samsung android devices.
Step1: the user has to go to the device settings or settings app in their android mobiles.
Step2: the user then has to go to the apps and look for system apps.
Step3: once the user gets the list of applications, scroll down to the IpsGeofence application.
Step4: there the user can find the Force Stop button, tap on it. 
By doing this the user can let the app not interfere in any other apps or spy on your mobile. if you are too irritated with this application and want to disable it only then do this. Else, we suggest the users not do this because it is a useful application.
How do I uninstall the IpsGeofence application completely?
Though we do not suggest you uninstall the application as it is a useful app, there are methods. There is no inbuilt procedure to uninstall the IpsGeofence application. But the users can do this with the help of third-party applications that get rid of this bloatware. The users can use applications like Package Disabler Pro to get rid of the IpsGeofence application from their android. Though Package Disabler Pro is an effective tool it needs some bucks to invest in to remove IpsGeofence.
The users can also use other third-party applications to remove this application permanently from their androids. The users can check out the other ways of removing such applications online.
Don't Miss: roseEUkor: bloatware or adware
IpsGeofence system permissions
The major problem where the users find an issue with this application is its permissions. This application is self-updated and the user cannot change the permissions for this application. The users cannot manage the permissions of this application which is a matter of great concern.
Many Samsung users got to know that the IpsGeofence application itself makes access locations of the user's device. If the user tries to change the permissions of this application then he or she cannot do this. In the list of permissions, the always allow option is grayed out so the users have no option available to change.
Is my data safe?
Many users doubt that if we cannot manage permission then it means our data is exporting. To be clear, this is not the case, the user's data is completely safe and no one can access it. This application is in use on Galaxy stores since 2019, so this is not a new application.
IpsGeofence in its app description mentions that the IpsGeofence application will not collect the data of an individual. This means the user is not sharing his location with anyone else through the IpsGeofence application.
In addition to this, Samsung provides some other information describing the IpsGeofence application. It says that this application will be in use only if the user uses IpsGeofence to activate location services. From this, we can be sure that this application will not extract data from the locations we visit. Also, we can say that the IpsGeofence is a completely secure application to use.
As we got answers to most of our questions, then let us quickly get to a conclusion.
Let us conclude
In this article, we get to know what an IpsGeofence application is and how it is useful to users. Though this application was in use before corona time, the developers updated the application in time of COVID. We can say that Samsung has developed this application with a vision of Stop Corona. This application needs access to any of connecting networks like GPS, or WIFI, or Bluetooth for accurate results. Keeping public places in mind, with easy availability of WIFI, this application tracks the geographic area. Later, people find it as a great concern, as it questions people's privacy. 
In this article, we get to know that IpsGeofence is not a virus, but it is a useful application. Also, we get to know how to disable this application and some third-party applications to uninstall it.
And that's all for this article guys, hope you all get a piece of good value information from this article. To receive more articles like this, do follow the gossipfunda website.