Anime and manga enthusiasts may access a vast collection of content on the well-known streaming service Crunchyroll. But, like any online service, it could occasionally experience technical problems. Users frequently complain about the Crunchyroll subtitles not working and not functioning properly. For viewers who depend on translations to follow the dialogue in a foreign language anime, subtitles are crucial. We will examine potential causes for Crunchyroll subtitles to be inoperable in this post and offer troubleshooting instructions to fix the problem.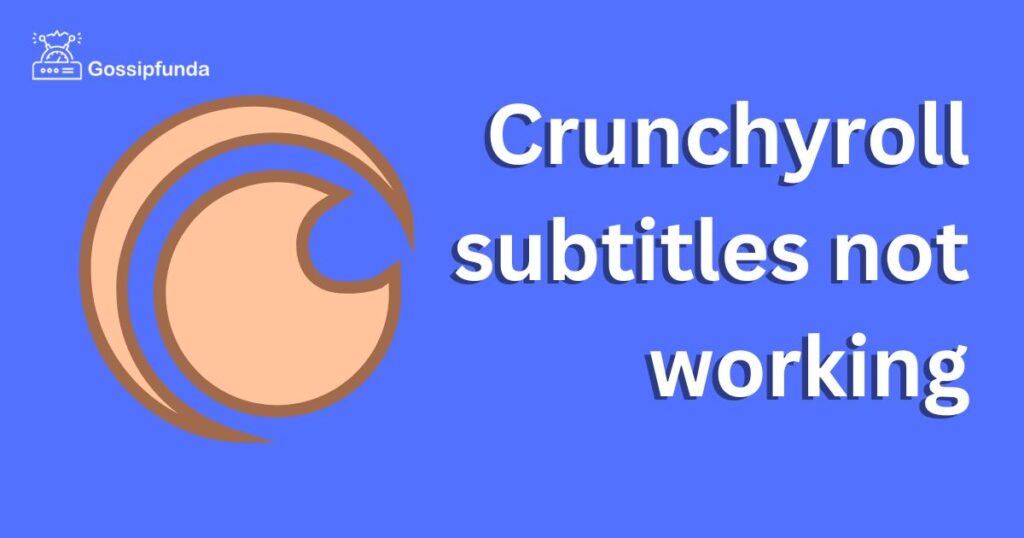 Why Crunchyroll Subtitles Don't Work?
Incorrectly activated or configured subtitles
Subtitles may not function correctly if they are not enabled or set to the appropriate language in your Crunchyroll account settings or profile settings.
Limitations on playback apparatus
The constraints or limitations of certain devices may have an impact on how Crunchyroll plays back subtitles. For instance, certain devices might not support specific subtitle formats or might have settings that obstruct the display of subtitles.
Problems with internet connectivity
For Crunchyroll videos to stream smoothly and with subtitles, you need a steady internet connection. Insufficient internet access may cause subtitles to load incorrectly or out of sync with the video.
Languages with subtitles
Several anime and manga titles on Crunchyroll have subtitles available in many languages. Not all programmes, nevertheless, might have subtitles accessible in every language. You can have problems with subtitles not appearing if you are attempting to access subtitles in a language that is not supported for a specific title.
Cookies and caching
Sometimes, your browser's cached data and cookies might prevent Crunchyroll's subtitles from working properly. This problem may be fixed by clearing the cache and cookies in your browser.
Format compatibility for subtitles
ASS, SSA, and SRT are just a few of the many subtitle formats that Crunchyroll offers. It might not function correctly if the subtitle file you are attempting to view is not in a compatible format.
Subtitle encoding problems
Subtitles may occasionally not appear properly due to encoding problems with the files, such as unusual characters or non-UTF-8 encoding.
Bugs in apps or websites
Like any other online service, Crunchyroll occasionally has bugs or technical problems. It's possible that there will be short-term problems that compromise the operation of the subtitles if you use the Crunchyroll app or website.
Ad blocker conflict
Subtitles may not appear properly if you are streaming Crunchyroll while using an ad blocker. The problem could be fixed by temporarily disabling your ad blocker.
Localization constraints on the content
There may be unique localization limitations on some Crunchyroll anime or manga titles that limit the number of subtitles that are available. For instance, due to licensing or copyright restrictions, certain titles could only have subtitles available in particular locations or might not have any subtitles at all.
Subscription status for the account
You can experience problems with subtitles not working correctly if your Crunchyroll account subscription has expired or is no longer valid. There may be restrictions on the availability of subtitles or language choices for some membership packages.
Regional limitations
Due to licensing agreements, some of Crunchyroll's material is only available in certain regions. Subtitles may not work or may not appear properly if you are attempting to view material from a region where it is not accessible.
System updates or modifications at Crunchyroll
Occasionally, Crunchyroll may upgrade or modify its system, which might have an impact on the operation of the subtitles. Updates to the video player, the rendering engine for subtitles, or other technical elements that can affect subtitle display could be included in this.
User blunder
Sometimes, user mistakes, such as choosing the wrong language, utilizing the improper settings, or accidently turning off subtitles, might cause problems with Crunchyroll subtitles. This problem may be fixed by double-checking your settings and making sure the correct subtitle language is chosen.
Content-related problems
There may be special subtitle problems with some anime or manga titles on Crunchyroll, such as poor synchronization with the video or partial or erroneous translations. In such circumstances, the problem can lie with the content rather than Crunchyroll's infrastructure.
Methods for Fixing Broken Crunchyroll Subtitles
Here are some troubleshooting techniques you might attempt if Crunchyroll subtitles aren't functioning for you:
Verify your internet connection
Make sure your internet connection is reliable. The loading and presentation of subtitles on Crunchyroll may be impacted by a slow or unreliable internet connection. To enhance your internet connection, you might try rebooting your modem or router.
Restart the app or refresh the page
The operation of the subtitles may occasionally be affected by brief problems or malfunctions. Such problems can be fixed by refreshing the website or restarting the Crunchyroll app. To guarantee a fresh start, you may also try deleting the cache or data from your apps.
Verify your subtitle language settings
Verify that you have chosen the appropriate subtitle language from the list on Crunchyroll. The video player's settings menu is where you may find the subtitle language options. Verify again that the language of the subtitles you have chosen corresponds to the language of the video you are watching.
Activate subtitles
Make sure the video player has subtitles turned on. In the video player, look for the "CC" (Closed Caption) or "Subtitles" button and make sure it is turned on. Subtitles can occasionally be inadvertently disabled, rendering them invisible.
Test out several subtitle language choices
Try selecting an alternative subtitle language option if the subtitles for a certain language aren't working. You can try various languages to see if the problem remains because Crunchyroll provides numerous language options for subtitles.
Verify your subscription status on your account
You can experience problems with subtitles not working correctly if your Crunchyroll account subscription has expired or is no longer valid. To use all the features, including subtitles, make sure your account membership is current and valid.
Verify regional limitations
Due to licensing agreements, some of Crunchyroll's material is only available in certain regions. Subtitles may not work or may not appear properly if you are attempting to view material from a region where it is not accessible. Make sure the area from which you are visiting Crunchyroll is one where the material is accessible.
Upgrade your browser or Crunchyroll app
Subtitles may not work properly with older versions of the Crunchyroll app or web browser. To guarantee seamless subtitle performance, make sure you have the most recent version of the Crunchyroll app or web browser loaded on your device.
Verify the audio settings
Sometimes there may be a connection between audio settings and problems with Crunchyroll subtitles. Some subtitles are triggered by audio cues, thus if the audio is muted or turned down too low, it could affect how the subtitles are shown. Make sure the audio settings are configured properly to support the display of subtitles.
Verify your device's language settings
Your playback device's language preferences, such as those on your computer or mobile device, may occasionally have an impact on how subtitles appear on Crunchyroll. Make sure the language settings on your device are set to the same language as the media you are watching.
Verify the settings for subtitle customization
Subtitles on Crunchyroll may be customized in terms of text size, color, and background. It's probable that the customisation settings are the cause of any troubles you are having if you have altered your subtitle settings. The problem could be fixed by returning the personalization settings to their default state.
Verify the settings for subtitle delay
Users of Crunchyroll may change the subtitle delay, which controls how soon the subtitles follow the video. The subtitle delay settings may need to be adjusted appropriately in order for the subtitles to properly sync with the video. The problem could be fixed by modifying the subtitle delay settings to match the video.
Change your device or browser
Crunchyroll subtitle problems might occasionally be browser- or device-specific. A different web browser or device can be tried to see whether the problem is isolated to that one.
Look for browser or app extensions
It's possible that some browser add-ons or plugins will obstruct Crunchyroll's ability to display subtitles. If any extensions or plugins are causing issues, try disabling them to see whether the subtitles begin to function correctly.
Delete the cache and cookies
Clearing your browser's cookies and cache might assist in resolving difficulties with previously saved data that might be interfering with the display of subtitles on Crunchyroll. To determine whether the problem is fixed, try deleting cookies and cache from your browser's settings and then restarting the browser.
Read Also: Crunchyroll Not Working on PS5: Reasons and Solutions
Conclusion
For fans of anime and manga, Crunchyroll is a well-liked streaming site, but like any internet service, it occasionally runs into technical difficulties. Crunchyroll subtitles not working can arise for a number of reasons, including subtitle settings, playing equipment, internet connectivity, the availability of certain subtitle languages, or cached data. You can try to fix the problem on your own by using the troubleshooting procedures described in this page. Nonetheless, it is advised to get in touch with Crunchyroll's customer care if the issue continues. Have fun watching your favorite anime and manga on Crunchyroll with subtitles!
FAQs
Why are the Crunchyroll subtitles and audio out of sync?
There are a number of reasons why subtitles could not be playing in time with the audio, including playback settings, buffering, or encoding problems. To sync the subtitles with the music, try refreshing the page, deleting your cookies and cache, or modifying the playing options.
Why do the Crunchyroll subtitles overlap or end abruptly?
Incorrect display settings or formatting might cause subtitles to overlap or be abruptly terminated. To avoid the subtitles crossing over or getting chopped off, experiment with modifying the font's size or style as well as the screen resolution.