Before 2020, there was a time when video editing and creative work were meant for only professionals and dedicated online video editors. They were the ones who ruled the realm of content creation and creative work. But in 2020, the scenario changed, and video editing became so easy that even a novice can make content that is of the professional level, all thanks to CapCut. In this article, we will dive into the world of CapCut, which revolutionized video editing and making big ripples in the creative community. The CapCut creative suite is the cause of the recent disruption in content creation. It made content creation easy and accessible to everyone.
CapCut Creative Suite provides all the necessary tools required to perform video editing. Whether you want to do online video editing or image editing, CapCut offers the best solution for free. There is a new feature in video editing that makes it more exciting and helps reach the audience by add subtitle to video.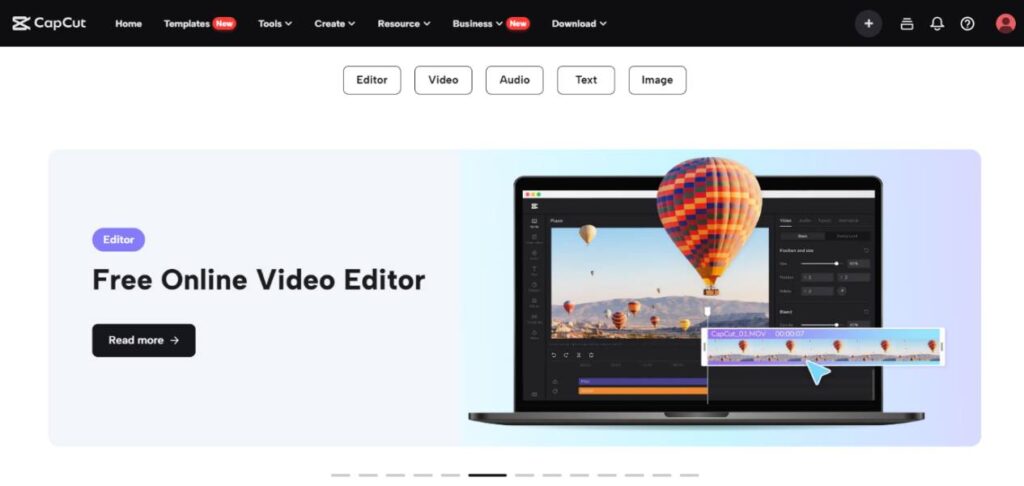 The CapCut Creative Suite: Beyond video editing
At first glance, CapCut might seem like just another video editing toolkit, but it's so much more. The CapCut Creative Suite comprises a collection of interconnected tools designed to cater to a wide range of creative needs. Let's explore how each component enhances the creative process:
1. Add Video Transitions and Effects
CapCut's flagship tool, the online video editor, is packed with features that make video editing accessible to all. From trimming and cutting clips to adding transitions and effects, it offers everything you need to bring your video vision to life.
Whether you're editing short clips for social media or crafting a cinematic masterpiece, CapCut's intuitive interface and powerful features have you covered.
2. Effortlessly Edit Images 
Building on the success of the online video editor, CapCut introduced a photo editor that seamlessly integrates with its video editing capabilities. Now, creators can effortlessly edit and enhance their images on the same dashboard they use for video. This integration streamlines the creative process, allowing for consistent visual aesthetics across all content.
3. Audio Editor
Audio is a critical aspect of any video project, and the CapCut Audio Editor ensures you can perfect your soundtracks. With features like sound mixing, noise reduction, and the ability to add your music, you have complete control over the auditory experience of your content.
4. Music Library
In addition to editing audio, CapCut provides access to an extensive music library. You can find the perfect background music or sound effects to complement your video, eliminating the need for external sources and simplifying the content creation process.
5. Sticker creator
Stickers have turned into a tomfoolery and connecting method for improving recordings and pictures. With the CapCut Sticker Producer, you can make custom stickers to add an individual touch to your substance. This element is ideally suited for marking and customizing your recordings and pictures.
6. Templates
The CapCut Creative Suite includes a wide range of templates for video editing, photo enhancement, and more. These templates are perfect for beginners who want to quickly create polished content and provide valuable starting points for experienced creators.
7. AR Effects
Augmented reality effects have become a popular way to add interactivity and engagement to content. CapCut offers a library of AR effects that can be easily applied to videos and images, adding a new layer of creativity to your projects.
8. Cloud Storage
After all the features mentioned above, once the user uses CapCut, it also provides another feature of free cloud storage. This helps the user to make changes and save them on the cloud and can access it from wherever in the world. 
Empowering creators of all levels
Whether you're a novice maker or an expert, CapCut's easy-to-use interface guarantees you can release your inventive potential without a lofty expectation to learn and adapt. The extensive set-up of devices implies that makers can remain inside a solitary biological system for all their inventive necessities, saving time and exertion.
CapCut's reasonableness is likewise a distinct advantage. A considerable lot of its elements and devices are accessible for nothing, making it an appealing choice for those on a strict spending plan. The Master form offers considerably further developed capacities. However, it stays a financially savvy decision contrasted with some industry-standard programming.
Seamless integration for effortless creativity
The ability to switch seamlessly between video editing, photo enhancement, audio editing, and other creative processes within a single toolkit streamlines the content creation workflow. No additional sending out records starting with one programming then onto the next, guaranteeing that your substance keeps up with consistency and quality all through the creation cycle.
For example, consider a situation where you're making a video for your YouTube channel. You can start by editing the video clips using the CapCut Online Video Editor. When it's time to enhance the thumbnail image for your video, switch over to the CapCut Online Photo Editor without leaving the toolkit. After adding music and editing the audio, you can create a custom sticker with the Sticker Maker to use as your channel logo. All of these components work seamlessly together, saving you time and making the creative process more efficient.
The CapCut Creative Suite Community
CapCut also fosters a vibrant and supportive community of creators. With social features like sharing your content within the toolkit, following other creators, and participating in challenges, CapCut offers an environment where you can learn, collaborate, and be inspired by others.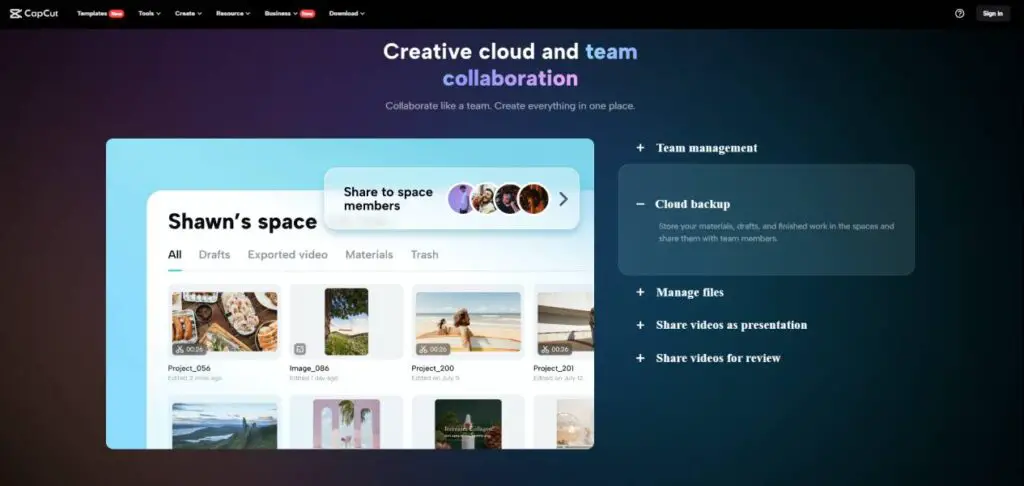 The CapCut community is diverse, with creators from various backgrounds, ages, and creative interests. This diversity is a testament to the all-in-one solution toolkit inclusivity and its ability to cater to a wide range of creative endeavors.
Conclusion
The CapCut Creative Suite is a distinct advantage in the realm of computerized content creation. It offers a reasonable, across-the-board arrangement that engages makers, everything being equal, to investigate and communicate their imagination in manners they never imagined. The consistent joining of video altering, photograph upgrade, sound altering, and more makes it an incredible asset in the possession of present-day content makers.
Whether you're an online entertainment devotee, an expert videographer, or a sprouting content maker, the CapCut Innovative Suite brings something to the table. With a powerful arrangement of highlights, a draw in the local area, and a promise of openness, CapCut is rethinking being creative in the computerized age. So, don't wait – unleash your creative potential with the CapCut Creative Suite and start crafting content that stands out in today's digital landscape.