Every cell phone comes with a lot of preinstalled applications. The maker of your device expects users to utilize these applications to get the most out of your gadget. Therefore you must use them. Even though you may believe that some of them are essential, how about those loaded applications you rarely use? Since the bulk of these undesirable Android apps can't be deleted using the normal uninstallation approach, they are referred to as "bloatware." Before now, preloaded applications' risks were unknown to Android security professionals. Customers have always considered preinstalled apps on their cell phones a nuisance. The preinstalled software pac processor is the basis for this essay.
Numerous system programs, user software, junk, and services are present on Android phones. Although some applications are meaningful in and of themselves, some are resource-hogging useless apps. On Android, removing various system apps without impairing the Phone's functionality is simple, while deleting some can prevent the device from functioning normally.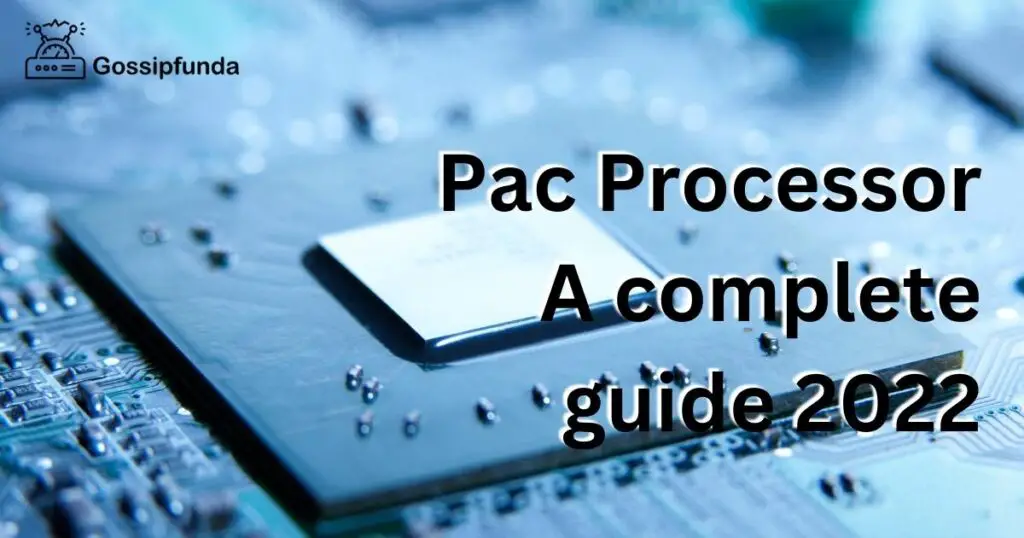 Among the crucial system apps that come preinstalled on a Mobile phone is PacProcessor. Learn further about Android's PacProcessor. Why is it needed? What kind of access to the system does PacProcessor have? A virus, perhaps? Can PacProcessor be removed? Let's research the solutions.
What exactly is a PAC file?
Knowing what a PAC is is necessary before understanding PacProcessor. A PAC is a file format that instructs a particular application or site to route traffic through a web server rather than straight to the intended website. It has one or more JavaScript functions, including one called FindProxyForURL, that establishes guidelines for selecting a proxy server based on a specified URL. PAC files are used, particularly in corporate settings, to regulate and balance the load on the Internet.
What is a PacProcessor app?
The correct proxy must be detected for every Android application and web browser to access the web and upload or acquire data. This is the WebView application provided by the Android operating system, enabling apps to open URLs inside themselves.
A preinstalled platform application on Android devices called PacProcessor, also known as Proxy Auto-Configuration Processor, is in charge of enabling internet explorer applications and other agent applications to identify the best proxy to connect to the Internet dynamically.
Nowadays, most Android phones come with this software program preloaded, namely those made by Samsung, Xiaomi, Huawei, LG, and so on. Visiting the system folder /system/app/PacProcessor/PacProcessor.apk will bring up PacProcessor.
Why do we need a PacProcessor app?
The fundamental application of Android's PacProcessor is to grant web-based apps and webpages the necessary authorization to find a suitable proxy to connect to the world wide web. PacProcessor must process the PAC, which is used for automatic proxy discovery. PACs include JavaScript that identifies the proxy server and its parameters, indicating when a browser may be able to send traffic to the proxy server.
How to remove this program is a common question from consumers. In the following paragraph, we demonstrate if it is feasible and what the repercussions would be.
What authorizations does a PacProcessor app involve?
To function on the Phone, PacProcessor doesn't need any specialized access permissions. However, it might continue to operate in the background to check the Phone's internet link and proxy status, which might annoy users who are very sensitive to PacProcessor's power drain.
Is a PacProcessor app safe application or malware?
There are no malicious programs or keyloggers in PacProcessor, making it neither a virus nor malware. It chooses the appropriate proxy for the application and web pages. Because they typically offer a significant attack vector, PACs are frequently the focus of a significant number of breaches. This app may not be what you think it is, and this program serves a crucial purpose like many other internal sources.
You can run a decent virus analysis on your device to determine whether there is a virus on your systems. Resetting your device to factory settings will assist you in preventing some PacProcessor popup messages.
What should you do if your processor uses too much battery life?
Typically, this is a consumer app without a battery. It may be connected to our prior point if you experience problems with this app's battery usage. Due to its modest size, this file cannot possibly have a high power usage.
To get your smartphone back to its original state, we advise you to try clearing the cache or restoring it. We trust you fully understand the PacProcessor app and how it works. If you didn't, kindly share your reservations with us.
How can I fix the message "The Pacprocessor has stopped"?
Your ability to fix the "PacProcessor Has Stopped" error message depends on your ability to follow the methods listed below.
Clear the pacprocessor app cache data
Click the Settings button.
Out of the drop-down option, choose Apps.
Hit the Ellipsis toggle to view the icon (3 vertical dots) inside the upper right-hand corner.
Out of the drop-down box, choose Show System Apps.
And from the list of offered apps, find and select the PacProcessor application.
Go to the drop-down menu and select Storage.
To remove the cache, select Clear Cache from the menu.
Use the Clear Data option to erase the data.
Force restart
Anytime there is a software issue, forcing a restart is a smart move. All currently active programs and processes would be promptly terminated, and the majority of small faults and problems would be fixed. Depending on the model and manufacturer, many restart methods might be available. To get your Samsung mobile device to function as it usually does, press the Power and Volume Down keys at the same time. When the startup screen comes, let them go.
Force stop the app
The exact same program could have flaws or omissions. In that case, forcing the app to shut down could be useful. ways to stop the pacprocessor from operating;
Select Settings > All Apps from your smartphone.
It is necessary to touch the three vertical dots in the hand corner of the window.
To see system apps, click the radio button.
Find the pacprocessor program by searching.
You can force a stop by pressing it.
It is necessary to click the App Storage option.
Choose the "Cache and data clearing" tab.
Offset your smartphone.
Update operating system of your device
Upgrades to the OS address bugs and exploitable vulnerabilities and get rid of out-of-date software that can slow down your system. On your pc, cellphone, or tablet, make sure one of the most advanced operating systems is loaded to safeguard your equipment and data from cybersecurity threats. Update your operating system using the procedure listed below;
Get started by going to Settings > About Phone.
Decide on "Software Update"
Start your device again.
Droidkit application
Our cell phones occasionally experience issues, such as apps that constantly crashing, touch screens that abruptly quit functioning, smartphones that did not charge, and so on. While you could always attempt to resolve these issues on your own, one benefit of DroidKit is its capacity to accomplish this in a matter of minutes. It is an utility for updating system programs. You can employ this tool in the manner listed below to address problems with the com.pacprocessor Android app:
Browse the Droid Kit homepage.
Its download page should be visible on that screen.
Following selecting it, kindly wait till the software installation is finished.
Set it up
To your PC, attach your Samsung phone.
Click "Fix System" on the toolbar.
Out of all the choices, select Start.
You need to switch to download mode in accordance with the directions given during the procedure.
Download the firmware package that was shown on the device's screen.
Using a Dr.fone
It is an easy-to-use utility for fixing app and operating system problems with only one click. The Android system errors that our system repair tool can efficiently and decisively cure will restore functionality to your device. The most important aspect is that you're able to keep hold of it on your own in less than 10 minutes. This utility will allow you to correct the issue;
The Dr. Fone webpage is worth visiting.
Please find the download button on the screen and then tap it.
Wait for the application to install.
Link your computer to your smartphone.
From the menu, choose "System Repair."
Tap Repair again to confirm.
To put your device in the downloading state, adhere to the directions shown.
Displaying and downloading the firmware file
Titanium backup software
Titanium Backup has long been regarded as one of the most popular programs, and for a good reason. Although you can try this software, your current files won't be stored.This program basically turns off the functionality of the selected program (here com.pacprocessor). The following describes how to use this app;
Get the Titanium Backup software.
Select Freeze upon opening com.pacprocessor after finding it within the menu.
Can I uninstall the pacprocessor?
Although we do not advise it, removing the built-in PacProcessor application could be feasible. Numerous users have reported that even after removing it, their device continues to display popup windows with errors and occasionally won't even restart. It won't be possible to assign a specific app's proxy server for online access if PacProcessor is uninstalled. Please refrain from removing the PacProcessor if you are experiencing any problems. Try to find any other workable solutions to repair it.
ADB, System Software Remover, and Titanium Backup are all tools you can use to remove the PacProcessor app.
The Android debug bridge
This versatile command-line tool, commonly known as Android Debug Bridge, allows you to communicate with a smartphone (ADB). This debugging program enables several device actions, such as app installation and troubleshooting, and also seeks access to a Unix shell so you can issue various commands on your device.
There are three parts to this client application:
It is controlled by a client that issues instructions to your work computer. Through the use of an ADB command, a clients can be launched from a command-line interface.
An object's daemon (ABDB) executes orders. On every device, it operates in the back.
Here between daemon as well as the client, a server controls interaction. Your developer PC has the server operating in the background.
Use this app to delete the com.pacprocessor app from your smartphone by following these steps:
This fixation technique necessitates the use of a PC or laptop, an ADB tool, and a data connection.
Choose System as from the drop-down list beneath the item you've chosen, followed by selecting About Phone from the Settings menu upon that gadget.
For Developer Options to be active, tap seven times.
After reverting everything to default, choose Developer Options once more.
After finding it, choose USB Debugging.
Set up ADB on the computer.
Following retrieving the data of the given zip file, transfer it to a new file.
Upon right-clicking in the newly created file containing the extract and selecting a whitespace, tap and hold the Shift key.
Hit the Open PowerShell Window Now button to start the PowerShell session. If your machine is running an earlier software version of Windows, launch the command window.
Keep in mind the USB mode is switched to File Transfer while utilizing a USB cable to link your smartphone to your computer.
To achieve the desired result, type ADB devices into the box.
On the display of your smartphone, a window for USB debugging will emerge. Clicking OK will bring up the last execution.
Once that is done, enter the required command for ADB devices in the screen. Next, the PowerShell window ought to show the unique identifier of the gadget.
Run the operation ADB shell pm disable-user -user 0 com.pacprocessor to uninstall the com.pacprocessor application from your smartphone. Hopefully, this software won't give you any errors of any type.
System App Remover use
To utilize this method, it would be preferable if you had rooted your Android device. Follow the instructions below to uninstall this system software after getting root access.
Install the System App Remover program after downloading it.
Open the application, look for PacProcessor, and check the box next to it to choose it.
To permanently uninstall the program from your smartphone, tap the "Uninstall" option.
Read Also: What Processor do I have?
Conclusion
PacProcessor must finish the PAC's processing. Automatic proxy discovery is done using this. The proxy server and the parameters governing whether it is practicable for a website to transfer data to the proxy server are specified in the JavaScript that is packaged alongside PACs.The methods, as mentioned earlier, allow you to swiftly correct application issues without contacting the program's creators. Additionally, we have briefly covered how to uninstall this application.
FAQs
What is OsuLogin?
The system app OsuLogin is preinstalled on Android smartphones and allows users to connect to Wi-Fi Hotspot 2.0 networks. Even though some people refer to it as malware or spyware, it is a secure program that does not damage your device.
How come I can't delete an app from my Phone?
Restrictions on Content & Privacy
Select Screen Time -> Content & Privacy Restrictions from the Settings menu. Then select Deleting Apps under iTunes & App Store Purchases. Make sure that "Allow" is picked. You can't remove apps from your iPhone while Don't Allow is chosen.
Is removing and disabling the identical thing for apps?
An app can only be completely uninstalled from your Phone. When an app is disabled, it vanishes from the screen and is no longer permitted to run in the background. Apps that have been disabled won't fetch any more updates.
Is it secure to root your phone?
Is it dangerous to root your mobile device? Your data is not anymore shielded from susceptibility to viruses or destruction since some of the operating system's constructed security mechanisms are lost when a machine is "rooted."