Processors certainly have lent us a hand to get to the modern age this fast. The popularization of smartphones and laptops is all thanks to them. But most of the time, we were not so bothered by them. Consequently, most people don't even know the first thing "What Processor do I have" in their device. And you probably are one of them. But if you would like to know or if you are in need of knowing what type of processor your device uses, then this post will do you justice. So keep reading.
What is a processor?
A processor, also called a microprocessor at times, is a very small chip that resides inside your computer. These days other devices such as smartphones, tablets, and so on are powered by them. Technically speaking, they are silicon-based circuits with a lot of connections. And they pretty much control the input and output data of the device. Although this may sound like a trivial function, there is a lot more to it. Processors these days hand trillions of signals at once, which is probably the reason we are able to have such astonishing devices at our disposal.
Why check the kind of processor your device has?
Most of us use our computers without knowing much about the stuff under our hood. Well, most of your daily activities, which mainly involve checking social media or posts like these don't really require us to know that kind of detail. Then why do you even need to know what kind of processor your computer is using? That's because things like how fast you can do things or how many things we can do at once, depending on the specs. Furthermore, with a processor of a certain power, you won't be able to run some software on your device.
You might have seen people with shades of tech love going crazy over something called "Snapdragon". And the reason behind us that it's a very powerful processor for Android smartphones. Hence, phones with inferior processors won't be able to catch up with it performance-wise. Provided that it has a pretty decent RAM too. After all, it is not the only factor predicting the performance of a device. But it is a very important one.
The bottom line is that by knowing the type of processor you have, you can get an idea about your device's limits. And this means that you can even make necessary changes, such as changing the processor of your computer (if possible) or downloading a better driver for it. Moreover, you can adopt strategies to optimize the way you utilize the processor.
see also: AMD A9 processor and AMD A10 processor: The best Comparison
How to check what Processor do I have on PC?
Access the Start menu. Hence, click on the Windows icon on the bottom left corner of the screen or the Windows key on the keyboard.
Now select the About option.
After that, divert your attention to the Device specifications section. 
You will be able to see the processor name, its speed, and other specifications.
What generation does belong to?
Finding which generation your processor belongs to is actually a piece of cake. All you have to do is look at the processor number carefully. For example, here the processor name has the code i5-8250U. The first number in the four-digit number will give the generation your processor belongs to. In this case, the processor belongs to generation 8. That is the first digit of 8250.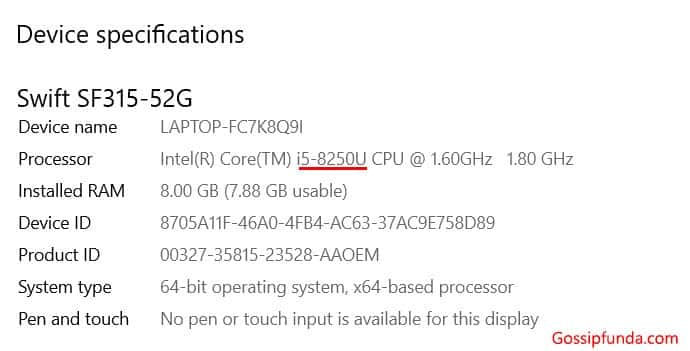 But how do you identify if the processor belongs to generation 10 or 11? Well, in those cases, the four-digit number will be replaced by a five-digit number. It will be something like 10250U. So, you will be easily able to find out the generation.
And if all else fails, you can just copy the name of the processor and head to Intel's website to pinpoint the details you need. 
How to check what Processor do I have on an Android device?
Get to the screen where all your apps are. 
Now open Settings by tapping on the app.
In some phones, you can get to settings from the notifications screen. You can also get it through a shortcut if you set up one or just put the Google assistant to work. 
Now, scroll down till you come across the About phone option. 
There will be a section for it, that will have the name of the processor.
Your phone might only show the name of the processor. So if you want further details about it, just use Google.
Check out: Android Spyware Detection App
How to get the complete CPU detail of your phone? 
If you follow the steps above, you will get the necessary information. And that will probably be the only thing that you may need in most situations. But there are times when you will need more than the basic stuff to go by.
For these situations, the best thing to do would be to download the CPU-Z app from the Google Play Store.
The app is a really great one. Right at the top of the screen, it will show you the full name of the processor. And following that, it will show the rest of the processor's details. But it does not stop there. It also shows a bunch of information about including the clock speed of the processor. Moreover, it shows the current speed of each and every core of the processor. You can even see them vary in real-time. This comes in handy in a lot of situations. For example, you could check out the speeds of each core if your phone is feeling a little sluggish to you. And if that is the case, then you can find out the reason behind it. Hence, you can determine a good time to clean your system's cache, delete a poorly performing app, or restore the phone to factory settings. 
There are various other tabs on the app that give you information about other stuff on your phone. And this includes stuff like the phone's temperature, sensor details, battery info, RAM available, system details, and so on. And what's even better is that you won't need to give the app any kind of special permission to fetch you these details. 
How to check what Processor do I have on a Mac?
On the left end of the taskbar, you will find the Apple icon. Unlike in Windows, here, the icon is located in the upper left part of the screen. Anyway, click it. 
Select the About This Mac option from the menu that appears.
A new screen will appear with several details about the hardware components of your Mac. Check under the section for the processor.
How to know the specifics?
The section above probably helped you to find out a bit about the processor that your Mac uses. But that I formation may not be complete. In other words, you have to dig a bit deeper to know everything you really need.
When you viewed the name of the processor under the concerned section in the About This Mac screen, you may have only seen something like 3.2 GHz Intel Core i5 or 3.2 GHz Intel Core i7. But that really isn't the final word on the processor. You need to find out what generation it belongs to as well. And believe me, Apple does take quite the long root here.
But it is important to know which generation the processor is. Even if both of them are i5 or if both of them are 3.2 GHz, the gap between them performance-wise will be different if they are from different generations. And it only grows if they are more than a generation apart. So that's why you need to know the generation your processor belongs to. And for that, you need to know its kind inside the Mac, like Corei7 or Xeon, and the year in which your Mac was launched.
Once you get your hands on the needed info, stick to the steps below.
Open your browser and search for Every Mac. 
Click on the first link, that will probably be it.
Look up the processor, that is the type like Corei7 or Xeon.
Select the link corresponding to it after selecting it.
You will get to a new page, now loon for the processor name with your Mac model's name and year of launch.
There will be a link yet again, and clicking it will get you the generation to which your processor belongs.
Also read: Intel i9 10900K
Wrapping up
Through the post above, we explored a bit about processors in general and why you might need to know the type you have. After that, we dived into the details of finding out exactly that of Windows, Mac, and Android devices. You might have surely picked up a thing or two. So, get whatever you wanted to be done. Hope it helped.