We rely on WhatsApp at work and use WhatsApp to keep in touch with friends and family. Losing WhatsApp messages can be a major and very frustrating problem. Therefore, it is crucial to act quickly to maximize the chances of recovering WhatsApp data. If you have accidentally deleted WhatsApp messages on your iPhone and are looking for a way to recover them, you have come to the right place.
In this article, we will show you how to restore deleted WhatsApp messages on iPhone. You can use Tenorshare UltData WhatsApp Recovery to recover WhatsApp messages without backup or use the existing iCloud or iTunes backup to retrieve deleted messages.
How to Restore Deleted WhatsApp Messages without Backup?
Tenorshare UltData WhatsApp Recovery is an all-in-one WhatsApp recovery software that supports getting back WhatsApp data without backup on both iPhone and Android. Here, it is compatible with all iPhones and iPads. What's more, it does not require you to reinstall WhatsApp or restore iPhone, and the current WhatsApp messages will not be deleted either.
Here are the steps on how to restore WhatsApp messages without backup on iPhone:
Step 1:  First, launch UltData WhatsApp Recovery on your PC/Mac, then click on "Device" option and then select "iPhone" to go on.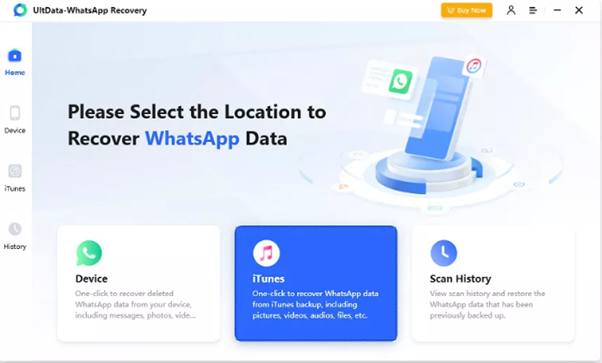 Step 2:  Connect your phone to the computer using a USB cable. The program will recognize your devices after they are connected and trusted. Then click on "Start Scan".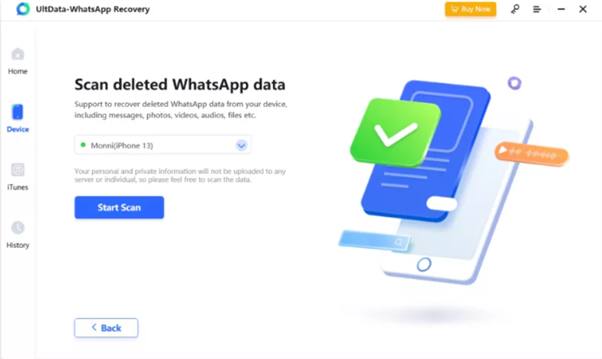 Step 3:  Now, it will scan your Apple device for WhatsApp data. The following screen will appear. Hold your patience till it is over.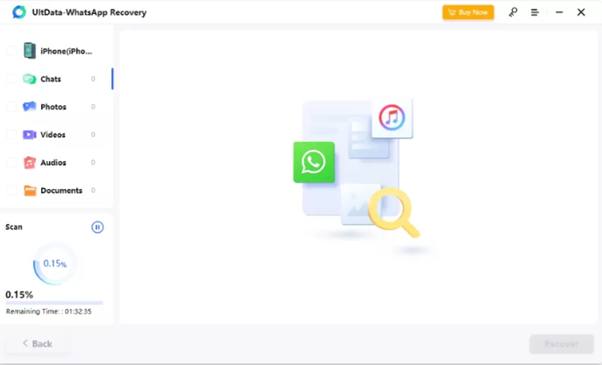 Step 4: Once the process finishes, the program will categorize and display all of the scanned files. You are now able to preview your WhatsApp data prior to recovering it.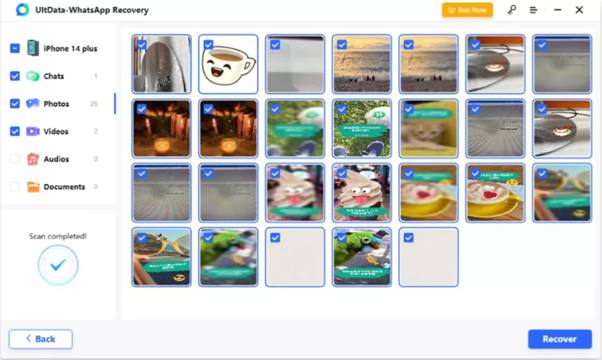 Step 5: It's now time to recover the WhatsApp messages. Select the files you need to retrieve, and then click the "Recover" button.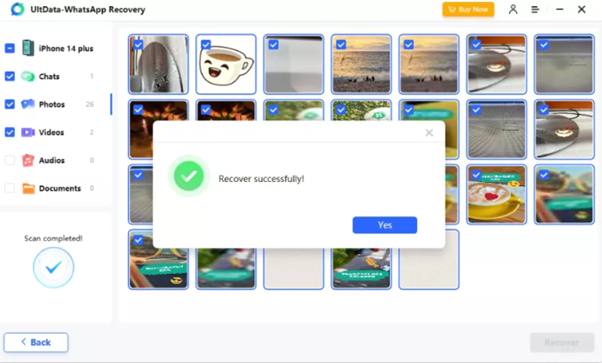 How to Restore Deleted WhatsApp Messages from iCloud Backup?
For WhatsApp users who make a backup regularly or automatically, you may back up your deleted WhatsApp messages to iCloud before they are deleted. In this situation, it is easy for you to restore them, but the current messages will be fully overwritten by the backup.
Whether you want to restore deleted WhatsApp messages or restore WhatsApp to a new iPhone with iCloud backup, make sure you use the same phone number/WhatsApp account and the same iCloud account that you use to take a backup.
Follow the steps to restore WhatsApp messages from iCloud.
Step 1: Make sure your WhatsApp messages are already stored in iCloud backup.
Step 2: Uninstall WhatsApp and reinstall it from App Store on your iPhone. Set up and sign into your WhatsApp account again.
Step 3: You will receive a notification asking you to restore your chat history. Select the "Restore Chat History" option, and the restore process shall begin and complete soon.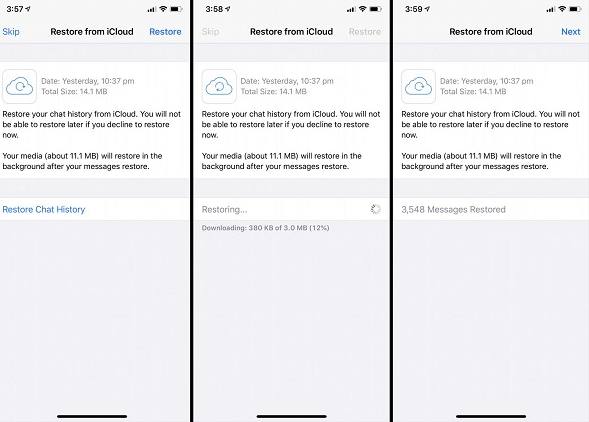 How to Restore Deleted WhatsApp Messages from iTunes Backup?
The second backup for WhatsApp data is in iTunes. Unlike backing up WhatsApp to iCloud, you can use iTunes to back up not only WhatsApp, but other app data, photos, settings, and more. So, to restore deleted WhatsApp messages using an iTunes backup here, you need to erase your iPhone and then restore a full backup.
Note: If you do not want to restore the whole backup from iTunes, but only need WhatsApp messages, then it is also recommended to use Tenorshare UltData WhatsApp Recovery. This tool helps selectively preview and retrieve the WhatsApp messages from iTunes backup.
Step 1: Go to Settings and erase all contents and settings or use iTunes directly to restore iPhone at first.
Step 2: Connect your iPhone to iTunes on your computer, and then click on Restore Backup.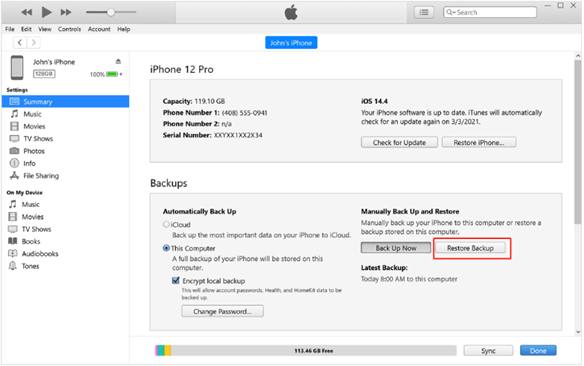 Step 3: Select the latest backup that includes the deleted WhatsApp messages, and click on Restore to confirm.
Final Words
That's all for today. Whenever you looking for how to restore deleted WhatsApp messages on iPhone, you can follow the above methods to get back your WhatsApp data successfully after reading the guide. In conclusion, with Tenorshare UltData WhatsApp Recovery, you can quickly recover deleted WhatsApp messages without backup, while iCloud backup and iTunes backup work well for those who don't mind their current WhatsApp and iPhone data being overwritten. WhatsApp messages and photos or other media files are important, whichever method you use, hopefully, you can avoid losing WhatsApp data afterward.