When you unexpectedly see the "iPhone unavailable" notification appearing on your iPhone screen, it means that you have no way to access iPhone within a certain period. This circumstance would occur when you have processed wrong attempts to unlock iPhone screen, like entering incorrect passcodes, or the Touch ID/Face ID are both not working for you.
Replacing of waiting there till the device unlocks on its own, you can actually speed up this process by turning to some programs to help. In this post, all available ways will be introduced to fix iPhone unavailable issues. Now, please dive into reading.
Why iPhone Unavailable Happens on My Screen?
The direct reason causing iPhone Unavailable problem definitely refers to the fact that you have entered wrong passcodes, or use unmatched fingerprints to try unlocking iPhone. For security purposes, when iPhone detects such a wrong attempt, it would consider it a threat to the device and data safety, so the next step it will do is to lock itself up to make no one accessible.
Furthermore, Apple also implements security lockout times on this function. In other words, based on the number of incorrect attempts to unlock iPhone screen, the lockout duration varies:
1-5th failed attempt: will not be locked.
6th failed attempt: locked for one minute.
7th failed attempt: locked for five minutes.
8th failed attempt: locked for ten minutes.
8th failed attempt: locked for 15 minutes.
9th failed attempt: locked for an hour.
10th failed attempt: permanently locked.
Method 1. Best Way to Solve iPhone Unavailable Instantly Without Waiting?
Nevertheless, not all of you can wait till the lockout time passes. To unlock a disabled iPhone instantly without waiting, the best solution is to take advantage of a reliable iPhone screen lock remover, as iPhone itself doesn't provide a corresponding solution to bypass this obstacle.
Passvers iPhone Unlocker is the best-recommended program, delivering stable iPhone screen lock-removing ability, and is capable of dealing with all iPhone screen lock patterns for you. It takes speedy but easy-using procedures to unlock iPhone screen, regardless of what situation your devices are in.
Sparkling Features of Passvers iPhone Unlocker
To ensure a nice experience in using the program, Passvers iPhone Unlocker is developed with advanced techniques and working to bring the following great features to help:
3 iPhone screen lock patterns support – regardless of 4-digit/6-digit passcodes, Face ID, or Touch ID, it can function to bypass and remove them without a password needed.
Best success rate – guarantee the stablest performance, leading to no-error iPhone screen lock removal at the best success rate.
Capable with all life scenarios – regardless of whether your iPhone is unavailable, disabled, unresponsive, facing system crashes, damaged, or more, the program can function to bypass screen lock and remove it for you by one tap.
Latest device systems support – to keep pace with Apple's regular device and system updates, the program will keep updating compatibility to offer a smooth experience on all of them.
How to Access Unavailable iPhone with Passvers iPhone Unlocker
Before using Passvers iPhone Unlocker to deal with the unavailable iPhone and make it accessible again, it is noted that this manipulation will erase all iPhone data on the device. Therefore, please make sure that you have backed up all important information to avoid unexpected losses.
In the following, you can walk through how to use Passvers iPhone Unlocker to bypass screen lock on an unavailable iPhone with the program.
Step 1. Please connect your iPhone to your computer. Subsequently, open the installed Passvers iPhone Unlocker on the desktop.
Step 2. From the main feed of the program, select Wipe Passcode. Once Passvers iPhone Unlocker detects your device, the information will be displayed on the program screen.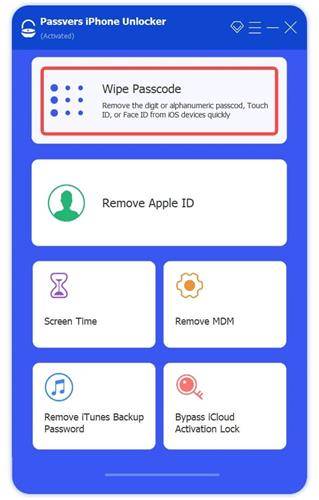 Step 3. Next, please click on Start to install a firmware package as preparation before processing iPhone screen lock removal and accessing the unavailable device.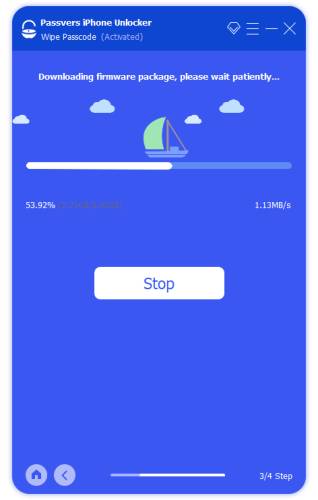 Step 4. When the firmware package is prepared, enter 0000 to authorize the lock removal. By clicking on Unlock, the program will initiate removing the iPhone screen lock for you in no time.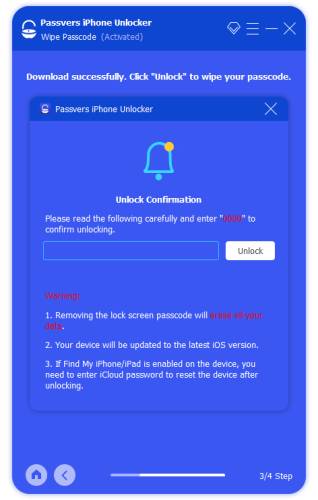 Method 2. Use iTunes/Finder to Unlock Unavailable iPhone
Another workable solution to unlock an unavailable iPhone is by restoring the device back to its factory settings. This process can be completed on Windows and Mac using iTunes or Finder respectively. You can follow the procedures below to process it simply:
Step 1. Connect your iPhone to your computer with a USB cable.
Step 2. Put the unavailable iPhone device into Recovery Mode.
On iPhone 8 or later: Quickly release the volume up and then volume down buttons. Then hold the side button till the device is turned to recovery mode.
On iPhone 7/7 Plus: Long-press the top/side and volume down buttons at the same time to put it to recovery mode.
On iPhone 6S or earlier: Long-press both the Home and top/side buttons to turn on the recovery mode.
Step 3. Subsequently, open iTunes and tap the device icon. By turning to Summary >> Restore iPhone to unlock the unavailable iPhone again.
Method 3. Unlock Unavailable iPhone with Find My Function
Despite iTunes, using iCloud Find My function can also help you effectively unlock an unavailable iPhone in easy manipulation. Pay attention that this will need your Apple ID and password to process. Moreover, the device data will be erased as well. How's how to process it:
Step 1. Go to iCloud.com with your computer or tablet. Please log in with your Apple ID.
Step 2. Select the Find My function.
Step 3. Tap to see all connected devices list and select the disabled iPhone you need to unlock.
Step 4. Simply click on the Erase iPhone button to erase all its data and settings. Then the screen lock will also be deleted.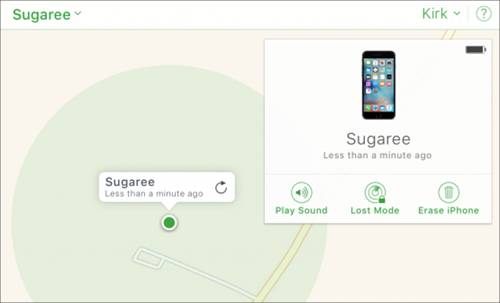 Conclusion
Don't panic when your iPhone is suddenly unavailable. These 3 methods are all helpful to remove screen lock and help you instantly access the disabled iPhone once again. However, pay attention to that all these methods will erase data on your iPhone. So before processing with manipulation, check if all device data has been backed up in advance.