Generally, people don't go for a Factory Reset on their cool pad as it erases all the data. But in some cases, Factory Reset can be necessary. But how to Factory Reset a coolpad? To be honest, there are several ways by which you can perform a Factory Reset on your coolpad. Just access the settings and opt for Factory Reset. You can also Factory Reset your phone after switching it to 'Recovery Mode'. Another way you can do this is by connecting your phone with a pc/laptop and then Factory Reset using some special software available on the market.
The simplest way is by resetting from the coolpad settings only. Just open the 'Settings' menu. Swipe down the menu bar from the top of the coolpad screen and select the 'Settings' option. When you enter, just look for the 'Backup & Reset' option. Tap to select it. Now go for 'Factory Data Reset'. The Factory Reset will start executing after this until everything from the device is deleted.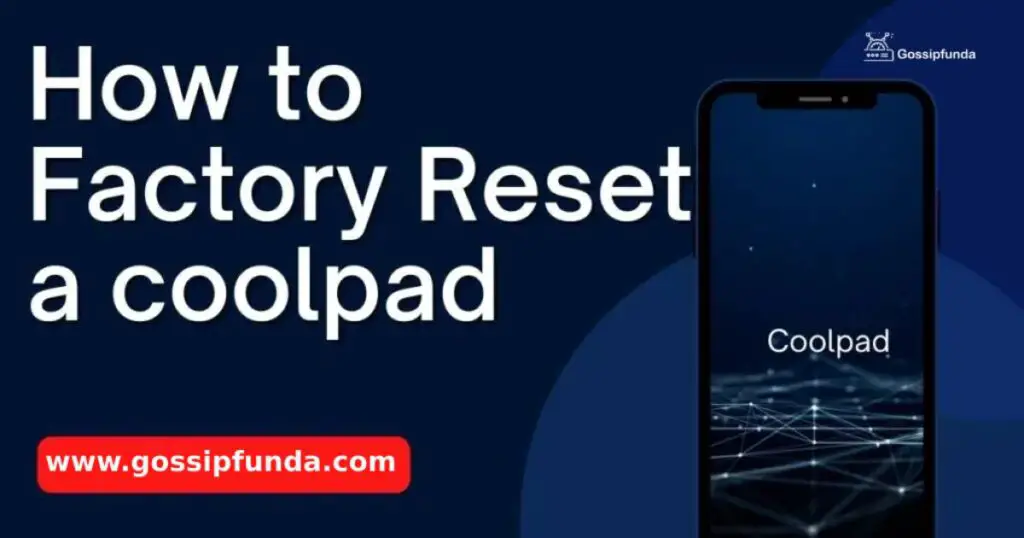 The recovery mode technique is also a tech-savvy method of Factory resetting your coolpad. Simply turn off the device and press the volume down and power button together for a few seconds. The Coolpad logo is supposed to appear on the screen. Switch the phone into 'Recovery Mode' from here. You can just use only the power, volume up, and down buttons to navigate in recovery mode. Follow the needful instructions. Now, the Factory reset will start on its own. 
As told earlier, you can also perform a Coolpad Factory Reset from a pc/laptop. But, this needs a special kind of software. Just download the 'Coolpad USB Drivers' software. Then install it on your pc/laptop. Connect your coolpad phone to the pc using a USB cable after launching the 'Coolpad Download Assistant Software'. This software is mechanized to detect your phone automatically and start Factory Reset. After Factory resetting, all the data will be wiped out of your coolpad phone. 
How do I create a backup for my Coolpad before resetting?
When you Factory Reset your coolpad, all its data including your confidential information gets wiped out. Now, can this be prevented? Yes, absolutely. Like other phones, you can also create a backup of your data somewhere so that it can be restored later. You don't have to start from scratch. 
To create a backup, you can take the help of Coolpad's official tool for backup and restoration. You can download the app from the official website of Coolpad and then create a backup of all your files. 
Download and install this tool on your coolpad phone. Then follow the instructions correctly to launch this tool. This tool will efficiently cover all the steps for creating a backup of your data. You should just have a Coolpad account in your data for storing the backup. The backup files can also be temporarily transferred to some external storage device. 
After successful completion of your data, you can start a Factory Reset on your coolpad at ease. However, you have to enter into recovery mode. Performing something in the recovery mode requires the use of volume up and down buttons. Use these buttons to access the menu bars and the 'power' button if you want to select a particular option. Just look for the 'wipe data/factory reset' option. Once you find it, confirm it and the Factory Reset will begin. 
When the Factory Reset will be done, reboot your coolpad once. Mostly, this reboot occurs automatically. Your coolpad phone will be completely new at this point. Now, you can recover your backup data from your coolpad account or an external device. 
Are there any consequences if I reset my Coolpad?
How to reset a coolpad? There are many ways. All of them have the same consequence. The greatest consequence of Factory resetting your coolpad is some of your confidential information will be erased forever. This includes the files kept in the phone memory as well as the app data that were installed beforehand. Any personal data linked with the phone settings will be wiped out. Plus, if there were any kind of software updates installed previously, all of them will be restored to default. 
How can I rest assured that Factory resetting my coolpad is the right decision for me?
Some things need to be always kept in mind before Factory resetting your coolpad. Firstly, judge yourself if Factory resetting the coolpad will suffice for you. If there are any other ways to fix your issue, you can certainly go for it. However, if there are any serious problems like frequent crashing or hanging, a Factory Reset can be necessary. Forgetting your password and getting your phone locked can also be fixed by Factory resetting. If you are going to sell your coolpad, it is advisable to perform a Factory reset before handing it to someone else.
But if you can stick to performing a Factory reset, go through the steps of how to Factory Reset a coolpad. Then, keep a backup of everything important to you. Store them in your coolpad account or some external device. When you have taken your backup, start executing the Format Reset.
The Factory reset or formatting technique may differ for different coolpad models. Most of the time, it can be done by accessing the phone settings and getting the reset option. A warning will be prompted once you will lose all your data. If you have made up your mind, just agree and the Factory Reset will be complete in some time. 
A total Factory Reset will generate a completely new device. All previously loaded information will be removed. You have to start from scratch. Personalize coolpad settings according to your needs. Install your favorite apps and sign in to your account. But, Factory Reset your coolpad only if it's absolutely necessary. 
Different types of reset options in a Coolpad phone
Before going into how to Factory Reset a coolpad, you should know what types of reset options it supports. So, let's stress this a little.
Factory Reset– Overall phone settings will be restored to default. Everything will be deleted and you will again have to load everything from scratch.
Soft Reset– This will just reset some of the coolpad phone settings. No file or data will be deleted.
Battery Reset– This will reset the coolpad battery settings. Sometimes a few files or data can get deleted in the way.
Hardware Reset– The coolpad hardware settings will be reset. Some files related to the hardware settings get deleted in the way.
What are the steps for Factory resetting a Coolpad?
As discussed earlier, there are so many steps to perform a Factory Reset on a coolpad. But what are the steps involved? Let's explore it in a bit.
If you want to just reset a few settings on coolpad, just do a 'soft reset'. But if you are facing some issues and can't find any way out of it, undergo a Factory Reset. Also known as 'Hard reset', this will take place at the cost of all your data and information. Everything will be removed and the coolpad set will become completely new. 
If you want to perform a Soft reset, follow these steps:-
Open the 'Settings' menu of your coolpad. 
Find the option 'System Updates'.
Enter the predefined password or PIN.
Give your confirmation for resetting some settings that need a reset.
This will reset some settings only without erasing any data from the coolpad itself. Check if the issue you were facing earlier is solved or not. If not, you can definitely perform a Hard reset.
To perform a Hard reset, execute the following steps:-
Open the 'Settings' of your coolpad. 
Then select 'Backup & Reset'. You might have to enter the previously set password or PIN. When the prompt giving a warning regarding Factory Reset appears. 
Confirm it. Wait for a few minutes until the Factory Reset is complete. 
Keep a backup beforehand so that you can restore everything after the Factory Reset has deleted all of it.  
Sometimes people keep their coolpads locked and forget the password later. This is a very huge problem these days and can be troublesome. In that case, a Factory Reset is the ultimate way to save your coolpad. However, everything in the device will have vanished. You have to again start from zero. 
How can I unlock my Coolpad phone password without Factory resetting?
Locking your phone with a password and later forgetting it is very common these days. The first thing everyone thinks of in that scenario is performing a Factory Reset. They look for ways of how to Factory Reset a coolpad. But to make things easier, there are some solutions to fix your issue without doing Factory Reset. 
Firstly, what you should do is get to the Coolpad website. Next, you have to enter the last four digits of your Coolpad's IMEI Number. IMEI stands for 'International Mobile Equipment Identity'. Phone carriers and manufacturers use these IMEI numbers to allow tracking of smartphones that may be stolen or get compromised. This is a form of unique identification for your coolpad. Enter the last four digits of it in the 'IMEI/ESN' field. From there, follow the instructions to unlock your coolpad without Factory resetting it. 
Another way is to contact the 'Coolpad customer service'. They will surely help you resolve your issue by resetting a new password so that you can use it to unlock your coolpad. 
Lastly, if the above methods fail to suffice, you are left with no other option. You have to perform a Factory Reset to save your phone. Therefore it is better to keep a backup beforehand.  
How will I restore the data on my Coolpad after Factory resetting it?
After Factory Reset, there is not a single piece of data that was loaded by you. All of it has been wiped out totally and you can put it on sale if you want. But if you just want to revive your Coolpad phone with all the information loaded as before, there are a few ways to do it. 
The primary thing you need to do is create a backup of everything. As stated before, you can create a local backup in your coolpad account. Moreover, you can also connect your phone to a pc/laptop with Coolpad's Android Manager. Then you can keep the backup folder in it as well. After creating the backup, you can just Factory Reset your phone to its default settings. Go to the 'Settings' of your coolpad and select 'Backup & Reset'. Now you can easily Factory Reset your device by giving your approval. You can also reset your coolpad from your pc/laptop.
Ultimately after resetting, you can just restore everything on your coolpad phone. If you have stored it in the coolpad account, revive it using the 'Android Manager' software. If you have kept the backup on the pc, copy them and install them on your coolpad phone again. 
Is there any risk factor in Factory resetting my coolpad phone?
Yes, there are some major risk factors involving your coolpad's Factory Reset. Never forget to prepare a backup before performing a Factory Reset. Keep all the confidential information including your contacts, photos, music, and passwords in a safe zone. 
There are also risks of your coolpad phone getting malware infected. Sometimes if the phone gets reset with some malware in it, it may infect your device later. It will generate some malicious code that can infringe your privacy and get your phone compromised. 
Conclusion
Now you know the ways how to Factory reset a coolpad and what are its cons. Always be careful while performing a Factory reset on any device. Follow the precautions and execute all the steps correctly. Hope this article helps you in the long run.
Frequently Asked Questions
How will I fix common problems in Coolpad legacy?
You can try a soft reset or a Hardware reset to fix some of the common problems in Coolpad legacy. If it doesn't resolve, seek professional help.
How do I perform a Factory reset on my Coolpad device?
In short, just open the Advanced reset tab in the Settings menu. Then under the Reset type, go for Factory Reset.
How can I reset my phone lock pattern on Coolpad?
Just login into your Google account synced with your Coolpad device. Enter your credentials and set up a new pattern to unlock your phone.